How to Record Your Computer Screen With Audio
So, you are looking for a way to record your computer screen, and most probably, you are looking for a free and easy tool to use.
In this blog, we will show how you can use Vmaker's free screen recorder to record your computer screen. But before that, let me clear some of your questions.
Why Vmaker?
Vmaker is a free and easy-to-use tool. You don't have to take my word for it. You can try it yourself and see.
It allows you to record an unlimited number of videos for free, for a lifetime. There is no watermark added with Vmaker.
You can record both your system and microphone audio using Vmaker. The audio that you record will be free of background noises since Vmaker has an active background noise filter that filters out unwanted noises while recording.
Vmaker also comes with a free built-in video editor that allows you to do basic editing to your recorded videos.
Finally, all your videos are automatically stored in the cloud, so you don't have to worry about your computer system's memory getting clogged or uploading a huge file and sharing it with anyone.
If you are a Mac user, follow these steps
Step 1: Signup and Download Vmaker from our website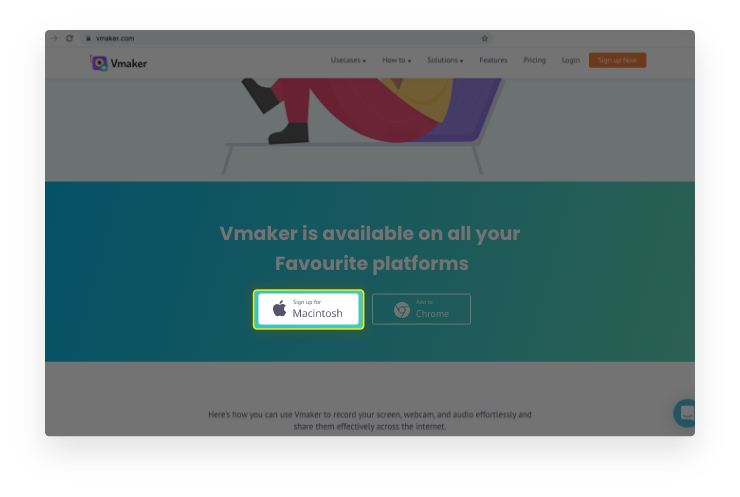 Step 2: Sign up for Vmaker if it's your first time or Sign in if you have an account already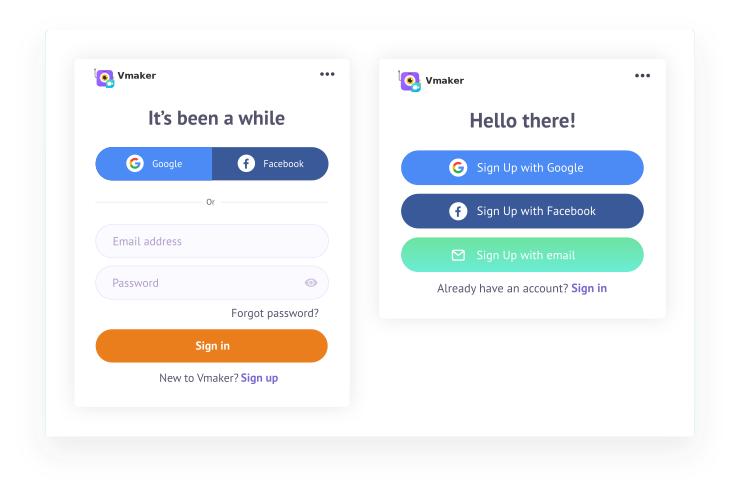 Step3: Select the screen recording mode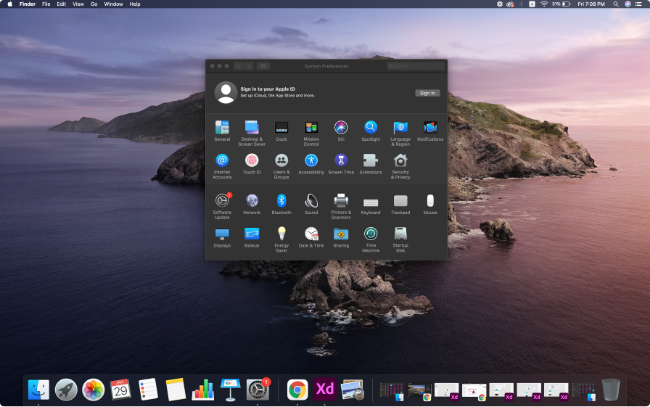 Step 4: Click on the Start Recording button to start your recording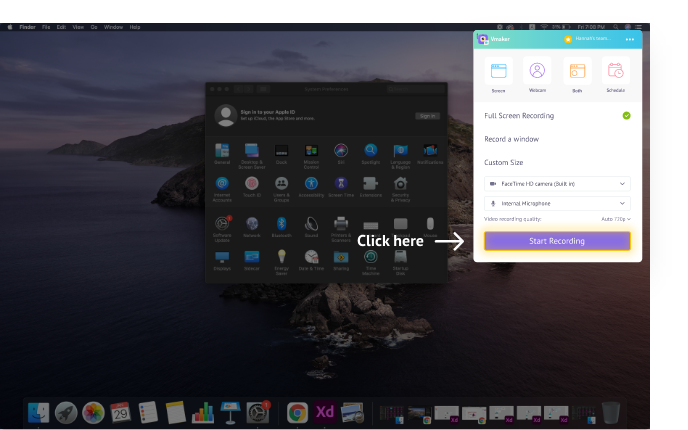 Step 5: To finish click on the red icon or the dock button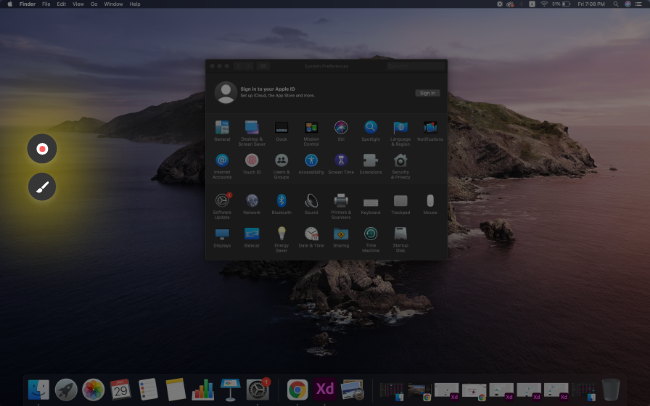 Step 6: Click on the video to play your recorded meeting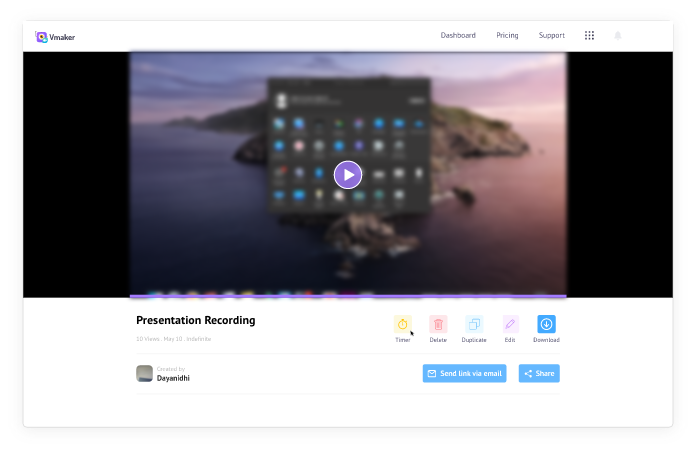 Further Read: Best Screen Recorders for Mac in 2021 - The Ultimate List
If you are not a Mac user, you can use Chrome extension and follow these steps
Step 1: Add Vmaker as an extension to your browser from Google Chrome Webstore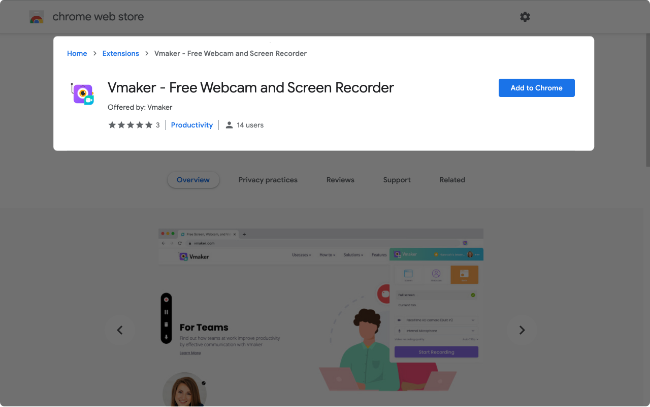 Step 2: Now, sign up for Vmaker or login using your existing Vmaker ID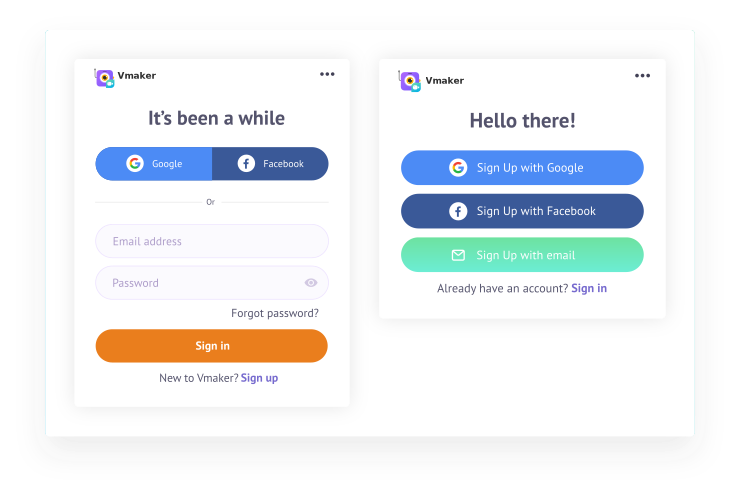 Step 3: Once you are done, click on the extension on the browser to open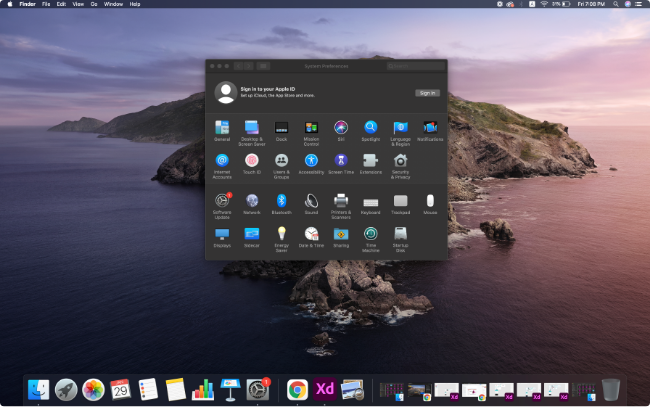 Step 4: Choose between screen, webcam, or both to start recording per requirement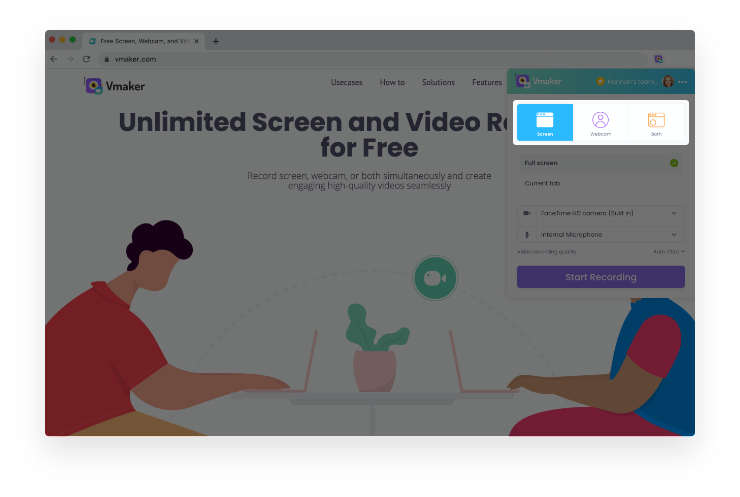 Step 5: Click on "Start Recording" to start recording your screen using the Vmaker plugin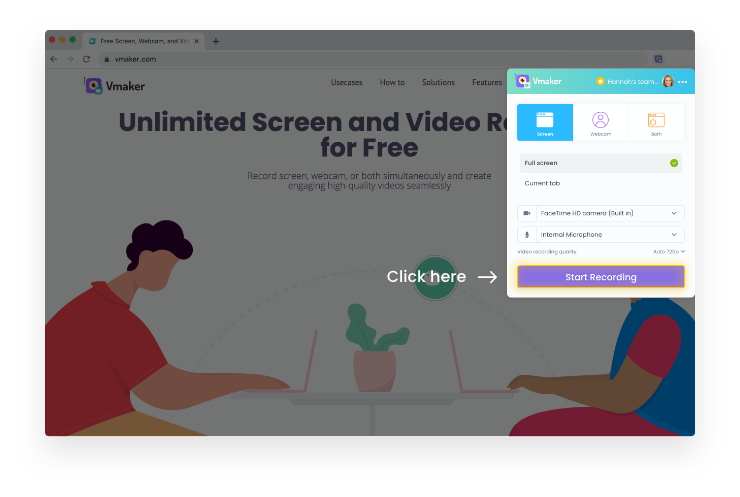 Step 6: It is recommended to have the Vmaker plugin pinned to your browser for easy access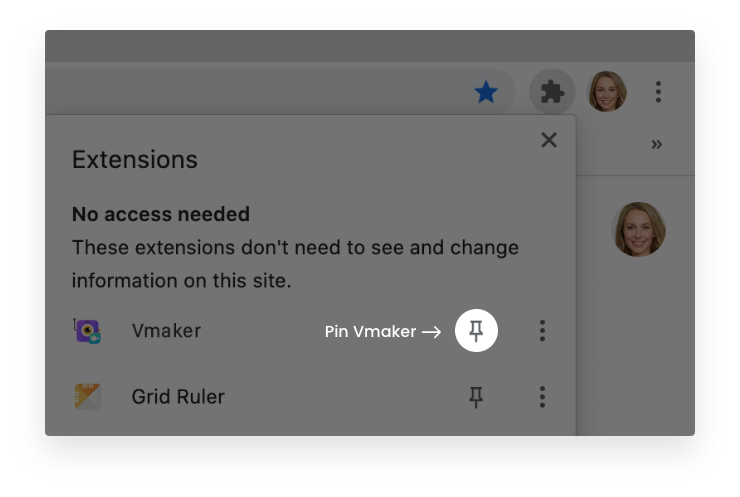 Screen Recorder | Free Screen Recorder for Chrome
Vmaker is a free screen recorder for Chrome. ... with ease. Try Vmaker now. ... Vmaker is the only tool you need to record, edit, and share your videos in minutes . ... Add Vmaker as an extension to your browser from Google Chrome Webstore.
Why not try other "free" screen recorders?
Yes, of course, you can try other screen recorders that say they are free, but the problem is that they put a restriction on the number of video recordings or add watermarks to your videos, which is not the case with Vmaker.
Also, some of the free screen recorders store your files in your local system that can clog up your system memory.
Though there is a free screen recorder known as OBS, which is literally free, it isn't easy to learn its functionalities if you are a new user.
Bonus Guide: How to Film Yourself Without Freaking Out | Actionable Recording Tips
Okay, then what about the screen recorders that come default with the computer system?
Mac systems come with a Quicktime player, which allows you to screen record videos. It's a basic screen recorder, with an easy-to-use interface but it has low quality sounding issues and gets crashed for no reason.
Windows too comes with a free screen recorder, well only Windows 10 does. Again it's a simple and easy-to-use screen recorder, but it has some many limitations. To start with, you can only record 2 hours of videos, you cannot record your entire screen, and much more.

If you enjoyed reading the above article, then here are a few more articles you might be interested in further reading!
10 Best Screen Recorders (Free and Paid) for Windows in 2021
Best free screen recorders without watermarks
10 Best Free & Paid Screen Recorders To Checkout In 2021
How to record Google meet without permission