Contents
12 Best Screen Recording Software for 2023
Screen recording videos are one of the best and easiest kinds of videos. From explaining complex software to the new team to recording a quick self-introduction video using the webcam, screen recording software can help you with it all!
And… There are plenty of options available in the market. So, our team has tried our hands on these tools and curated them perfectly for you—so that you can pick the one you want.
This list consists of both free and paid screen recorders. Also, we have categorized this list as per their availability for desktop recording—Like, are they available for Mac and/or Windows OS? Can you use them as Chrome extensions too?
If you're totally new to screen recording, then we have some basic information about screen recorders - what is it, who should use a screen recorder, how is it useful, and how we came up with this list of best screen recorders for 2023.
We recommend checking out this table of contents to learn more about the flow. You can skip to the part that is relevant to you.
What Is A Screen Recorder?
Screen recorder is an app or a tool that can record the screen of your computer. You can either download them or use them as Chrome extensions. A few screen recorders like Vmaker can be used as a Chrome extension too.
This means you can record a presentation, video, or anything that is being displayed or played on your screen. Advanced screen recording tools, ones that we have covered in this blog, go beyond just recording your screen.
These screen recorders can also record a webcam and microphone while recording the screen. So, you can also call a screen recorder a budget-friendly, and zero hassle video creation tool.
Who should use a screen recording software?
A screen recorder can be used by anyone who has a computer or a laptop and wants to record a video.
You can be a manager, supervisor, or a writer. Similarly, you can be a gamer, educator, freelancer, or someone who enjoys recording YouTube videos - a screen recorder is a perfect tool for you.
How Did We Come Up With This List?
We didn't use a magic formula or an AI to arrive at this list. Instead, we Instead, we researched most of the tools in the market and picked the best ones in this list, and prepared a list of their strengths and weaknesses.
Also, we scoured some software comparison websites to understand what the actual users have to say about the product.
Best screen recording software for 2023 - The list
Now that we're clear, let's hop in to know more about the best screen recording software that you should check out in 2023.
Screen Recording Software
Free plan
Paid plan
Windows
Mac
Chrome Extension
Vmaker
✅
✅
✅
✅
✅
Bandicam
✅
✅
✅
❌
❌
Veed.io
✅
✅
❌
❌
✅
OBS
✅
✅
✅
✅
❌
ScreenPal
✅
✅
✅
✅
✅
Camtasia
✅
(Free trial for 30 days)
✅
✅
✅
❌
Loom
✅
✅
✅
✅
✅
Movavi
✅
✅
✅
✅
❌
iSpring Cam Pro
✅
(Free trial for 14 days)
✅
✅
❌
❌
Snagit
✅
(15 days free trial)
✅
✅
✅
✅
Wondershare
✅
✅
✅
✅
❌
Screen Capture
✅
✅
❌
❌
(It's a web-based tool)
1. Vmaker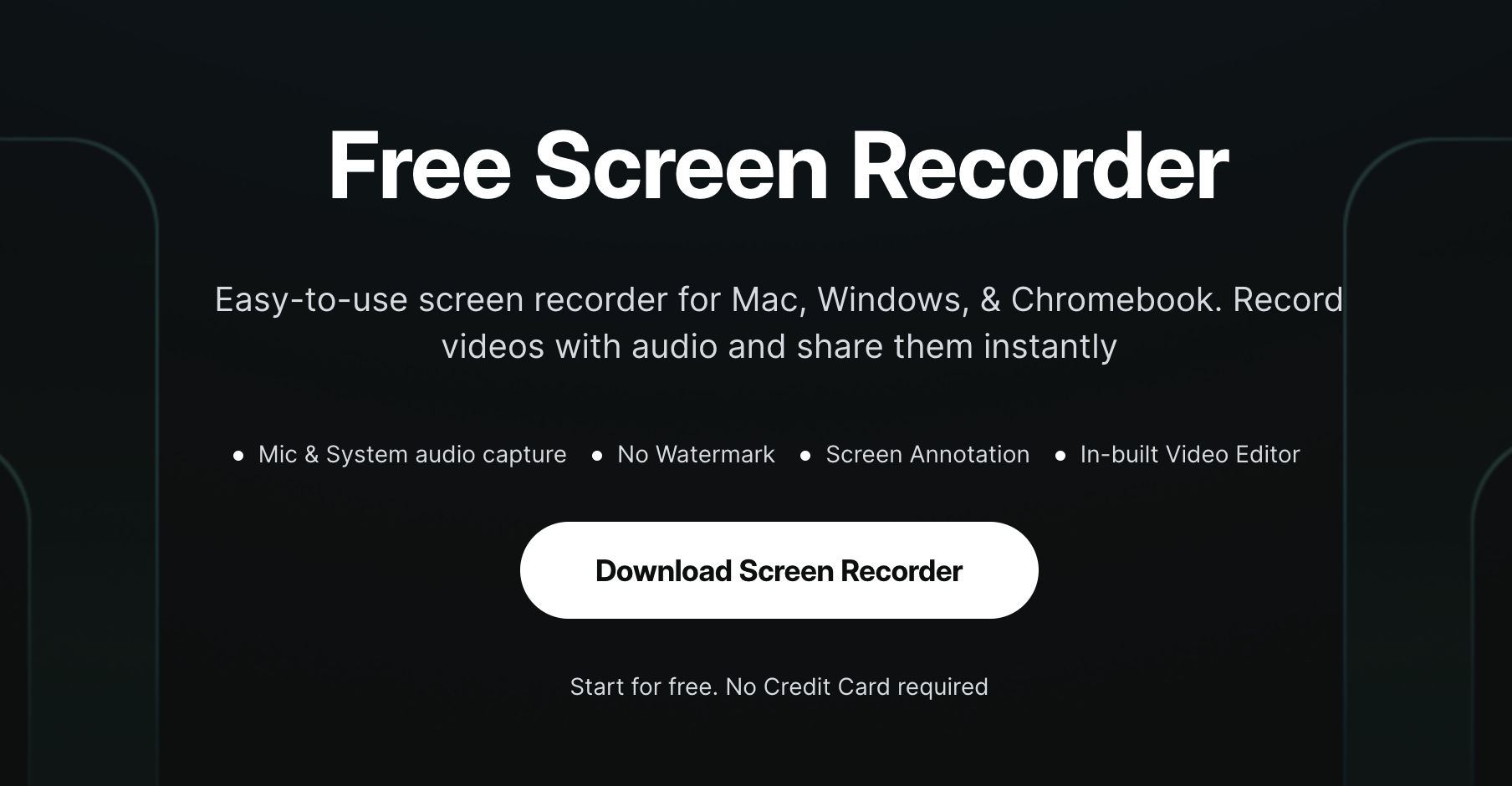 Vmaker is one of the most successful screen recorder out there. It was launched only two years back, but it has almost half a million users globally. Other than English, it's also available in Spanish, French, Russian, Portuguese, German, and Italian.
Vmaker has a free plan which you can use forever without paying anything. But, for more advanced features like screen annotation, custom background, and recording scheduler, you can upgrade to premium plans.
Platforms supported
Why should you use Vmaker?
If you're looking for a screen recording tool that doesn't burn a hole in your pocket, yet comes with a rich feature list, then Vmaker should be your go-to choice. It's also user-friendly, built by a global company, and available on multiple platforms.
Pros:
Easy to use
Record an unlimited number of videos
No watermark in the videos, even in the free plan
High-definition videos
You can even schedule a recording session with Vmaker. You just need to set the time and date, and Vmaker will start recording your screen automatically
Even if you're using the free plan, you will get help from customer support if you get stuck. In the paid plans, users get a free app webinar, a dedicated account manager, and expert training
Has an in-built video editor
Use the blur tool to safeguard sensitive information on your screen before or during screen recording.
Cons:
Vmaker is yet to launch the Android application. Once it hits the market, people can enjoy multi-device compatibility even using their mobile phones.
2. Bandicam
The positioning statement of Bandicam is - to record and capture everything you want on your PC screen. And, we think that it does its job pretty well.
Bandicam is a lightweight screen recording tool designed specifically for the Windows OS. It gives an impression that it has been designed for gamers because they can record their gameplay, and upload it on YouTube and Vimeo directly. Besides, they also have a game recording mode that allows recording videos without any lag.
Pros:
Multiple screen recording options available.
The device recording feature allows users to record external video devices like Xbox, PlayStation, Smartphones, and IPTV
You can also customize the cursor effect to enhance your recording experience
Cons:
Although Bandicam is seen as one of the OG Screen recorders, its interface is not intuitive to work on.
It's only available for Windows.
3. Veed.io
Veed.io is one of the new-age screen recording tools available in the market. The intuitive interface keeps it apart from the competition. Once the user lands on their screen recording page, they can start recording from there without having to download the software.
There are multiple layout options available for both screen and webcam recordings. You can choose the Picture-in-picture or side-panel recording format as you want.
Pros:
Easy setup
High-resolution video recording
Available as an online screen recorder and also as a Chrome extension
Cons:
Lack of Support & user training manuals
The video clip editor could be a little better
4. OBS
The Open Broadcaster Software, popularly known as OBS, is one of the market's widely-known screencasting and streaming tools. Since it's a free tool, it has secured a lot of user base in the gaming industry.
Pros:
You can add images in the Picture-in-Picture format while recording your screen
Easy to add unlimited scenes and transitions
The export file size is not too much
Cons:
The video editor does not have a Retrieve or Undo option. This makes the video editing process a bit tougher than it should be
Sometimes, the software lags
The interface is less intuitive when compared to its competitors
5. ScreenPal (Formerly Screencast-O-Matic)
ScreenPal, previously known as Screencasto-O-Matic, is a free online screen recording software and video editor. ScreenPa also helps the users to take screenshots while recording the screen. It's available for Windows, Mac, and Chrome extensions as well.
The mobile application for both Android and iOS makes screen recording easier for ScreenPal users.
Pros:
It has on-fleek annotation tools
ScreenPal also has a stock images and music library.
It has options to include third-party videos and images as well
Cons:
The free plan comes with Ads
The feature to capture multiple screen scrolls as one is not available
6. Camtasia
This list would have been incomplete without Camtasia. Camtasia is built by Techsmith and comes with all screen recording and video editing features.
It has a very wide user base, and they pitch its product as a tool that can help users create tutorials, demos, and training videos.
Pros:
It comes with a royalty-free library of music and sound effects
You can record the whole screen or just a part of it
With the animation feature you can add effects to your recording, annotations, and cursor movements
Cons:
No annotation options
Some users report that the video freezes in between editing
Runs well on the high configuration systems but lags on the mid-spec ones
7. Loom
Loom is a hotshot in the screen recording market. From designers to recruiters, almost everyone is caught up in the storm. The interface is clutter-free, and it's very easy to get started even for someone who is oblivious to screen recording.
Pros:
There are no watermarks on the video that you record
There are options for recording the video in HD mode
It has an analytics feature that helps the users to check the viewers count
Cons:
The quality of video recording reduces when users select the whole screen recording
The Mac/Windows application auto-launches on Start and some users have found it annoying.
8. Movavi Screen Recorder
Movavi screen recorder helps you to record screen, webcam, and audio simultaneously. Most people love Movavi for its ability to record only the audio using the system microphone. It's widely used for creating presentations and training videos.
It has both free and paid plans. Although the free plan is great, the users cannot add descriptions or tags to the recording. Also, the paid plan offers a multi-language interface supporting its global audience.
Pros:
It's available for both Windows and Mac
The Movavi video editor comes with various scene transitions, effects, and filters
They have 24X7 Support
Cons:
It does not have a multi-screen recording option
In the free plan, the videos can only be downloaded with Watermarks
9. iSpring Cam Pro
iSpring Cam Pro—which is a part of the iSpring Suite—is developed for Instructional designers. The need to insert a quick screen recording video is a surplus in an online course. So, for such quick but enhanced lessons as screen recording videos or Instructor-led videos, you can use iSpring Cam Pro as it has picture-in-picture screen capturing capabilities.
You can try the screen recording tool as a standalone tool or as a part of the iSpring Suite.
Pros:
You can capture the keyboard hotkeys on the screen to create nuanced courses
It comes with easy drag-and-drop features for videos and elements
The in-built editor also comes with multiple track timeline features. This makes the editing easier.
Cons:
It lacks 24X7 support
It's available only for Windows users. The online version would be a nice-to-have but can't be seen hitting the market anytime soon
10. Snagit
Snagit by TechSmith is our list of best screen recorders for 2023 because it has all the necessary features and also simple add-ons. Along with screen recording, you can also add full-page screenshots, annotate, extract text from a screen recording video, and paste it into other scenes or other docs as needed.
You can turn your screen recordings into GIFs if needed without leaving the screen.
Pros:
It comes with pre-made templates to easily create screen-recording videos
You can trim your videos, turn videos into animated GIFs, or even convert a series of screenshots into a video
It has multiple export formats
Cons:
Some users say that the colors distort when they use custom color options
The webcam + screen recording ratio cannot be changed
Features like Text Conversion and stamps cannot be customized
11. Wondershare
Wondershare screen recorder by Flimora has a webcam and screen recording functions. It also has the option to record a part of the screen or the whole screen with just a single click. It also has Android and iOS applications. From Gameplays to online classes, you can record videos and audio (both system and microphone) using Wondershare.
Pros:
It has an intuitive user interface across all the platforms
It also comes with pre-defined templates and themes to make screen recording easier
Wondershare also has filters to improve images quality
Cons:
Although timeline-based editing is available, there are no Undo/Redo options
The screen recording videos also come with watermarks
The text customization option is not yet available
12. Screen Capture
Screen Capture is a free online screen recorder from the makers of Movavi. If you're looking for a simple screen recording tool, then screen capture is exactly that. It has the ability to record the screen and webcam in high definition.
Pros:
It's a free-to-use online screen recording tool
The UI is pretty simple. You can start recording without having to sign up.
Cons:
The videos can only be shared after downloading. No link-sharing options
Although it's an online screen recorder, it does not offer cloud storage
The free version has watermarks
Phew! It's a Wrap
As we said earlier, any tool can be the best screen recorder for you based on your preferences. We picked a few based on simplicity, user-friendliness, and reviews on the internet.
So, it's up to your choice, and need to find the best screen recorder out there.
Recommended Readings:
Best screen recorders to record Microsoft Teams meeting
Best Screen Recorders to Record Google Meet
10 Best Zoom Meeting Recorders (2023)
List of 8 Best Screen Recording Apps For iPhone
How to Screen Record without Permission on Windows