10 Best Free & Paid Screen Recorders To Checkout In 2022
Every year, many listicles are published online covering the best free and paid screen recorders available in the market for Mac, Windows, Android, and as a browser extension. We don't see much buzz around this topic this year, so we thought of going ahead, and compiling a list. If you're looking to invest in a screen recorder, or you're looking for an alternative, then this list for you.
This list will be long, so let's start with the basics as a run-up to the remaining blog content.
What is a screen recorder?
In simple words, a screen recorder helps you to record your screen. This means you can record a presentation, video, or anything that is being displayed or played on your screen. More advanced screen recorders that we have covered in this blog, go beyond than just recording your screen. You can also use a webcam to record your face, and plug-in your microphone to record your voice. So from a screen recording tool, it's now a budget-friendly and a low hassle total video recording tool.
There are many ways screen recording software can be helpful to your business. We have a rich library of use cases, and we can't stress enough about checking them out — Click here.
How we came up with this list of best free screen recorders?
It's natural to have this question pop-up in your mind. We didn't use a magic formula to arrive at this list. Instead, we used our own research skills to learn more about these tools, and prepare a list of strengths and weaknesses. Also, we scoured through a few software comparison websites to understand what the actual users have to say about the product.
Now that we're clear, let's hop in too and analyze the best free and paid screen recorder that are available in the market
10 Best Free and Paid Screen Recorders in 2021
Vmaker
Active Presenter
Loom
Screenrec
Bandicam
Camtasia
Ezvid
Screencastify
TinyTake
Nimbus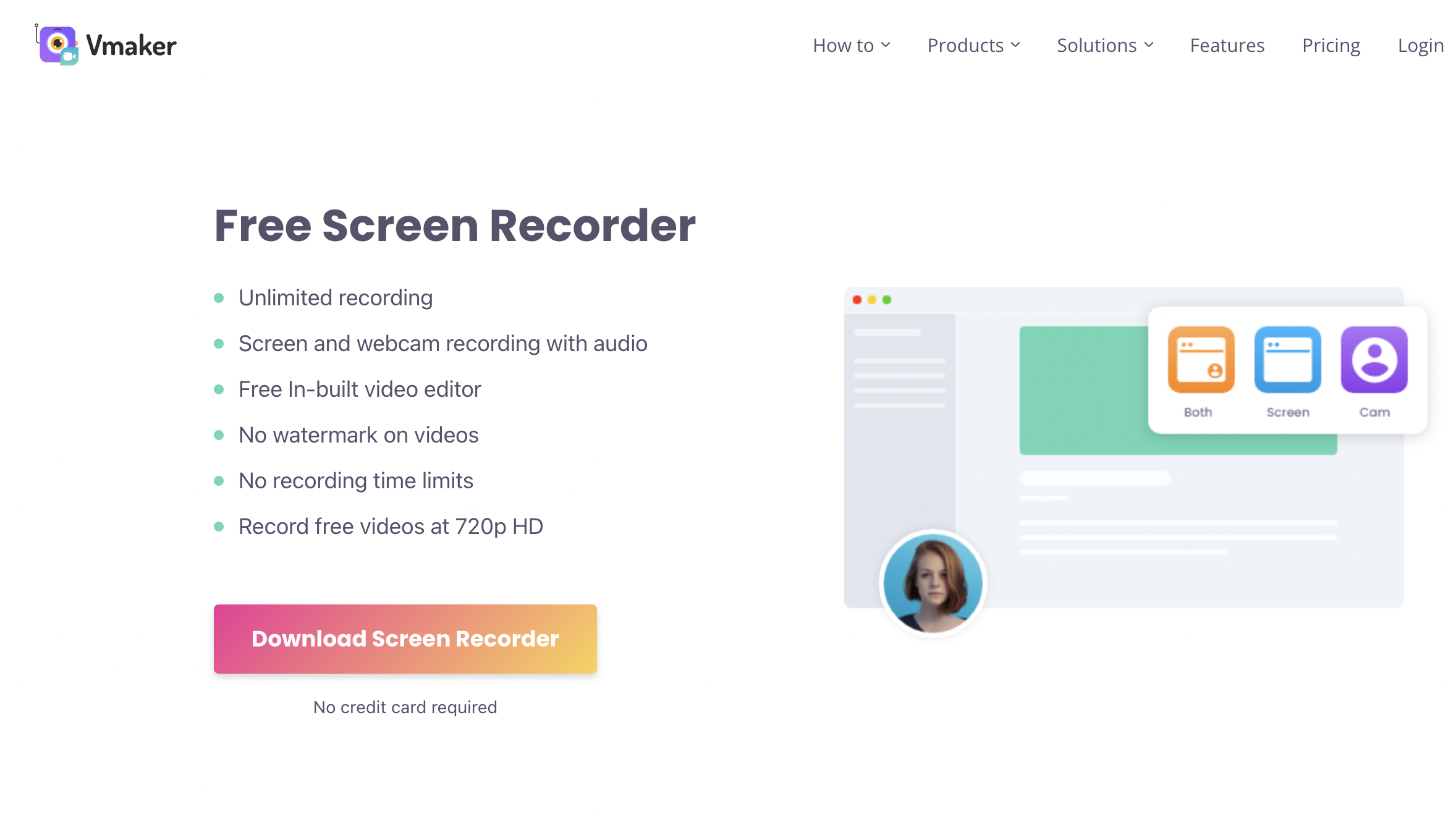 Vmaker is the new kid on the block. Built by the team of Animaker Inc., a video animation company based out of Palo Alto, California with 10 million global users; it has a lot of potential to take the market by storm.
In a short span of time, Vmaker has strategically carved a place in the market by keeping its pricing low, but feature list high. What most of the companies offer at a premium price, Vmaker does it for free.
Let's look at some of the best features of Vmaker that makes it a head turner in the screen recording market.
Key Highlights
- It's easy to use and doesn't require a lot of training to get started.

-Once you create an account, you can record an unlimited number of videos for a lifetime without paying a single dollar.
- No watermark in the videos, even in the free plan.
- With the free plan, you also get 15 GB of cloud storage, a noise cancellation feature, and DND mode. 
- The paid plans are powered with more advanced features, and strategically priced for small teams and enterprise companies.
- You can even schedule a recording session with Vmaker. You just need to set the time and date, and Vmaker will start recording your screen automatically
- Even if you're using the free plan, you're entitled to customer support. In the paid plans, users get a free app webinar, dedicated account manager, and expert training.
- It comes with an in-built video editor which you can use to trim, crop and resize your videos.
Platforms supported
Mac (Other versions, Windows OS, mobile app, and Chrome extension is expected to be rolled out very soon)
Pricing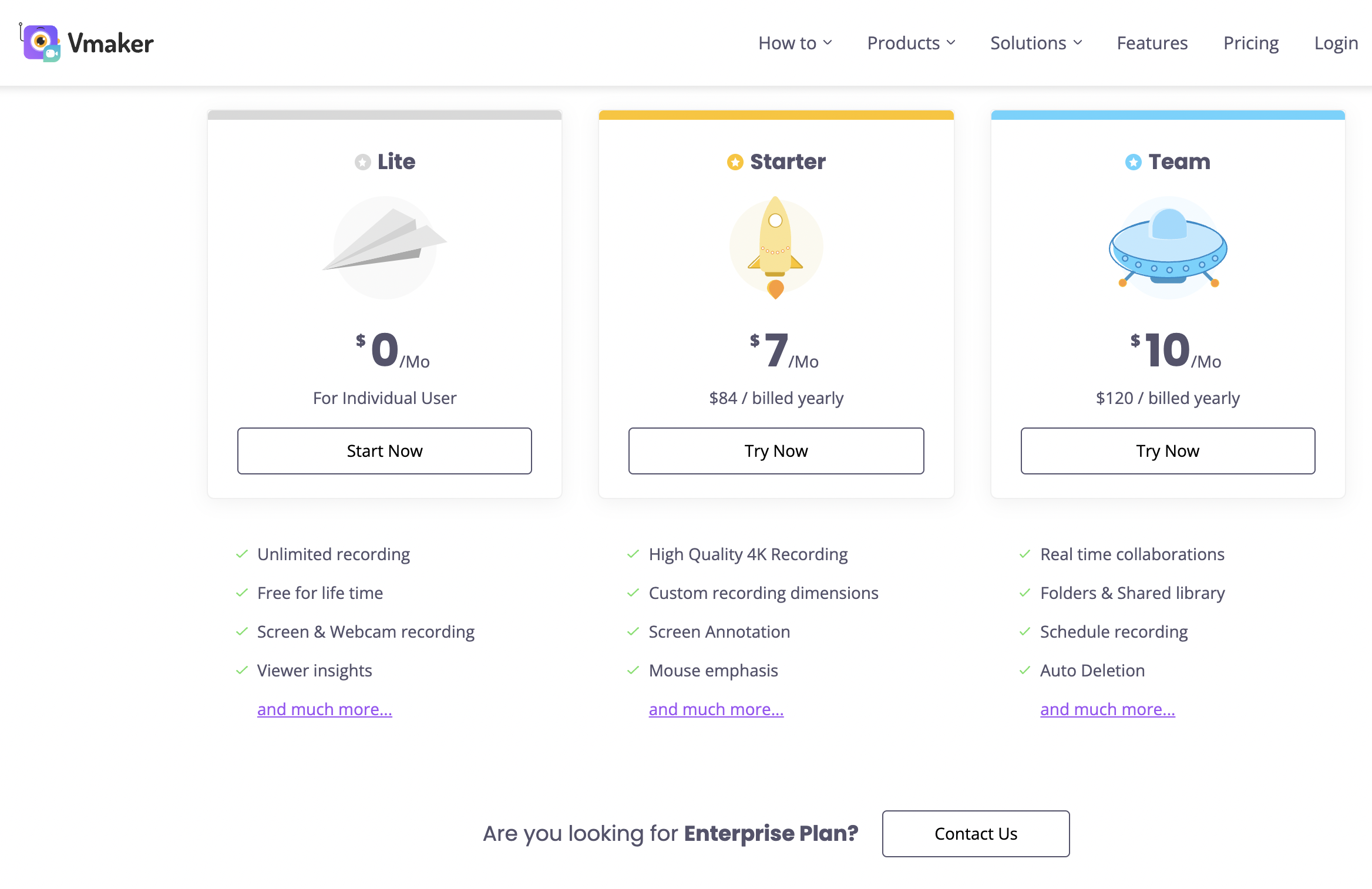 The Following are the pricing options of Vmaker billed annually -
Lite - $0
Starter - $7
Team - $10
Why you should use Vmaker?
If you're looking for a screen recorder that doesn't burn a hole in your pocket, yet comes with a rich feature list, then Vmaker should be your go-to choice. It's also user-friendly, built by a global company, and soon will be available in devices and platforms. We couldn't think of a single reason why shouldn't give Vmaker a try.
Register for Vmaker and start using Vmaker for free. Sign Up now.
Active Presenter has positioned itself as a powerful e-learning authoring tool. Basically, it has all the right features that can be used by educators to create video lessons through screen recording. They have a plethora of e-learning examples like academic courses, Games, Quizzes and simulations on their website.
Considering their target audience, they have also created a community. In this community, users can ask questions and also raise feature requests. At the first look, it appears to be vibrant, and the ActivePresenter team is very active in replying too.
So, without much ado, let's dive in to the highlights of using ActivePresenter
Key Highlights
- It also allows users to import presentations and save projects as slide templates.
- They can also add animation and transition effects, icons and equations.
- Users can embed HTML codes without any active URL or a line of code.
- Videos can be exported in AVI, MP4, HTML5 format.
Platforms supported
Mac and Windows OS
Pricing
We did find the pricing a bit on the higher side, but if it fits in your budget, then you can take a go at it -
Standard - $199/license
Pro - $399/license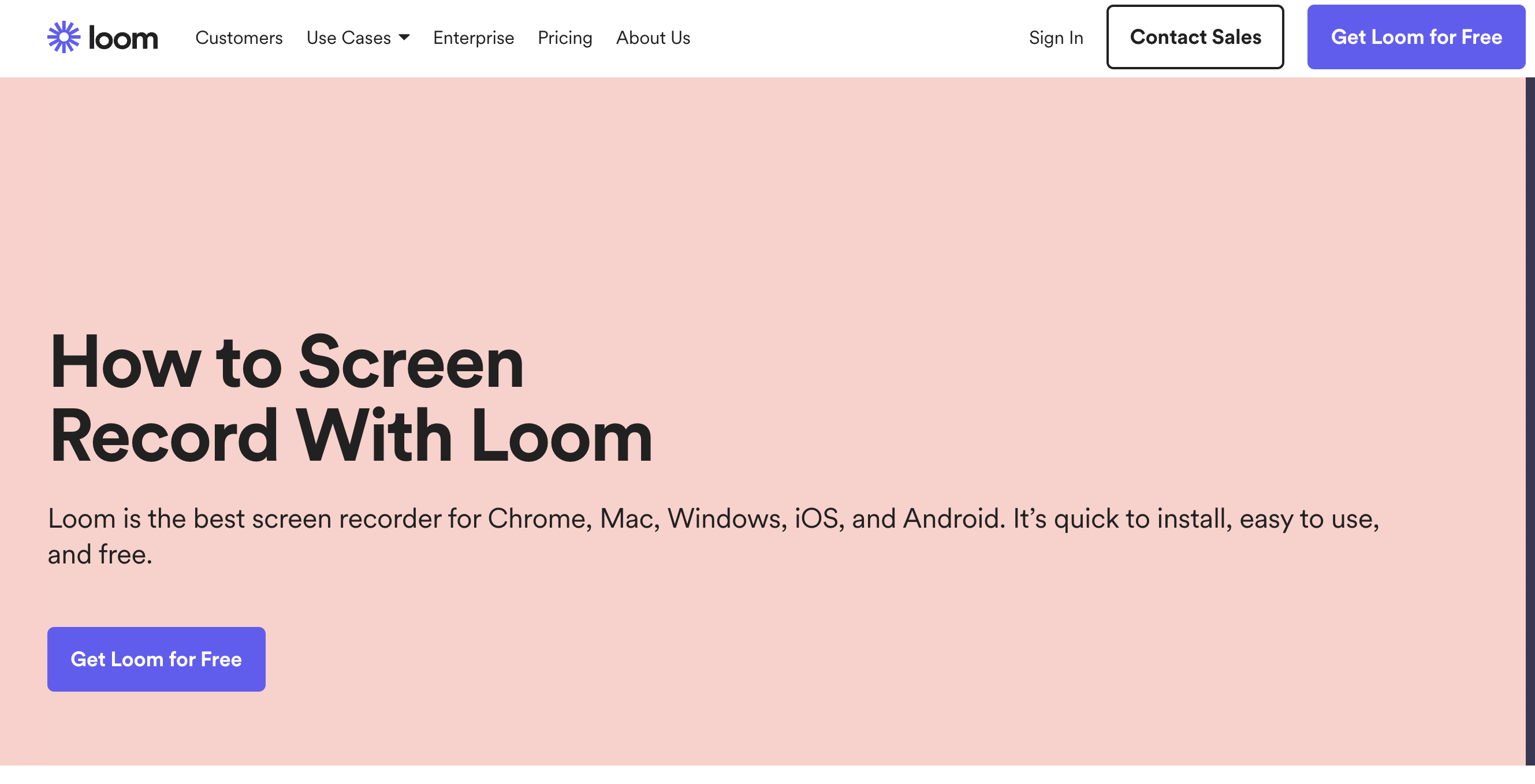 Loom is a hotshot in the screen recording market. From designers to recruiters, almost everyone is caught up in the storm. There are a lot of good reviews about Loom, and what makes it stand out from others is its easy on the eyes design. The interface is clutter-free, and it's very easy to get started even for someone who is oblivious to screen recording.
All these factors sum up to explain their 7 million users count globally.
Key Highlights
- It comes with a freemium plan which is great for someone who just wants to test the waters
- There are no watermarks on the video that you record
- There are options of recording the video in HD mode, so that's great for recording video resumes and customer onboarding videos
- It has an analytics feature that helps the users to check the viewers count
Platforms supported
Mac, Windows, iOS and Chrome extension
Pricing
You can get started with the free plan of Loom, but there's a caveat; it allows you to record only for 5 minutes. Here's a screenshot of the pricing page which gives you a better idea of Loom's pricing plan -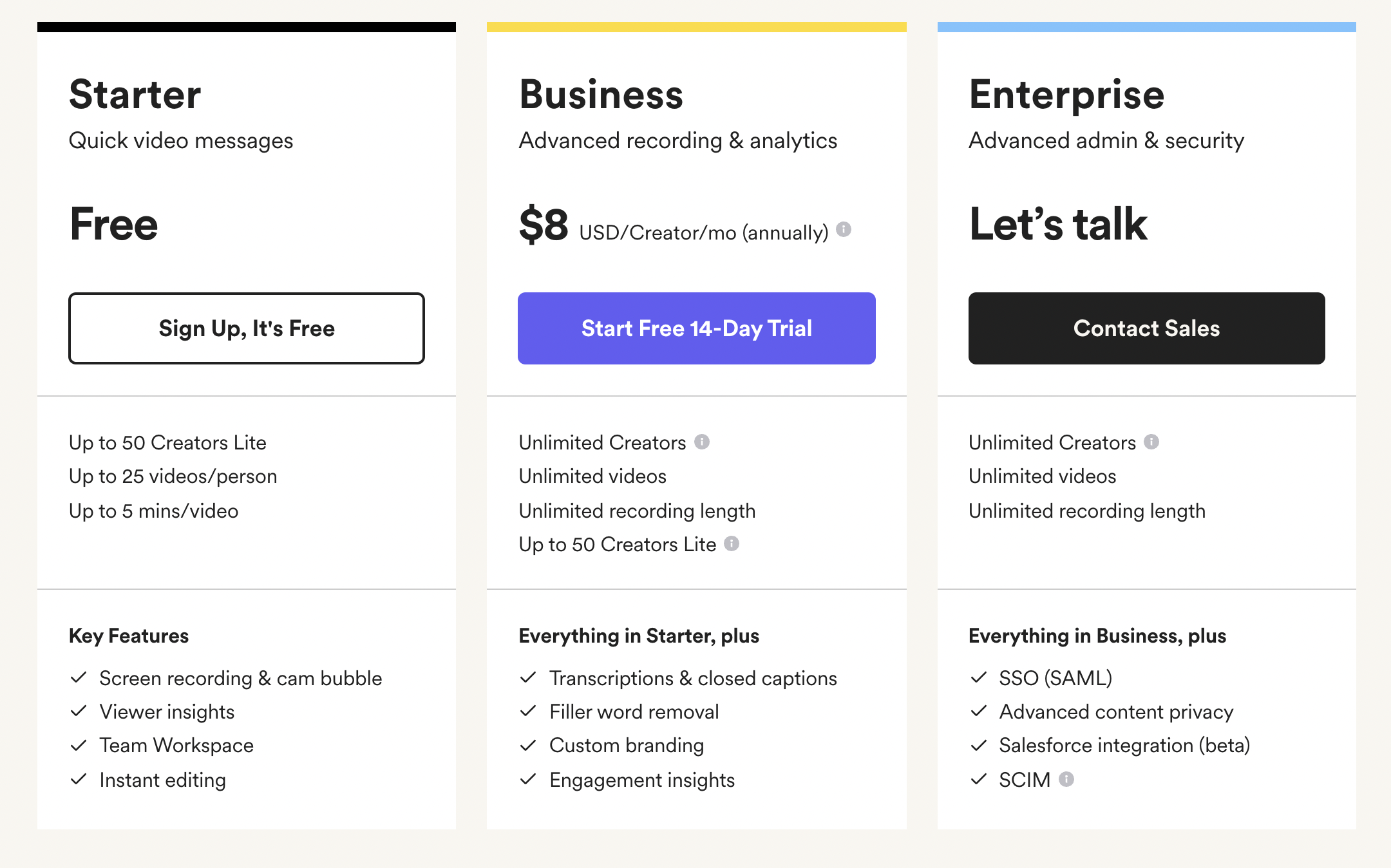 Screenrec is a screenshot and screen recording software. You can use it to capture a whole or a part of the screen as a screenshot. Alternatively, you can use it for recording the screen. Once you're done with the recording, you can instantly share it with your peers. Screenrec is positioning itself as a communication tool much effective than the existing ones. Their argument is that with a screen recording you have to show and not tell which is better.

The only downside of Screenrec is that it doesn't have an in-built video editor. This means, you have to use an additional tool to sharpen your recorded videos.
Key Highlights
- Because it's cloud-based, you don't have to spend time downloading Dropbox, YouTube or Facebook to share your recorded videos with others.
- The link that you share with others is encrypted which means there is no safety issue.
- There is no recording limit and no watermarks on the videos that you create and download.
- You can assign a hotkey to make your task even easier.
Platforms supported
Mac, Windows and Linux
Pricing
Free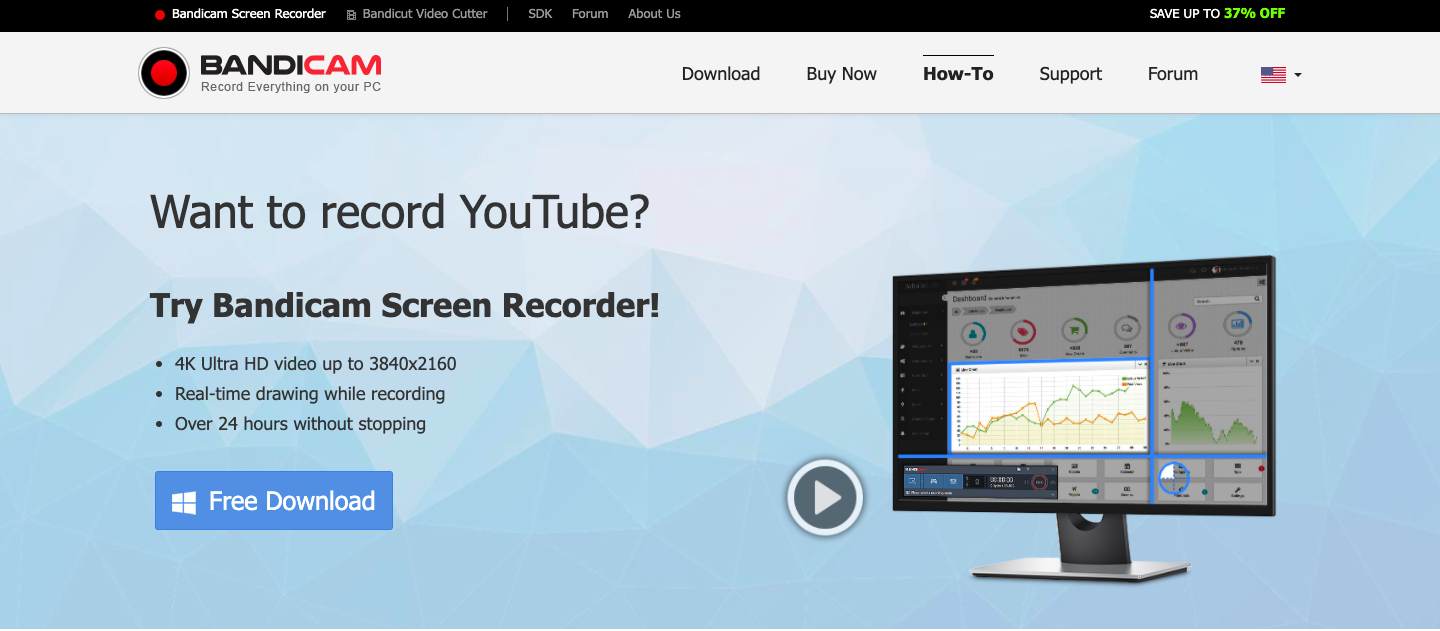 The positioning statement of Bandicam is - record and capture everything you want on your PC screen. And, we think that it does its job pretty well. Bandicam is a lightweight screen recorder designed specifically for the Windows OS. It gives an impression that it has been designed for gamers because they can record their gameplay, and upload it on YouTube and Vimeo directly. Besides, they also have a game recording mode which allows recording videos without any lag.
Key Highlights
- The multiple screen recording options make Bandicam unique.
- The device recording feature allows users to record external video devices like Xbox, PlayStation, Smartphone, and IPTV.
- You can also customize the cursor effect to enhance your recording experience.
- They can also record a Chroma key video while recording the screen of their computer.
Platforms supported
Windows
Pricing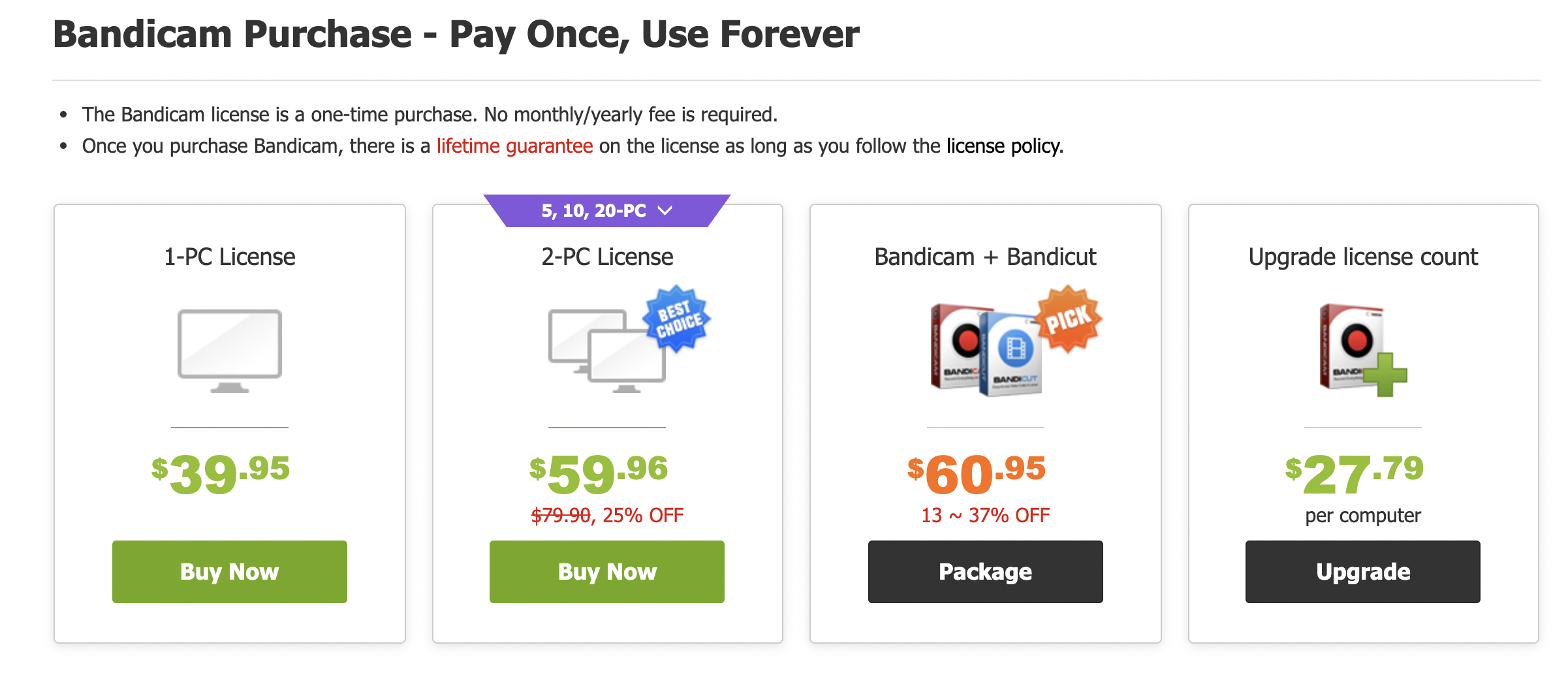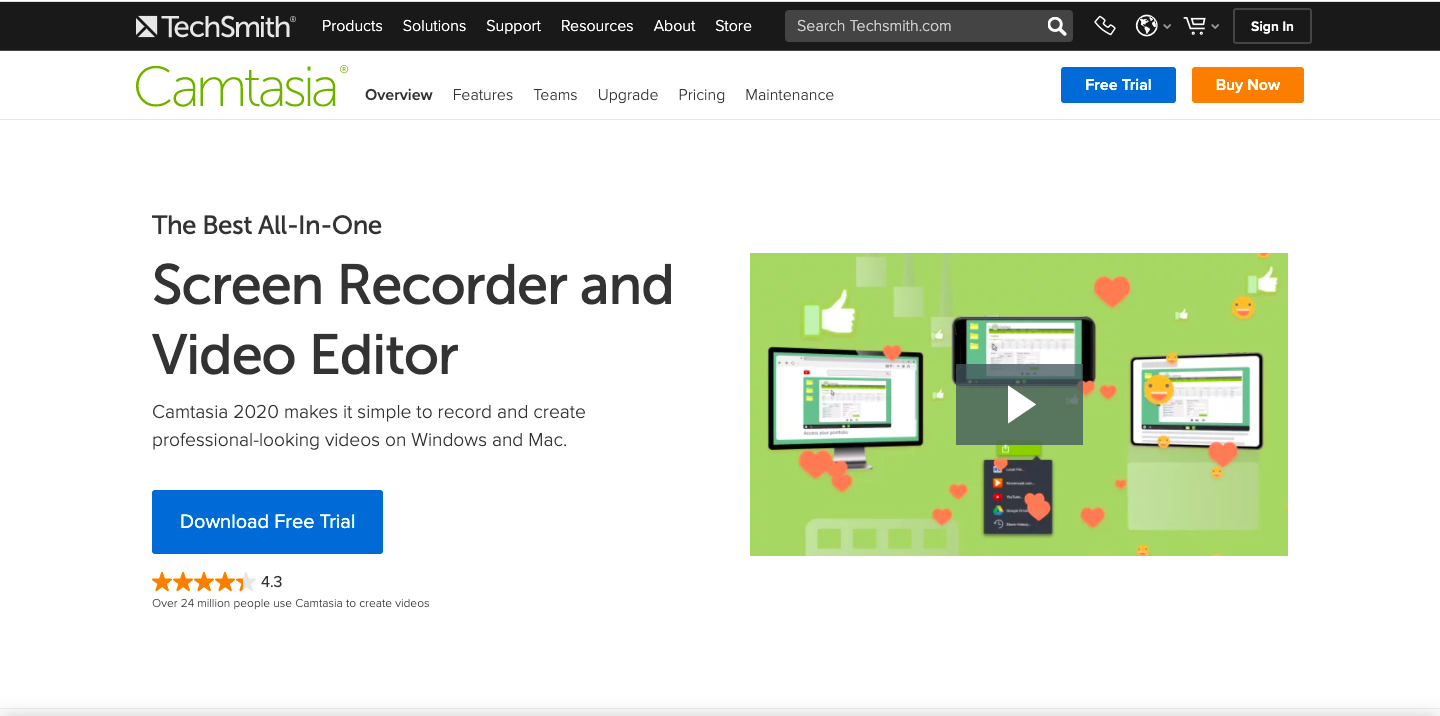 This list would have been incomplete without Camtasia. Camtasia is built by Techsmith and comes with all screen recording and video editing features. It has a very wide user base, and they have pitched their product as a tool that can help users to create tutorial, demo and training videos. Due to this placement strategy, it's used by people from different industries.

They also take pride in showcasing that a lot of Fortune 500 companies including Apple Inc, AT&T, Pepsi, Amazon and Google use Camtasia for their daily work activities.
Key highlights
- With Camtasia, you can add music to the screen recording videos. They have a royalty-free library of audio, sounds effects and music.
- You can record the whole screen or just a part of it.
- With the animation feature, you can add effects to your recording, annotations and cursor movements.
- To make sure that the viewer is following up with what you're saying, you can add captions to the video in simple steps.
Platforms supported
Windows and Mac
Pricing
The Pricing of Camtasia depends on the number of users, but they do have a pricing model based on the nature of user -
Individual
Business
Education
Government and Non-profit organizations
Ezvid is a free and fast screen recorder. When you visit the Ezvid website, the first experience that will hit you are that it looks very simple. In our analysis, Ezvid has the simplest looking website with a monochrome like build up. But, don't let the simple looking website fool you. It has some powerful features that allows you to record high resolution videos.
Key highlights
- It has an in-built video editor to add that extra level of crispness to your videos
- While you're recording, the videos get auto-saved which means if you accidentally close the window, you will not lose any data
- The Speed synthesis feature instantly creates a computer audio for your video
- You can also add music to the videos that you're recording
Platforms supported
Windows - XP3, 7, 8, and 10
Pricing
Free
However, it allows you to record videos only up to 45 minutes
Screencastify has more 15 million users in 189 countries. That tells a lot about their fame and reach. They have established themselves as a screen recorder for schools and other education institutions. To encourage these institutions to use Screencastify, they also offer a discount on their pricing. This tool is divided in three sections - Record, edit and submit.
The record part is only for recording the videos. Once you're done with the recording it gets saved in your Google Drive which you can download and share with others. The edit version comes with advanced video editing features. You can also upload external videos to edit them. Submit is a cool feature of Screencastify. With Submit, you can send a magic link to a bunch of people, and via this link they can submit videos to you. All these videos get saved in your Google Drive. This is a boon for teachers for collecting home assignments.
Key highlights
- Overall it's a great solution for educators. Screencastify has done a great job here.
- The features are clearly distinguished and users can choose only the ones that they need.
- Unlike other tools, you don't need to download Screencastify. Right now, it's available only in the web version.
- You can directly upload video on YouTube. The downloaded videos are in MP4 and GIF format.
Platforms supported
Google Chrome extension
Pricing
It has separate pricing for record, edit and submit. It has free version for all of them, but there is a 5minute limit for recording and editing. For submit, you can work on only 1 active assignment.
TinyTake is a screen recorder designed by MangoApps. Other than screen recording it also allows you to capture screenshots. It has a simple looking interface and boasts all the essential features. TinyTake encourages you to take screenshots or record videos, add annotations to them, and share it with your team for better communication. It claims to be the fastest tool in the market to do it so effectively.
Key highlights
- There are no watermarks on the videos that you create with TinyTake.
- You can set hotkeys and also decide the area that you want to record.
- It also allows you to drag and drop pictures from your local drive.
- Once you capture a screenshot, you can share it via email, add it to your clipboard, or send it to your printer.
Platforms supported
Windows and Mac
Pricing
The pricing of TinyTake is divided into 4 categories - Basic, Standard, Plus and Jumbo
Nimbus is a screen recorder and screenshot tool available only as a Chrome extension. It's a cloud-based tool which means your recorded videos get saved in the cloud which you can download later on. To make daily use easy, you can add keyboard shortcuts. The images can be saved in different formats like JPG, PNG and BNP. Like TinyTake, the screenshot images can be sent to the printer directly.
Key highlights
- You can add your own watermarks to the video.
- Edit and annotation feature is also available.
- Customizing the video screen resolution and frame rate is also possible.
- You can record video of another active program.
Platform supported
Chrome plug-in
Pricing
Nimbus has a free version, and it's impressive. However, it does restrict the user from getting access to all the features. Here's an overview of the pricing plans -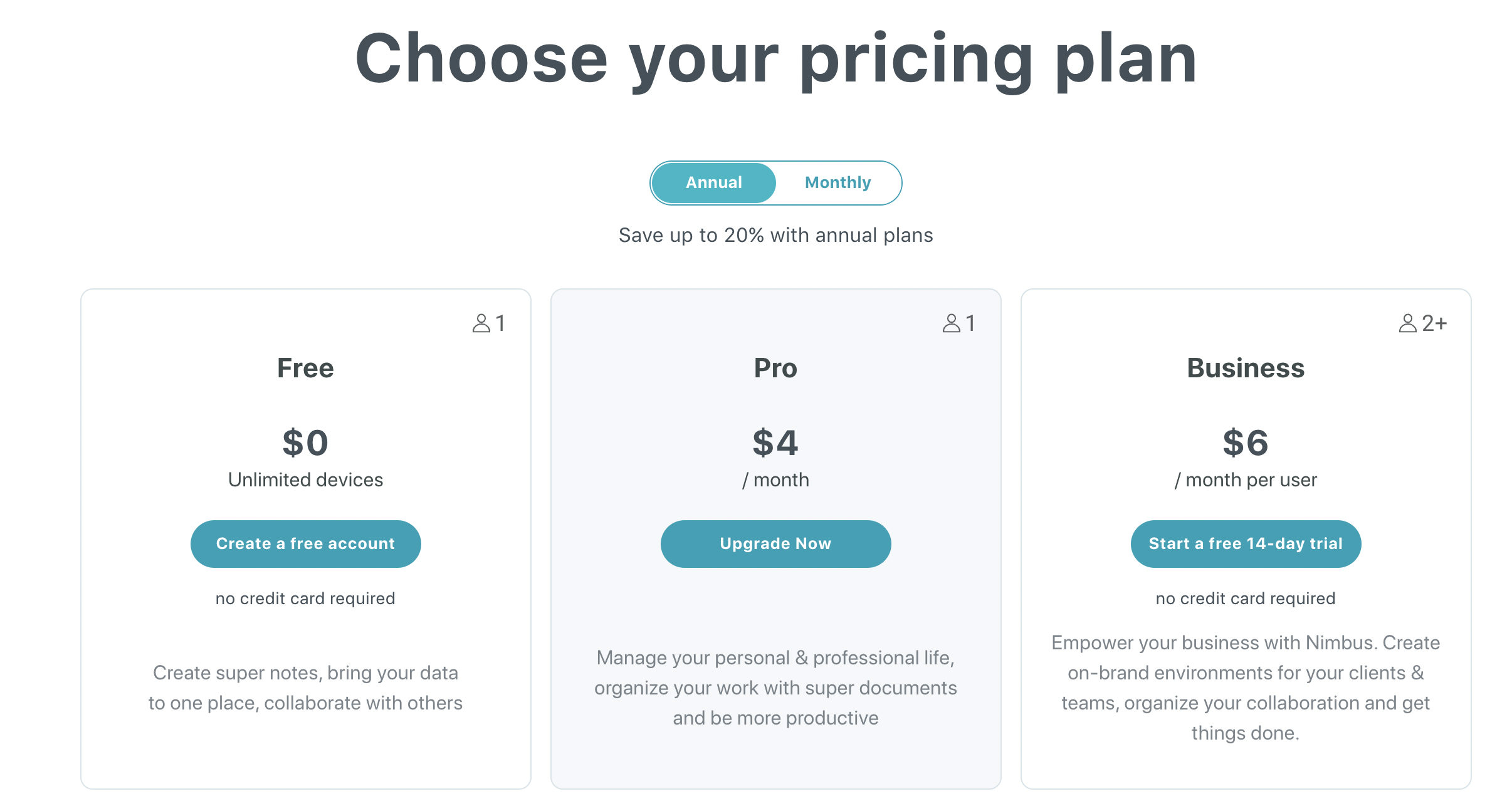 It's a wrap
Alright, so that's it. These screen recording tools were our pick for the best free and paid screen recorders in 2021 list. We firmly believe that any of the above tools will be a great fit for making videos. Which tool will be the best fit for you will depend on your operating system, budget and the nature of your occupation. You can start with the free version of the tools, and then compare them to find out what works the best for you.
Further Read:
Looking for a Mac-specific screen recorder comparison article?
We have a similar one written analyzing the best screen recorder for Mac.

Best Screen Recorders for Mac - The Ultimate List
If you think we have missed out on an awesome screen recording tool, then add the name to the comments section, and we will make sure that we check it out.