Best Screen Recorders for Mac in 2021 - The Ultimate List
Screen recording is awesome!
It's easy to create videos, it's quick, and video marketing is the thing right now.
If you use a Mac laptop, then you already have an in-built screen recorder, QuickTime player. However, it comes with a few limitations. Due to these setbacks, even though QuickTime player is a great tool for recording the screen, we can't call it a complete screen recorder.
A complete screen recorder goes beyond just recording screen. It comes with a host of other features like using webcam to record face, an in-built video editing suite, and advanced features like screen annotation and mouse emphasis. With these heavy features, a screen recording tool becomes a video production tool because you can create different types of videos without being dependent on multiple tools.
If you go to your search engine and type in, "Best screen recorder for Mac," you'll see ample of results showing up. We tried doing that, and admittedly, a few of those articles were impressive. However, we got this feeling that most of them were not updated with the latest tools, so we decided to write this article.
In the following section we will be covering different screen recording tools that are best for your Mac. This list includes both paid and free tools, so that you can choose the best that meets your budget.
So, here's presenting a few of the best screen recorder for Mac in 2021:
Vmaker
Camtasia
OBS Studio
ScreenFlow
Loom
Snagit
ActivePresenter
Screencast-O-Matic
TinyTake
Claquette
1. Vmaker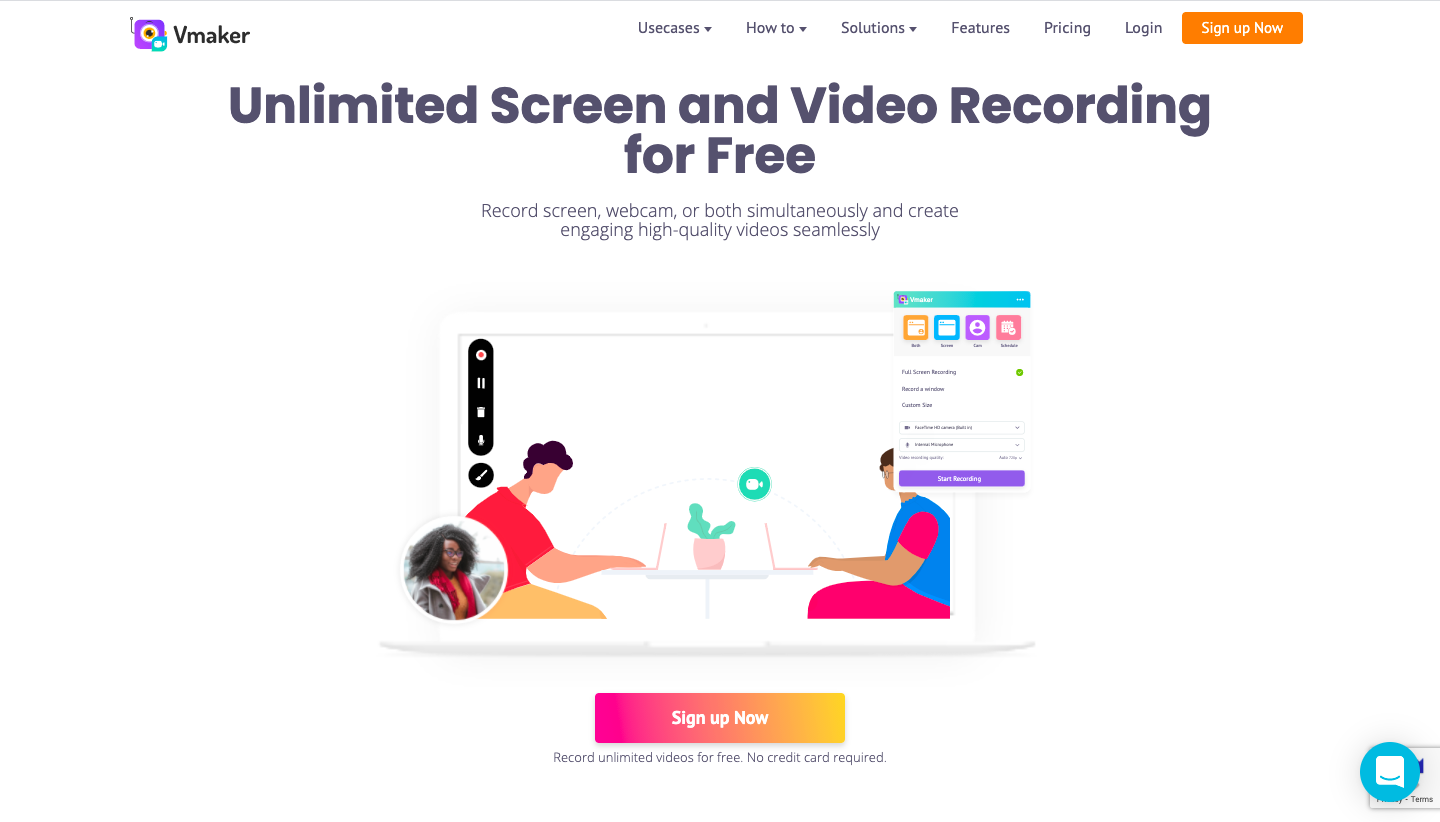 Vmaker is a free screen recorder that records your screen and face simultaneously. With Vmaker, you can create unlimited videos without any watermark for FREE. It has a user-friendly interface and a sleek design which makes it easy for the user to navigate, and create videos.
Vmaker has a many advanced features which makes it one of the best in this category. In the following section we will walk you through the good and not-so-good points of using Vmaker -
Good
No trial plan. Once you sign up, you can use it for free for a lifetime
You can record videos in 4k high quality
You can record screen with both internal and external audio
You can choose between recording the entire screen, a window or create a custom size
Mouse emphasis and screen annotation make it easy to highlight important information
Vmaker has schedule a recording option which means you can record the screen even when you're not available to do it yourself
Block notifications and customize the background to create a pristine video
It has an in-built editing suite which means you can cut, crop, and resize the video without being dependent on other tools
Not-so-good
Currently, Vmaker is available only for Mac operating systems. However, the team is optimistic on launching Windows version, Chrome plug-in and mobile app in the near future.
Vmaker has three standard pricing plans - Lite, Starter and Team. You can also go for the enterprise plan if you want to customize your requirements. In that case, the pricing will differ from one customer to the other.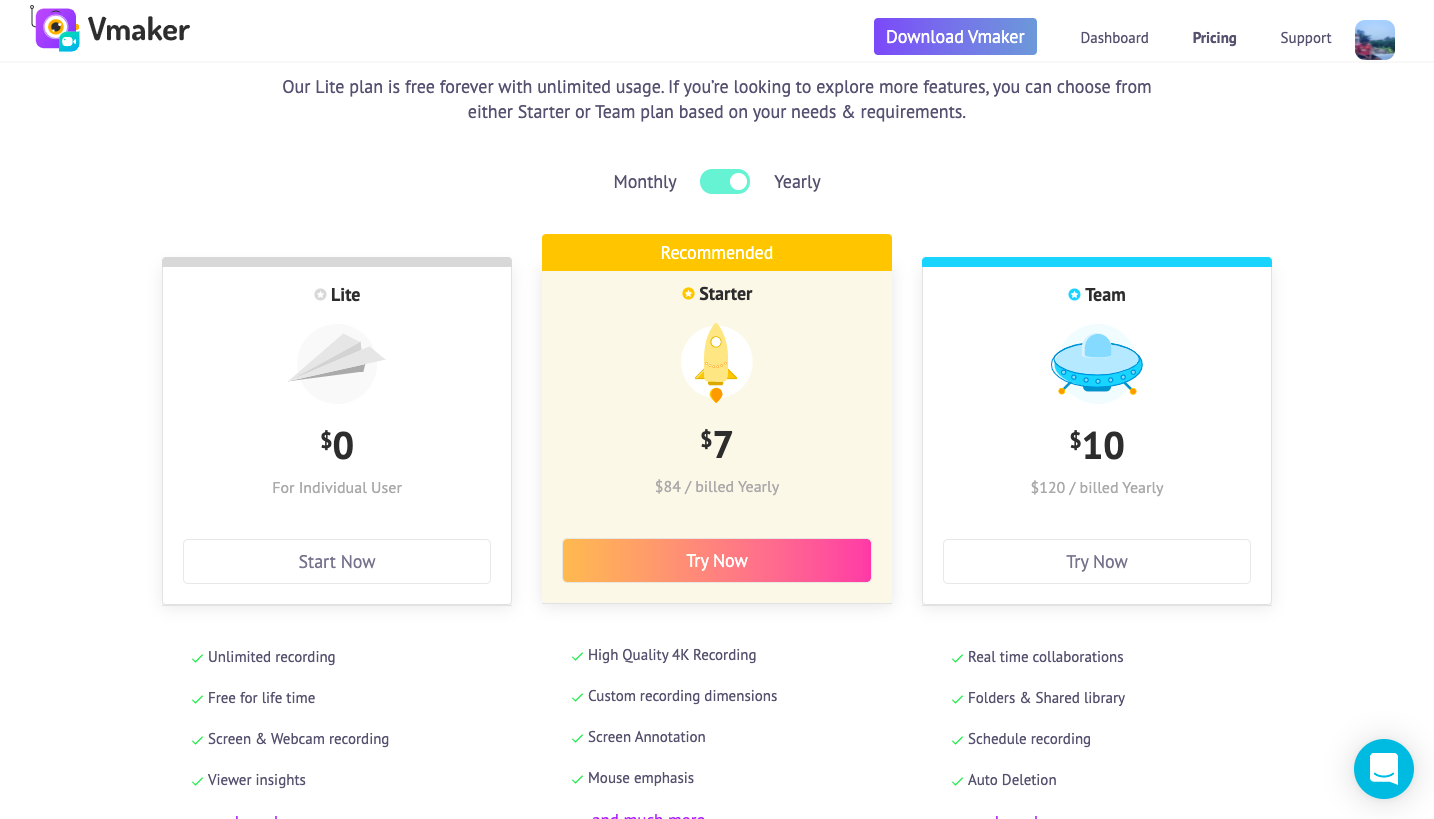 The Following are the pricing options of Vmaker billed annually -
Lite: $0/month
Starter: $7/month
Team: $10/month
2. Camtasia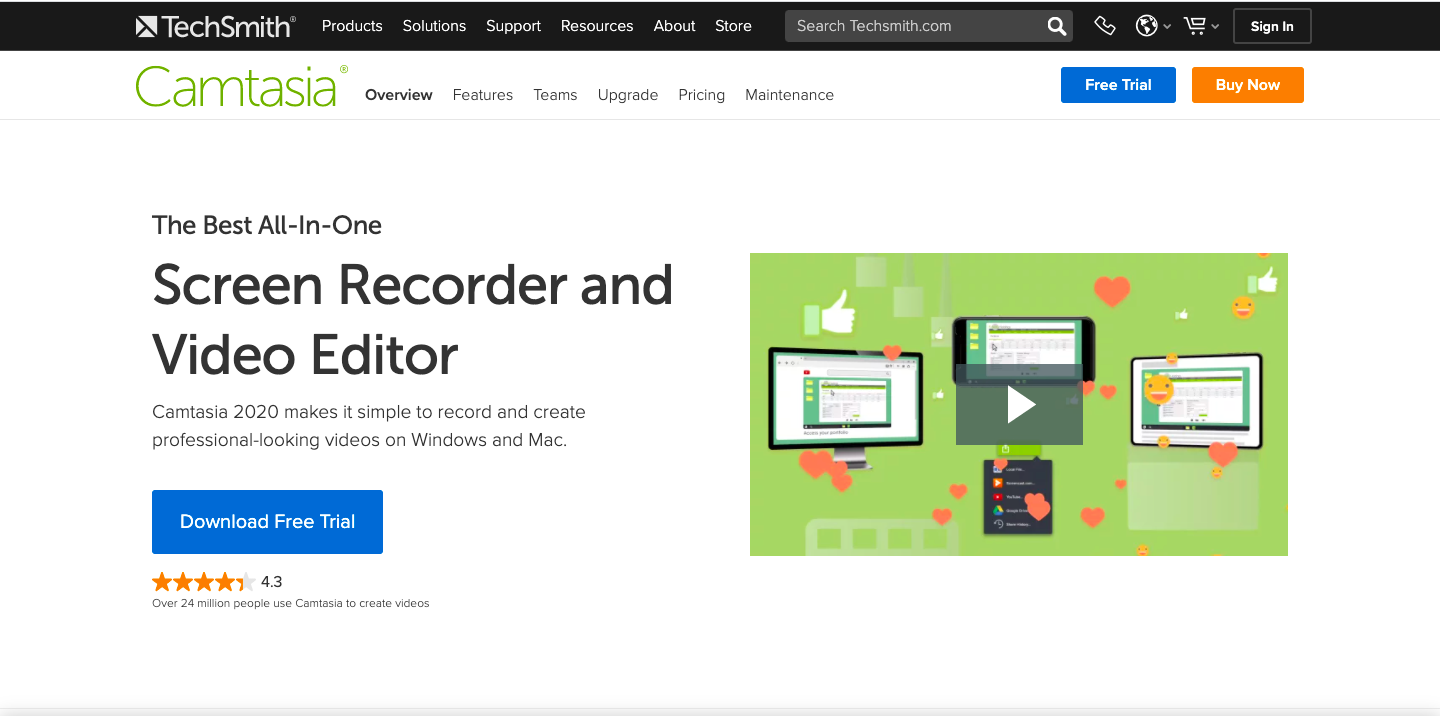 Camtasia is a very reputable screen recorder and video creation tool for mac in the market. It has been used widely by educators, freelancers, and professionals for creating tutorial, demo, and YouTube videos.

It has some great features, and the video editing options allow you to edit and customize the video as per your requirements. Camtasia works well for both Mac and Windows OS. It comes with a free trial, but after you have used it, you need to upgrade to the paid version.
Camtasia has some interesting features lined up. Let's take a look at a few of them -
Good
Like Vmaker, in Camtasia, you can record an entire screen, a small part or just a window
You can add music to your recordings. Camtasia has a library of royalty-free audio, sound effects, and music
After adding music, you can customize the audio settings as per your liking
Once you're video is ready, you can add video effects and pre-saved filters
You can add animation effects in the video, and on your annotations. To make your cursor movements more interesting you can add effects there too
There is also an option to add captions to the video in a few and easy steps
Not-so-good
There is no scheduling a recording option which means you cannot keep it on auto-pilot
It' expensive. Paid plan starts at $199/user
Camtasia has pricing plans based on different users, and the pricing depends on the number of users. Following are the different pricing models -
Individual: $249.99 (One-time payment)
Business: $249.99 (One-time payment)
Education: $169.99 (One-time payment)
Government and Non-profit organizations: $223.99 (One-time payment)
3. OBS Studio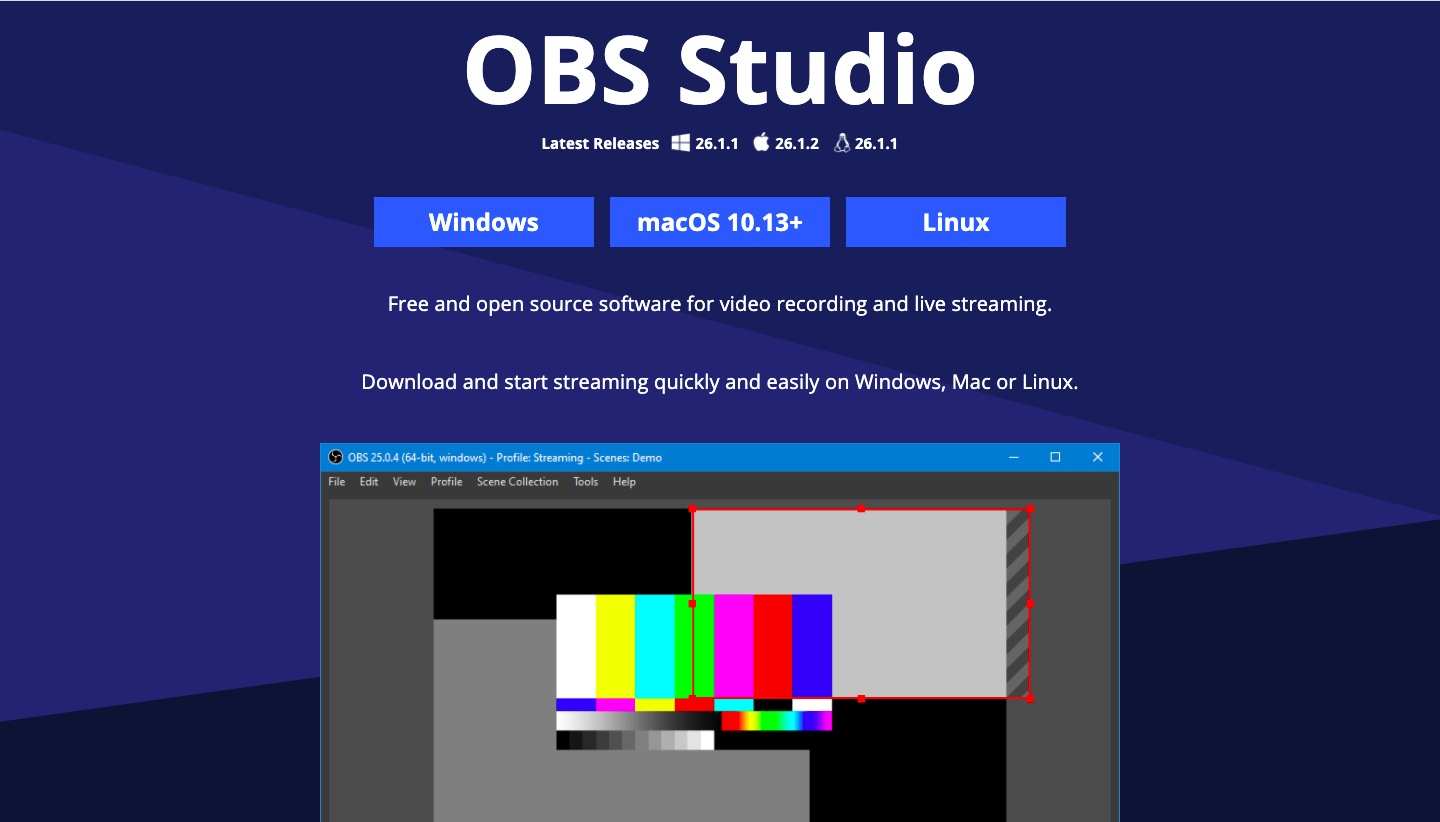 OBS is a free open-source screen recorder for Mac. It was specifically designed for live-streaming and recording games. The interface is light and very user-friendly, but has many advanced options that help you to create great quality videos.
Here's our take on the feature list offered by OBS studio -
Good
You can add different plug-ins to make the functionality wider
Give effects to your videos like adding transitions when you switch from one scene to another
Use the intuitive audio mixer to get the sound right for your video
Monitor up to 8 scenes simultaneously, and then cue and transition them in a few clicks
Add hotkeys to start/stop recording, switching between scenes, and more
Not-so-good
There is a lack of training materials. A user might get lost in the beginning
No strong indication to indicate that you have started recording the screen
Lack of a dedicated customer service team
Pricing
Free
4. ScreenFlow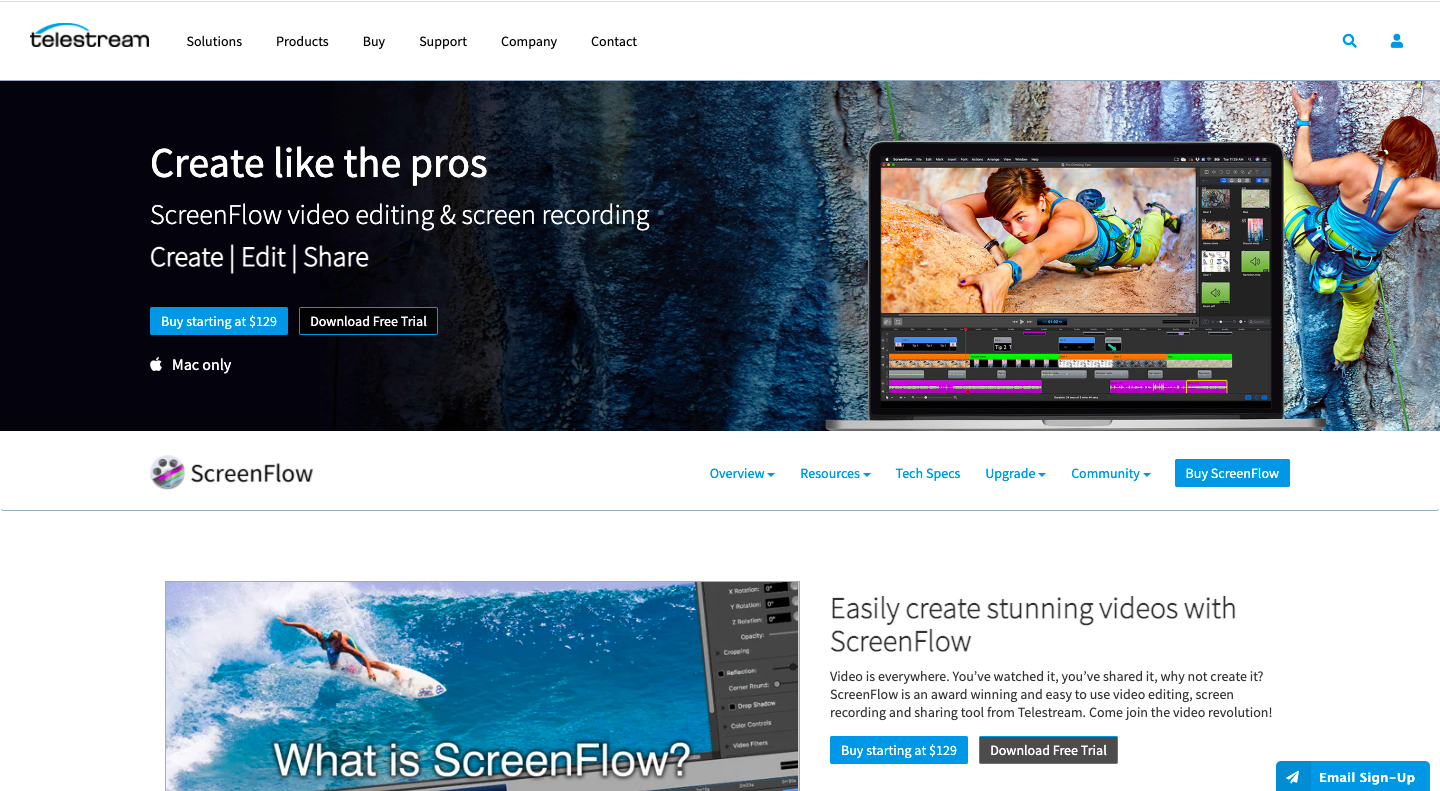 ScreenFlow is an easy-to-use screencasting and video editing tool. It's developed by a company called Telestream, and right now it's available only for Mac. Earlier, ScreenFlow was designed for app developers, educators and marketers, but right now it has a large database of users from different industries.
ScreenFlow has some impressive features and considered as one of the best professional video making tools available in the market. Let's see how ScreenFlow stands out in our Good and Not-so-good comparison
Good
You can record in the highest quality even when you're recording multiple screens
It has a powerful video editing tool that helps the user to add transitions, animation, free-hand annotations, multi-channel audio and more
There are pre-loaded templates which means you can quickly edit them, and create a tutorial video
You can create animated GIFs and APNG and export them easily
It comes with caption editor which is great for adding subtitles
They have a dedicated customer support team, ready to solve customer queries
Not-so-good
There is no asset library section within the tool
You need to pay a very high amount to get access to all the features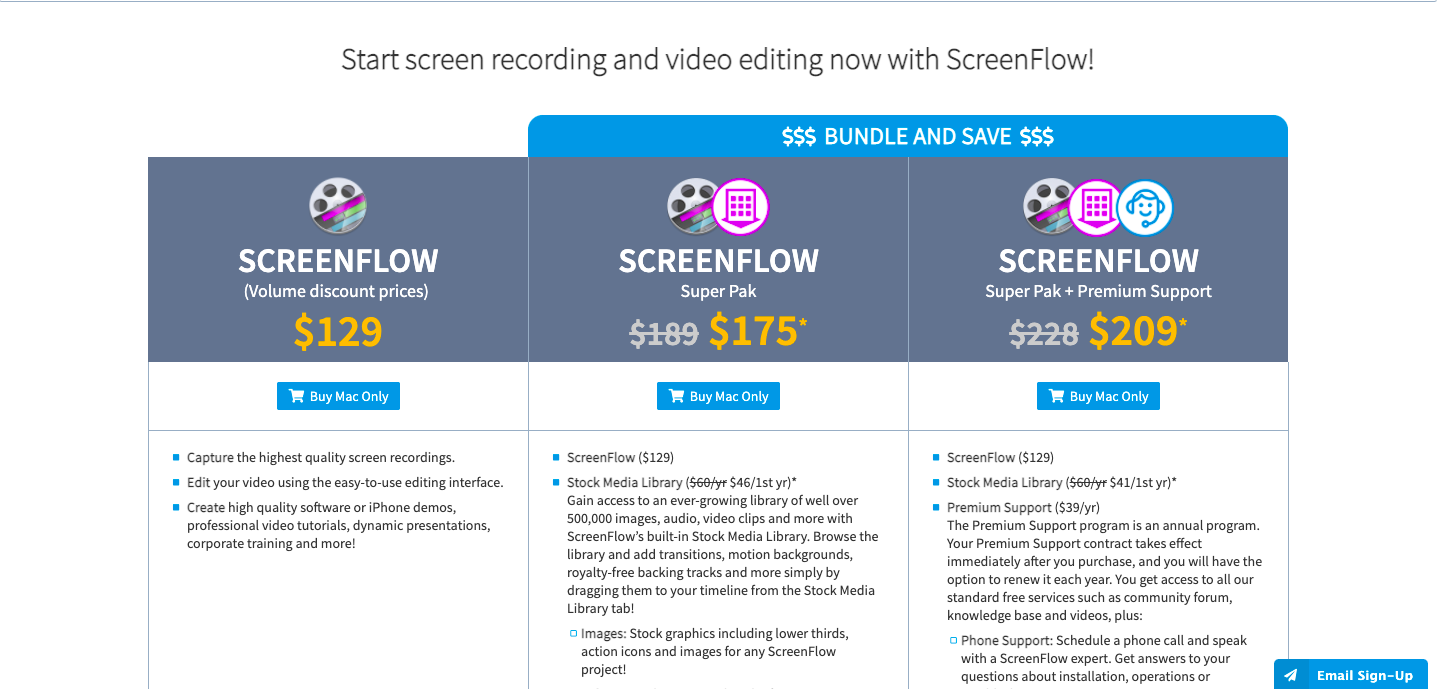 Volume discount price: $129
Super Pak - $175
Super Pak + Premium Support - $209
5. Loom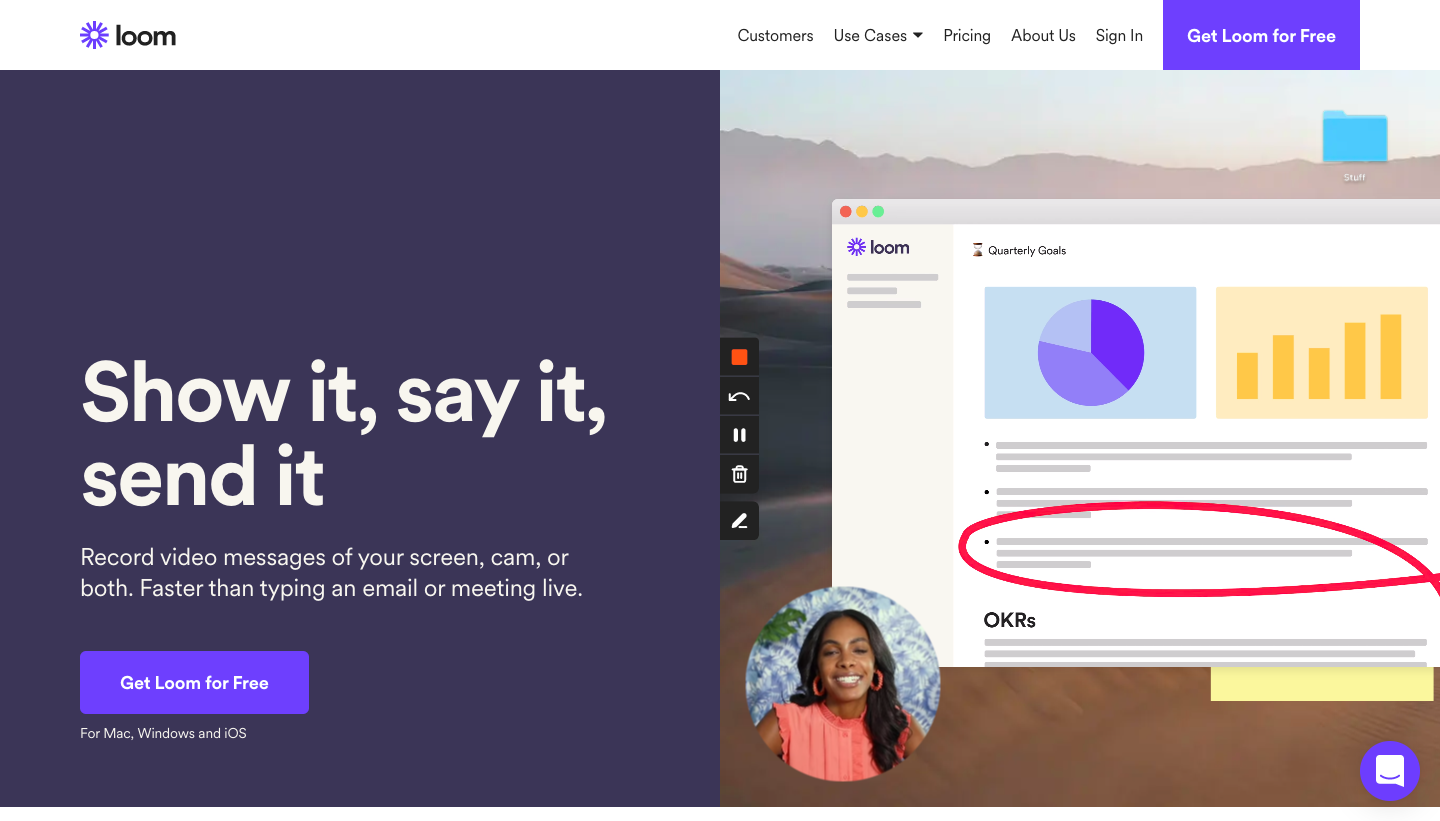 Ever since its launch, Loom has got a lot of attention. Currently, Loom has more than 7 million users across the globe. It's available for Mac and Windows operating systems. Along with this, you can also download it from the App store. To make things even better, you can access it easily from the Chrome plug-in. It's very easy to use and effortless. Due to the ease of use, and great quality video recording it has become quite popular with educators, designers and almost everyone in the corporate world.
Loom has some great features to offer, but here's our pick on what we liked and what we didn't -
Good
Very user-friendly interface which means there is no learning curve
No watermarks in the videos
You can record videos in HD
The videos can be password protected and only shared with a closed group
Analytics feature gives you the viewer count of your videos
Not-so-good
Allows only first 5 minutes of recording in free plan
You cannot censor sensitive information
Product updates have to be downloaded manually, there is no automatic option
Loom has three different pricing options based on the number of users -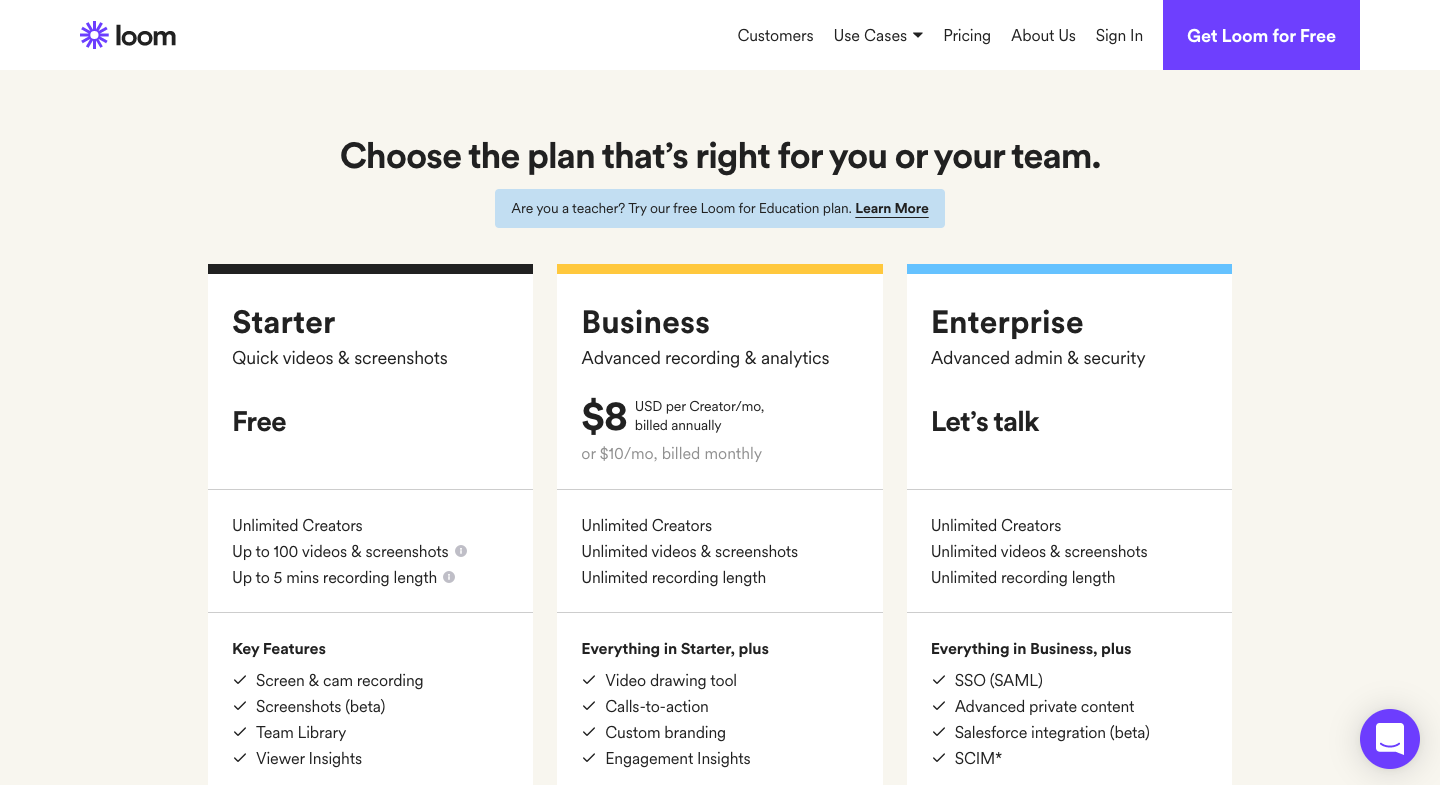 Free
Business - $8/user/month billed annually
Enterprise - Custom pricing
6. Snagit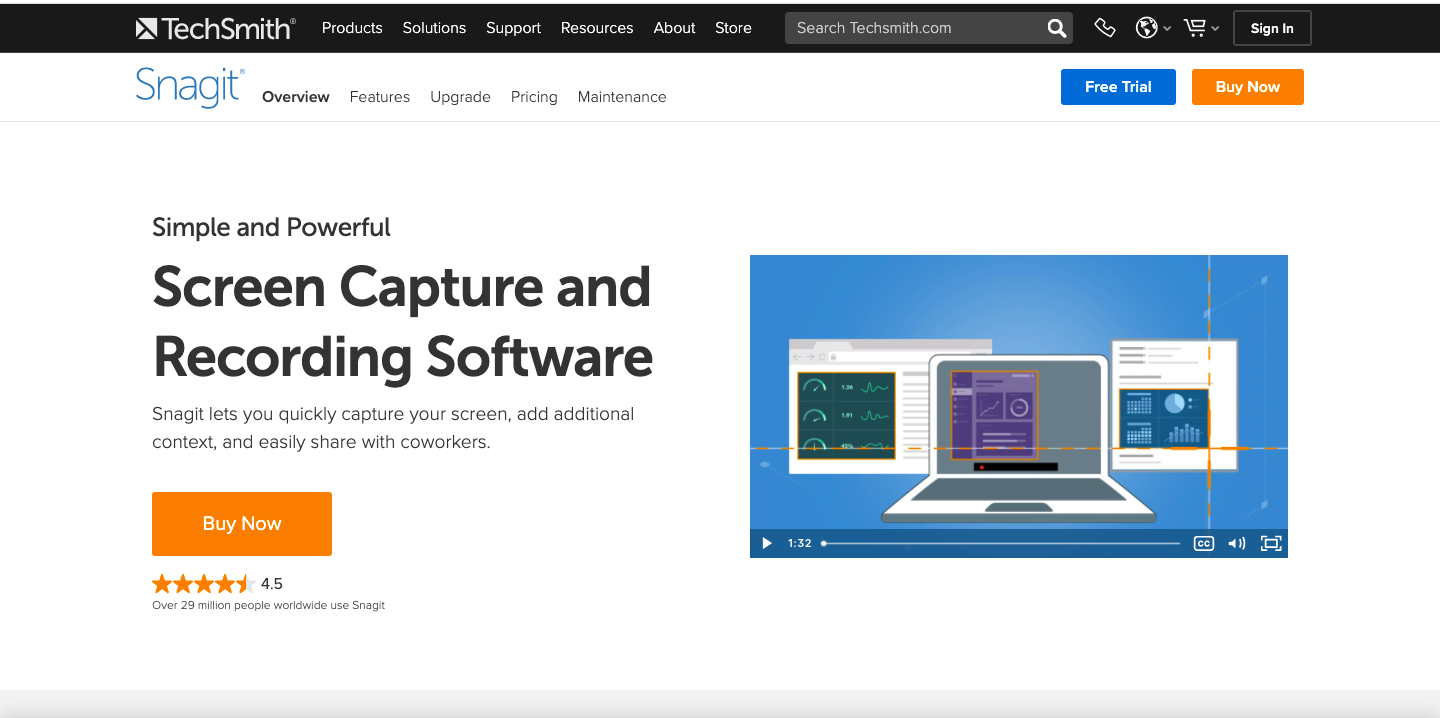 Snagit is a very popular screencasting tool designed for macOS. Empowering people to communicate effectively is the underlying goal of the brand. Snagit proposes that it can cut-through the clutter of multiple emails and video calls, and make communication quick and more effective. Snagit is also a very powerful tool for creating presentations, and the professionals love it for that.
Now, let's dive in to understand how well Snagit fairs on our chart -
Good
You can capture the entire screen or only a part of it. Additionally, you can also record scrolling screen with Snagit
The grab text feature allows you to copy text from a screen capture and paste it on any other file instantly
You can add video from your computer's system other than your microphone
Smart Move feature automatically makes the objects in the screen capture movable
The screen capture images can be personalized with stickers
Not-so-good
You have to start paying to use the powerful features
Video editing tools are minimal
Allows only 1 format to export videos
Snagit follows the same pricing as Camtasia. That's understandable since both of these tools come from the same company - Techsmith. It starts with $49.95 and has four different categories -
Individual: $49 (One-time fee)
Business: $49 (One-time fee)
Education: $29 (One-time fee)
Government and Non-profit organizations: $42 (One-time fee)
7. ActivePresenter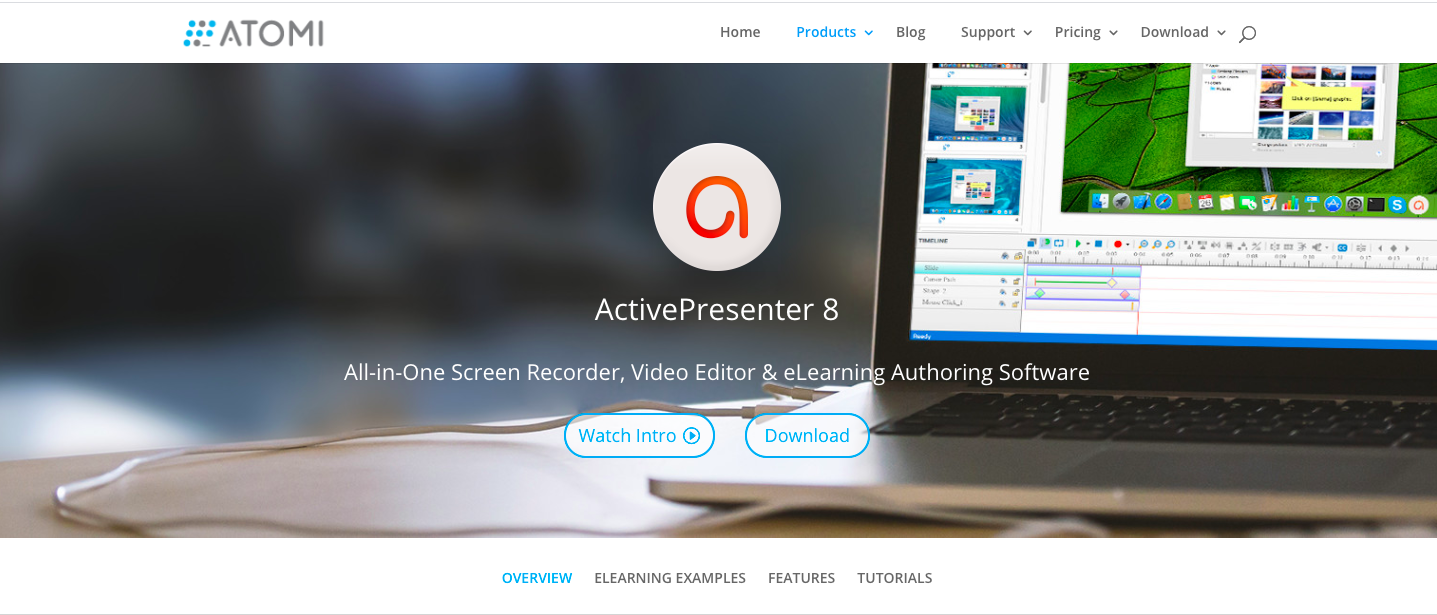 The team at Atomi, who developed Active Presenter, claim themselves to be an all-in-one screen recording software, video editor and e-learning authoring software. It's available for both Mac and Windows OS. It has some advanced features which makes it a competitor for Adobe Captivate and Articulate 360.
These are some good and not-so-good features of Active Presenter -
Good
You can export videos in different formats like AVI, MP4, HTML5
In the paid plan, users can import presentations and word file in which they can add annotations
Configure hotkeys as-per your convenience
You can add transition and animation effects
Not-so-good
There is a watermark in every recording
It takes a lot of time in exporting the videos
There are no color grading tools and presets
Lack of character library makes it a notch lower than other e-learning video making tools
It comes in only pricing plans, Standard and Pro. The Pro version comes with a lot of advanced features over and above the features offered by Standard Plan
Standard - $199/license
Pro - $399/license
8. Screencast-O-Matic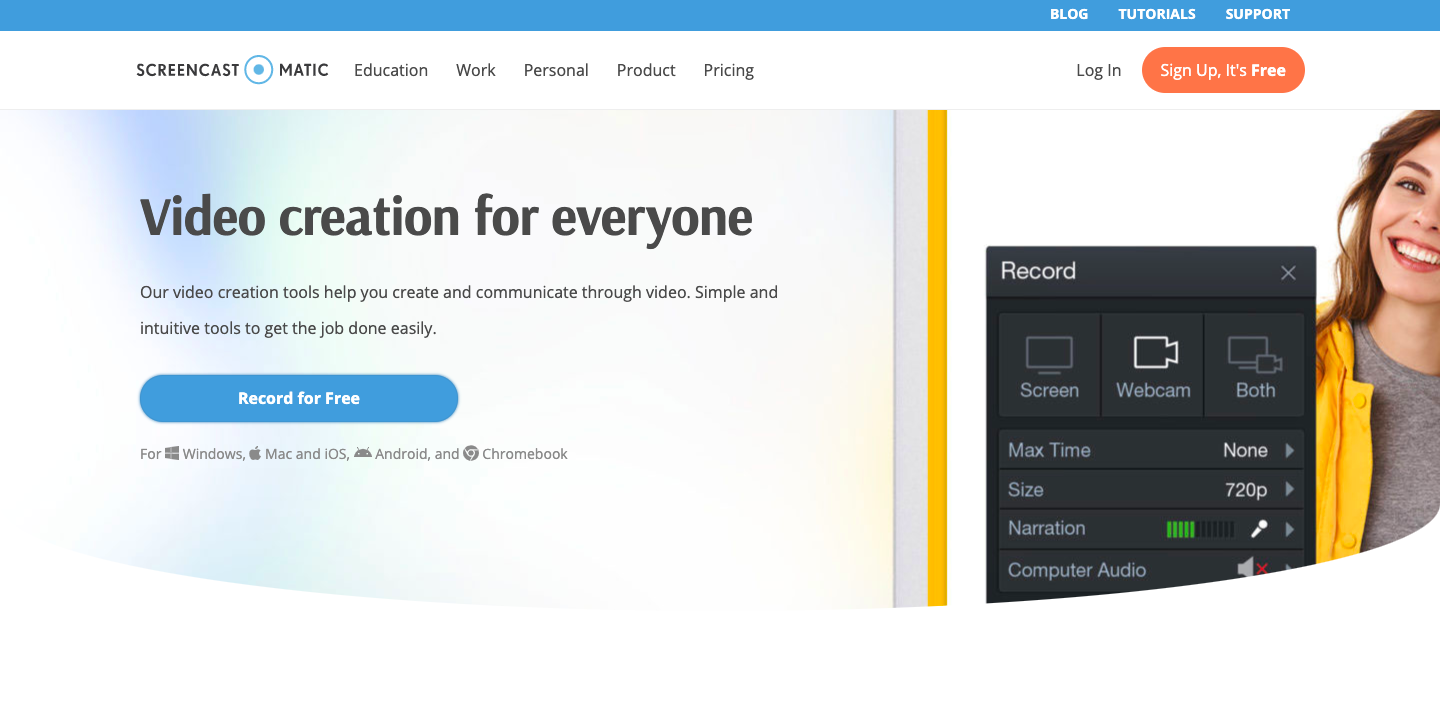 Screencast-O-matic is a simple screen recorder that was launched in the market to make video communication easy. They identify their target audience as teachers, professionals and anyone who wants to create videos for recording their hobbies, memories, gameplay and more. They are available in 190 countries, and more than 60 million videos have been recorded on Screencast-O-matic.
It has a vibrant community of followers and have a lot of good things to say about their features. Let's see who tips the scale in their favour - Good or Not-so-Good
Good
Even if you're using the free version, you can upload videos on YouTube without exiting the tool
The instructions are very easy and clear, so once you download the tool, you can get started without getting lost
You can add stock videos and images to add more value to your video
You can also quick-share videos Google Classroom, Microsoft Teams, Schoology, Blackboard and more
Along with highlighting you can also Pan and Zoom areas to give an extra effect
Users can also allow their viewers to comment and leave notes on the videos
Not-so-good
No video editing option in the free plan
If Java is not updated in the viewer's system, then they might face trouble in loading videos
No full-screen recording allowed in free version
The tool keeps running in the background even after shutting down which can slow down your system
The pricing plans of Screen-O-Matic is divided into three categories - Free, Deluxe and Premier.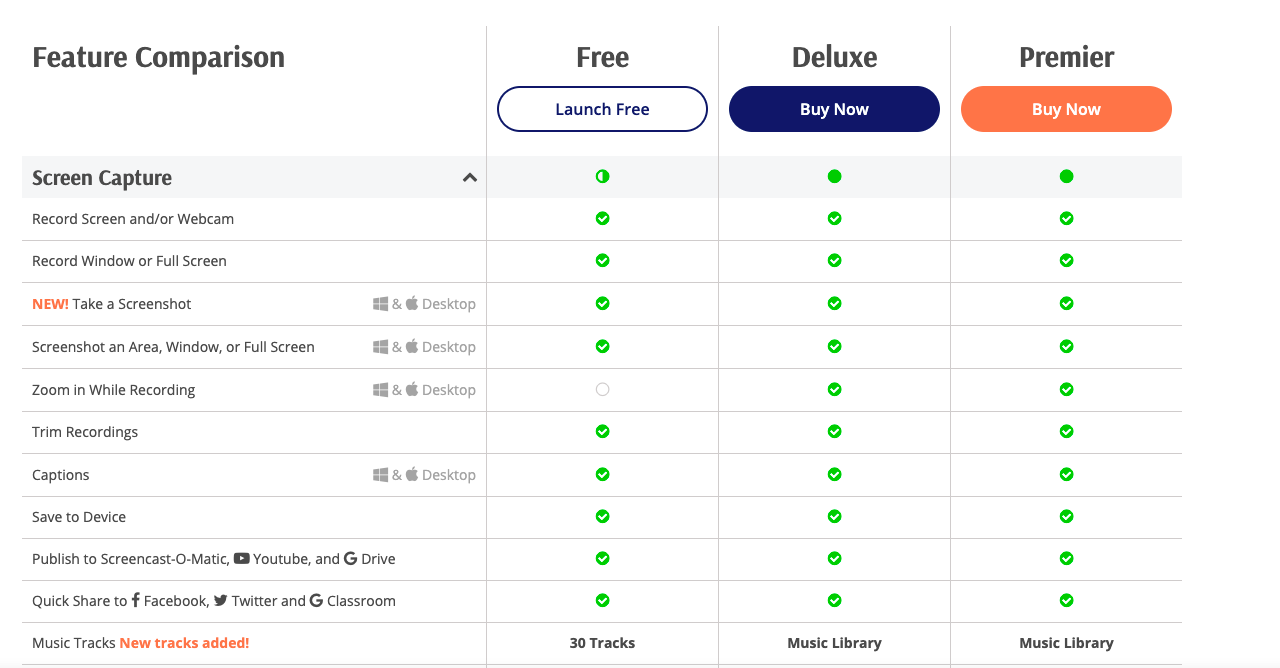 Free
Deluxe (billed annually) - Individual - $1.65/month, Team - $9.5/month (for access to 10 computers)
Premier (billed annually) - Individual - $4/month, Team - $17.5/month (for access to 10 computers)
9. TinyTake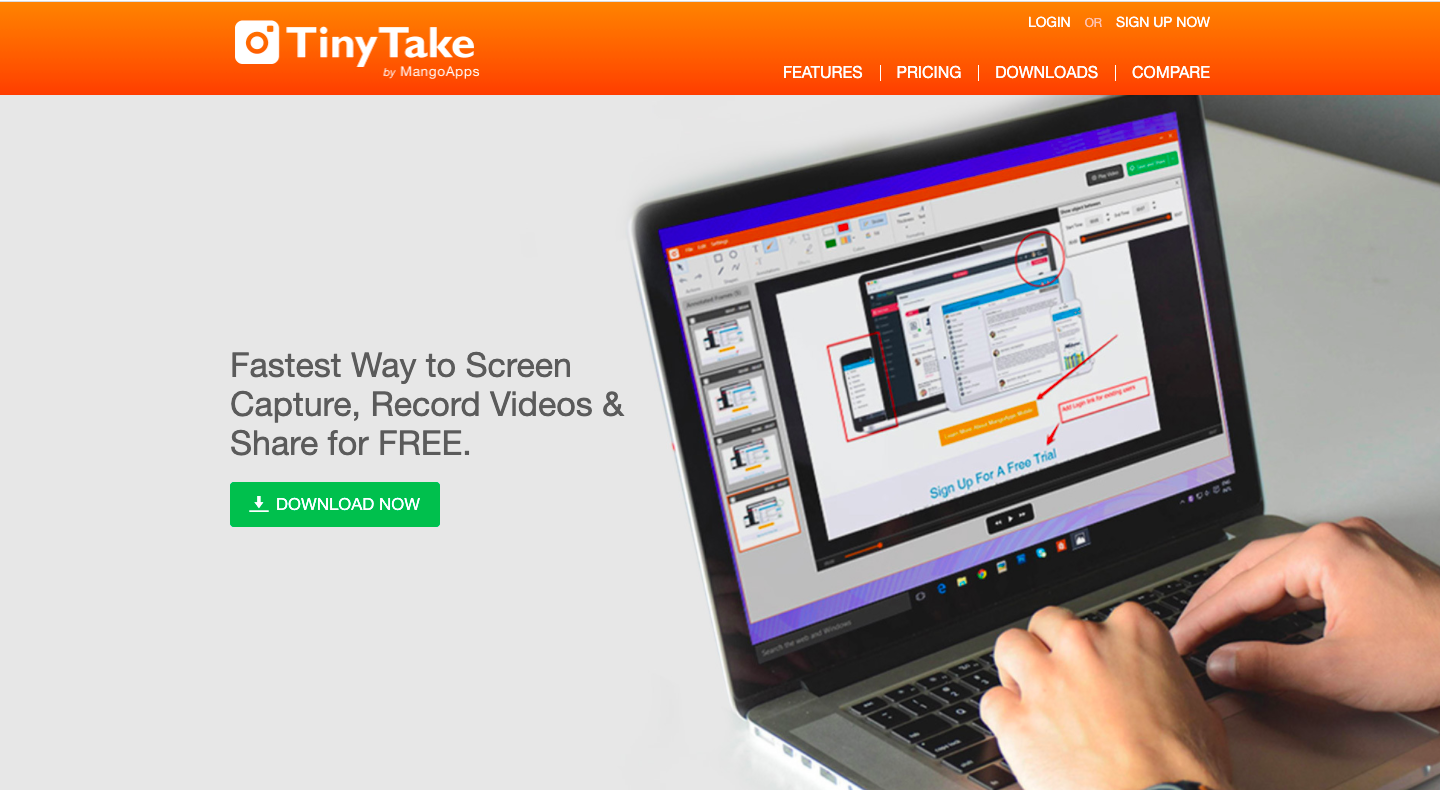 At the first look, the TinyTake website appears to be simple. They claim to be the fastest screen recording and screenshot capturing tool. To prove how good they're, there is a compare page added on their website to show where they stand-off against Windows Screenshot capture and Snagit.
It allows more than 5 minutes of recording and 2 GB storage space even in the free version, but let's find out how do they stack up against other tools -
Good
No watermark on the videos
You can directly upload videos on YouTube after recording
Once you take screenshots, you can use annotations on them
You can customize the screen size while recording, and also set hotkeys
Not-so-good
No video editing options available
The annotation feature is limited
The default recording format is .WMV
If you want to restart recording, you have to close and re-open the app
The pricing of TinyTake looks simple. It's divided into 4 categories - Basic, Standard, Plus and Jumbo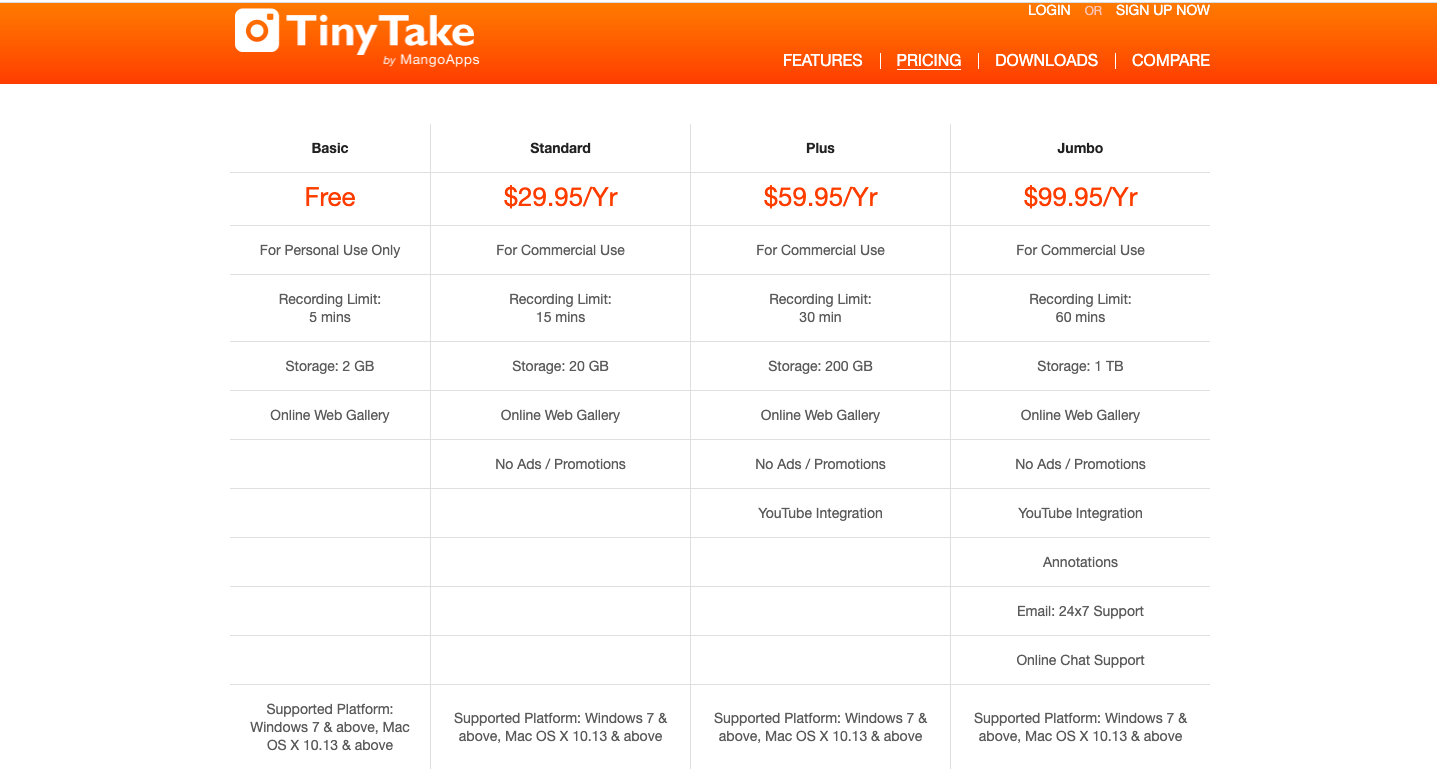 Basic - Free
Standard - $29.95/year
Plus - $59.95/year
Jumbo - $99.95/year
10. Claquette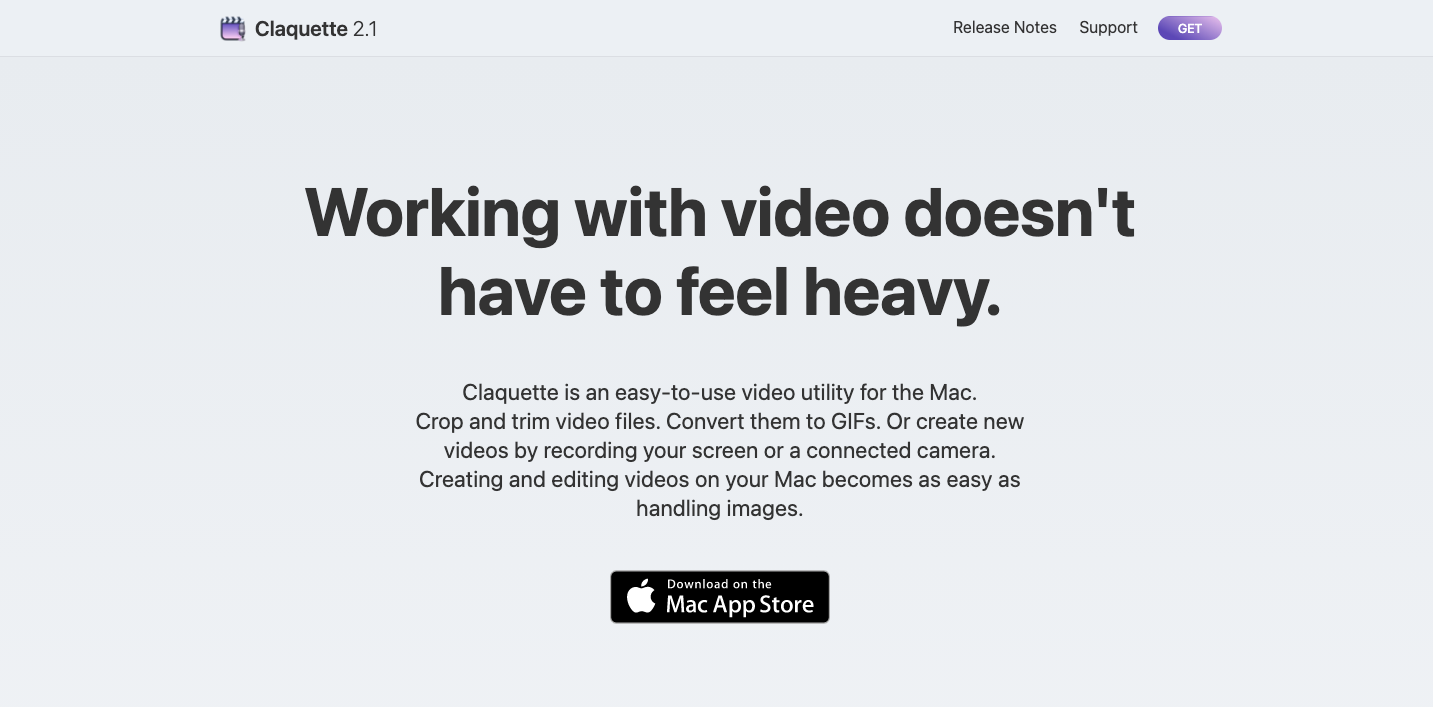 Claquette is a total video tool that helps you to record and edit videos. You can also use it to create GIFs that you can add in your email or newsletters to make it more peppy. It's developed by a team called Peakstep.
Claquette is probably the least-known in this group, but with its impressive features specifically designed for the Mac technology, it can make a big splash going forward
Good
Designed for the macOS it works in sync with the latest technologies - Dark mode, Force touch or the Touch Bar
You can connect your iPhone with the laptop to record their screen
Videos are fully colour managed which means the vibrancy will be maintained even while exporting the video
Not-so-good
The free version has a huge watermark on the video
A few users have experienced app crashes and have also reported unresponsiveness
Pricing
Other than the free version, there are three other modes of pricing -
Standard - $14.99
Pro - $39.99
Upgrade - $24.99
Final Conclusion
We can't pick a favorite from this list. It's hard and to an extent subjective.

All the screen recorder software that we covered in this list are great, and each of them have their own strengths. If you're new to screen recording, then we highly recommend going ahead with tools like Vmaker, OBS, Screencast-O-Matic or TinyTake. Each of them allows you to use the tool for free with some great features. Our pick will be Vmaker because it looks more user-friendly than the others.

If you're already a Pro in screen recording and editing, then I think you can choose any of the paid plans offered by these tools. Compare your requirement and your budget with the features and pricing, and you will reach at a conclusion.

We hope this list was helpful, and if you think you want to come back to refer to this article again, then go ahead and bookmark this. To check out more Mac Apps visit Filehorse.