Contents
List of 8 Best Screen Recording Apps For iPhone
Apple iPhones are very popular amongst users. In fact, there are around 1 billion active iPhones in the world currently. Apple have over the years have so many features to their flagship product which has helped them grow a loyal user base. Up until the iOS11 version was launched Apple iPhones did not have a screen recording functionality.
But since then every iPhone version has a built-in screen recorder which comes in handy for regular usage. But however, the native recorder misses out on quite a few features. In this blog, we take a look at the eight best screen recorder apps for iphone available in the app store that comes with handy features enabling us to use them for professional use.
List of 8 Best iPhone Screen Recorder App:
Vmaker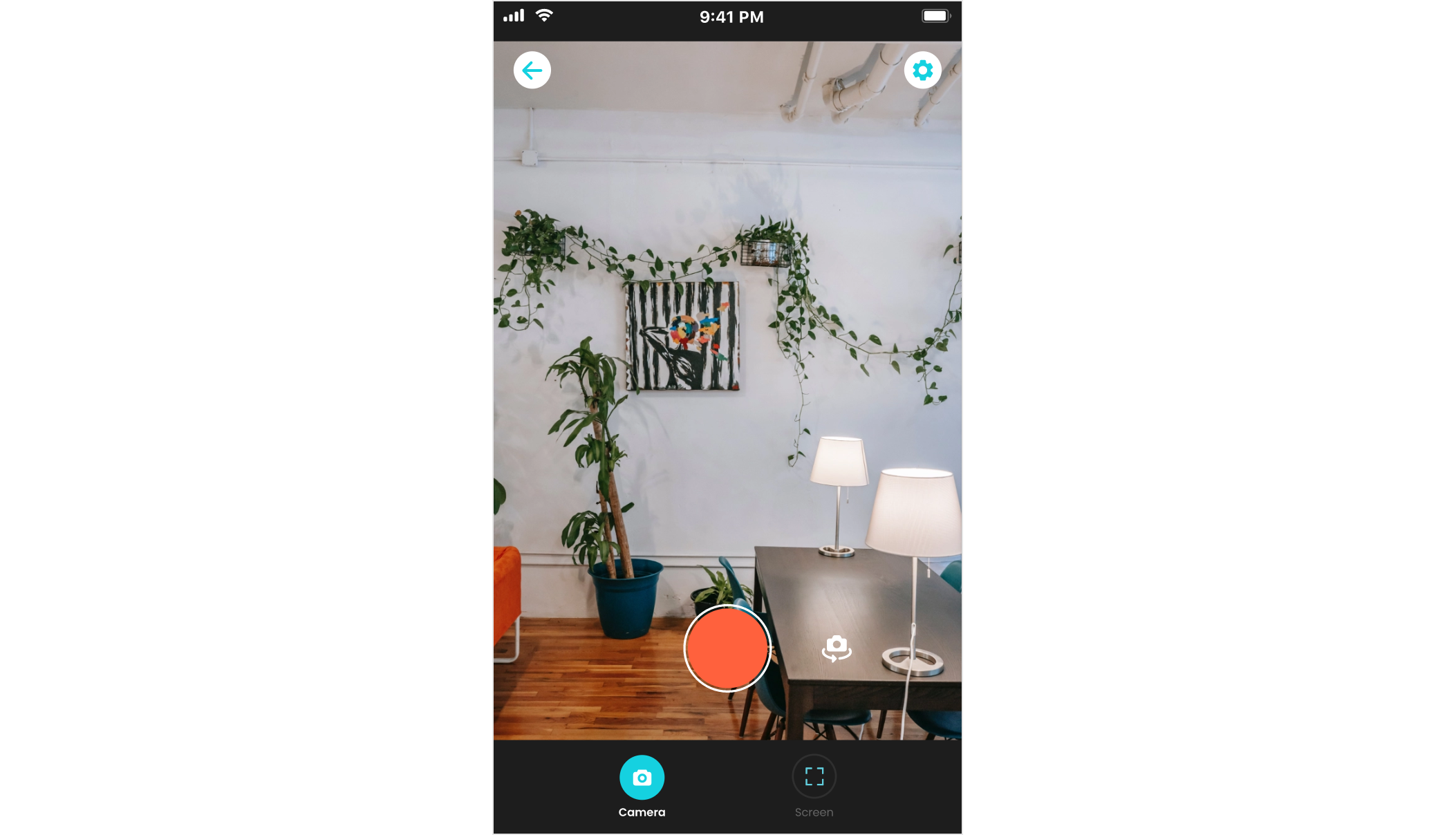 Vmaker screen recorder is a product of Animaker Inc. Vmaker has recently launched the iOS version of Vmaker enabling iPhone users to screen record on their iPhones. The Vmaker iOS screen recorder enables users to record the screen, camera, or both freely. Users can record an unlimited number of videos for free without any watermarks.
The app is well connected with the other versions of Vmaker. This means you can access all the recordings that you did through either the Mac app, Chrome extension, or the iOS app in a unified dashboard on your phone.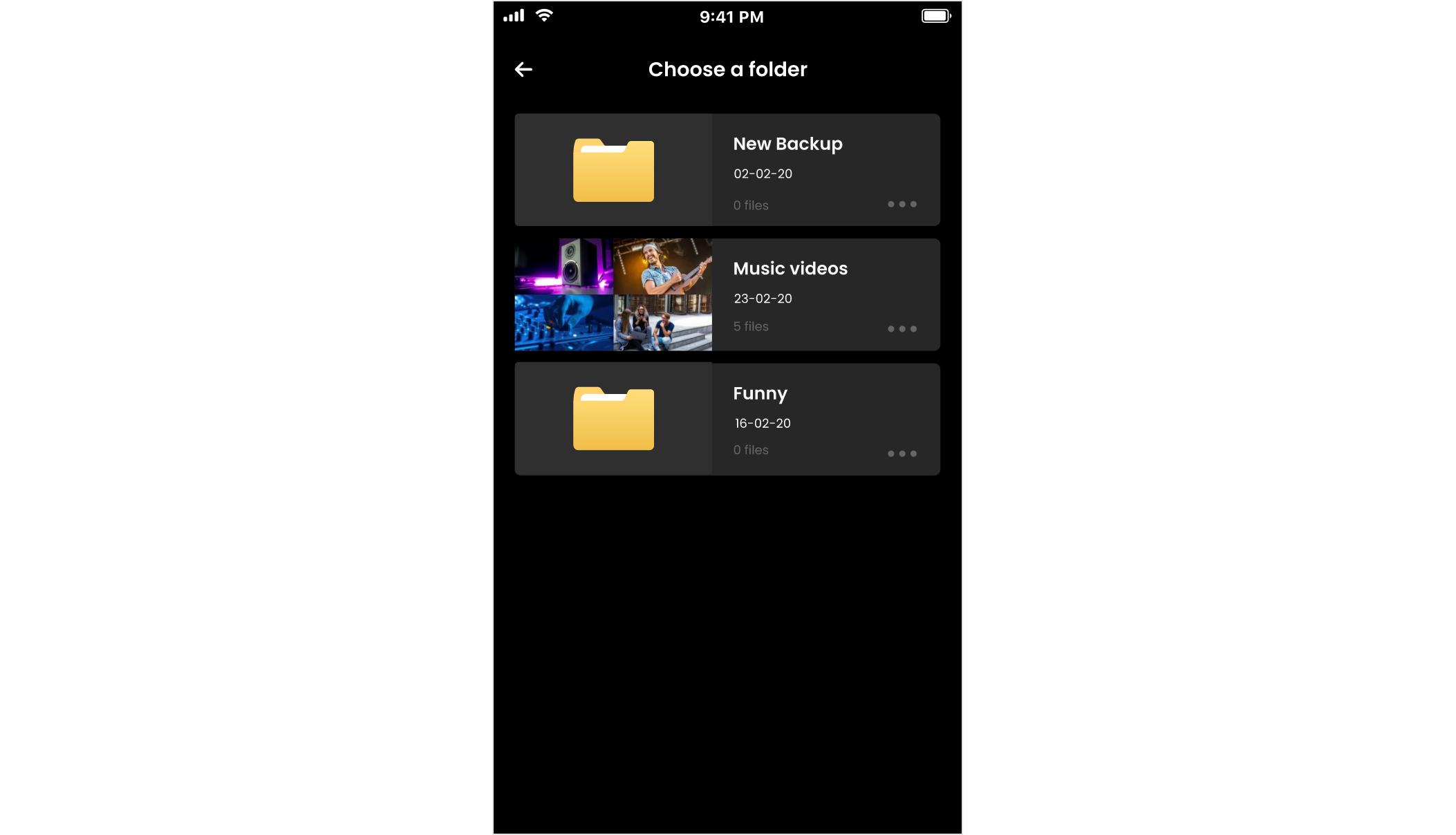 The video gets uploaded in a matter of seconds once you finish recording and you can instantly share it with anyone on the internet through the social sharing options. You can add the videos to folders and collaborate with teammates as well with ease right from your iPhone.
If you want to edit your recording then you can access the Vmaker web dashboard and edit your videos with ease. The editor comes with powerful features making it very easy and convenient to edit your recordings.
Bonus article: 10 Best Screen Recorder Chrome Extension In Chrome Web Store
Loom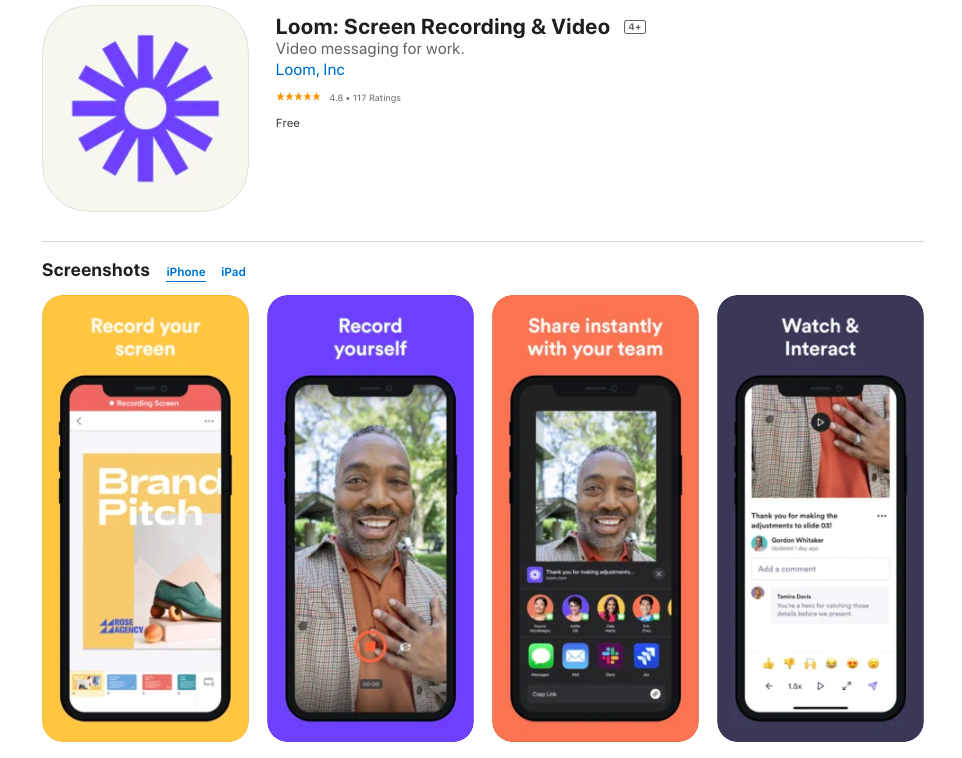 Loom is one of the popular screen recording tools available on the internet and they have recently launched the iOS version of Loom as well for users to record videos on their iPhones and iPads.
The application let's you to record screen or camera along with the do not disturb option allowing you to peacefully record videos. It's also interconnected with the native application and plugin versions of Loom so you can access all your previous recordings and share them instantly.
The app just like their other versions have a five-minute recording limit if you're a free loom user. So in order to record for more duration you'll have to upgrade to one of their paid plans. The app is also recently launched and has quite some negative feedback about the app being glitchy and buggy.
Record it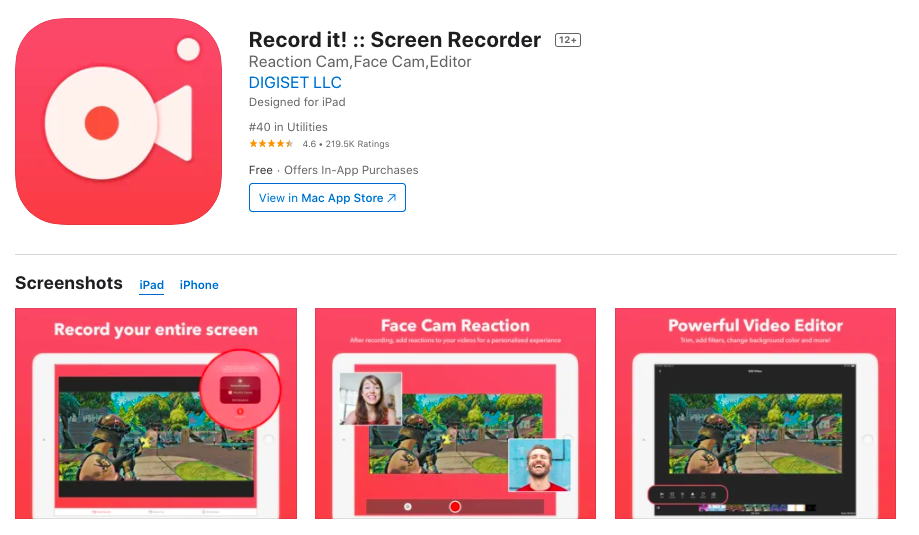 Record it is another very good screen recording tool available for iPhones and iPads. Record it lets you to record both screen, camera, or both simultaneously which is a game-changer. You watch a video, record it and give your reaction to it, record tutorial videos, and much more.
The app also allows you to upload older videos to do narrations and reactions using your cam. Editing is a key requirement for a lot of iPhone users who record videos and RecordIt offers editing features as well.
Bonus article: Best screen recording software for Mac
Go Record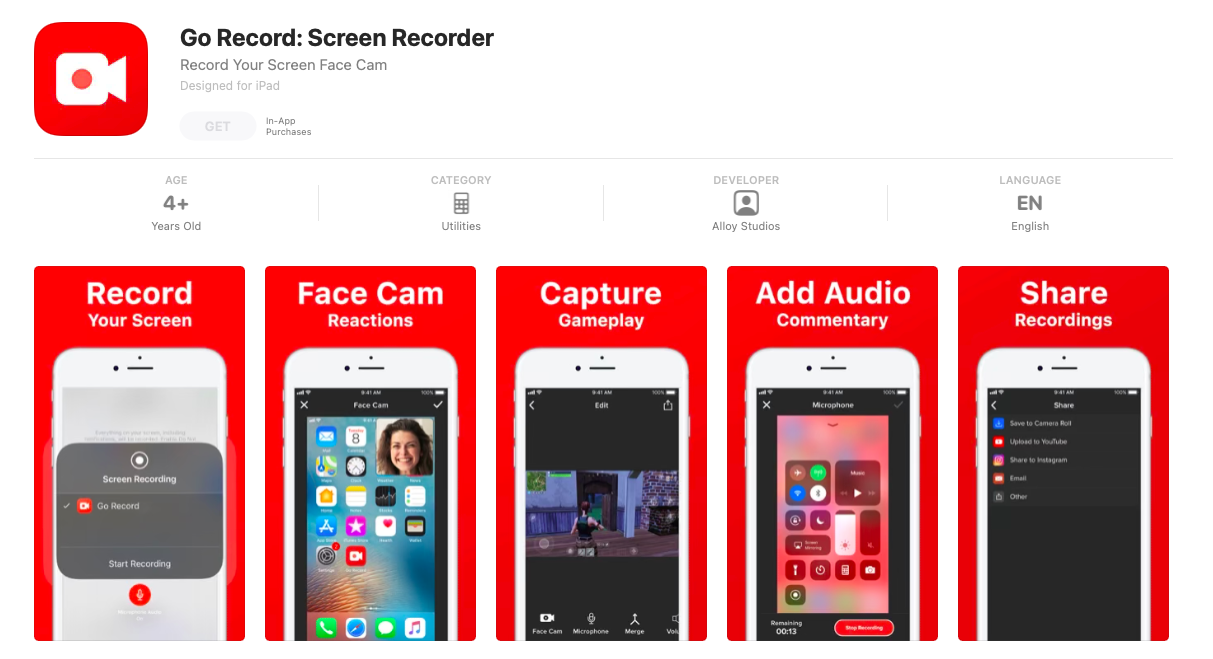 Go Record screen recorder is pretty similar to Record it and is quite popular as well. The application allows you to record your screen or camera in one tap and also add your reactions through iPhone's face cam. Users can use this to record games, live streams, and much more.
If you're not comfortable with face cam reactions then you can use the audio commentary option to add screen narrations. This is particularly useful when you're recording tutorials or quickly sending across anything to your teammates.
Once you're done recording you can edit them using the editor on Go Record. Users can also freely choose to save the video to device or share them on Instagram or YouTube directly.
TechSmith Capture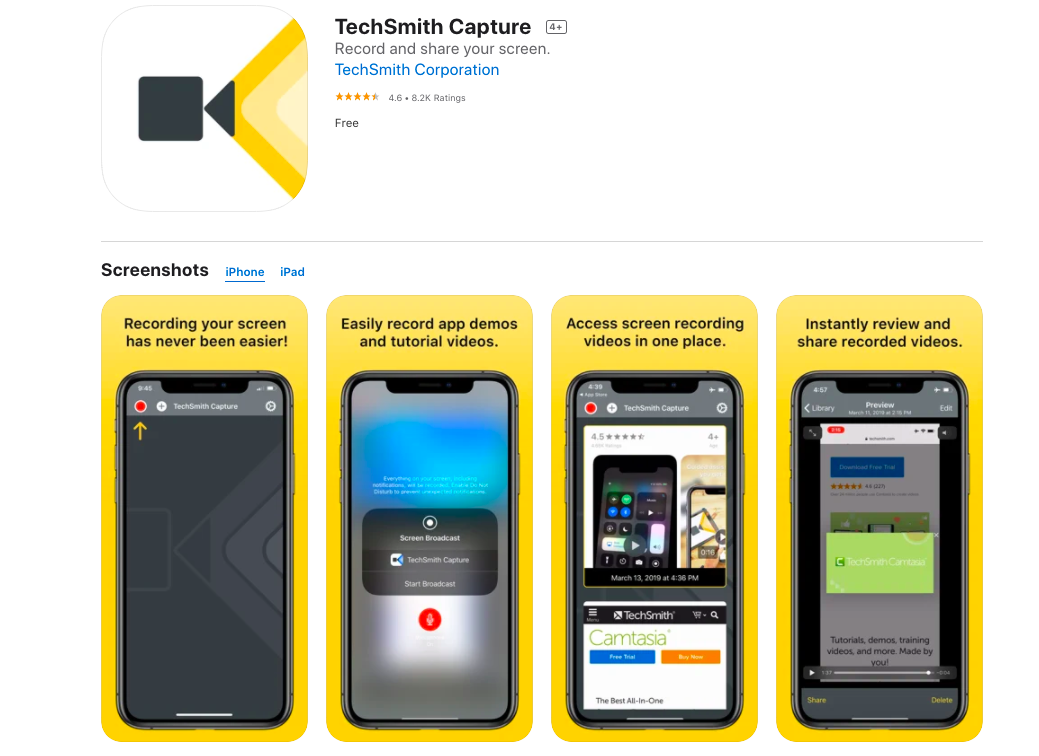 TechSmith Capture is the iOS screen recording app from TechSmith Corporation, creators of Camtasia and Snagit. The application lets users to record videos with ease. You can use TechSmith to create videos for various purposes be it demo videos, tutorial videos, and much more.
iPhone and iPad users can choose to automatically transfer the videos to their Camtasia and Snagit accounts for editing and further enhancements. So just like Vmaker and Loom, TechSmith capture to is available in multiple devices and is interconnected for convenience.
If you look to edit the videos then you'll have to use the editor in Camtasia or Snagit. The editors have some great features but it is heavily complicated and has a steep learning curve. Also, unlike the app the desktop versions offer just a free trial only. You'll have to use another app to edit your recording if you choose not to subscribe to the paid plans.
Bonus article: 10 Best Screen Recorders (Free and Paid) for Windows in 2023
DU Recorder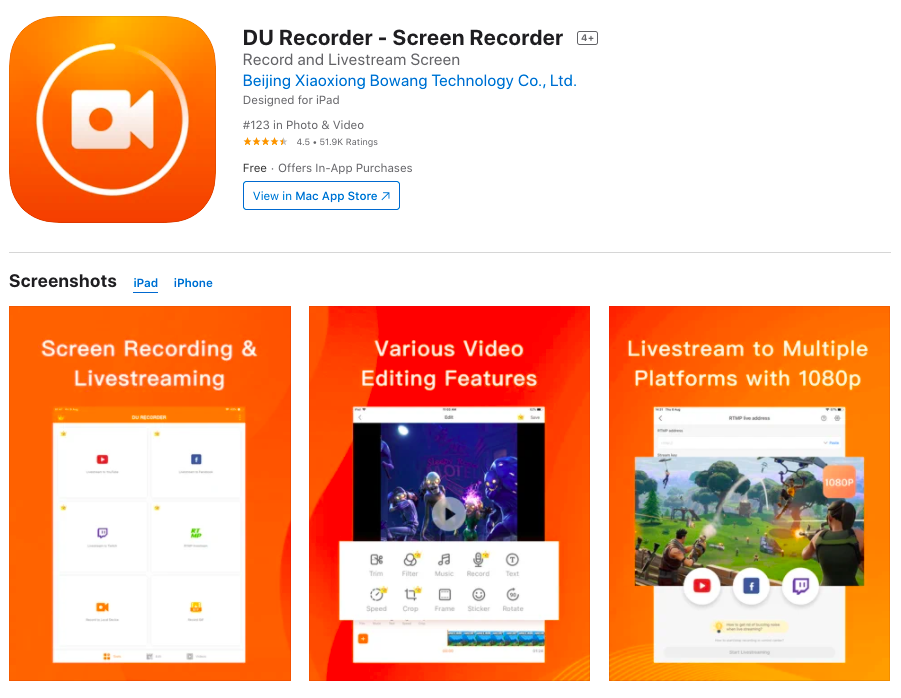 DU Screen recorder is one of the most popular screen recording apps on both the Play Store and App Store. DU Recorder supports screen recording and also live streaming functionality. So if you're a gamer DU screen recorder is one of the best screen recorders available.
Few of the impressive capabilities of DU include recording at 1080P and live streaming directly on Twitch, YouTube, and Facebook. However, if you're not on the premium version all the videos will have watermarks and you'll not be able to live stream for more than five minutes.
Web Recorder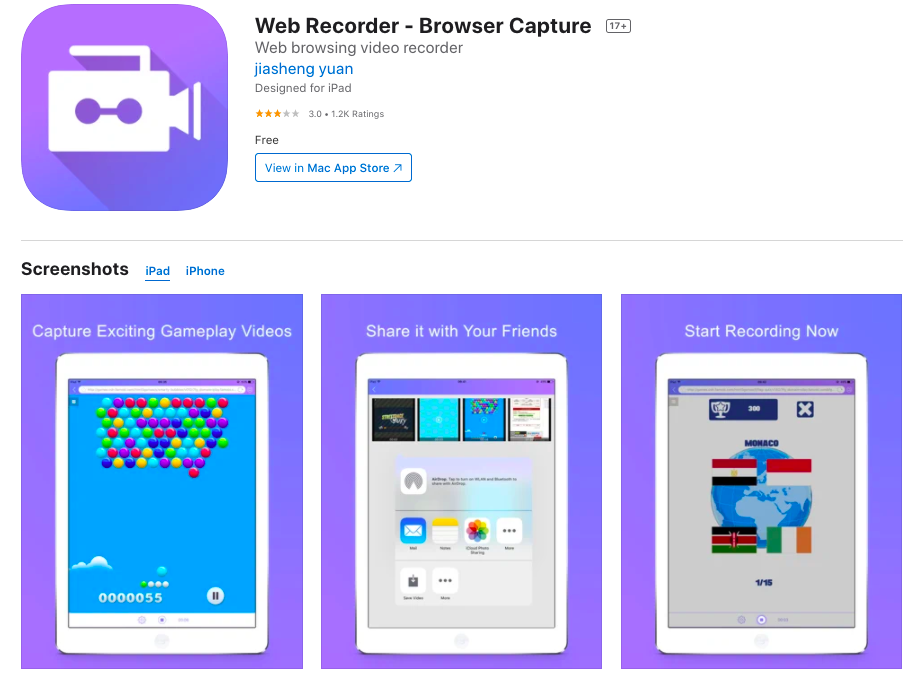 Web recorder is another iPhone screen recorder that's been available for quite some time. The app lets users to record videos, save, and share them with ease. The app behaves like a web browser and has bookmarks and favourite options for quick access. The app is also known for recording audio of the highest quality.
Screen Recorder+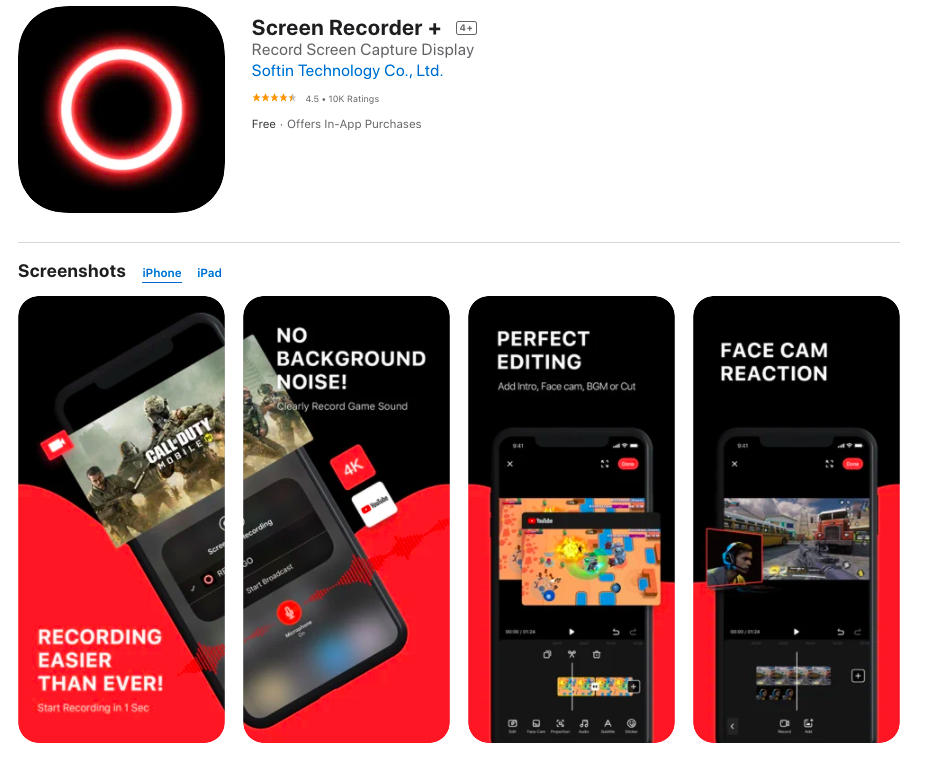 Screen Recorder+ is one of the killer screen recording apps for recording videos on your iPhone. The app lets your record videos with audio and also without background noise. The app also has a powerful video editor which even lets you to add intro, outro background music to your recordings to further enhance their quality.
Bonus Guide: The Ultimate Guide to Screen Recorder
However the reason for the app being last in the list is that it has ads if you're not on the pro version and you need to pay up for recording at higher resolution. Also, free plan has watermarks on your recording which further makes your videos unfit for professional use.
To conclude the best option to record videos on your iPhone is Vmaker. The app is free to use and does not have any watermarks. Plus it is interconnected with the Mac and Chrome extension of Vmaker meaning you can use a single account to record videos across all your devices with ease.
Bonus guide: Are you shy and struggle to record yourself? Here's a guide from us ~ How to Film Yourself Without Freaking Out | Actionable Recording Tips

Recommended Reading:
How to record Google meet without permission
How to record Zoom Meeting with audio