Contents
16 Best Screen Recorders without Watermark (2023)
A screen recorder is an essential tool for anyone who owns a Mac or Windows computer.
On its own, a screen recorder is the best tool for making multiple kinds of videos. Because it's easy to use and hardly has any hardware requirements. But, the challenge is finding a screen recorder that allows making videos without watermark.
Not anymore. This blog lists down the best screen recorders for Mac & Windows computers that allow you to record videos without watermark. Before you begin, here's a disclosure. In this list you will find screen recorders that allow screen recording without watermark irrespective of the pricing plan you're in. And, there are other screen recorders that allow watermark-free screen recording only in paid plans.
We recommend reading the blog till the end. And, bookmarking it, so that you can always come back later to read it again.
Best Screen Recorders for PC and Mac - Free + without watermark videos
Vmaker
QuickTime Player
Loom
OBS Studio
Xbox Game Bar
ScreenRec
TinyTake
Screencastify
Apowersoft
Bandicam
ShareX
Free Cam
Flashback Express
EaseUS
Jumpshare
iTop VPN
1. Vmaker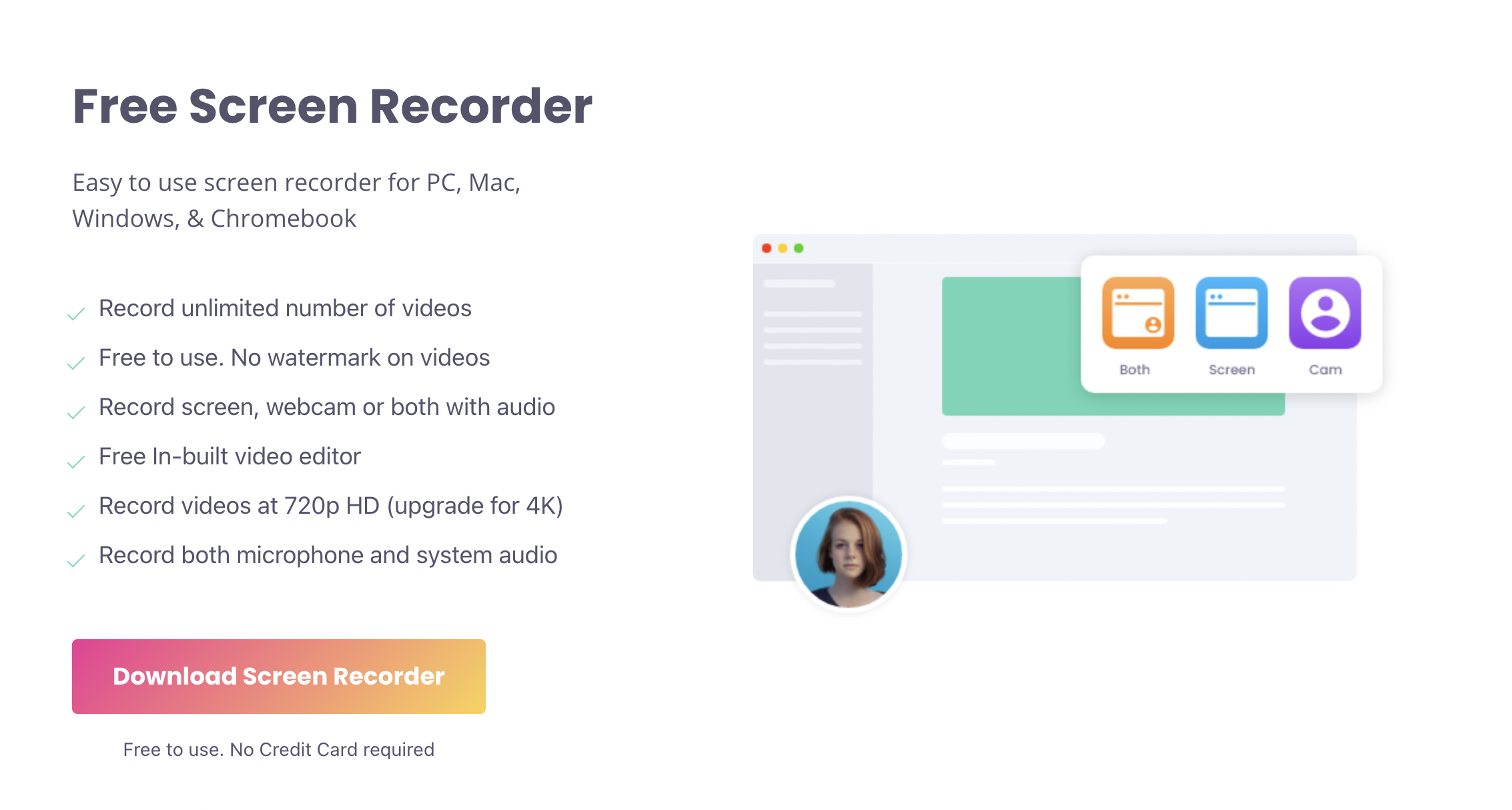 Vmaker is a powerful cloud-based screen recorder for PC and Mac without watermark. Because it's cloud-based, it's more flexible to use, easy to collaborate with, and share videos instantly.
Apart from being free, and letting you record watermark-free videos, Vmaker boasts other incredible features.
Vmaker is one of the most popular and successful screen recorders out there. Within 2 years of its launch, it has garnered almost half a million users globally.
In the free plan, you can record unlimited videos with a duration limit. These videos can be recorded at up to 720P resolution, and there is also no limit on the number of videos you can download. On top of that, you also get access to the basic editor, 24*7 priority support, and basic frames and filters.
In summary, the free plan of Vmaker is great for most of the users. If you're a light user, occasionally making videos, or your videos are of short duration, then this is the best choice.
For more advanced users, Vmaker has interesting features like screen annotations, virtual background, advanced video editor, brand kit, team collaboration, recording scheduler and more.
You can check out the pricing page of Vmaker to get the detailed comparison.

The best of Vmaker: In a snapshot
Multiple recording modes
Built-in editing suite
Screen annotation for advanced users
Basic & advanced video analytics
Team collaboration
Easy social sharing
No ads on the video player page
Available versions:
Upcoming versions: iOS, Android
2. QuickTime Player
QuickTime Player is the native screen recording software of Mac computers.
If you own a Mac computer, go to Finder and type QuickTime Player. You will see the icon pop-up. Double-click on it, and you're set to start screen recording. It's that simple.
Because it's a native software, you don't have to sign up or download anything. And, this is the biggest advantage of using QuickTime player. It's also completely free; you get access to all the features without the pricing barrier.
Having said that, most of the features in QuickTime Player are basic. It misses out on a lot of areas that are essential for screen recorders.
For example, you cannot record a webcam along with the screen. If you have async communication with your team on a regular basis, then this use case goes out of the window with QuickTime Player.
Other than that the recording quality is average, you cannot save the videos on cloud storage, and there are no features that can make your videos more engaging.
The best of QuickTime Player: In a snapshot
Easy to access
No downloads required
No need to create an account
Easy to get started
Also useful for taking screenshots
Available versions: Mac only
3. Loom
Loom is another popular screen recorder that has gained many users soon after the launch.
The user interface is sleek, the user experience appears amicable, and they have a good spread of features overall.
In the free plan, you can record videos up to 5 minutes of duration. Unlike Vmaker, Loom also limits the number of videos to 25. You can add up to 50 users in the free plan, but all of them will also have the above limits.
The video quality can be up to 720P clarity. You can record system audio, use virtual background, camera frames, background noise suppression in the free plan.
There is no option for custom branding, creating custom thumbnails, and embedding video links in the free plan of Loom.
The best of Loom: In a snapshot
Recording canvas to create a backdrop for recording
Team library for all members to access videos
Basic editor access
Closed captions
Video transcriptions
Do not disturb for paid users
Available versions: Mac, Windows, Chrome extension, iOS app
4. OBS Studio
OBS is short for Open Broadcaster Software
OBS Studio is an open source screen recorder that is very popular with gamers and other content creators who do a lot of video streaming.
There is no pricing plan which means everyone can use all its features without having to pay anything.
OBS is one of the oldest screen recorders. Sadly, its user interface is also backdated, and if you're new to screen recording, then getting used to OBS will take time. Because it's not cloud-based, the downloaded videos will get saved in your computer disk space.
However, it does have an advanced editor that can help you with mixing the audio of your recording, adding transitions, improving the recording quality and changing the aspect ratio.
The best of OBS Studio: In a snapshot
Completely free
Advanced video editor
Different recording options
Easy social sharing
Records mic and system audio
Available versions: Mac, Windows, Linux
5. Xbox GameBar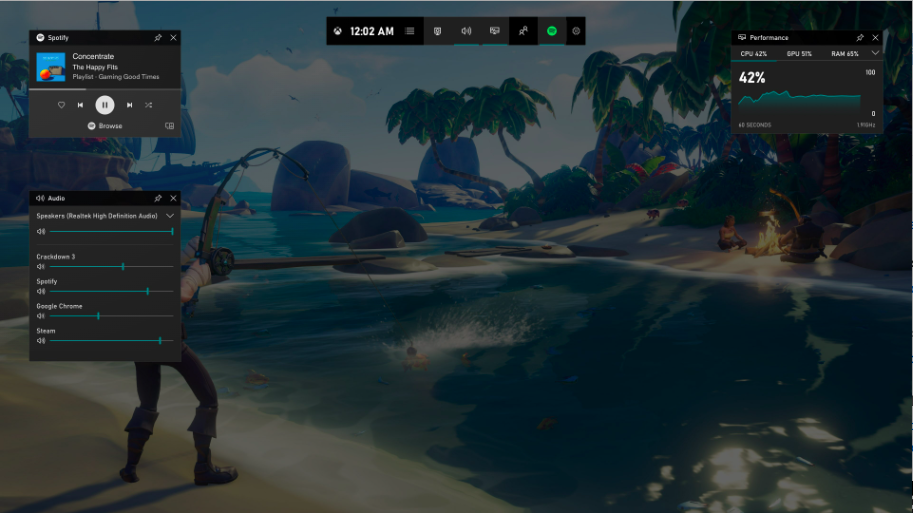 The Xbox GameBar is the built-in screen recorder for PC that comes in Windows 10 and 11 computers. You can call it the Windows version of QuickTime Player.
It was launched to help gamers record their gameplay and share it with others. And, to be honest, it does a fair job in recording gameplays. If you're an avid gamer, and you use a Windows computer, then you can give Xbox GameBar a thought.
However, if you want a screen recorder for more purposes, then we will not recommend this one. Because the Xbox GameBar lacks basic features. Like you cannot record multiple windows at a time, you cannot record the entire screen, and there is a 2-hour recording limit.
If you can still look past all these cons, then Xbox GameBar can be a strong contender in this list.
The best of Xbox GameBar: In a snapshot
No downloads required
No need to create an account
Great for beginners
Targeted at gamers
Available versions: Windows 10 & above
6. ScreenRec
The ScreenRec team claims that they have more than 250,000 active users.
Targeting remote teams who communicate with each other online, ScreenRec encourages them to use more asynchronous communication like screen recording to get work done. Going by the numbers, they have done a great job.
ScreenRec is free, they have no hidden charges. The videos can be downloaded without watermark. However, there is limited space in cloud storage, you get only 2 GB space. If you want to keep using the free plan, you either have to keep deleting the old videos or save the videos to your computer disk space.
If you're alright with that, then ScreenRec can be an excellent choice for you.
The best of ScreenRec: In a snapshot
No limit on recording duration
You can make a video from screen capture
Use annotation on screenshots
The videos are end-to-end encrypted
You can also track the video analytics
Available versions: Mac, Windows and Linux
7. Screencastify
Screencastify has carved its name among educators, and online teachers. It has seamless integrations with Google Drive, Classroom and Sign-on that facilitates online education.
In the free plan, you can create videos without a watermark. However, the recording limit is 30 minutes per video, and the storage space is 10 GB. Moreover, you can export a maximum of 30 minutes of video, and you can save 10 videos max in a single video library.
If you're an educator, then there is good news for you. Even in the free plan, you can create one assessment to track the performance of your students. But, sadly, you can create only one assessment.
You can consider Screencastify as a competent option in this list if you're a light user. The storage space, and the recording duration for each video will be sufficient.
The best of Screencastify: In a snapshot
Great tool for educators
Integration with Google Classroom
Unlimited uploads to Google Classroom
App Smash integrations
Available versions: Chrome Plug-in
8. TinyTake
TinyTake is a screen recording software developed by Mango Apps. Mango apps specializes in making enterprise level apps for many businesses. Rest assured, there is an experienced team of people behind TinyTake.
TinyTake is a simple screen recorder. It's simple because it doesn't have many features to make it stand out. The free plan is only about screen recording which you can do for free for only 5 minutes. Also, you get only 2 GB of cloud storage in this plan.
We won't recommend going for this plan unless you want to create very short videos, and you're not looking for advanced features. In the advanced paid plans you get features like screen annotations and YouTube integration. But, that's about it.
The most dampening aspect about using TinyTake is that even in the top tier plan of $99.95 there is a recording duration limit of 60 mins.
The best of TinyTake: In a snapshot
Simple and straightforward
Good for very light users
Available versions: Windows, macOS
9. APowersoft
The APowersoft screen recorder comes in two versions. One, you can download it as an application. However, there is no free plan in this version, so we have to disqualify it for this blog.
The second version is a web-based screen recorder. Before you think that we're talking about a plug-in, then let us be clear. The web-based screen recorder is browser-based, but doesn't ask you to download anything. Or add an extension.
You can get started once you're on their website. And, you can record videos for free, without limit, download them on your computer or upload them to the cloud. Yes, the videos are watermark-free.
You also get an option to add annotations, decide the settings for bitrate, frame rate and audio quality in the built-in editor. But, that's pretty much about the editor capabilities of APowersoft.
The best of APowersoft: In a snapshot
Very easy to get started with a screen recorder
User-friendly interface
Good editor for free plan
You can customize the color of annotations
You can share videos on YouTube instantly
Available versions: Windows and Mac
10. Bandicam
Bandicam is a best screen recorder for PC that has many gamer fans. Because this is probably the only screen recorder which claims that you can record videos for 24 hours straight without any issues. Besides, it also has a game screen recording mode which is specially designed for recording high FPS games.
Other than the game recording mode, it has screen recording mode which will meet most of the users requirements. If you're recording a YouTube video or a Google Meet call, this should be your go-to choice. HDMI recording is the third mode of recording which lets you record high quality multimedia videos from an external device.
Overall, Bandicam is a great package. You can record videos without watermarks in three different modes and a few great advanced features.
The best of Bandicam: In a snapshot
There is a 30-day trial period
There is an option to schedule recording
Screen annotation and mouse emphasis feature is also available
There is no limit on the maximum size of the video file
You can also add animations to your recordings
Available versions: Windows
11. ShareX
Share X is a lightweight screenshot capture tool. But, it has a feature where you can record rolling screen recording videos. It's an open source tool, therefore it's completely free. There are no watermarks irrespective of the number of videos your record.
The gripe with ShareX is its dull looking interface. It's not as clean as compared to the other screen recorders in this list. But, if you're ready to look over this, then you're in good hands. It has a built-in video editor and you can add annotations to screenshots and screen recording videos.
The best of ShareX: In a snapshot
You can choose custom area to record videos or take screenshots
You can also create GIFs
There is a Step function which automatically numbers your screenshots
There are also magnify, blur and pixelate options
Available versions: Windows
12. Free Cam
Free Cam is a free screen recorder made for Windows users to record videos easily, edit them and share them with others. There are no watermarks on videos and there are no time limits. It's a product of ispringsolutions which in itself is an advanced screen recorder mostly used by L&D professionals.
Free Cam is basic, but it will get the job done. It can record the whole screen, a single window or a selected area. You can record your voice along with the system sound at the same time. It has a built-in video editor which is good enough for making basic level edits.
The best of Free Cam: In a snapshot
You can use mouse emphasis to highlight mouse clicks
It eliminates background noise while recording
You can assign hotkeys to make recording easier
There is an option to upload videos to YouTube directly
Available versions: Windows
13. Flashback Express
Flashback Express is another screen recorder in this list that you can use for free, without time limit and watermarks. It also has a paid version, but that's called Flashback Pro. If you're a light user, and not looking for advanced editing options, then you're good with Flashback Express.
Flashback Express does everything that other screen recorders can do in this list. It can record screen, webcam and audio effortlessly. It also has a nice interface which will make things easy for you while recording video. There is a scheduled recording option which starts as per the date and time set by you, and it stops automatically when the program being recorded is closed.
The best of Flashback Express: In a snapshot
You can save videos in MP4, MKV, AVI and GIF formats
You can decide the video resolution before you start recording
There is a quick YouTube upload option too
Available versions: Windows
14. EaseUS
EaseUS is an advanced screen recorder and screenshot tool that is available for both Windows and Mac computers. It has an AI feature, but before that, let's look at its basic features.
It can record screen, webcam, microphone and system audio at the same time. You can also record a custom size of your screen. If you enjoy making gameplay videos, then this screen recorder is a great choice. Because there is no time limit on the recordings, and you can record both 2D and 3D games.
Coming to the AI features, it has noise remover, auto recording and auto extracting abilities. It also has a video enhancer capability for 4K and 8K videos.
The best of EaseUS: In a snapshot
You can make screen recording videos on multiple screens
You can edit the recording at the time of recording it
There is an auto-stop and auto-split feature
Virtual background can help you improve the background in the video
Assign hotkey shortcuts for quicker response
Available versions: Windows and Mac
15. Jumpshare screen recorder
Jumpshare is actually a sharing tool that makes sharing files, videos and anything that you like to share with others, a very simple process. All you have to do is drag files to the Jumpshare menu bar, and it will generate a shareable link with you. Other than files, you can also share screenshots and screen recording videos. This is a very handy tool indeed.
Jumpshare screen recorder is free to use. You can record webcam, screen and audio at the same time - without watermarks. Jumpshare is made for people who would like to create product guides and short tutorials. If you're one of those users, then there is no reason why you should not check out this tool.
The best of Jumpshare: In a snapshot
You can add annotations to your recordings
All your recordings get saved to the cloud account
Video embedding is possible
Track views and get instant alerts
Create folders and arrange them easily
Available versions: Windows and Mac
16. iTop VPN
iTOP VPN has two versions of screen recorder - an online version which is free, but not watermark-free. And, the other version is in the form of an app which you have to download in your PC. This is paid, and you can record videos without any watermark on them.
In the paid version, you get four different recording modes: Screen and video recording, Webcam recording with virtual background, Audio recording with noise reduction and Gameplay recording. In gameplay recording, you can record 4K HD gaming clips with no FPS drops and lags.
The best of iTop VPN: In a snapshot
You can also take screenshots
The videos your record can be compressed by 30%, 50% and 70% without quality loss
It utilizes GPU acceleration for low CPU usage and for recordings without lags
With multi-layer editing you can add, insert or remove any track
You can add text, subtitles and stickers to make videos more informative
Available versions: Windows and Mac
That's all folks
That was all about the best free screen recorders that allow you to record videos on Windows and Mac computers without watermark. We carefully analyzed each of them before including them in the list.
It's tough to pick a winner from this list because that will depend on your priorities. All we can say is that you can't go wrong with any of them.
Do you think we have missed on a screen recorder that can be a valuable addition in this list? Then let us know in the comments. We will make sure to check and try them first-hand. And, if we find them good, we will add them to the list.
Recommended Readings:
10 Best 4K Screen Recorders For Windows and Mac
How to Screen Record on Windows 10 with Audio
10 Best Free Webcam Software for Windows 7, 8, 10 & 11
10 Best Screen Recorders for Windows [Free & Paid]