Here's How Designers Can Reduce Feedback Loop Using Videos
Feedback helps improve the quality of work. However, client feedback emails are never good news. The unlimited changes, the long chain of emails, endless calls, and meetings get to every designer's nerves. While the ordeal that designers face from client feedback gave birth to many online troll pages, we are sure that it hampers productivity and makes it difficult for everyone working on the project.
And if you are in client servicing, the pain is all the more real! You are on the receiving end of a backlash from both your designer and your client. But, have you ever wondered why this happens? Do clients just like getting to their designer's nerves, or is there something that makes their feedback a complicated one? Does this back and forth email chain to fix designs happen in internal teams too? It does everywhere, and the reason for that is simple - there are too many bottlenecks in the communication channel.
Why does the problem of excessive client feedback happen?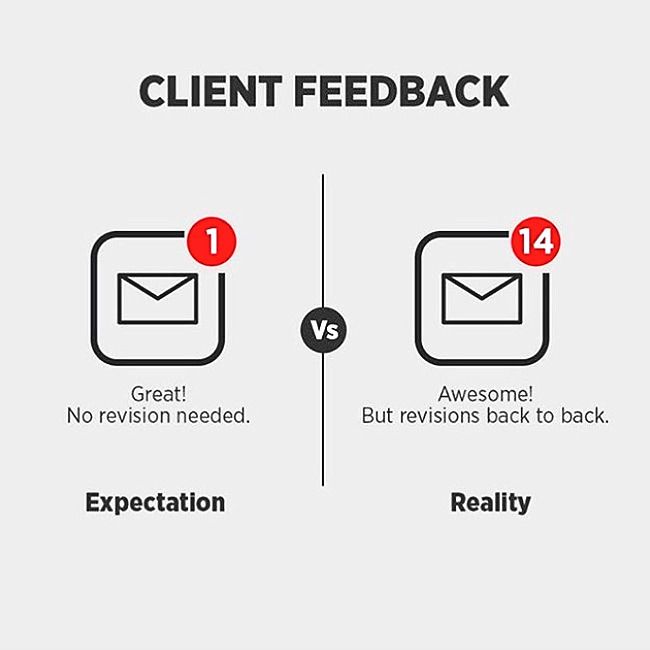 Creative brief discussions are mostly done over phone calls and video meetings. These interactions usually go on for a long time which means it can deviate from the actual agenda. Due to this, your client might end up sharing only half of their requirements. Additionally, your client service team might recollect only half of the details after the call is over.
As a designer when you look at the creative brief, you interpret the information in your way and design it accordingly. When you send it for creative review, you also switch on the feedback loop because most likely what you have designed is quite different from the expectations of the client.
Most of the time, all of this back and forth communication happens over emails which further adds on to this chaos.
With so many people involved and everyone having a different interpretation of the same message, communication is bound to get distorted. And that makes it a never-ending maze of changes and iterations in the form of a client email feedback loop.
What could break this chain and make design review more interesting and interactive for everyone involved?
Videos are the answer. Videos could break this chain and make design reviews more interesting.
Well for starters most client briefing nowadays happens on Zoom or Google meet calls which also qualifies as video communication.
Well, we are not talking about them.
The one that we are referring to takes away the scope of misinterpretation that comes from emails and the short-lived nature of video calls.
The tool that we are talking about is a three in one solution that enables designers and clients to create engaging screen and webcam recordings, communicate and collaborate over the same making it easier for everyone involved.
Not convinced yet?
Here are Three Reasons why designers need to use a video tool for client communication and reviews
More Personal
While a video call would be a great way to personalize your feedback, its impact is short-lived. Your designer would have to make notes, and there is a possibility that they might have misheard or missed certain aspects of your feedback. That's probably one reason why people send out feedback emails. But remember, written messages are prone to be interpreted differently by different people. So, the way your designer sees and understands the message could be entirely different from what you had intended. On the other hand, video feedback brings together the best of both worlds from video call and email to create a lasting and better impact.
Better Communication
The feedback you have and the changes you want would be easy to comprehend for the designer. The designer can understand better what the client is saying, their vision, and suggestions. This will make it easy to incorporate changes and enhance efficiency. It also takes away the confusion that occurs from the use of jargon and the chaos from the multiple emails that go back and forth.
A screencasting tool comes in handy as the client can quickly record a video with their screen shared and explaining the changes to be done. Not just that a feature-rich Screen recording tool will also let clients share their webcam and explain changes. One more game-changer is that clients can annotate on their screen using screen annotations letting designers which part of the design or content which needs to be updated.
Easy to Collaborate
Designers and Clients can be part of a team together and create specific folders for a particular project. This enables all the creative briefs, reviews, and feedback to be quickly available for every one part of the project enabling easier collaboration. The videos can also be set to auto-expire after a period of time thereby helping avoid confusion.
One further advantage is that video calls consume many data, and not everyone has the same bandwidth, which adds to the challenge. If you wonder how video feedback through a screencasting tool could be any different at it involves huge file sharing, think again!
When you share your feedback as a video, you could do so in a simple link format. This means that the recipient will not have to download huge files to see what you have to say!
Is there a tool that could do all of it making the lives of designers easier?
The answer for the problems faced by designers is Vmaker.
Vmaker is a screen recording, Video communication, and collaboration tool that helps designers to work efficiently over videos.
Vmaker lets designers and clients record their screen and camera at the same time, mouse over and highlight elements, edit aspects of the video. All these features ensure the communication is happening properly between all parties involved.
So what are you waiting for?
Try out Vmaker now.
Read more:
Building a Successful Creative Design Team in 2021
How To Do Screen Recording Videos? 10 Step Guide With Tips & Tricks
How to record your screen on Mac with audio using Vmaker
The Ultimate Guide to Screen Recorder