Contents
How to Create a Product Videos | Pro Tips and Best Tools
Unless you're living under a rock or on an island with no internet or cable connection, you must have seen at least one product video in your lifetime. We will get to the definition of product videos in a while, but this dramatic opening is intended to tell you that product videos are abundant. However, product videos are multifaceted. It could very well be possible that you're used to watching a particular type of product video that could be new for someone else. The vice-versa could be true too.
This is good enough for an introduction. Let's explore the different aspects of product videos and what's the most ideal technique for making a product video. Here's a table of content for your quick reference -
Definition of Product videos
History of Product videos
Types of product videos with examples
How to make a product video for free
Tips on making the perfect product videos
Final words
---
What is a product video?
A video that explains your product, its features, and its benefits is a product video. That's the simplest way of putting down the definition.
However, the purpose of making a product video will differ depending on the type of video you're making. Moreover, the style of your video will be influenced by the type of product too. For example, an SUV walkthrough video will be a lot different from software walkthrough videos. Nevertheless, the motivation behind making these product videos remains identical: inform the prospective buyer about the potential of the product.
In current times, making product videos is beneficial for companies. People are well-connected by the internet, and, therefore, they have better access to watching videos online. There are numbers that show a positive correlation between watching a product video, and the buying behavior of the user.
Here are three of my favorite product videos statistics —
55% of shoppers prefer watching a product video online before actually buying that product from a store (source)
69% of the consumers admitted that they like to watch a short product video while learning about a new product (source)
87% of Gen Z users like engaging with branded videos and videos that show someone talking about their product (source)
These numbers are fascinating, especially if you're a marketer or a product owner. But, product videos have not been on the internet since its inception. In fact, to know the birth of product videos, we have to go back 65 years. If history is not one of your favourite subjects, feel free to skip this part and scroll to the next. However, I would strongly recommend reading this section too if you want to learn the evolution of product videos over the years.
---
How to Create a Product Video for Free? [Steps-by-Step]
No, this title is not a clickbait. Yes, you can make product videos for free. And, not just make it, edit and share it online too. I will share exactly five steps that can help you to get your product video all set.
But, first, here's the tool that will help you with the process: Screen recorder
In case you're not aware, a screen recorder is a video-making tool that can record your computer or laptop's screen, webcam, and voice all at the same time. This means that you can show the content to your audience, and record your voice-over too. This makes a screen recorder a perfect choice for product videos — you can show the features and narrate the instructions. Another huge advantage that screen recorders have over other video-making tools is that you can make a video all by yourself. You don't need a team or multiple tools to fix the video. This is great for churning out regular video content without compromising on the quality of content.

Enough said. Let's head over to the 5 steps for making your product video with a screen recorder.
Step 1: Find a good screen recorder
This is the most essential requirement. Unless you have figured out the right screen recorder that fits your needs, there's no point in moving forward with your video-making process. To find out the right screen recorder, evaluate it on different parameters like budget, ease-of-use, and device compatibility. It will give a lot of clarity on what works the best for you.
For the next part of this blog, I will be showing how Vmaker, a free, advanced screen recorder and one of the best product video maker, can help you to make product videos. I will be sharing screenshots too, so that you get familiar with the interface.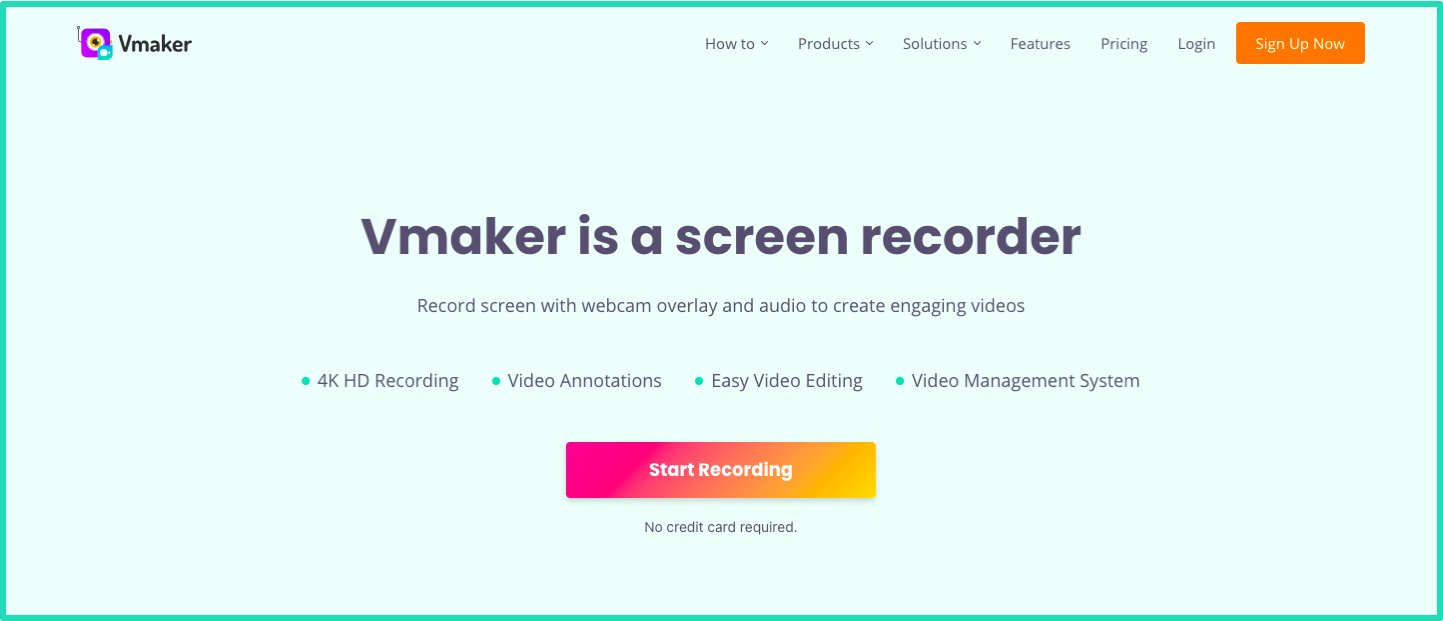 Step 2: Get the script ready
One of the most common rookie mistakes is starting to record a video without having a script. Writing a script gives you the time to think about the points that you want to cover in your video. Moreover, you can look at your product from the customer's perspective, and try to visualize the difficult areas. This will help you to be more empathetic to your customer's requirements. With scripting, you also get the chance to experiment with the language and add more humor to make the video more engaging.
Step 3: Record both — Screen and Webcam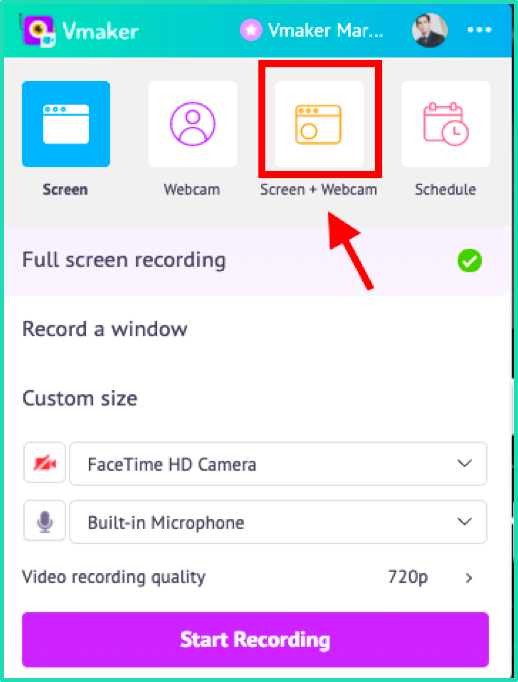 The best way of using a screen recording tool is by allowing it to record both your screen and webcam both. So you can show the content to the users, personally guide them with your voice and facial expressions. These quirks might not sound very big, but when you know that a human is going to watch this video, these characteristics make a lot of difference.
On top of that, if you're using Vmaker, you can make the experience look more professional by using filters, customizing the background, using annotations, and a lot more.
Step 4: Edit your videos
It's tough to get your video set to perfection in one go. But, you can make it look good by editing it after the recording is complete. Having said that, editing is not easy, and it can be frustrating too. You have to download the video, then upload it to another editing suite, and then proceed to give the final touches.

Vmaker helps you make the process way shorter by giving you advanced options to chisel the video right from your dashboard. You can trim, crop, resize and rotate the video with its in-built online video editor. You can also upload external videos and audio tracks to add transitions between scenes or make an amazing intro and outro for your video.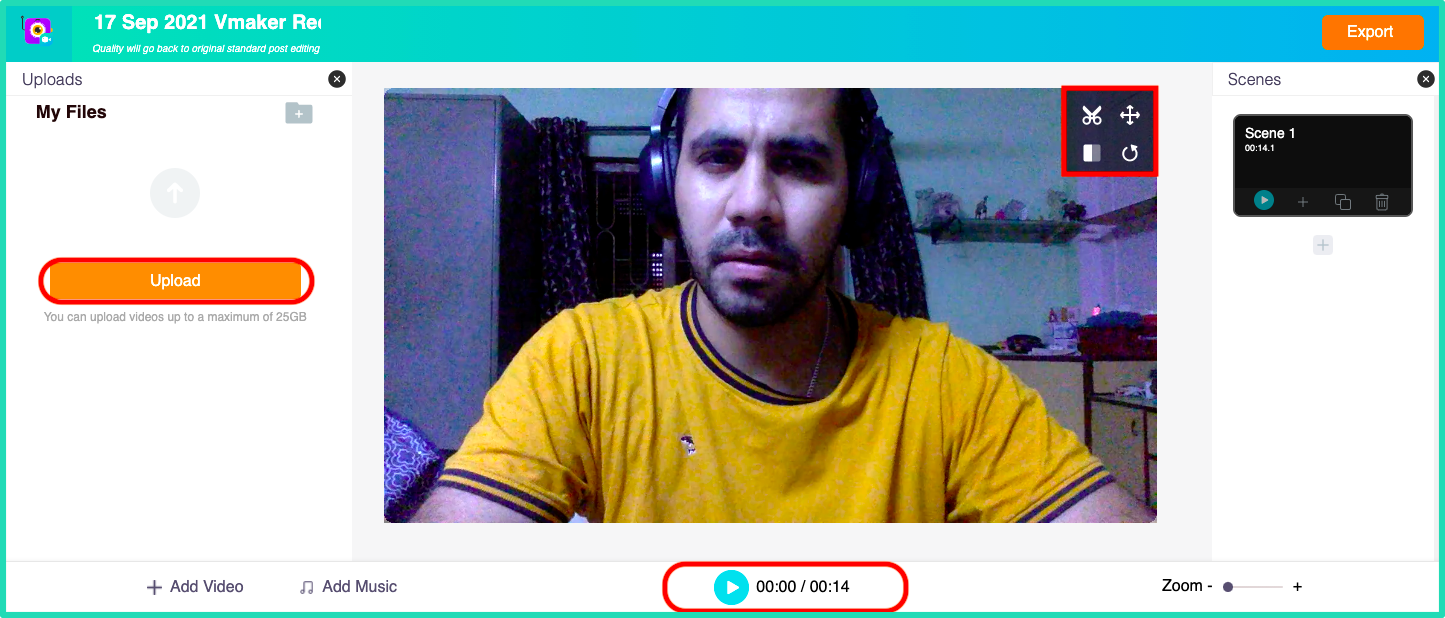 Step 5: Let's share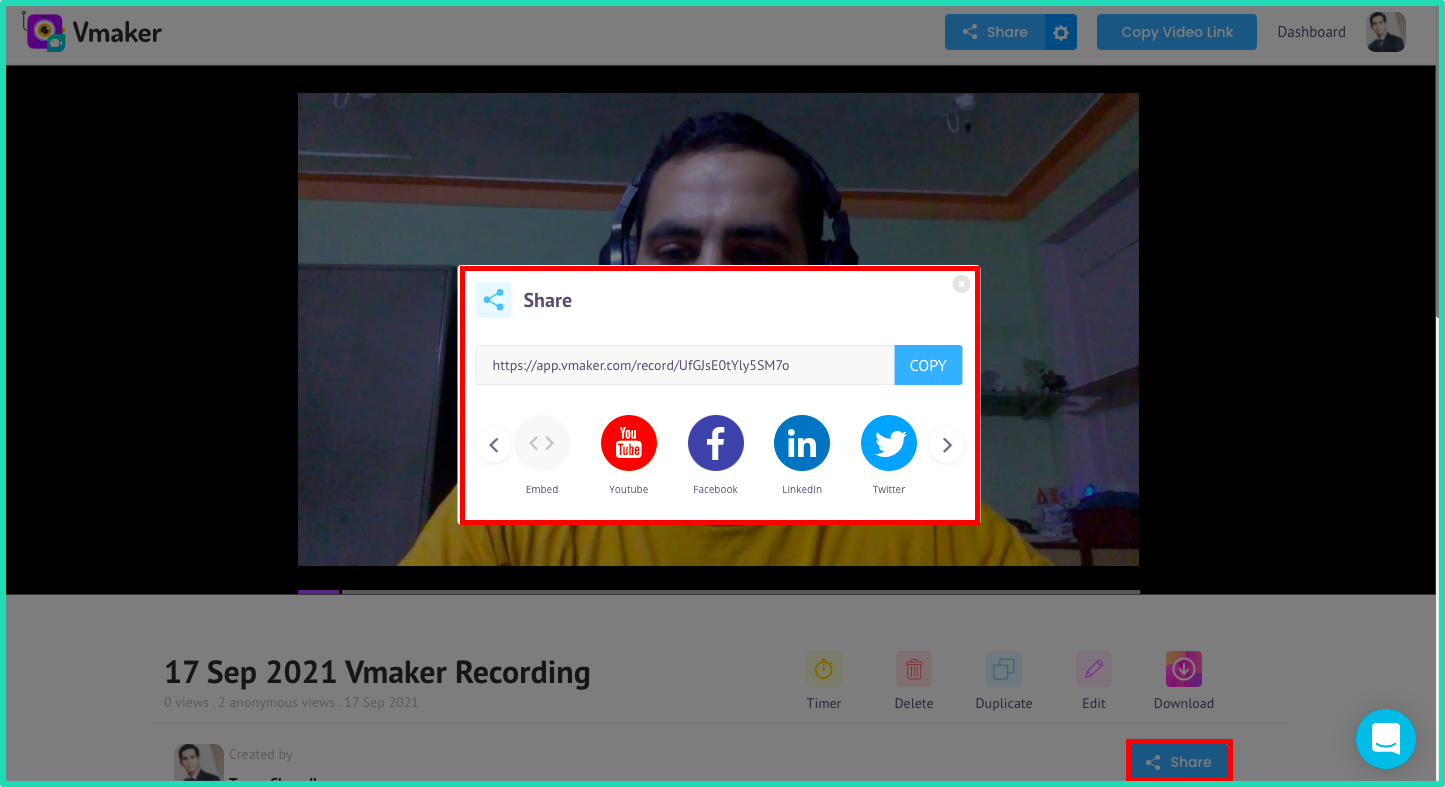 Finally, when you're done giving the final touches, it's time to share the videos. Whether you're making the video for YouTube or sharing the link in an email, the process has to be effortless. If you're using an advanced screen recorder, you have made a great choice. Because these screen recorders are built intuitively to support your plan of action.

Take Vmaker for example. After the recording is done, you can upload the video on YouTube, Facebook, and Twitter right from the dashboard. You don't have to spend additional time figuring out the options. In one tap, your video is ready to be uploaded.

Before we head on to the conclusion, there are a few tips that will help you make your product videos even better.
---
History of product videos
In the year 1955, Gibbs SR Toothpaste won the lottery against 23 other participants to get the chance to air their advertisement for the first time on ITV, UK's first commercial broadcaster. Only 100,000 households watched that video all over the UK. This 70-second advertisement is the earliest known example of a product video. Here's the link to the video.
At this moment, you will be tempted to think that product video is another term for referring to TV commercials. While you're not completely wrong, you're not right either. Earlier, product videos were made for the purpose of selling the product. The intent was commercial, and that's all it was. Companies used the same formula in every commercial — show the product or a person using the product explaining what the product does and why anyone needs to purchase the product.
However, this has undergone a lot of changes now, because the market is more dynamic. Also, it's not just about selling anymore. A product video has a broader purpose and a bigger role to fulfill.
Product videos at the present
Product videos started gaining more importance in the 90s when software became a household name. Although the software was great for getting complex tasks done in minimal time, it was giving a hard time to a lot of people in understanding the in and out of its working. Software companies realized the problem, and, as a solution, started sharing demos, walkthroughs, and onboarding videos with their customers.  
This transformation in product videos was catapulted by the cloud revolution in the early 2000s. Software companies were making new products that were hosted on the cloud instead of being on-premise. This new revolution gave rise to the term, Software as a Service (SaaS). As users slowly started to go along with the tectonic shift in technology, sellers realized that product videos can play a pivotal role in showing their target audience how SaaS is here to make a difference in their lives.
As I'm writing this blog, the Gibbs SR toothpaste is nearing its 66th anniversary. The years in between have increased the importance of product videos for companies. TV commercials are still a thing, but that's just one piece of the puzzle. Let's explore a few other pieces in the next part of this blog.
---
Types of product videos with examples
It will be challenging to talk about all the possible types of product videos in this blog. With the changes in the video technology industry, there are probably more to come in the future. However, to keep the blog informative, here are the 8 most common types of product videos along with examples for each of the eight common types of product videos.
1) Product demo videos
Product demo videos are like teasers. They give a quick overview of what the product does and how it can benefit the user. It's for this reason that product demo videos are very popular with sales and support teams. Once a prospective customer shows an interest in the product, the support reps can record a demo video and embed it in the email. There are different ways of recording a product demo video, but if it's personalized with webcam recording, it tends to have a higher resonance with the audience.
Here's an example of a product demo video. It starts with a human introduction, followed by the product description, and ends with a CTA for booking an online meeting with the team.
Bonus: Why Product Videos Play a Big Role in Signups and Conversions
2) Product walkthrough videos
Product walkthrough videos are like cousins of product demo videos but more chatty. On a serious note, product walkthrough videos are like a detailed tour of a product. It highlights the features, benefits, and use cases too. This type of product videos are usually made by using a screen recorder and voice-over. Since it is an extensive video covering the complete product, it becomes important for a video creator to keep the video as engaging as possible.
A perfect example of this type of video is our own product walkthrough video. Look at how the presenter shows the Vmaker app on her screen while recording her face and voice at the same time.
3) User Onboarding videos
The title says it all, but let me build on this to make sure we'll be on the same page. User onboarding videos are used by companies to make the process of onboarding effortless for new users. An onboarding video comes in the latter part of your conversion funnel when the user has already decided to use your product. However, getting started with a new product can be overwhelming for your new customer. Therefore, a user onboarding video can be great for simplifying things by helping the user figure out where to start. So, instead of a quick demo or a detailed walkthrough, a user onboarding video will feature a single feature or only a few of them to give a head start to the customers.
Example of a user onboarding video
4) Product tutorial videos
A tutorial video is like holding your user's hand and guiding them on how to perform a particular task or an action using your product. A tutorial video can be longer if there are many steps to be followed by performing than action. Alternatively, it can be shorter if it's a simple click, select and press the "OK" kind of operation. Either way, product tutorial videos get more effective when they can see and hear the instructor. It makes the video more engaging and more fun as compared to looking at animated figures.
Here's another example from our video library that does justice to this concept.
5) Feature explanation video
If you use a SaaS product, this will be very relevant for you. SaaS products have a plethora of features, and to help their audience understand its functionality, they usually record feature-specific videos. These videos keep the content short and to the point. So if you want to learn about a feature, you can watch this video and get all the details. You don't have to spend
time skimming through an entire product walkthrough video to know about the feature.
Feature explainer videos are highly engaging and informative. Here's an example of such a video -
6) Product explainer videos
A product explainer video is similar to a demo video as it explains what the product is all about and how it is useful for users. The difference is that these are shorter than demo videos and less personal. Explainer videos are commonly uploaded on YouTube channels or added to landing pages so that visitors can use them as a visual reference for the content written on the website.
Animated explainer videos are very common as they keep things simple, and the visual imagery accentuates the feature capabilities. Here's an example of the explainer video which clearly depicts how you can start recording videos with Vmaker's Google Chrome extension in a snap.
7) Product unboxing videos
In contrast to the other types of product videos in this list, unboxing videos are mostly made by product reviewers and individuals who have purchased a product. This makes it more candid, and therefore, a go-to choice for a lot of users who are planning to buy the same product. The premise of unboxing videos is simple - open the box, show the contents and explain them to the people. These videos are very popular on YouTube, and in fact, they're the most searched type of product video on YouTube.
For reference, here's an unboxing video of the Samsung Galaxy Book Pro 360 -
8) Product support videos
If you haven't realized already, product videos are great problem-solvers. They exist because they want to make things easy to understand and remember. Hence, it's natural that product videos are a great resource for solving customer support requests. Apparently, a lot of companies are already doing it. Once a customer expresses an issue or difficulty in figuring out functionality, the support team quickly records a video giving a visual guide on how to overcome the problem. Since this is a more personal form of product video, a screen plus webcam recording with voice narration will be a great fit for these forms of videos.
So that was a glimpse of different product videos that are seen very often. In the next part of this blog, we will focus on making a product video, and what tips you can follow to make the content even better.
---
Tips for making product videos
A few points to remember to add that final level of perfection to your product videos -
Keep the video length short, preferably less than 6 minutes. If it's a product walkthrough video, don't stretch it beyond 30 minutes
Add branded content to the video, but don't overdo it. Include examples of your brand vision and values. You can also show customer testimonials to gain more trust
Show more, tell less. Don't end up just talking on the camera without actually showing the product. Do the other way around, show more of your product, and narrate only where it's necessary.
Leave with a call-to-action at the end of the video. This will push your customers to start an interaction with you. It will also make them feel valued and appreciated
Final words
A product video is effective for showing the different facets of your product. It's great for engaging with your audience and getting more conversions. However, product videos were mostly made for selling. With the emergence of SaaS companies and the booming of the software market, product videos started gaining more importance.
Today, there are different types of product videos to choose from. All of these have a specific purpose, which makes the customer experience even better. Therefore, if you're planning to make a product video, think about the purpose of making the video, and then choose the right type. And, while you do that, start looking for a screen recorder to record your product video.
Screen recorders are the best tool for making product videos because, like product videos, screen recorders are also multi-faceted. It's a complete video-making suite that helps you to generate content quickly and effortlessly. Vmaker is a great example of an advanced screen recorder, and it's worth checking it out.
Lastly, a few tips will ensure that you follow the guidelines that will make your product videos even more interesting.

If you enjoyed reading the above article, then here are a few cherry-picked ones you might be interested in reading further!
Ultimate How-to Video Guide with Examples, Tips, and Ideas
Training Video: Definition, Forms, Tips & Free Tool
Ultimate Tutorial videos Guide with Tips and Free Template