Screen Recorder Chrome Extension - A Complete Guide
Other than being a powerful tool for making videos on your computer, screen recorders are very flexible to use. You can use it as an app on your Windows or Mac computer. Or you can just install the Chrome extension of the tool. In some cases, you can do both.
If the idea of using a screen recorder as a Chrome extension has been running in your mind, then read this blog till the end. Because in this blog we will tell you -
How to use a screen recorder Chrome extension? (Using Vmaker as an example)
What to look for in a screen recorder Chrome extension?
What are the advantages of using an extension?
What are the best options available?
What makes Vmaker as one of the best screen recorder Chrome extensions?
Feel free to skip the parts that you're already familiar with.
How to use a screen recorder Chrome extension?
Installing a screen recorder Chrome extension in your computer is a simple process. You don't need to have high technical skills to do this. Just follow the steps below to get started -
1) Head over to the Chrome Web Store. Type in the name of the screen recorder that you're looking for in the search bar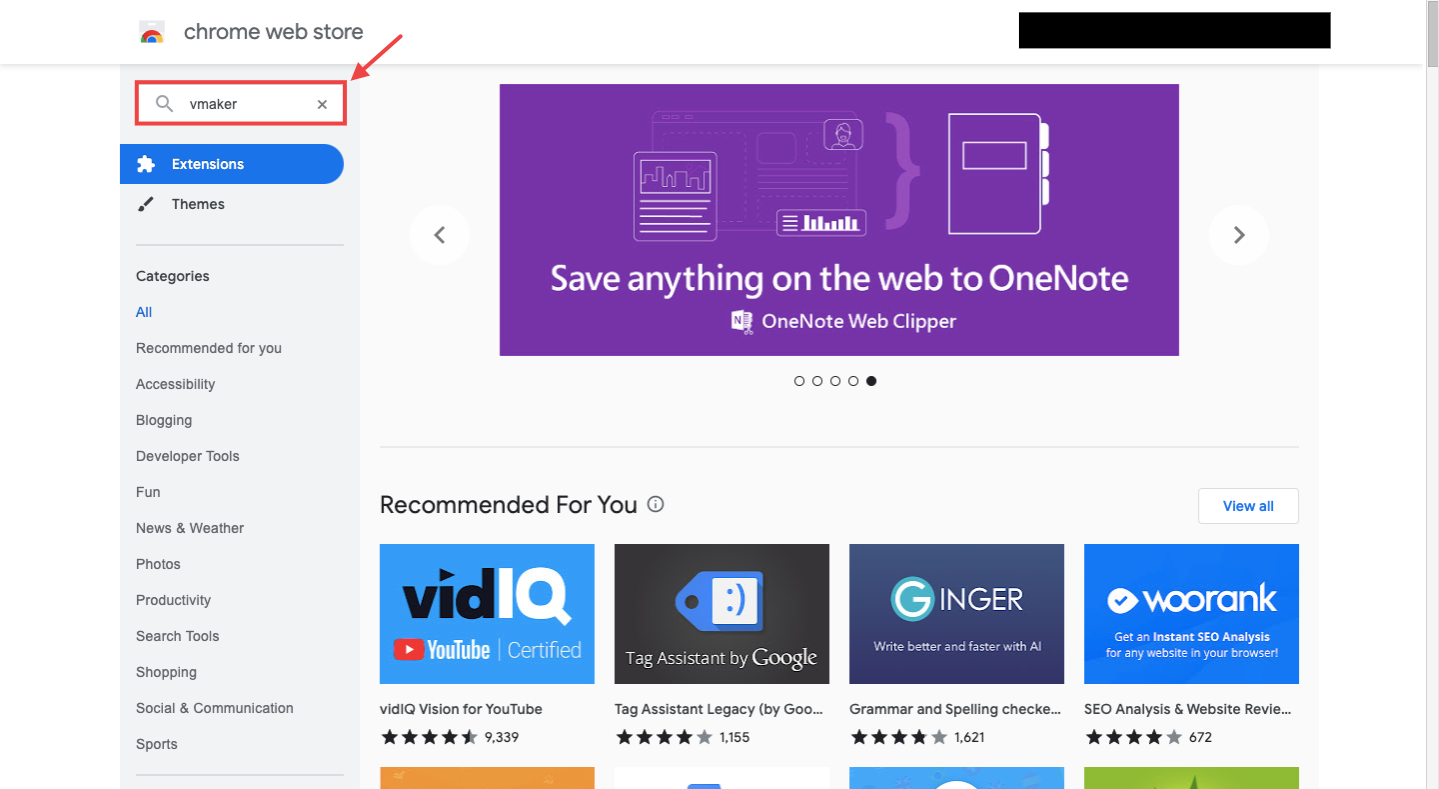 2) As you search for the screen recorder, you'll see a new page open up. This is where you install the extension by clicking on the Add to Chrome button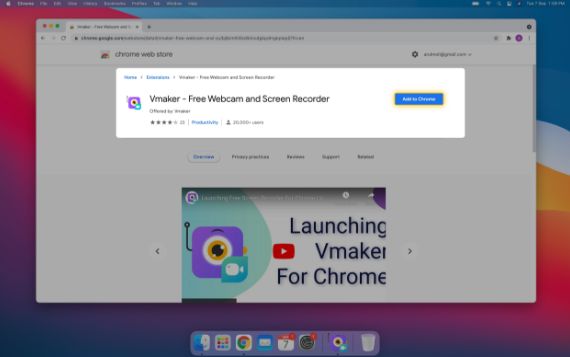 3) After you add the extension, you will see the icon of the screen recorder appear on the toolbar of your Chrome browser. At this point, make sure that you pin the Chrome extension, so that it's in front of your eyes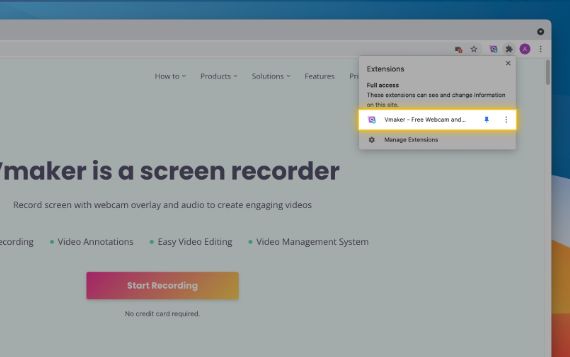 4) Most of the screen recorders out there will ask you to create an account before recording the video. Make sure that you sign up at this step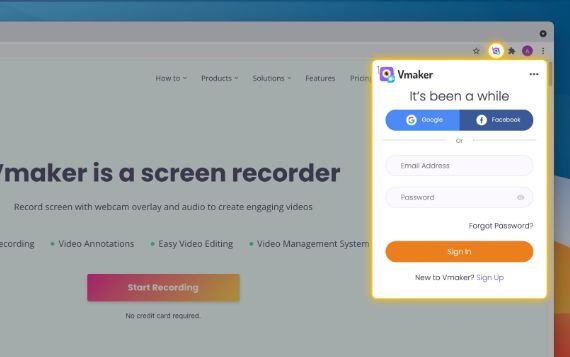 5) After you have signed up, click on the screen recorder browser icon to open it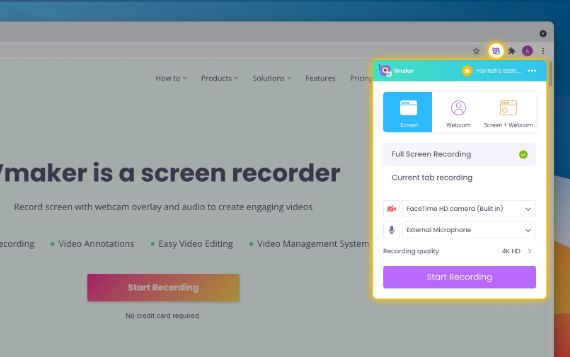 6) Click on Start Recording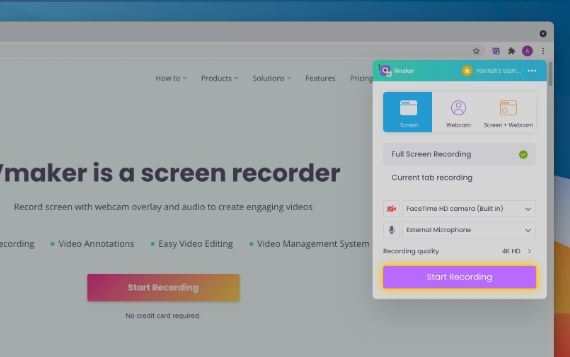 What to look for in a screen recorder Chrome extension?
There is no handbook which can give you the exact steps to choose the best screen recorder Chrome extension. Having said that, you can always refer to these guidelines, to make sure that you settle for a decent option.
User interface
This is the most important factor because in your daily work schedule you would want to record videos multiple times. In such a case, if the interface is difficult. Or, it takes you a minute to just start recording, then you can't choose something like this. Focus on the screen recorders that have the buttons upfront, and the icons are clearly visible. Imagine a workflow in your mind, and follow that, and time the whole process to check the duration

Free trial
We live by this formula - if there is no free trial, there is no chance. Seriously. We prefer using tools that give us a hands-on experience of using it at least for a week. We think you should also consider screen recorders that at least have a free trial. Even better if they have a free plan (or both).
Features
There are a few features that you will use frequently, a few occasionally, and then, a few rarely. Make a list of these features in terms of priority when you're analyzing different screen recorders. You can also do this after you have used a screen recorder in the free trial. Based on the list, compare the usability of the features of the tools. Give higher preference to the one that is easier to use
Price
If you have a strict budget, you can keep the price at the top priority. If you have a flexible budget, then we would suggest you calculate the value for money for every tool that you're considering. Paying a bit extra for a screen recorder that has extra features can prove very useful in the long run.
What are the advantages of using an extension?
No doubt that you were thinking about this. Chrome extensions work like downloadable apps, but there are certain areas where they prove to be extra useful -
Quick access
You must have figured this out already, but you'll know its importance when you start making videos more regularly. Every time you want to record videos, you only need to click on the extension, and get started. This is big positive for remote workers who are in middle of something and want to record a quick asynchronous message for their colleague
Save computer space

As there are no downloads involved, you end up saving computer space. Mostly, screen recording apps are not of huge size. But, with the product updates, they might end up taking a considerable amount of space in the device memory. A bit of saving in the disk space can prove useful later on.

Use anywhere

You can use a Chrome extension on any device. You don't necessarily need to be logged-in on your personal computer. All you have to do is log in to your Gmail account, and make sure you use the Chrome browser. This benefit makes it more convenient to work as your not fixed to just one device.
What are the best screen recording Chrome extensions out there?
We have talked about this in detail in a separate blog post.
You can check out over here: 10 best screen recorder Chrome extensions. But, if you only want a quick overview of the list, then stay here. In 2-line description we will tell you what makes each of them special
1) Vmaker: Lifetime free plan. Unlimited recording. Watermark-free videos. 720P recording quality in free plan, and 4K recording in paid plans. Built-in video editor.
2) Awesome screen recorder: Watermark free videos. Forever free plan. Easy to record screenshots too. Cloud storage and social sharing of the latest 20 videos
3) Screencastify: Multiple recording modes. Screen annotation. MP3, MP4 and GIF export options. Direct YouTube upload
4) Loom: Multiple recording modes. Viewer insights. Folder management. GIF thumbnails. Slack, Gmail, GitHub, Notion integration
5) Nimbus capture: Can take screenshots too. Screen annotations on both screenshots and screen recordings. Different recording modes. Video editor. Custom watermark
6) Vidyard: Unlimited recording and upload. Video embed possible. Video view notification. Custom thumbnails. Social sharing
7) Vimeo Record: Unlimited recording. Video analytics like views, impressions and view rate. Can create GIFs. Custom thumbnail. Password protected video
8) Hippo Video: Unlimited recording. 100 GB bandwidth. Social sharing. Video analytics and reports. Custom thumbnail. Custom CTA
9) Scre.io - Runs offline. No Sign up/ Sign in required. Unlimited recording. Watermark free recording. Can record system audio alone. Multiple recording modes.
10) Fluvid screen recorder: Video editor. Live-streaming. Custom CTA and thumbnail. Custom watermark. Unlimited crop and trim.
What makes Vmaker as one of the best screen recorder Chrome extensions?
We hope you got a gist of what makes the Vmaker special. This part is an extension to that. We have highlighted a few more parts of Vmaker here which will tell you more about it.
Unlimited recording
Whether you're recording your screen or using your webcam to record a video, there is no limit on the duration of your recording or the file size. We know that we mentioned this before, we just thought of letting you know that this applies to the free plan as well. Make as many videos as you like with a duration limit. No questions asked.
Use 4K resolution
Grainy videos are a big deal-breaker. Today, the audience are used to watching pristine quality videos, and to be in the trend recording video in 4K is necessary. With Vmaker, you can make 4K quality videos, download and share them with others without worrying about anything.
Record audio
Recording only a video can be a dampening experience. With the Vmaker Chrome extension, you can plug in your microphone so that you can record your voice too. This works very well when you want to share instructions along with the video. The video and voice synchronization will make it easier for your audience to follow your content
Screen Annotation
Has it ever happened to you that you work very hard on a video, but the viewers totally miss out on specific information because there were many places to look at in the video? If you're a YouTube content creator or an educator, you know what I'm trying to say. To avoid this problem, we introduced the screen annotation and mouse emphasis feature in Vmaker. You can use these features to highlight the areas and draw figures to grab the attention of your audience.
Blur Tool
Vmaker offers a blur tool within its Chrome Extension, enabling you to easily blur specific regions or elements on the screen both before and during recording. You can blur sensitive information, such as emails, passwords, account details, and even images, using this feature.
Edit like a pro
Once you're done recording the video with the browser extension of Vmaker, you can edit the videos to give a professional look to it. You can crop, trim and resize the video so that your final version has only the relevant information, and no fluff in it. In the advanced plans, you can also import other videos to merge them with your recording to make it more interesting.
Collaborate with team
Your videos get automatically saved in a workspace. You can share this workspace with your team and give them access to view it. To have a more streamlined approach, you can create multiple folders within the workspace, and for each folder you can give access to particular team members.
Scheduled recording
This is a unique-advanced feature of Vmaker that lets you schedule recording. This means that even if you're not at your seat to record an event or a meeting, Vmaker can do that for you. You only have to set the time and duration of recording. Vmaker will take care of the rest.
Easy on the pocket
"This is an awesome tool, it has some great features, but it will cost a bomb." If you're thinking this, then let me make it clear to you - Vmaker is FREE. You don't have to shell out a single penny to record videos with Vmaker. However, there are other pricing options which you can choose to use more advanced features. Check out our pricing page for more information.
That's a wrap
That's all we had to share about screen recording Chrome extensions. If you're planning to start using one, we're sure you will find this guide helpful. Refer to the list of the best screen recorders that we have mentioned here. You can use our analysis to settle for the one that best matches your requirements. Also, make sure you know the requirements beforehand, as it will give you more confidence to test the tools.
Recommended Reading
10 Best Screen Recorders for Chromebook
10 Best Screen Recorders for Windows [Free & Paid]
9 Best Free Screen Recorders Without Watermark
How To Do Screen Recording Videos: Top 10 Actionable Tips You Should Know
How to Screen Record on Chromebook with Audio