Best Screen Recorder Tools for Making Tutorial Videos
Making tutorial videos is a great way of engaging with your customers and viewers. For a SaaS business, tutorial videos are very helpful to train and educate the users about the product. Users, on the other hand, also prefer this way of learning about a product. As per Think with Google consumer insights, users are 3 times more likely to watch a video tutorial on YouTube, than reading the product's instructions.
The benefit of creating a video tutorial doesn't just stay limited to the users, it helps in training the employees too. An average company in the US spent $1111 per employee on training cost as per a research done by Training Magazine in the year 2020. After getting hit by COVID, many companies have been scrambling to find new ways of training employees remotely. Tutorial videos fill this space exceptionally well, and employees will like it too, as 75% prefer watching videos over reading documents, manuals and emails.
But, why just business? Tutorial videos has its presence in every category. Whether you're a gamer, gardener, beautician, baker, fitness instructor, if you're good at what you do, and have the love to share it with others, tutorial videos can be a great channel for you. However, creating a video tutorial can be a tough job, especially if you're a beginner. You need to have the right camera set-up, perfect lighting, and editing tools to create a video of convincing quality. All of this can drive your production cost, and push it out of your budget.

What if I tell you that there is an efficient technique of making tutorial videos that will not burn a hole in your pocket? And, that technique is called Screen recording.
What is Screen recording?
Screen recording is a technique of recording your computer screen. Yes, it's that simple. With a screen recording tool, you can click on a button, and start recording your screen instantly. This means, you can share your screen content with your viewers to show them what you're trying to explain. Most of these screen recording tools record your face using your webcam simultaneously. So, now your viewers can look at your screen content, and also hear you talk. It's like you're giving them a personalized instruction, albeit in an asynchronous way.

If you search for a "screen recording tool" you will see a plethora of options. The right one for your depend on a lot of factors like cost, ease of use, Operating system, team size and product features. If you try comparing all of them, you're signing up for a difficult job.

Let's make it easy for you. We have a curated list of 5 best screen recording tools that can help you to make tutorial videos in a simple way. This list considers all the above parameters (and a few more), so that you don't have to do the hard work.
Here's the list of the 5 best screen recording tools for making tutorial videos for your ready reference.
Scroll down to read the brief analysis on each of these tools:
Screenrec
Active Presenter
Nimbus Capture
Vmaker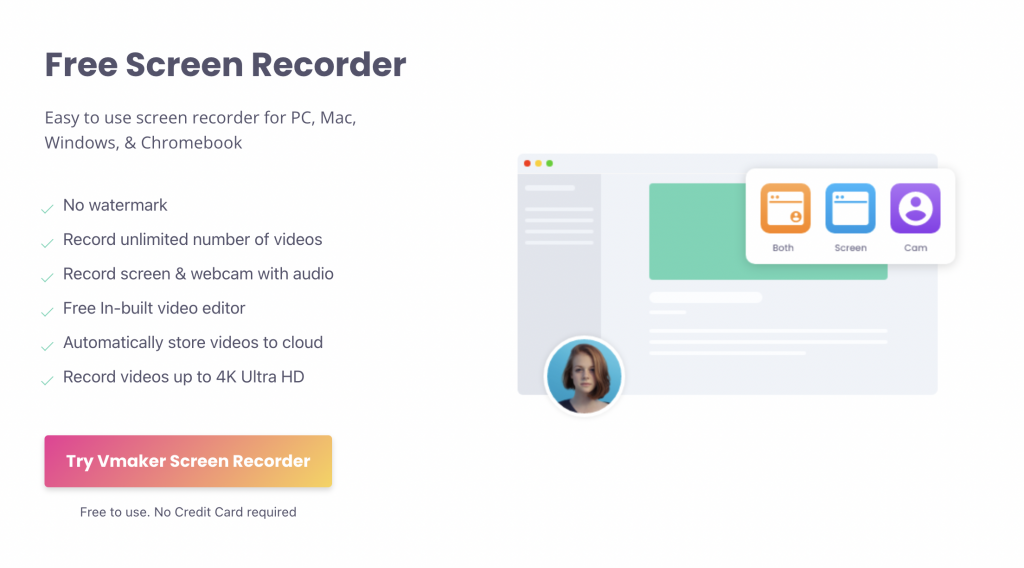 Vmaker is a free screen recorder that is available for macOS and as a Google Chrome extension. With Vmaker, you can record your screen and your face with a webcam at the same time. Vmaker is easy to use, which means you don't have to spend a lot of time watching videos or reading manuals. The interface is clean and clutter-free, so don't worry about getting lost or confused between different buttons.

Vmaker is loaded with all the right features to record and give an extra edge to your tutorial videos. Let's take a look at them -
Record 4k HD quality videos
No watermark on videos
Save unlimited videos on cloud
Edit videos professionally with the in-built video editor
Use screen annotation and mouse emphasis to highlight sections in your video
Use screen blur to hide sensitive information
Zoom in and zoom out can help to add more style
Create workspace to share videos with others
Analytics feature to help you know how many people have watched your video
The DND feature can help you cut out the notification sound
Vmaker is a great deal and has all the features to meet your needs for creating a tutorial video. We encourage you to go ahead and check out the website to get more details.
Bonus Guide: Ultimate Tutorial videos Guide with Tips and Free Template
Screenrec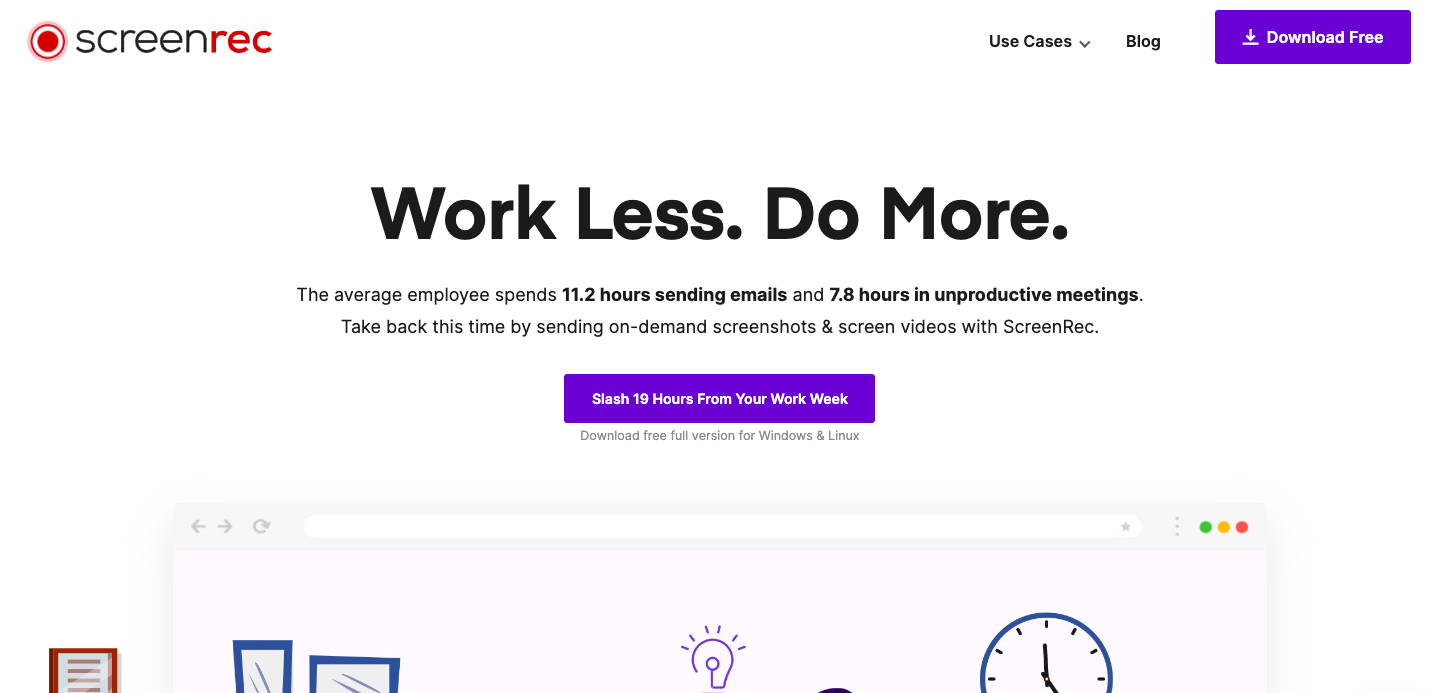 Screenrec is a powerful screen recording tool that is available for Windows, Mac and Linux OS. Screenrec is the only tool in our list that is compatible with Linux. So, if you're on Linux OS, this is the tool for you. Screenrec also allows you to capture screenshots along with recording videos which is a cool functionality in our opinion.

Screenrec considers itself as a complete communication tool than just a screen recording tool. Let's check if its features support its claim -
Screenrec is cloud-based, so you don't have to compromise on your device memory.
You share videos on Facebook and YouTube instantly within Screenrec
The link that you share with others are encrypted
There is no limit on recording
No watermarks on the videos
You can add hotkeys to make your task easier
Screenrec has done a good job in creating a tool that records screen and video, and captures screenshots too. Visit their website to learn more about their offerings.
Camtasia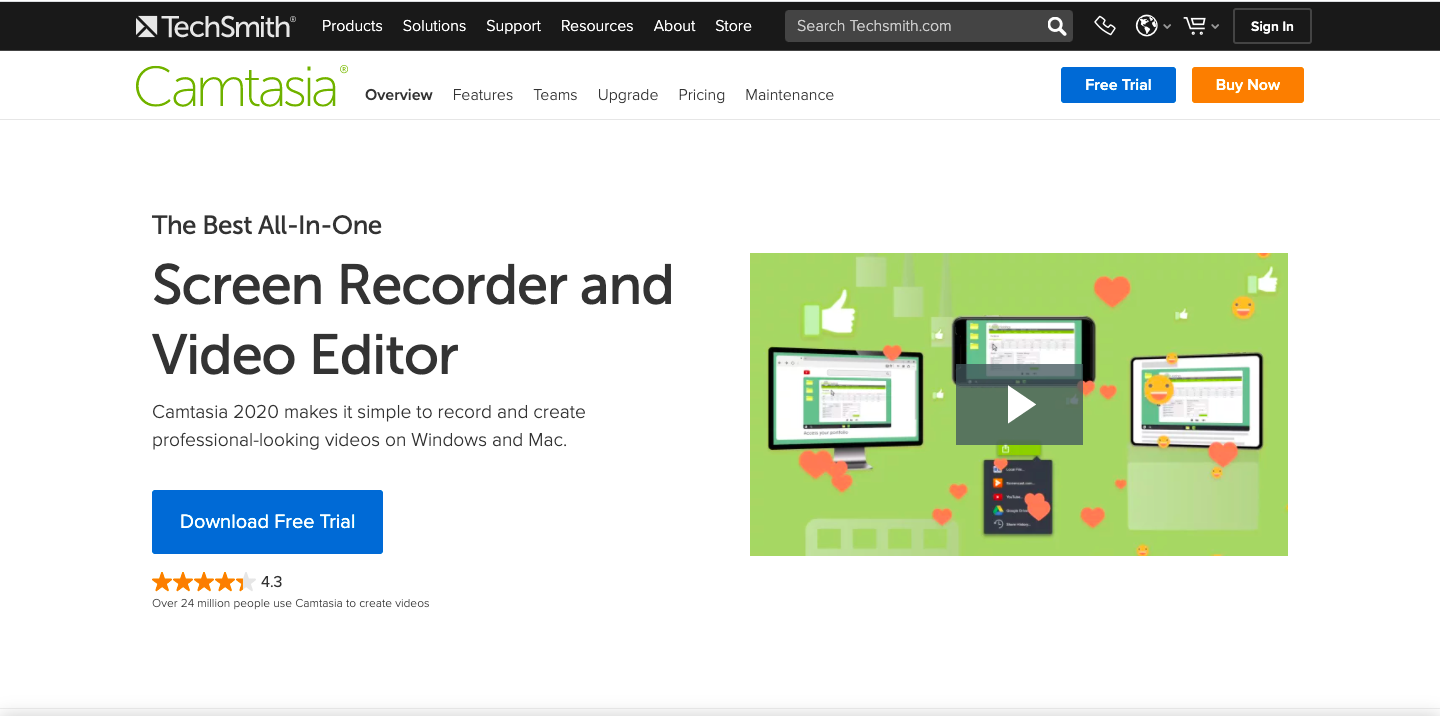 Camtasia is the most famous screen and video recording tool on this list. Built by Techsmith, Camtasia has a big user base, and mostly used for creating tutorial videos. They have a couple of Fortune 500 companies in their list of users which adds to their charm, but they're not very easy on the pocket. If you're an average user this might not be the best tool for you, but we still recommend checking out.
Camtasia has a rich feature list, and there are many things to write about. To keep this list short, let's look at their best features -
You can add music to your videos from their royalty-free audio library
You can choose between recording the whole screen or just a part of it
They have an in-built animation feature to add effects to your recording
Besides, you can also add effects to your annotation and cursor movements
To help your viewers understand better, you can add a caption to the videos too
It comes with an in-built drag and drop editor to chisel your final video
There's more to Camtasia than this list. We recommend you check out their website to find out if it's worth your penny.
Bonus Guide: How to Make a Tutorial Video by Recording Your Screen
Active Presenter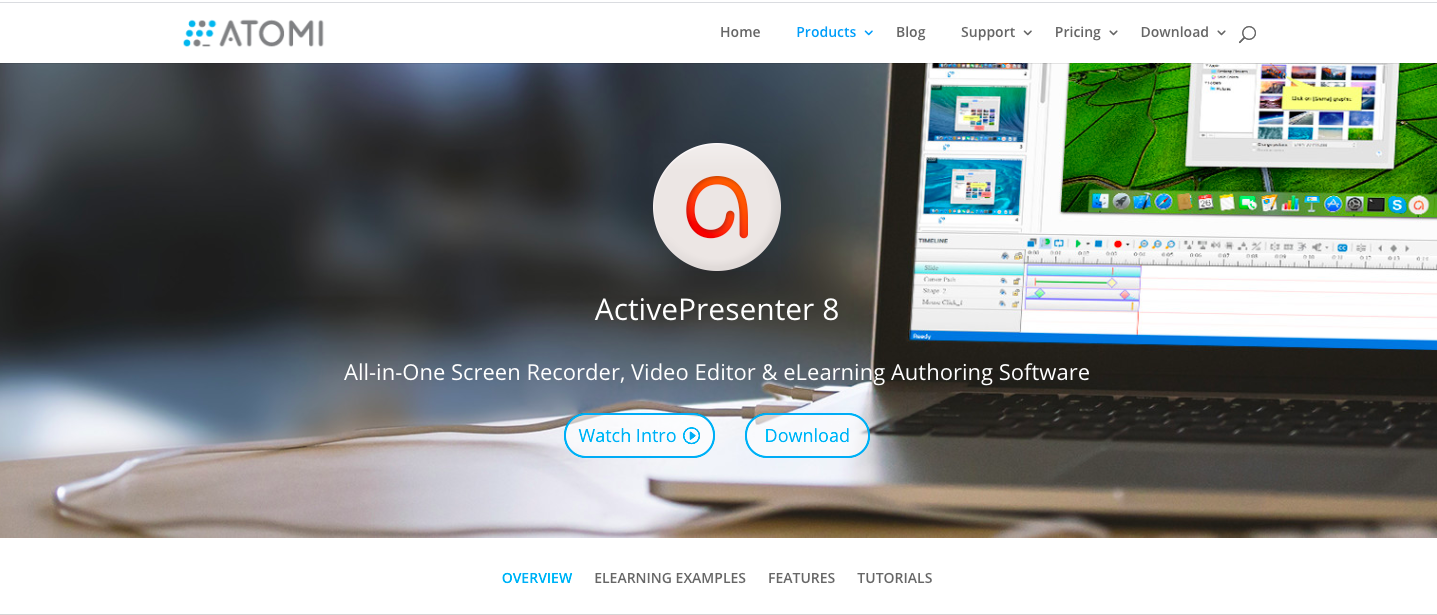 Following the lines of Camtasia, Active Presenter also positions itself as an eLearning authority software. It's an all-in-one video editor and screen recorder that can help online educators to create tutorial videos without much fuss. They have also dedicated a section on their website to share e-learning examples like quizzes and simulations. Available for both Windows and Mac OS, Active Presenter is a strong contender in this list.
But, is it just the right fit for educators? Can it match the requirements of other users? Let's find out in the next section -
Users can import presentations and save projects as templates
You can embed HTML codes without any active URL
Videos can be exported in different formats like MP4, AVI and HTML5
They have an active user community to answer questions and feature requests
You can add animations and transition effects to icons and equations
Active Presenter should fit your needs if you want to make a simple tutorial video. Check out their website to learn more about them.
Nimbus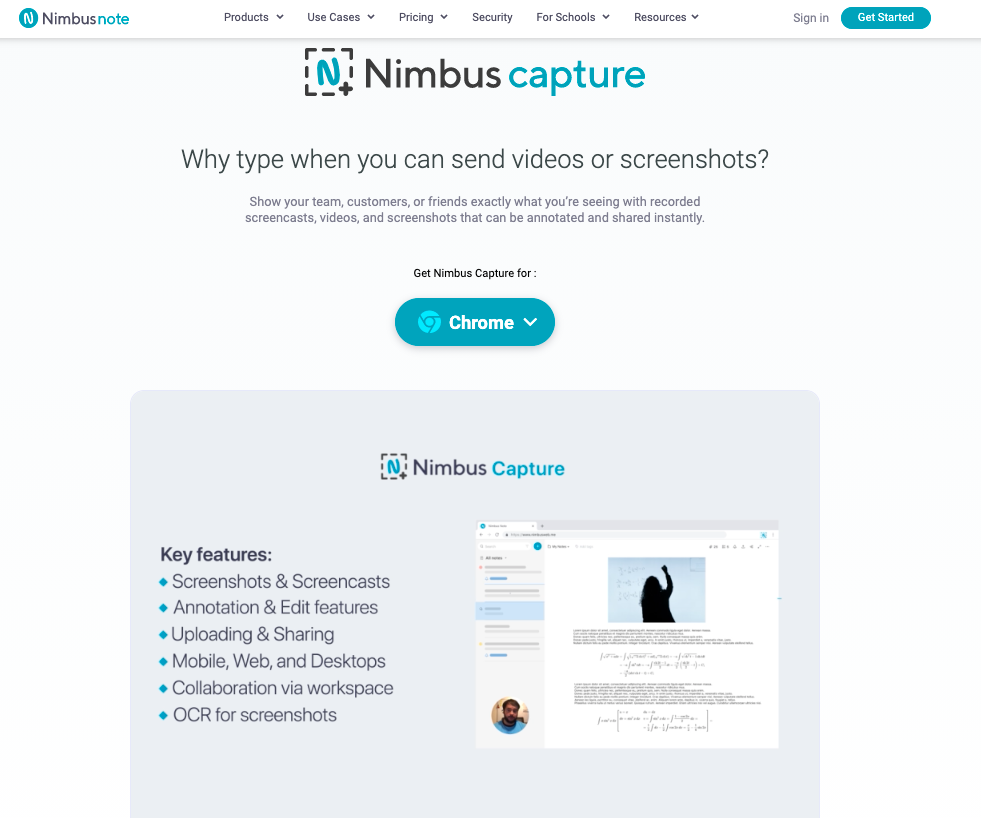 Nimbus is a screen recording and screenshot capturing tool that is available only as a Chrome extension. So irrespective of what OS you're using, Nimbus will work perfectly fine for you as long as you're using the Chrome browser. If you're someone who prefers to use tools right from the browser, then Nimbus should be the right choice for you.

Nimbus is a very lean tool, and it's simplicity is its asset. But don't let its simplicity fool you, it packs some very good features under its belt. Let's take a look -
It comes with essential annotation features
You can also edit your videos after the recording has been done
The videos get saved on the cloud, so you can download them whenever you want
You can add your own watermarks to the videos
The video screen resolution and the frame rate can be customized too
You can record a video of another active program
Nimbus is worth checking out. It's a successful chrome extension with more than 1 million users and 14K ratings. Here's the webstore link where you can read the ratings yourself.
Final note on the best tools for recording tutorial videos
All the tools listed above can be a great asset for recording tutorial videos. They are simple, easy to use, and does a great job for a regular user. No matter what tool you choose, rest assured you're making a good choice.
To sum it up, we thought of creating another list that will help you to make the decision faster. This list rates the best tool depending on what you're looking for in a screen recording tool.

Easy to use screen recording tool available for Mac and Chrome extension - Vmaker
Best screen recording for Linux - Screenrec
Screen recording tool for enterprise users - Camtasia
For educators and online teachers - Active Presenter
Best screen recording tool only available as a Chrome extension - Nimbus
We hope this blog content was useful to you, and it will help you make the right decision. You can also check out our other blogs to learn more about the screen and video recording.
Few other listicles that will help you decide on the best screen recorder:
Best screencast software
Best screen recording software for Mac
Seven Types of Screen Recording Videos and Where it's Being Used
10 Best Free & Paid Screen Recorders To Checkout In 2023
How To Do Screen Recording Videos? 10 Step Guide With Tips & Tricks
Best free screen recorders without watermarks
Five Screen Recorder Worth Checking Out for Creating Youtube Videos