Best Screencast Software in 2022 ( Free and Paid) | Detailed Comparison
Gone are those days where we used to take notes on a notepad and write long emails that hindered our productivity. Over the years, videos have become quite popular amongst all ages. One such form of video content is screencasting. Screencasting has seen such wide adoption thanks to resourceful and feature-rich screencast software available on the internet.
What is a Screencast?
Screencasting is probably the easiest form of video creation. A screencast is a digital video and audio recording of what's on your computer screen. It can be used to create information-rich instructional and tutorial videos. Screencasting is the best form of show and tell.
Why is screencasting popular amongst a vast majority of people?
Screencasting has now been universally adopted by people of different age groups and professions as it is the easiest way of expressing yourself without much effort. Teachers share lessons through screencasts, employees nowadays communicate through screencasts, and there are students, YouTubers, and many other groups of people who have begun to use screencasts extensively.
In this blog, we'll share the best free and paid screencast software in 2022 and elaborate on the pros and cons of the same to help you decide the best screencast software for your screencasting needs.
Best screencast software in 2022:
Vmaker
Screencastify
Screencast-O-Matic
Loom
Nimbus Screen Video Recorder
ActivePresenter
Apowersoft
OBS Project
How have we classified these screencast softwares in this list?
A lot of factors have been considered in order to arrive at the final list, and in order to give clear clarity, we have analyzed all the screencast software on the list below based on their free and paid features.
1. Vmaker
Vmaker is the latest screencast software from the makers of Animaker. Animaker is known for its simplicity. Following on similar lines, Vmaker too has been developed to make screencasting simple, easy, and affordable for everyone.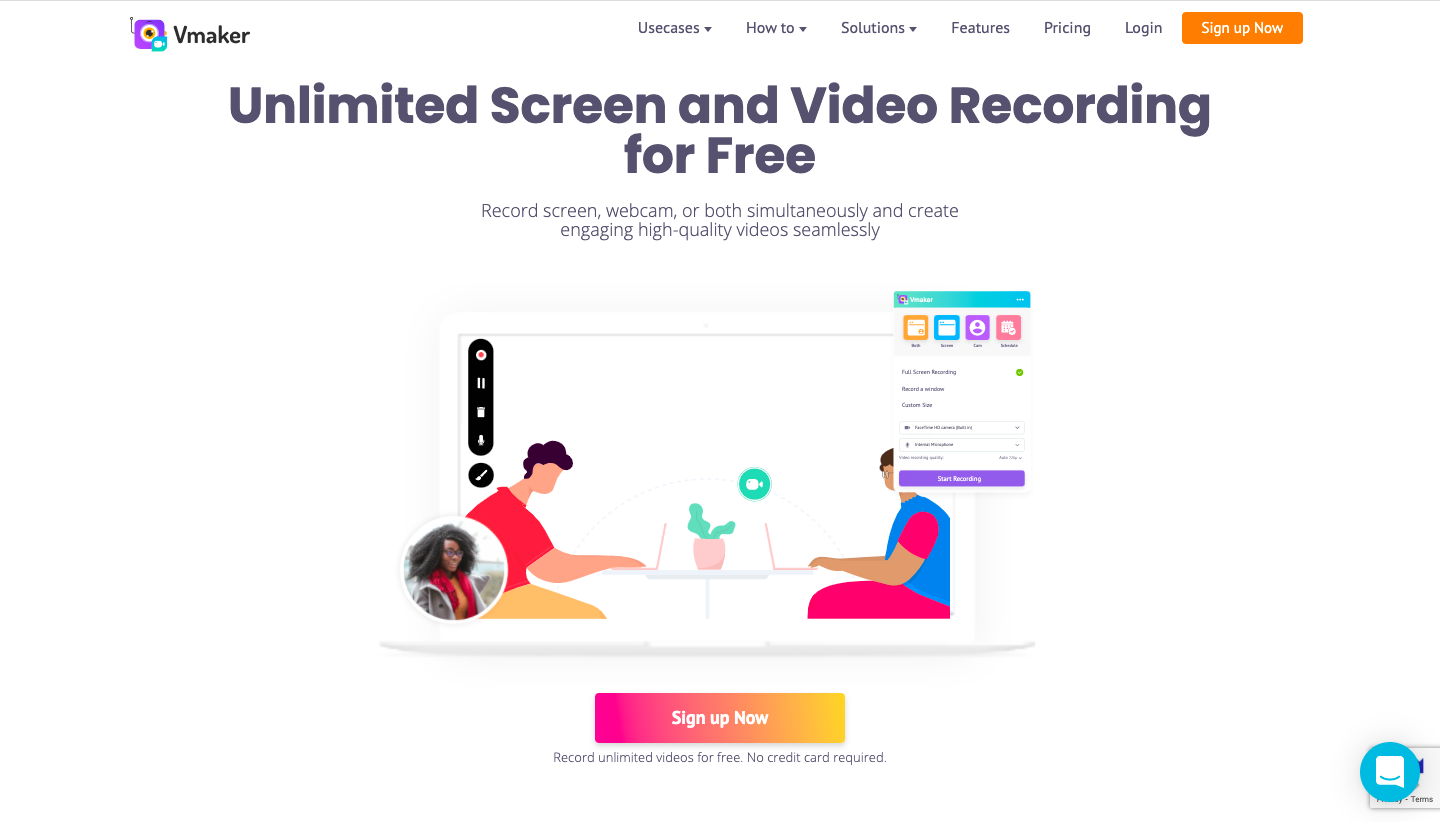 Vmaker is a powerful yet simple and easy-to-use free screencast software. The application lets you record screen, cam, or both simultaneously to create engaging screencasting videos.
Vmaker free version: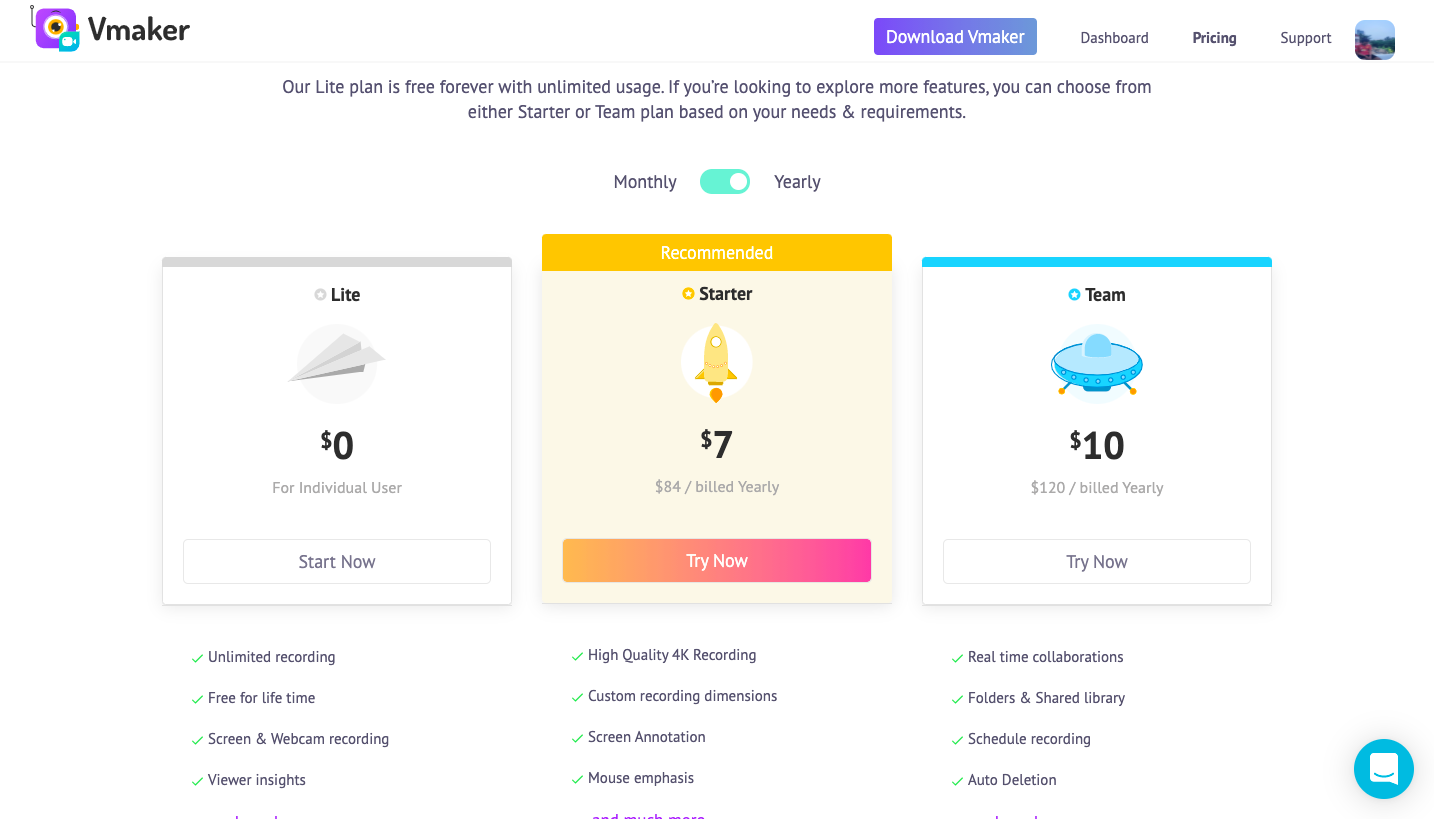 The application is so simple that users can start recording videos in just two clicks. The free version is termed the Lite plan and is free for a lifetime. Users can record screen, camera, or both individually or together without any restrictions at a max resolution of 480p. The best thing is there are no watermarks added to the videos, even in the free version. Users can also choose their webcam shape and add cool filters in the free plan to make the screencast videos look even better.
Once the screencasting is complete, the recordings are immediately available on the cloud from where users can share their recording with anyone with just the link, export it to their device as MP4 file and edit them using the video editor that comes with a host of features to further enhance the videos.
Features available on the Vmaker free plan
Although Vmaker offers so many features even in the free version that will mostly suffice the screencasting needs of most users, there are few more exciting features available in the paid plans worth looking into.
Vmaker starter plan has been described as ideal for individual users. It allows users to record at 4K resolution, custom recording dimensions which enables users to record any part of their screen, screen annotation, and video upload options.
The Team plan is quite extensive and helps multiple users collaborate over a single workspace where they can share videos and folders for effective collaboration. The Team plan also has a scheduler that automatically schedules recording and comes with an auto expiry option, making the video expire automatically after a specified period.
Available versions: Mac, Chrome plugin, Windows (Coming soon), iOS App(Coming soon), Android App(Coming soon).
Plans & Pricing: Vmaker has three plans that offer freedom and flexibility for users to choose from.
Lite plan (Free for a lifetime), Starter(7$/month), Teams(10$/month/per user)
The final verdict: Vmaker is one of the best, if not the best, screencast tools in the market, which has a free plan which enables anyone to create screencasting videos for free without any restriction. The paid plans, which are a pay-as-you-go model, allow users to add more customization, making the screen recording even more engaging. One of the best thing about Vmaker is that it's designed for both solo and team users without creating complexity among users with different use cases.
2. Screencastify
Screencastify is a screencast tool available as a chrome plugin and is generally used by educators majorly. Although it's a chrome plugin, you can record outside of chrome, i.e. you can capture your screen and create screencast videos.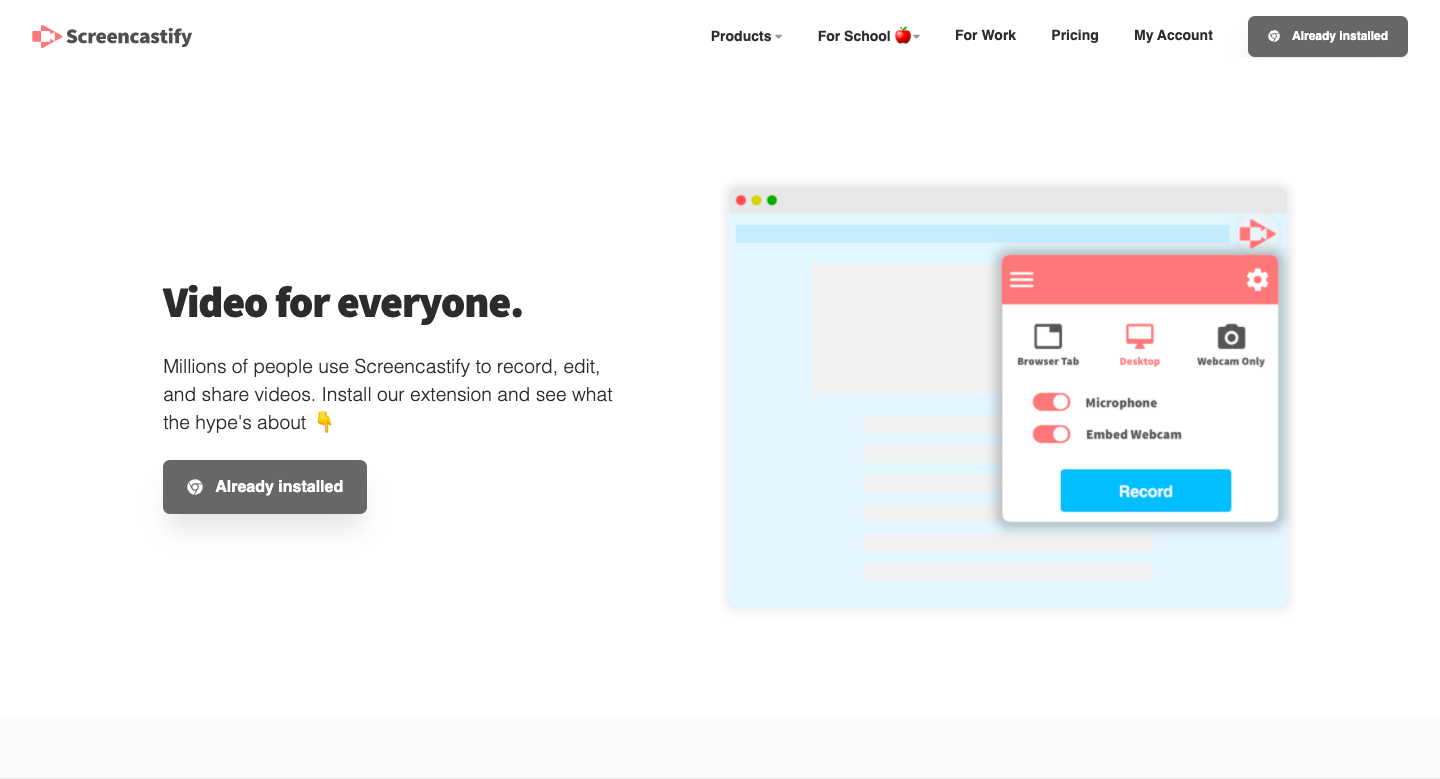 Screencastify free version:
Screencastify comes with the standard recording options of the screen, camera, and both. However, the main drawback is that there is a 5-minute recording limit in the free plan, which is a huge drawback. Also, the screen recordings come with watermarks in the free version. The videos are automatically saved on Google drive, and if you're short on space, then you're in trouble!
Screencastify paid version:
The paid version, which comes in at $49 per year, lets you record videos for as long as you want without watermarks at HD resolution. You'll also be able to upload to youtube, export as MP4, Gif, and MP3. There is no video editor even in the paid plans, and you'll be able just to trim videos. In case you want a full suite editor, you'll need to shell out an extra $49. Screencastify also doesn't have blur, custom dimensions, custom background, auto expiry, and some essential features that you'll expect in a paid plan in screencasting software.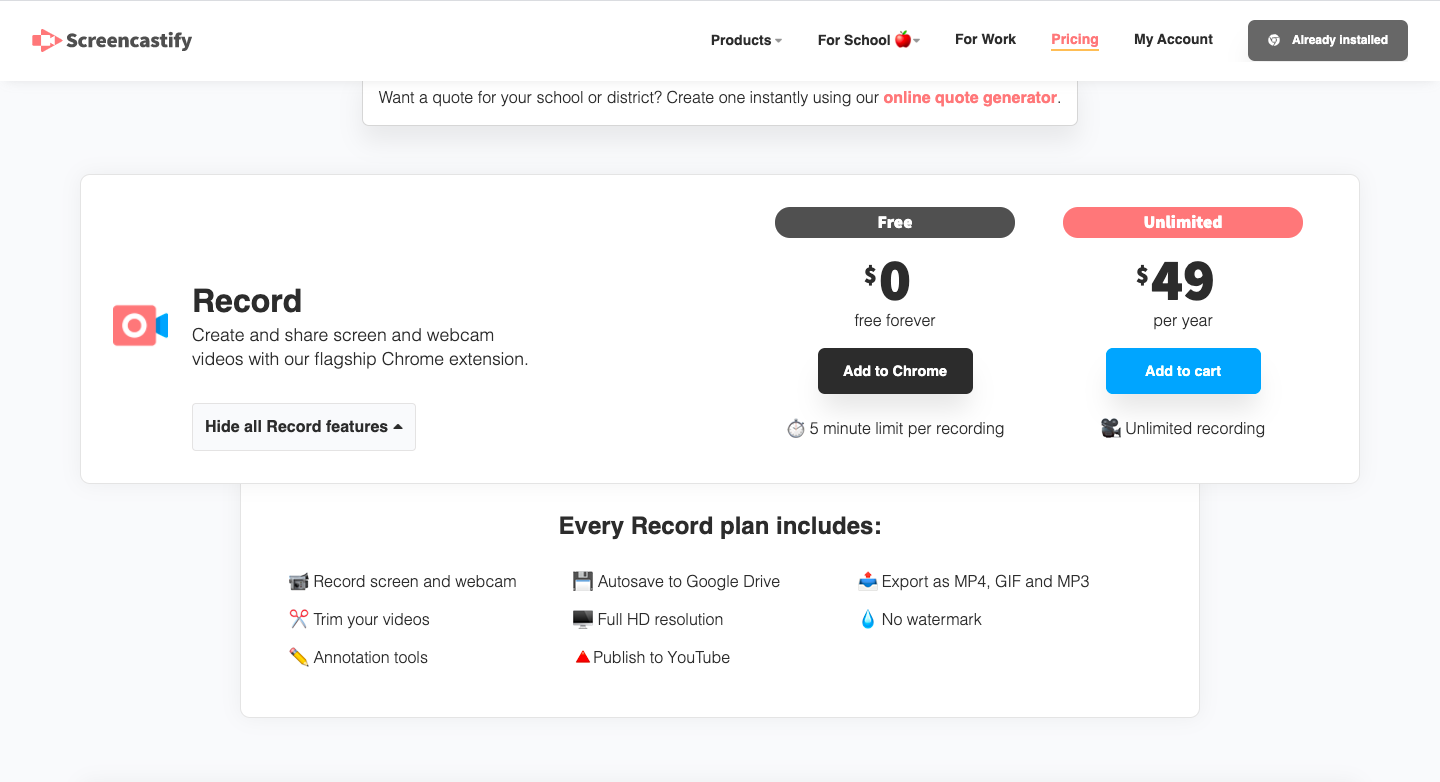 Available versions: Chrome plugin only
Plans & Pricing: Screencastify has just two simple and straightforward plans. It's either a free plan or a paid plan.
Free version and Paid (49$ per year)
Final verdict: Screencastify could be used for light usage by single users who want to quickly record videos without downloading an app. There is also not much difference in features offered in the paid and free versions except that it provides an unlimited number of recordings without a watermark. 
3. Loom
Loom is one of the most popular screencasting software that's out there in the market. The software offers multiple recording options across platforms and is available as a chrome plugin, mac software, windows software, and iOS app, offering users the flexibility to record from the device of their choice.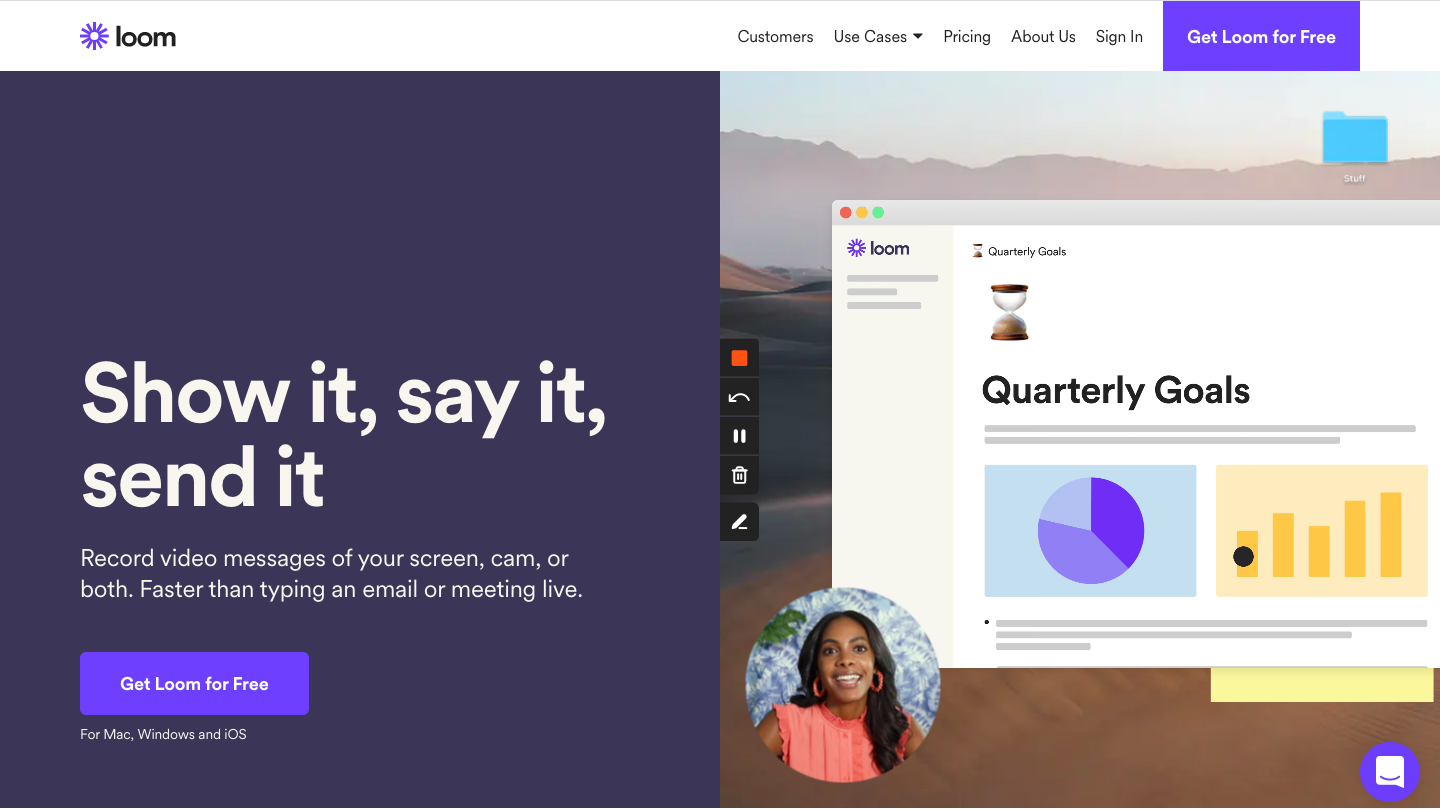 Loom free version:
Loom offers the flexibility of recording screencast videos across devices. You'll record for five minutes, but the videos are without watermarks even in the free plan. However, there is a 100 videos limit in the free plan. Explaining it in better terms, the first 100 videos will be available in the dashboard, and to access old ones, you'll have to upgrade
The videos are available on the cloud dashboard. They could be shared through links, just like Vmaker, making it easier to share without worrying about downloading or uploading it to other platforms.
There is also a creators feature in the free plan that allows you to add creators to your team and share videos in the team library. But the creators and library feature could be confusing for a first-time user looking to record a video quickly.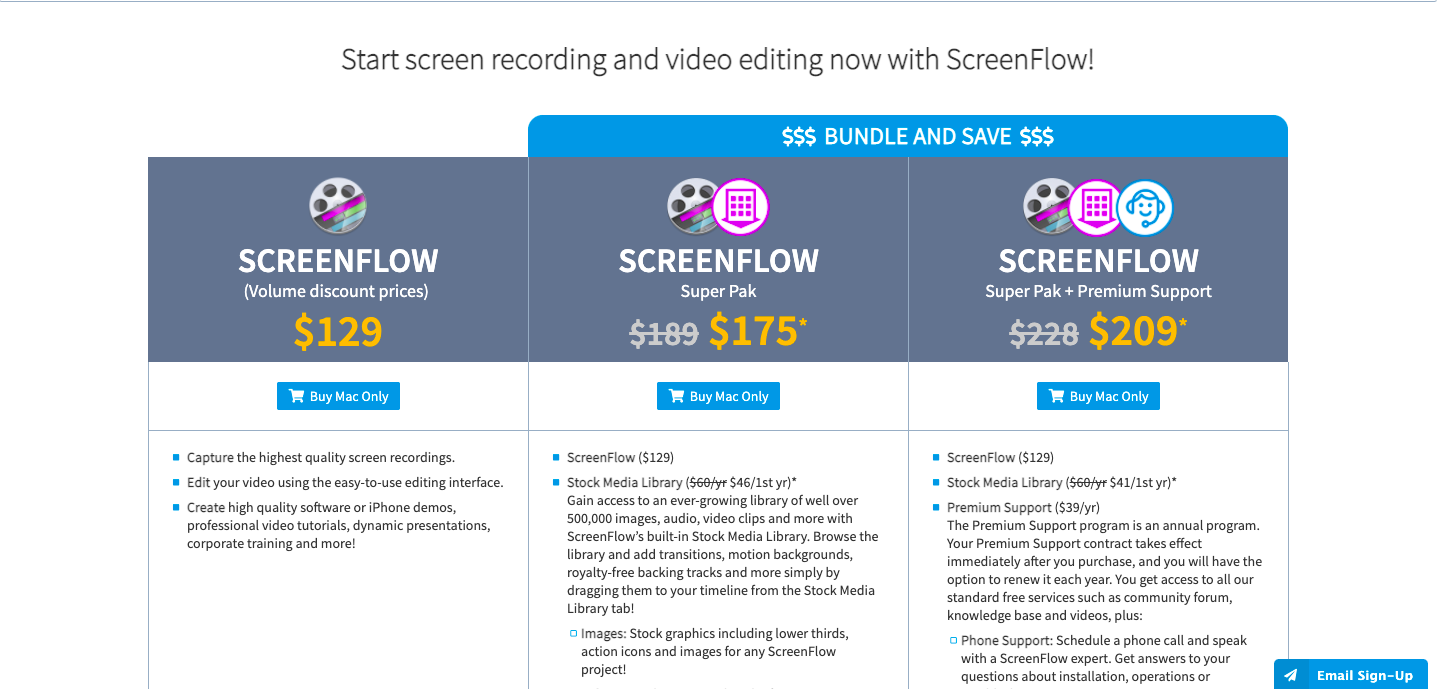 Loom paid versions:
The paid plan is termed as a business plan that allows you to record unlimited videos without any restrictions in the recording length and screen annotations, CTA, and engagement insights in the paid plans for users to create engaging screencast videos.
There is no editor feature in the paid plans, and all that you can do is trim the screencast video you have recorded. Paid plans also lack a few necessary features like recording scheduler, auto-delete, and screen blur.
Available versions: Mac, Windows, Chrome Plugin, iOS app and Android app(Coming soon)
Plans & Pricing: Loom has three plans. Starter, Business and Enterprise.
The starter plan is a free version. At the same time, the Business and Enterprise plans are, obviously, paid ones.
The business plan costs $8 per month, billed annually per user.
Final verdict: Loom could be an everyday screencast tool that is easy to use and can come in handy, but the recording limit in the free plan and lack of advanced features in the paid plans is a cause of concern.
4. Screencast-O-Matic
Screencast-O-Matic has been in the market for quite some time and is a well-known name in the screencasting software arena. Screencastomatic is available on all platforms, including Mac, Windows, iOS, Android, and Chromebook. Let's see what one of the industry veterans offers for users looking to record screencasting videos.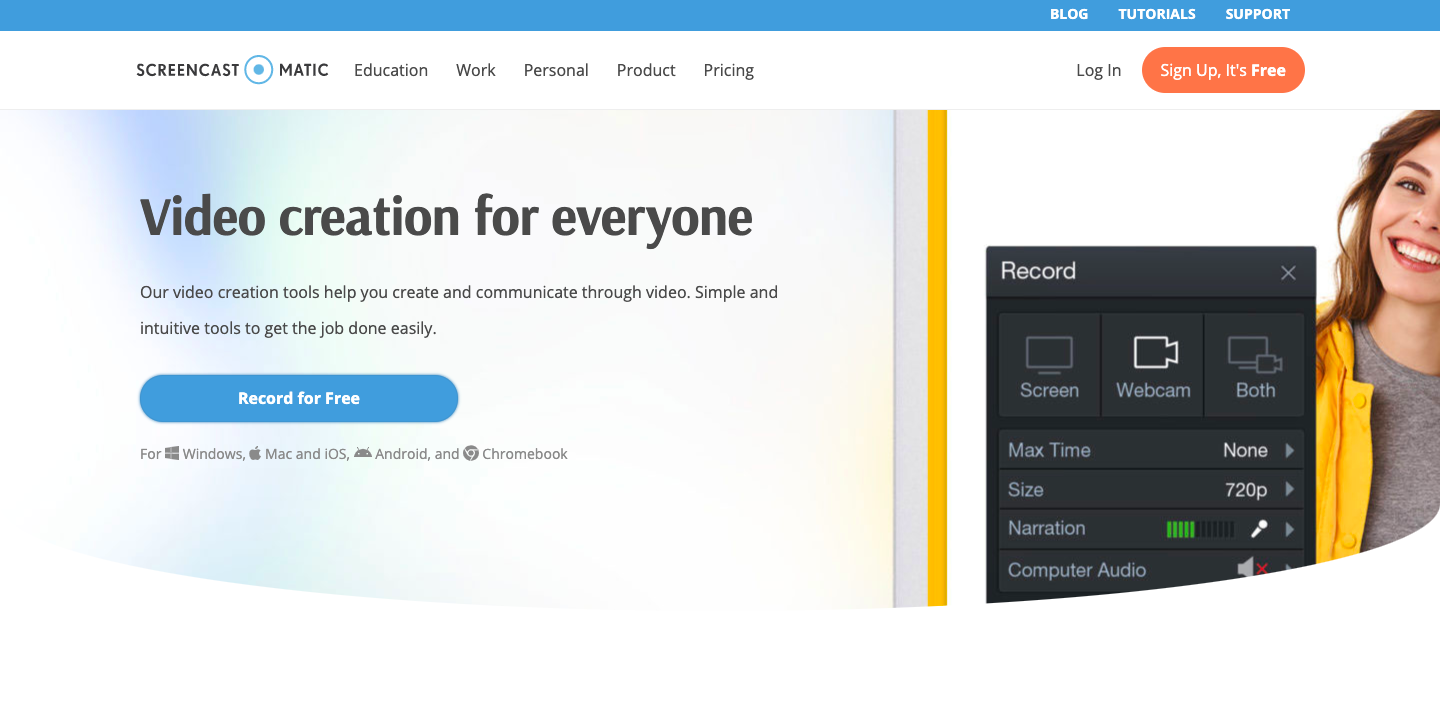 Screencast-o-matic free version:
Just like most of the screencasting software Screencast-o-matic offers all the basic features in the free plan but restricts users from using it to the fullest potential.
Users can record watermark-free videos for a maximum of 15 minutes. Any recording above 15 minutes will have a watermark making it unsuitable for professional use.
One other major drawback is that Screencast-o-matic doesn't let record system audio in the free plan. There's also a 25 GB bandwidth for recording videos per month for recording videos which is also the case in the first tirer of paid plans.
There are also advertisements in the player page of Screencast-o-matic in the free plan and also surprisingly on the first tier of their paid plans.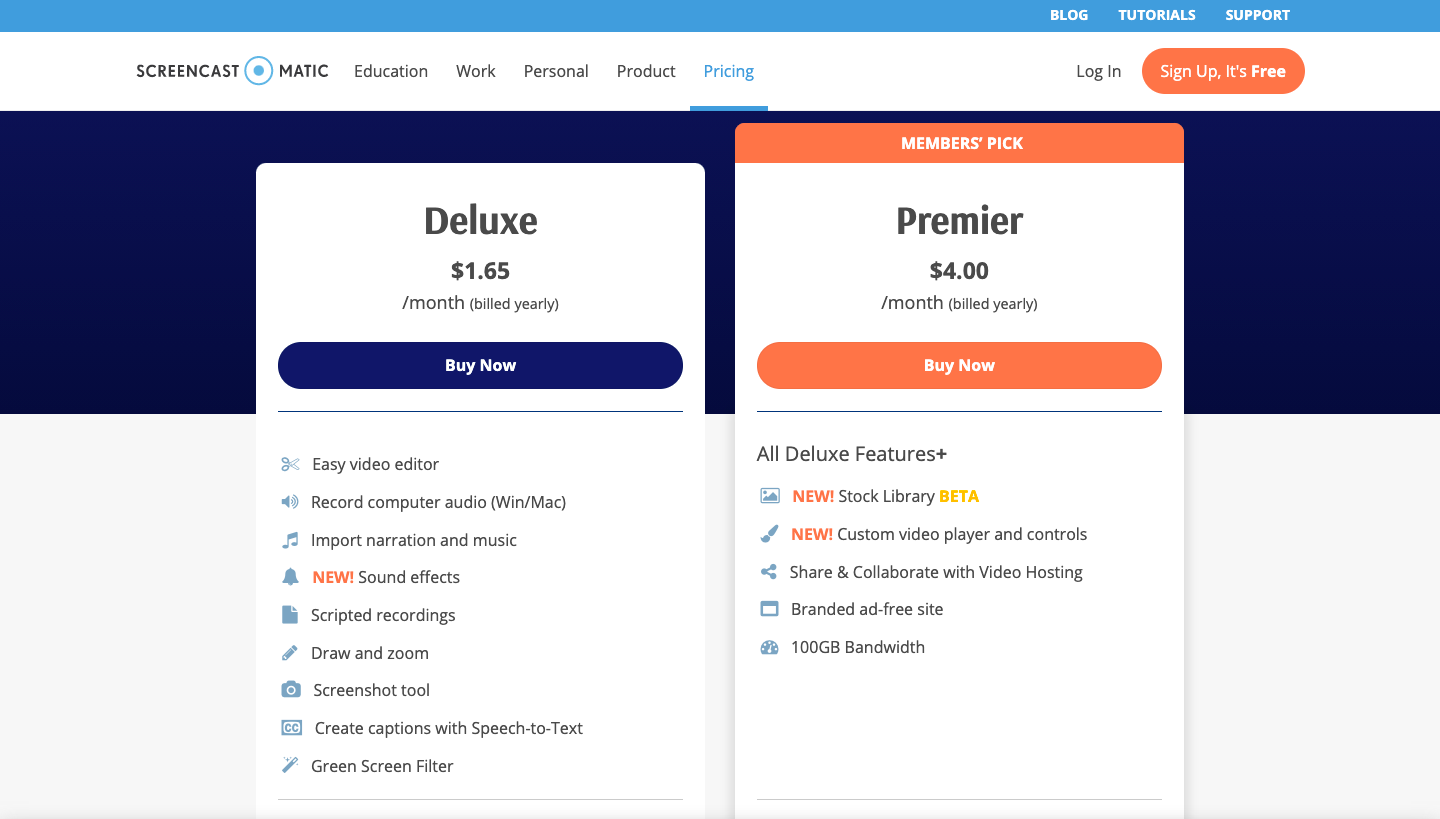 Screencast-o-matic paid plans:
Screencast-o-Matic offers their paid plans in two different models, Solo, and Teams. The two models have two tiers named Deluxe and Premier.
The Solo Deluxe plan lets you record for a more extended period without watermarks and system audio. It also allows you to add the do-scripted recording, which is unique to Screencast-o-Matic. Users can also access a wide range of editing tools, upload videos, add music, effects and create captions making it a complete tool for creating high-quality screencasting videos.
Solo Premier further enhances your ability to create engaging, personalized screencasting videos by letting you add your brand and domain to the screencasting video player page. The player page is also ad-free in this tier. Premier also comes with a 100 GB/ month bandwidth for creating videos that are more than sufficient for professional use.
The Team plan also offers the same features with a few more added features specifically for team collaboration and security.
Available versions
Mac, Windows, Chrome Plugin, iOS, and Android
Plans & Pricing: Screencast-o-Matic has a free plan, and two paid versions with two tiers. Solo and teams with deluxe and premier options in both of them.
Solo users can use it freely for individual use, whereas team users can collaborate with ease.
Solo deluxe costs $1.65 per month, whereas solo premier costs $4 per month. Teams deluxe and Teams premier depend on the number of users and can be checked on their pricing page.

Final verdict: Although the free version of Screencast-o-Matic has a lot of limitations for creating screencasting videos. The paid plans come with a lot of handy features which are quite affordable.
5. ActivePresenter
ActivePresenter is an all-in-one screen recorder, editor, and e-learning authoring software that is highly specific for creating screencast videos for e-learning purposes for both students and teachers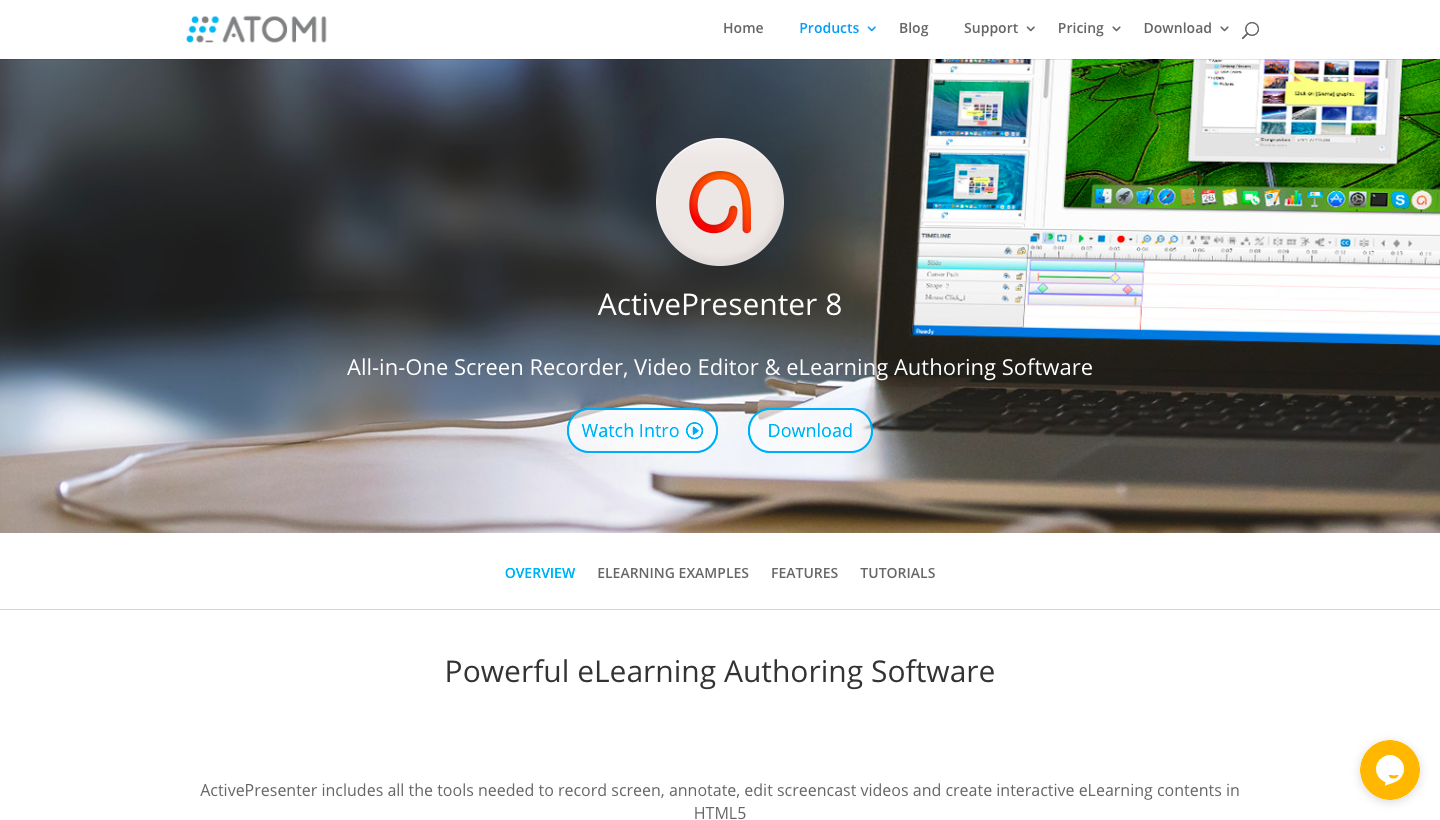 Active presenter doesn't have a free plan as such. But users can download the trial and use a number of paid features without a time frame for the trial to end. Any export of the recordings will have a mandatory watermark. ActivePresenter has highly customized features for creating educational content that includes exporting in the HTML5 option.
Users in the paid plans will be able to import PowerPoint presentations, word documents and add screen annotations on the recorded file. Active presenter editor is feature-rich, enabling the screencast videos to be edited to perfection for sharing across any platform. Active presenter is made explicitly for e-learning and has built-in interactions and assessments.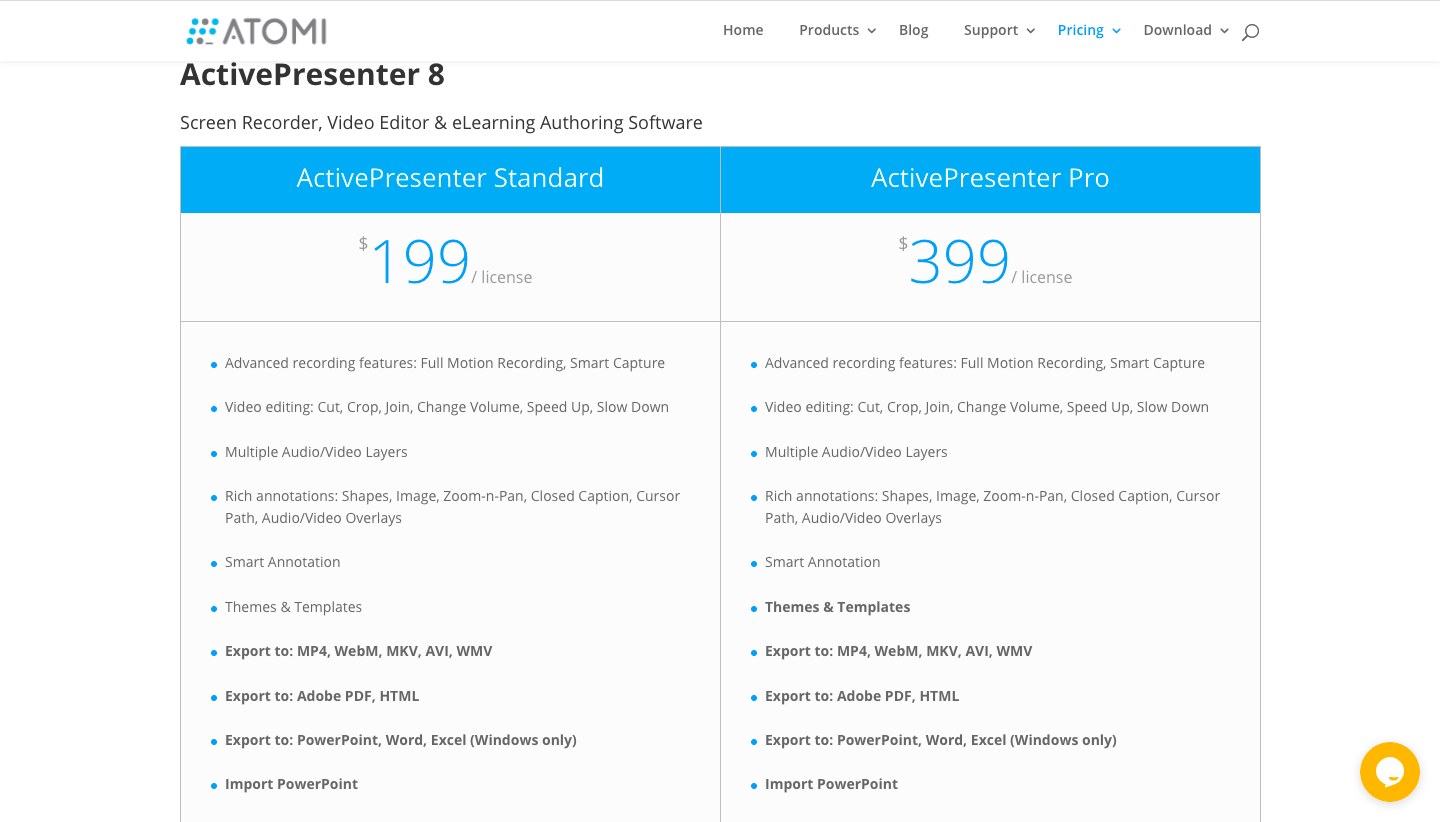 Available versions: Mac, Windows
Plans & Pricing:ActivePresenter has two paid plans Active Presenter Standard and Pro. Although there is no free version, users can try the paid version for as long as they want with all the paid plan features. The only catch being the video exports will have watermarks.
The Standard plan costs $199 (one-time cost), and Pro costs $399 (also, one-time cost). There is also a volume and educational user discount for users. You can check out the same on their pricing page.

Final verdict: ActivePresenter is a good option for creating professional e-learning screencast videos. But the high price of the paid plans and the learning involved in getting to use the solution doesn't make active presenter a great fit for regular recordings.
6. Nimbus Screen Video Recorder
Nimbus Screen Video Recorder is a chrome plugin that allows you to take screenshots and screencast videos. The Nimbus screen capture tool is available as a chrome plugin and has both free and paid plans.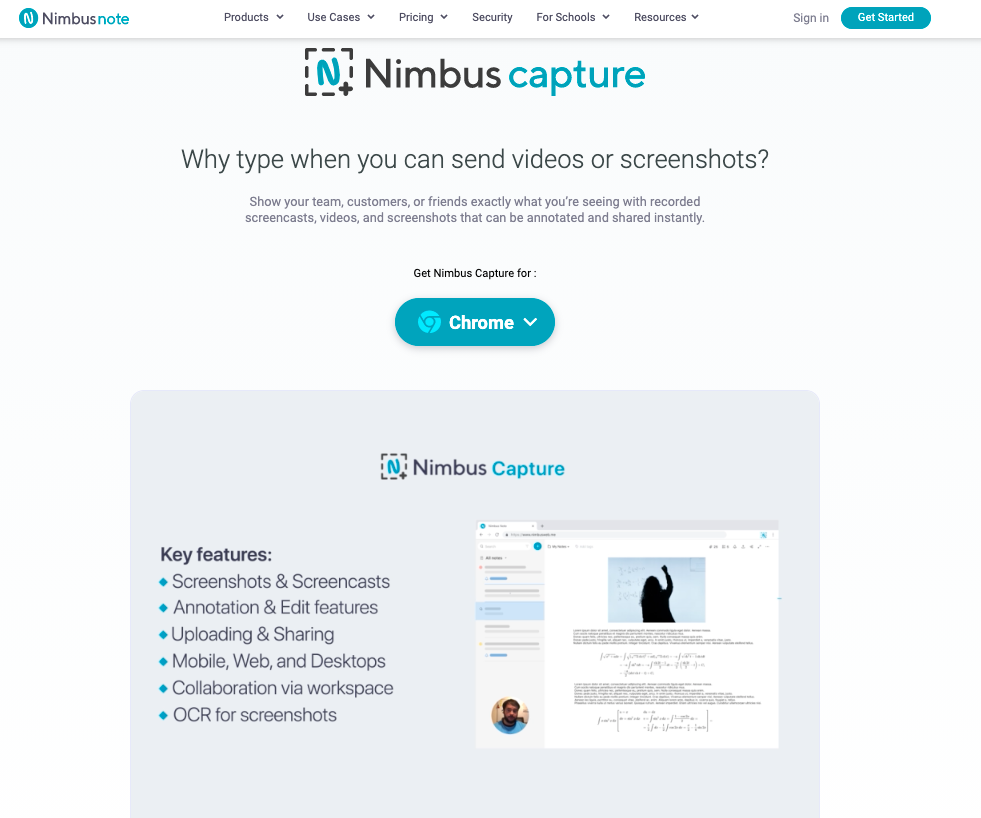 Nimbus Screen Video Recorder free plan:
Nimbus capture lets you capture screen and webcam without any recording limits, which comes in handy when you are looking for a free screencast tool. The videos are instantly available on the cloud, from where you can choose to save them to the device. The video recordings however will be saved only in HTML 5 Video(WebM) version in the free plan. To convert the screencasting video to MP4 or Gif and upload it to Youtube, Dropbox, or Google Drive, you'll have to upgrade.
There is also no editing feature in the free plan, and you need to upgrade to trim and crop your recordings which is the very basic editing feature. Users can upload or host your screencasting recording on Nimbus Note, provided the screencast video that you record is less than 10 MB. Anything above, you'll have to have a paid Nimbus Note account that has Nimbus Screen capture in its offering.
Nimbus Screen Video Recorder paid plans:
Nimbus screen capture pro allows users to convert the recordings to MP4 or GIF. Users can also upload videos directly to Youtube, Dropbox, Youtube and add custom watermarks for branding.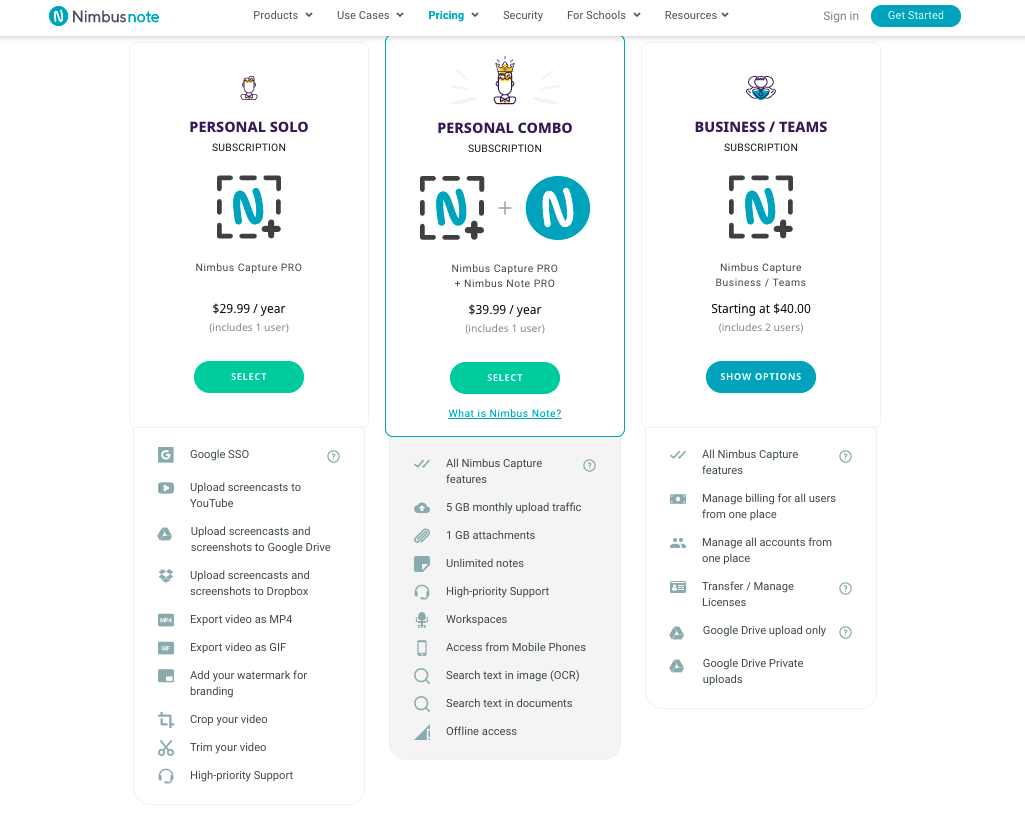 Available versions: Chrome Plugin
Plans & Pricing: Nimbus capture has two plans free and pro. The pro version costs $29.99 per year for the screen recording features alone. If you're looking for cloud storage, Nimbus offers a bundled plan with Nimbus Note costing $39.99 together per year.
Final verdict: The free version lets you record screencast videos and capture screenshots. However the limitation in terms of exporting and sharing is a huge drawback. Nimbus capture pro version does the job for your basic screencasting needs. The bundled plan offers you a two-in-one deal in terms of note-taking, cloud storage, and screencasting.
7. OBS Project
OBS studio is one of the long-standing screencasting and live-streaming open-source software in the market. OBS is a completely crowd-funded tool making it completely free. The software has evolved since it first launched in 2012.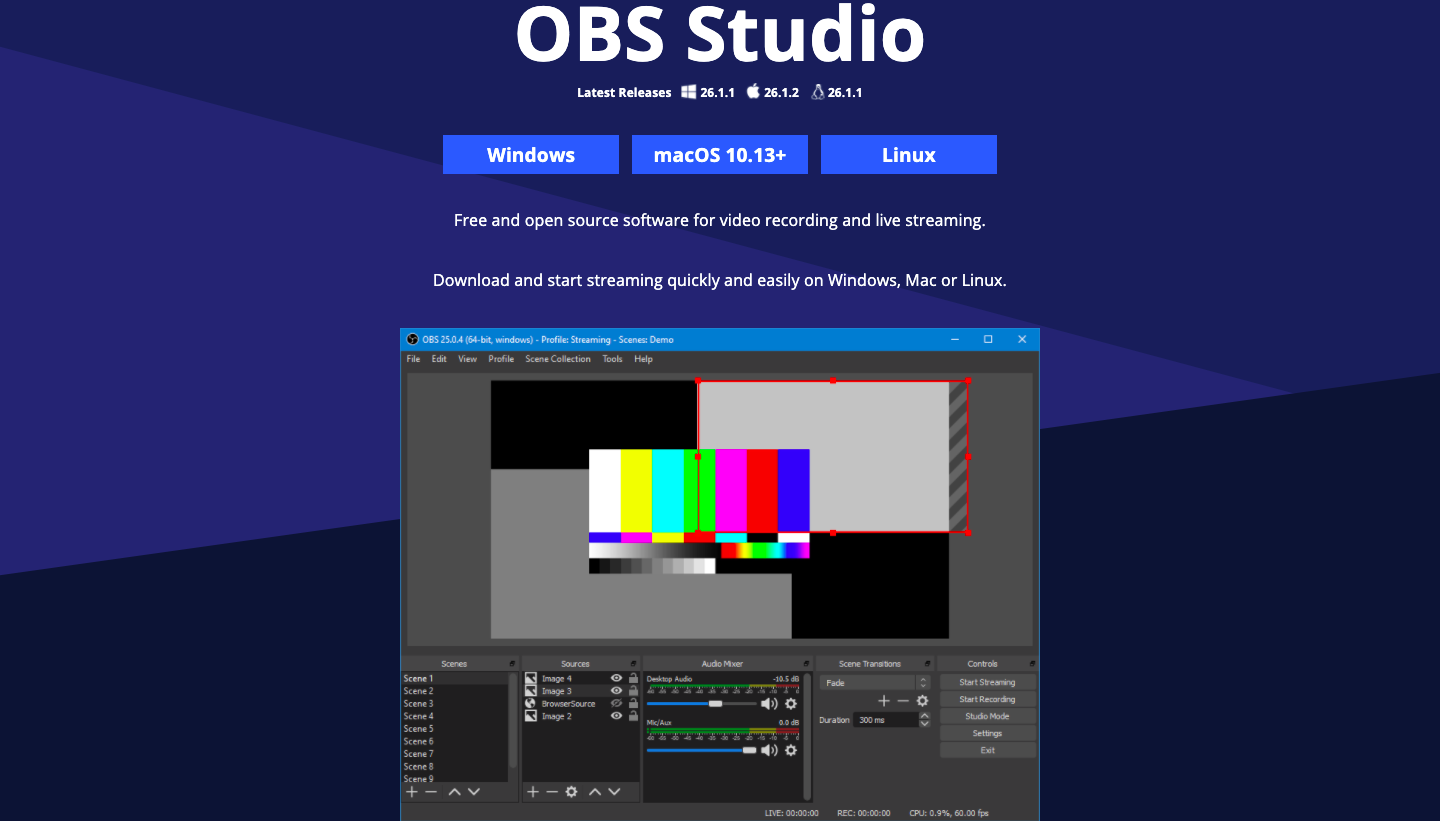 Open Broadcast Software lets you record videos and run live streams for as long as you want. Additionally users can also upload footage or videos, mix it, and produce top-quality screencasts.
OBS enables users to define the scene and the corresponding sources, such as a webcam, game window, browser tab, screen, or anything. The software also enables mixing both system and microphone audio along with transitions. Additionally, you can add your watermarks to the recordings as well. For this reason and the live stream capability, OBS is loved by so many gamers, streamers, and youtube content creators.
But for someone looking to quickly record a screencast video on Mac, Windows, or Linux, OBS could be daunting at first with so many settings and features. OBS, just like Photoshop, has a steep learning curve and will take a lot of time to master. So if you're looking for a lite, quick and easy-to-use screen recorder, OBS might not be the best solution.
OBS versions and pricing
OBS is available for Windows, Mac, and Linux, and it's completely free.
Thanks for reading our elaborate list. We hope that the blog was helpful in giving you a clear idea of some of the best available screencast tools in the market. Do let us know in the comments if we had missed any screencast tools, and we'll add them when we next update the list.
How to Make an Engaging Screencast? Four Easy Steps and Tips
The Ultimate Guide: What Is A Screencast & How Does It Work? (2022)