Contents
10 Best Screen Recorders for YouTube [2023]
Screen recorders are the best tools for recording YouTube videos. They're easy to install, most of them are user-friendly and will fit in your budget.
But, if you're wondering about the use of recording YouTube videos, then here are the top three reasons -
- Watch recorded YouTube videos anytime you like
- Create your own videos from the recording - like reaction videos
- Edit the video content and share it with anyone you like
How to choose the best YouTube screen recorder?
With hundreds of YouTube screen recorders to choose from, and innumerable variables to be considered, picking the right screen recorder is an ordeal. The best way is to have a checklist of the features you need in a screen recorder. It's possible that not every feature will be available in a single screen recorder; therefore, it's recommended that you know what are the most essential ones that you'll need on a regular basis.
Don't worry, we have a list for you. In fact, we have used this list to identify the top screen recorders that you can use to record YouTube videos. Feel free to add or remove the variables that you want or don't want to see in the list.
4K HD Recording
Built-in video editor
Ability to record Screen and webcam simultaneously
Webcam overlay
Screen annotation and mouse emphasis
Screen blur, Zoom in, and Zoom out options
Green screen and custom filter
Noise control and do not disturb recording modes
Ability to add animations and thumbnails
Pause and continue recording option
Microphone and system audio capture
Direct uploading to YouTube
Collaboration
Best screen recorders for recording YouTube videos
Here are the best screen recorders that you should definitely check out if you're planning to record YouTube videos.
Vmaker
Ezvid
FineShare FineCam
Fillmora Wondershare
Movavi Screen Recorder
Bandicam
Screencast-O-Matic
Icecream screen recorder
ApowerRec
Recmaster
Action!
Flashback Pro

1. Vmaker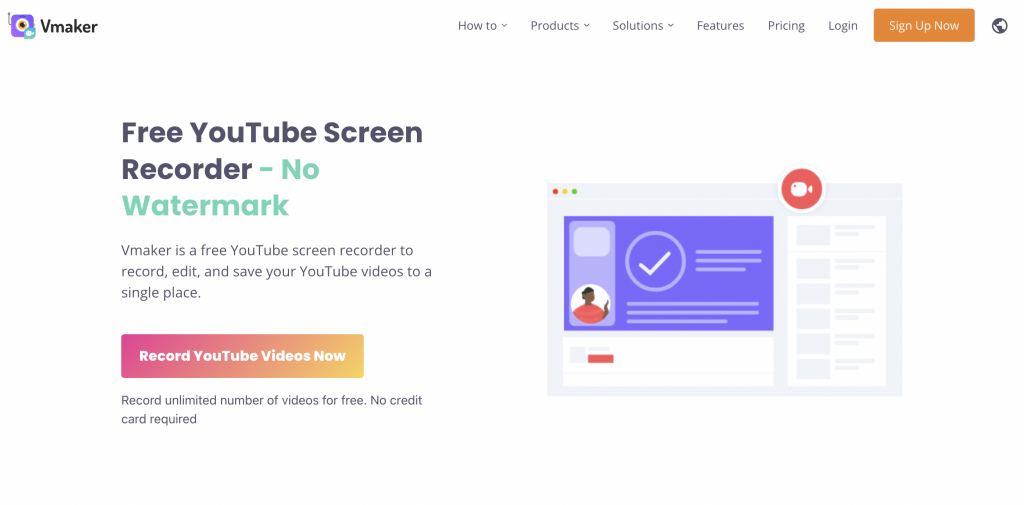 The first tool to appear on the post is Vmaker which is a YouTube screen recorder from the makers of Animaker. The screen recorder has been ideally built for YouTubers to record, edit, and upload videos easily without having to go through the pain of recording videos, editing them, and posting them all through separate tools.
The application supports 4K HD recording and comes with a range of features that allows YouTubers to record engaging YouTube videos with ease. Some of the features include 4K HD recording, three different recording options, screen annotation, mouse emphasis features and also boasts an online video editor that allows you to edit videos before posting them on YouTube.
The online video editor, in fact, comes with a lot of features using which you can add music, add photos, create transitions, add subtitles, and do a lot more along with other basic operations like trimming, splitting, cropping, and more.
There is a direct video uploading integration with YouTube. This enables YouTubers to decide on the video title, description, and tags from the player dashboard itself making it easy to upload videos. YouTuber's can further go ahead and create thumbnails using Picmaker and can add animation as well using Animaker.
Here are some of the key features of Vmaker:
4K HD recording
Powerful video editor(add music, add photos, etc)
Screen and webcam recording
Virtual background for Webcam Overlay
Screen annotation and mouse emphasis
Custom frames and filters
Reviews
G2 Rating: 4.7 (66 reviews)
Capterra Rating: 4.5 (29 reviews)
Crozdesk Score: 90/100
2. Ezvid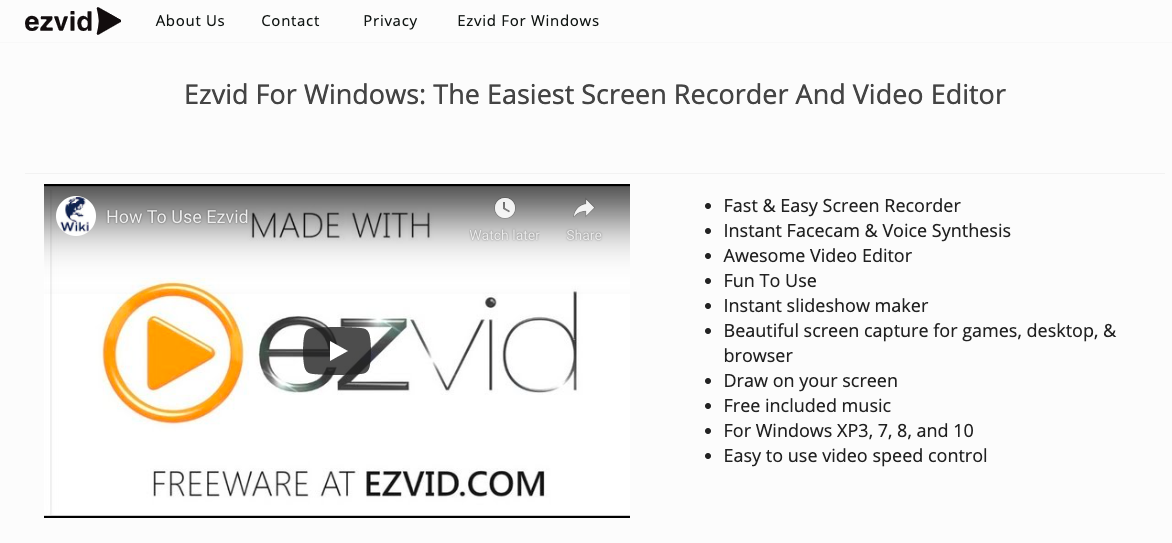 One of the very first screen recorders that enabled direct integration with YouTube was Ezvid and it is still a good solution for recording Youtube videos as it is very YouTube specific. It is available for Windows and allows users to record videos without any watermarks. The video editor is quite extensive and at the same time user friendly. The voice synthesis and music in the editor is added advantage for Youtubers.
However, the app comes with a recording limit of 45 minutes and also does not allow downloading option or any other sharing model except for Youtube which makes it unusable for other purposes.
Key features
Built-in video editor
No watermark on videos
Clean and easy to use interface
Text-to-speech feature is quite helpful
3. Fineshare Finecam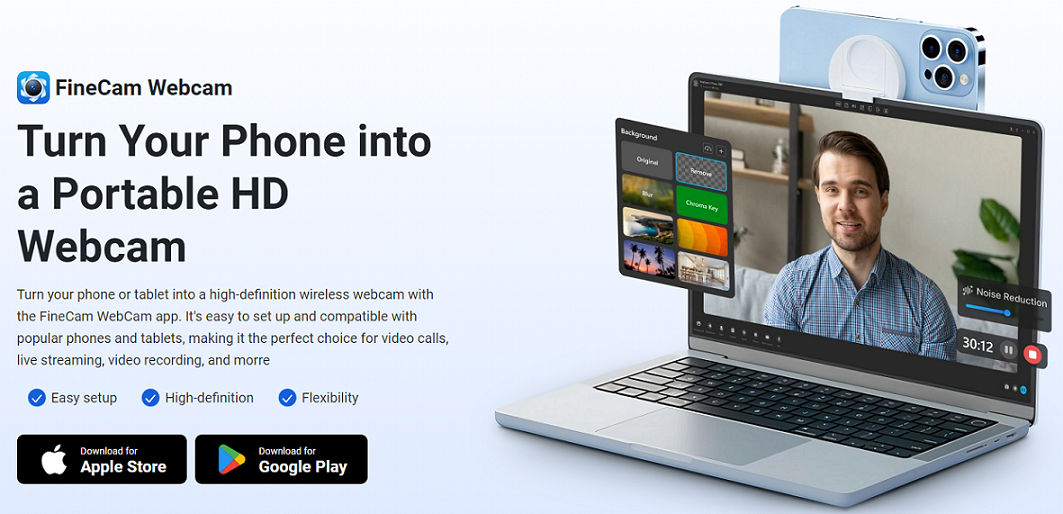 Powered by AI technology, FineShare FineCam is one of the best YouTube screen recorders you might find. This versatile tool can help you create YouTube videos effortlessly, and improve the video quality to the next level with various functions like background removal, content sharing, and multi-scenes. FineCam is available on both Windows and Mac, and you can download it for free.
What's more, FineCam supports a resolution that can reach 4K at most, it also enables your phone as an HD webcam so no need to buy a new one. And thanks to its simple interface, even a beginner will learn how to operate FineCam in a few minutes.
Key features
Beginner-friendly and intuitive interface
Hardware acceleration to improve recording effiency
Support resolution from 360p to 4K at most
Offer various virtual background options to enhance your videos
Record YouTube videos in small segments and remix them
Reviews
G2 Rating: 4.4 (243 reviews)
Capterra Rating: 4.5 (397 reviews)
4. Filmora Wondershare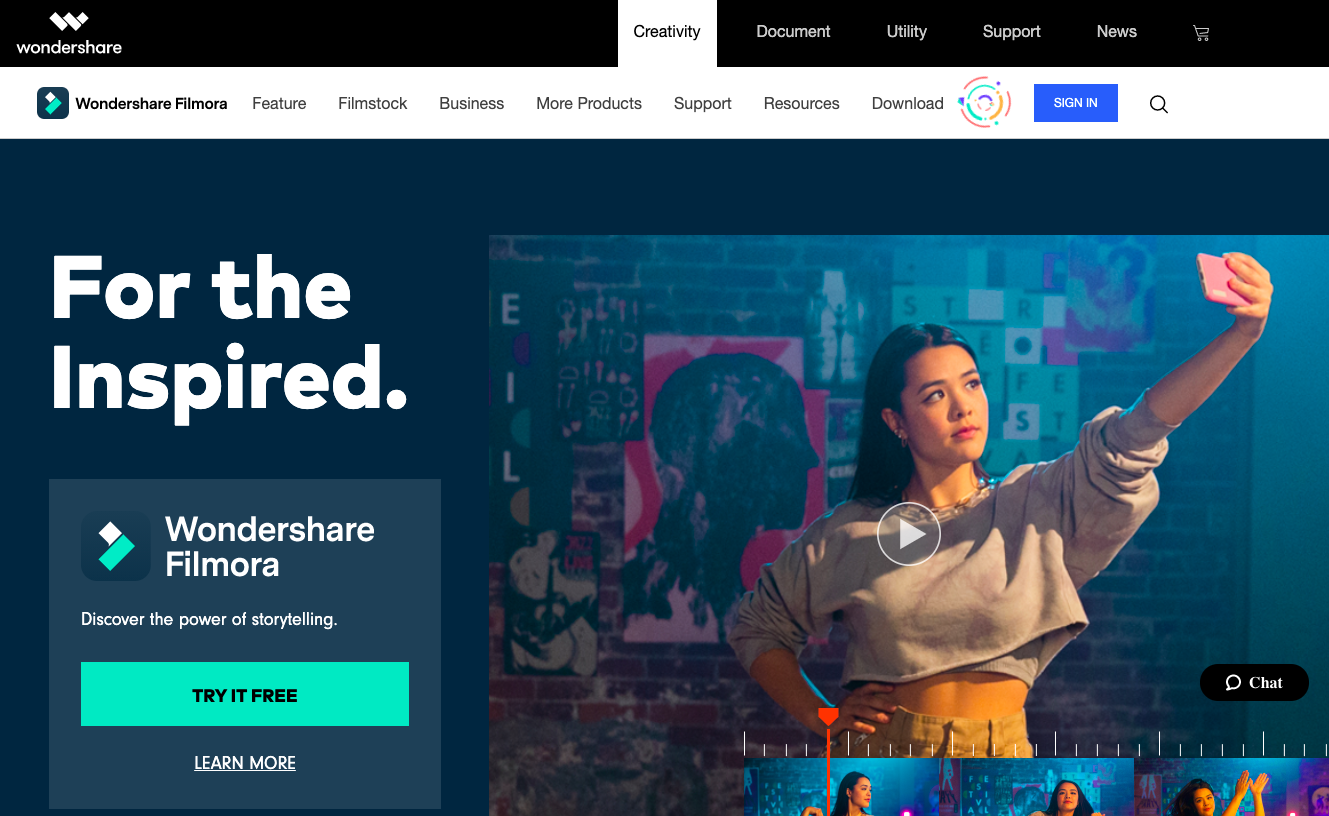 Although Filmora Wondershare is predominately known as a video editor it also boasts a video recorder that lets you record videos and then processes the same through the much-acclaimed video editor of Filmora which allows you to edit the videos as you wish.
Filmora comes with transitions, filters, titles, and even special effects. This leaves us with endless opportunities to enhance your screen recording videos before directly uploading them to YouTube.
But Filmora is not an everyday use tool and is quite tough to adapt. The software is heavy and will require a PC or Mac with good hardware for seamless operations. There is also no free plan and users can only get a free trial of the software. In order to use the software, you'll have to upgrade to a paid plan once the trial expires.
So if you are looking for a quick and easy to use screen recorder for YouTube then Filmora might not be your ideal solution.
Key features
Intuitively designed interface
Good video editor especially for transition effects
Add text to videos
Quick performance
Many options for presets and add-on options
Reviews
G2 Rating: 4.4 (243 reviews)
Capterra Rating: 4.5 (397 reviews)
5. Movavi Screen Recorder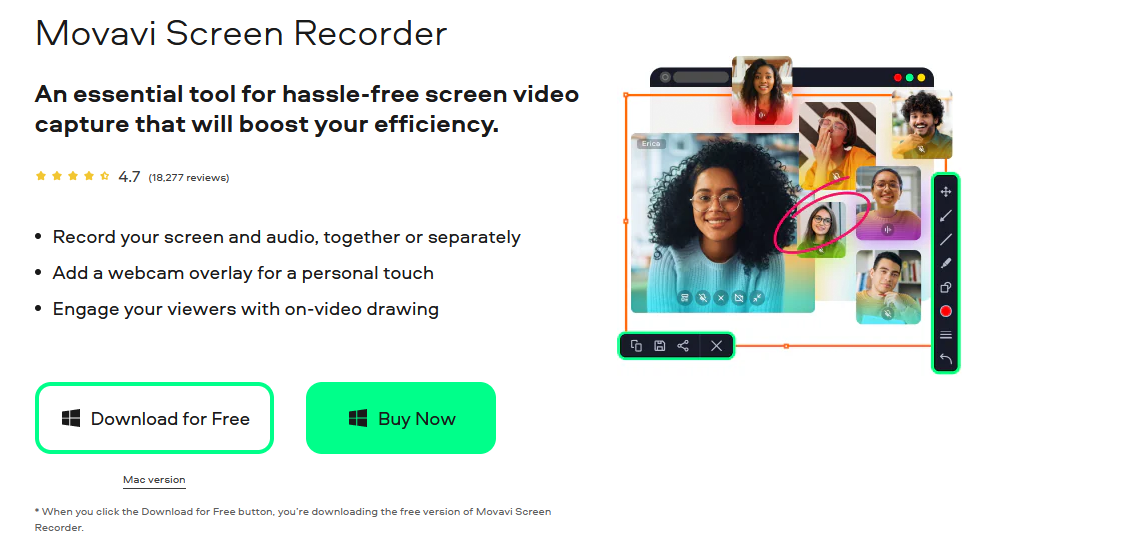 Movavi Screen Recorder is another versatile app that lets you create fantastic reaction videos or produce engaging tutorial videos. The simple and easy-to-use design fits Youtubers of all experience levels, which you can get used to in minutes.
It has been built for whatever you wish to record with no limit from Youtube videos, online training courses, to video chats. You can then save those 4K HD recordings inside the app for editing and repurposing. Besides basic features like trimming and cutting videos, Movavi Screen Recorder lets you change the recordable part of the screen easily, remove background and noise, interact with your audience by drawing shapes or highlighting materials, or even schedule recordings of webinars in advance.
YouTubers can export recordings once they finish to popular video formats like MP4, AVI or MKV in a blink of an eye and directly upload to their channel from the app. This definitely saves time for those who're in need of quick production and content sharing.
The free version includes a small watermark on rendered videos and doesn't allow you to add descriptions or tags before uploading them to Youtube.
Key features
Simple interface
4K HD quality recording
Draw and highlight materials on videos
Schedule recordings
Quick upload to Youtube
Video exports to popular formats
Speedy conversion
Reviews
G2 Rating: 4.5 (49 reviews)
Capterra Rating: 4.6 (26 reviews)
6. Bandicam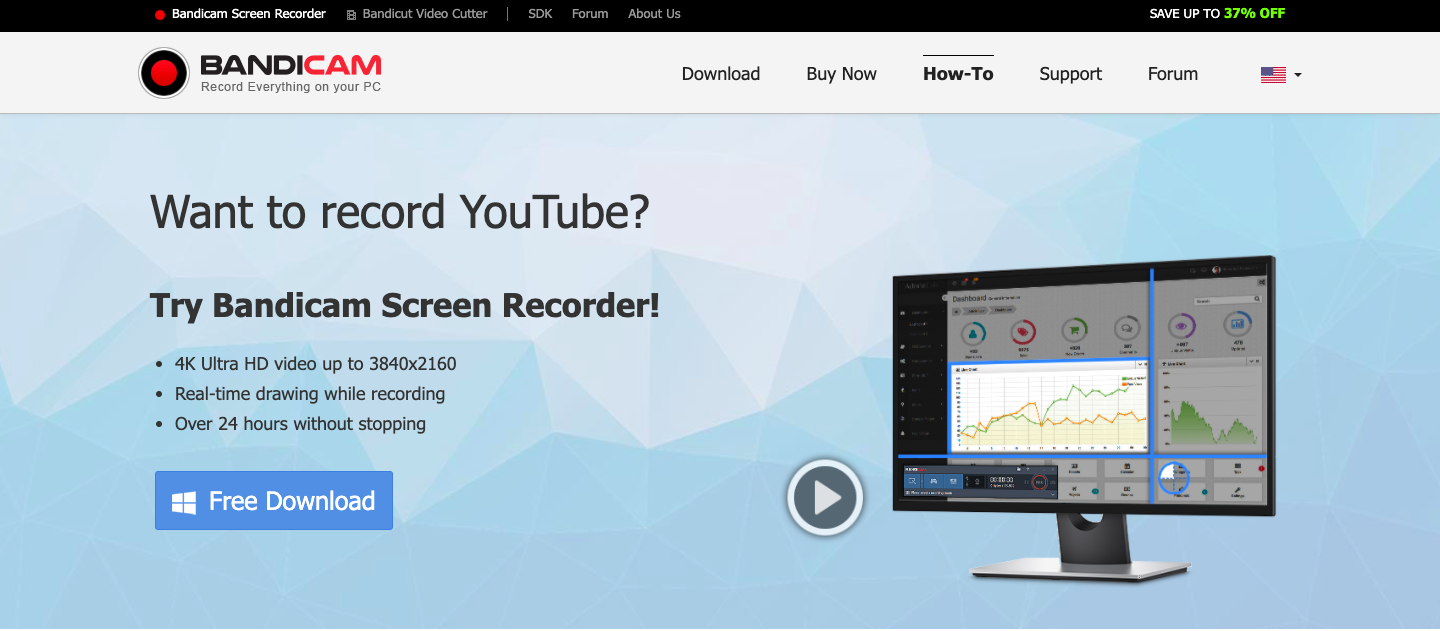 Another popular name to appear on our list of best YouTube screen recorders is Bandicam. Bandicam enables users to record youtube videos, edit them and upload them directly all from a single application. Currently, the recorder supports only windows and the application can be downloaded online.
Bandicam allows 4K HD recording and comes with real-time drawings, screen annotation features. It also comes with different recording modes which include gaming mode, screen recording mode, and device recording mode. The performance of the recorder stands out as it supports 24 hours straight recording without heavy dependency on the device hardware.
If you want to record videos without any watermarks and recording limit then you need to register as a paid user and upgrade your account. Unregistered users can record for a maximum of 10 mins with all videos coming with a watermark. The paid plan comes at 39.95$ for lifetime access.
Key Features
You can record videos in 4K HD quality
Up to 480 PS of recording supported
You can use real-time graphics, text and mouse effects
Recording computer audio with microphone audio at the same time
Schedule auto-recording
Very clear sound recording
Reviews
G2 Rating: 4.4 (62 reviews)
Capterra Rating: 4.3 (32 reviews)
Crozdesk score: 88/100
7. Screencast-O-Matic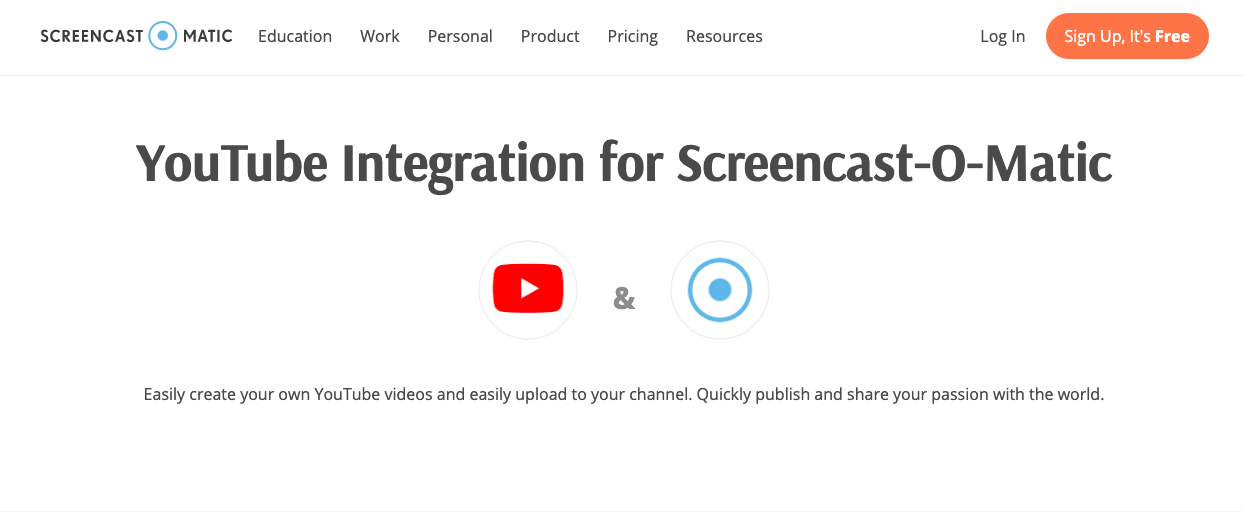 Screencast-o-Matic screen recorder is an online screen recorder that is quite popular amongst YouTubers. The recorder is powerful and feature-rich making it one of the ideal tool for creating YouTube videos. This screen recorder is also available across devices including Windows, Mac, Android, and Chromebook.
YouTubers can record videos, add music, sound effects, zoom in and out, edit and mix videos, animate transitions, automate speech to text for captions, apply green screen filter, and more which makes it a complete tool.
But most of these features are restricted in the free plan which supports only 15 mins of free recording with a watermark and the worse part is that system audio cannot also be captured in the free plan. So in order to create and publish youtube videos, you'll be left with no choice but to upgrade your account.
Key Features
Record both screen and webcam
You can zoom in on a specific area while recording videos
You can take screenshots and create GIFs
Edit videos by adding captions, overlays, and blurring information
Direct video upload to YouTube feature is available too
Reviews
G2 Rating: 4.2 (64 reviews)
Capterra Rating: 4.5 (31 reviews)
Here's a detailed comparison between Vmaker and Screencastomatic
8. Ice cream screen recorder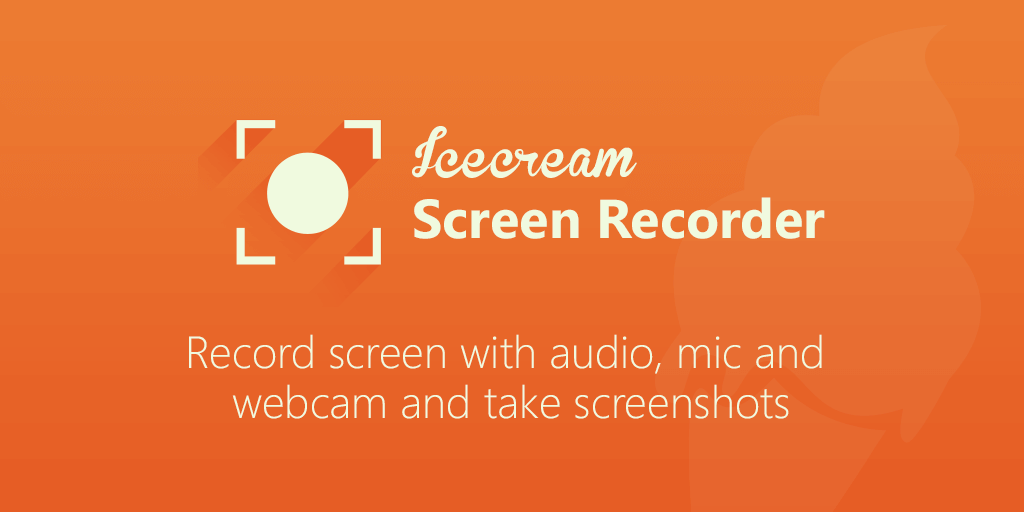 Icecream screen recorder is from the house of Icecream apps - a known platform for making business and entertainment apps. Icecream screen recorder is an easy-to-use screen recorder that has a very simple interface. The website doesn't mention 4K quality recording, but it does say HD recording.
You can use this screen recorder for free, but if you want to use advanced features like scheduled recording, you should go for the premium version. You only have to pay a lifetime fee of $29.95.
Key Features
Clean interface
Add logos to videos
Record in multiple formats
It allows you to take screenshots
Screen annotations are available
Reviews
G2 Rating: 4.1/5
Capterra Rating: 4/5
9. ApowerRec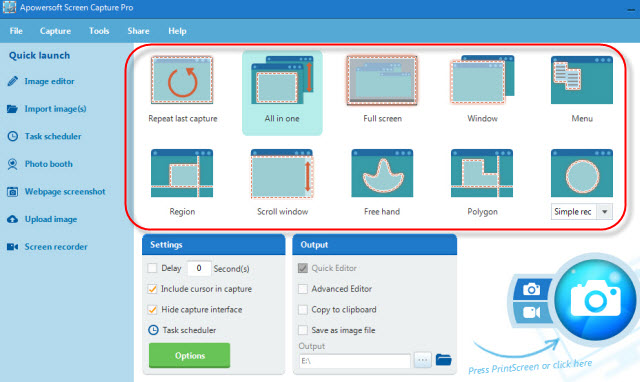 ApowerRec is a strong screen recorder made for Windows and Mac PCs. It can be downloaded and installed to record YouTube videos. However, you can also try the free version of this screen recorder by using the online format.
You can record videos in multiple formats, record your voice, which is great for commentary, and it comes with a built-in video editor. This editor comes with the screen recorder, so you don't have to pay extra to start using it. You can also use the screen annotation feature to draw over your recordings.
Key Features
Share videos on YouTube instantly
Simple interface
You can also take screenshots
4K recording quality
Record screen, webcam and audio at the same time
Reviews
G2 Rating: 3.5/5
Capterra Rating: 4.1/5
10. Recmaster

Recmaster claims itself to be the one-click screen recorder for Mac and Windows PCs. And, it's true - all you have to do is select the area that you want to record and tap on the record button. You can record in 4K HD quality, and there is a special feature which is called picture in picture recording.
There are four recording modes in Recmaster - Full screen recording, Selected area recording, Webcam recording and Audio recording only. It also comes with a basic video editor that can help you in merging the video clips and trimming the video length. There is no free plan, but there is a trial version where you can record videos of less than 2 minutes and there will be watermarks on these videos.
Key Features
There is an option for scheduled capturing
You can add colors and effects to the cursor movements
There is a game mode recording which makes recording gameplay videos easy
Overall a very user-friendly screen recorder
Reviews
G2 Rating: 4.7/5
Capterra Rating: 4.9/5
11. Action!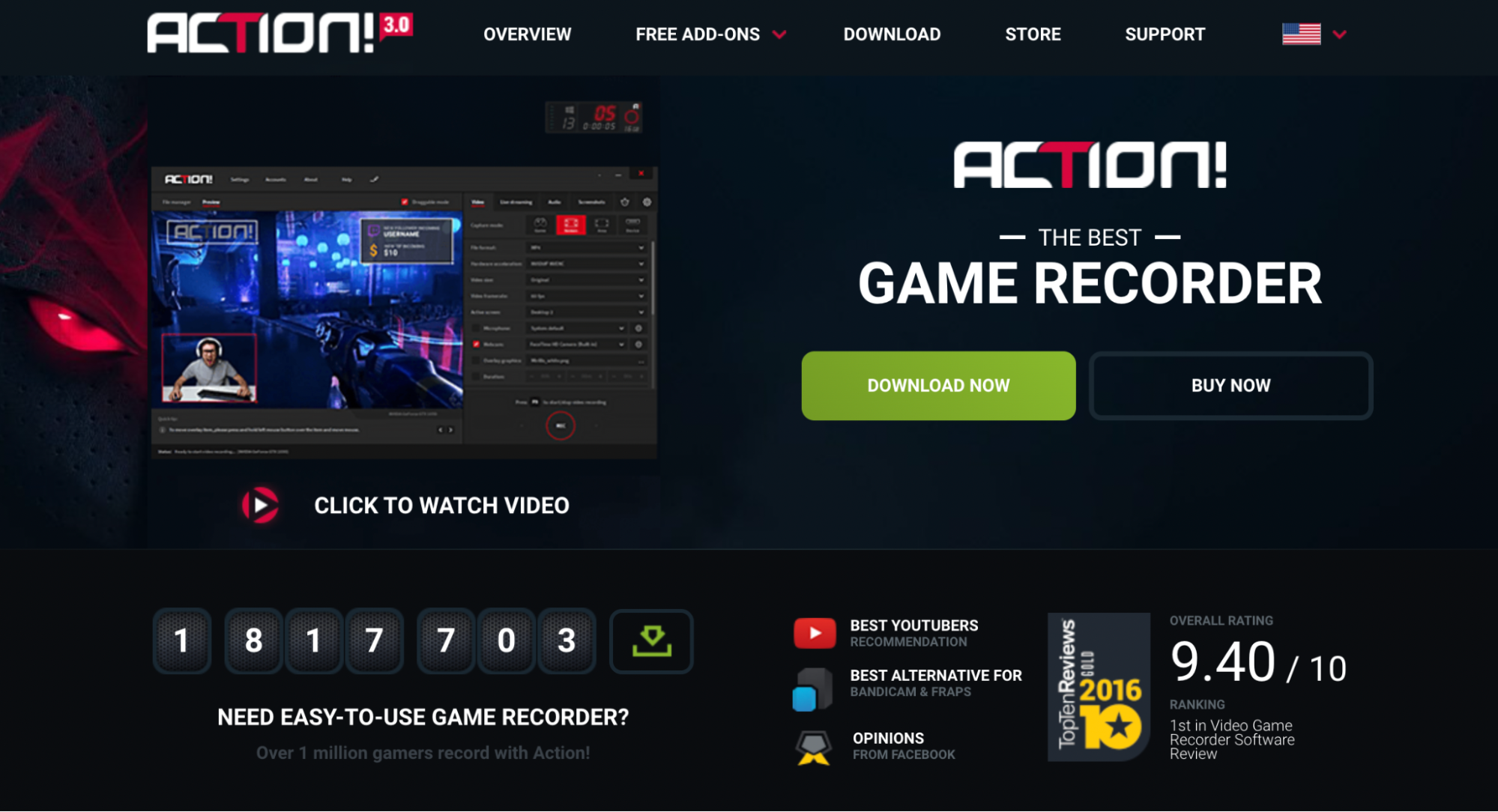 Action screen recorder is from the team of Mirillis which is an expert in the field of digital TV and advanced audio/video processing. At first impression, you will realize that this screen recorder is made while keeping gamers in the mind. However, it can get your job done if you want to record videos on YouTube.
It has close to 2 million downloads, and it was ranked the No.1 video game recorder in the year 2016. It can record HD videos in 120PS - the best part is that you can record your videos without putting a lot of pressure on your CPU. This means there will be no loss of frames. It supports webcam and audio recording. It also records videos in mp4 format and allows live-streaming to YouTube too.
Key Features
Upto 20 times smaller recording
Fast export to YouTube and Facebook
Very smooth and modern looking interface
You can also control video recording using your phone
Video editing options are available
Reviews
G2 Rating: 4.8/5
12. Flashback Pro screen recorder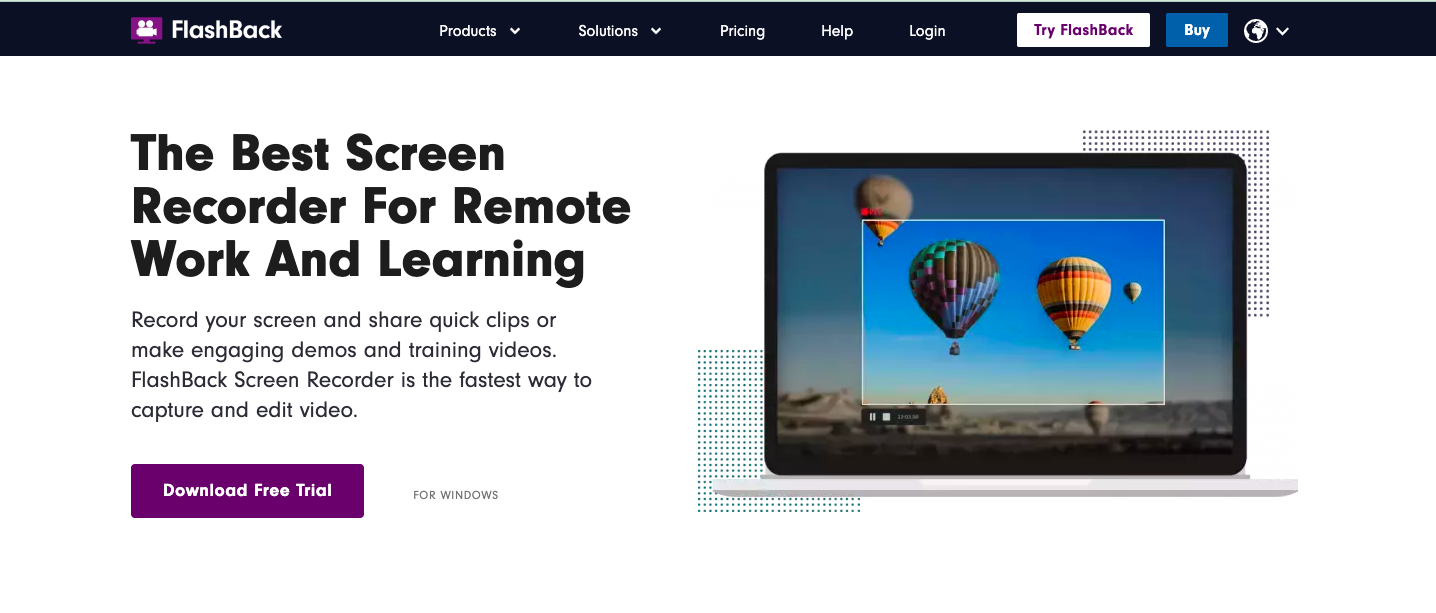 Flashback Pro is a screen recorder that has been around the scene for a long time. Before we proceed, here's something you should know. There is another version available called Flashback Express. This is the free version; however, it comes with limited editing options. We recommend checking out Flashback Pro because this version is more valuable. Besides, there is only a one-time license fee which reduces if you take more than one license.
Because it's tuned towards remote work and learning, making videos and sharing them with others is a very simple task. It can record screen, webcam and audio at the same time. The advanced editor allows you to add captions, refine the overall video quality and add annotations to the video. There is an option to schedule recording and the best part is that you can record two different screens at the same time.
Key Features
Affordable pricing
You can add transitions, audio and text on the videos
Save videos in different formats
If you're unhappy with the paid version, you can switch to the free version
Record full screen, only a area or a window
Reviews
G2 Rating: 4.5/5
Capterra Rating: 4.5/5
That's about it
We have given you what you were looking for - the best screen recorders to record YouTube videos. Take time and try your hands on the above list. Evaluate how useful the features are and how easy it is for you to get used to the tool. We would also suggest checking out other screen recorders that are not mentioned in the list.
Frequently Asked Questions
1. What do YouTubers use to record?
The best way to record screen on YouTube is to use a screen recorder that is easy to use, comes with a good mix of basic and advanced features, and has no watermarks on the recordings.
2. What Screen Recorder do YouTubers use?
There are many screen recorders that you can use for recording YouTube, but here's our list of the 10 best screen recorders -
Vmaker
Ezvid
Fineshare Finecam
Fillmora Wondershare
Bandicam
Screencast-O-Matic
Icecream screen recorder
ApowerRec
Recmaster
Action!
Flashback Pro
Are you a YouTuber looking to create Youtube videos?
Here's a guide on creating different types of YouTube videos using a screen recorder

Want to Create YouTube Videos?
Check out Vmaker
Start for Free
https://accounts.animaker.com/register/vmaker/?trackId=c2luz2xllnboca