Five Screen Recorder Worth Checking Out for Creating Youtube Videos
Youtube has become a part of everyone's lives nowadays. In fact, youtube is the second most popular social media platform, and not just that Youtube is also the second most popular search engine platform after Google. Such is the impact of Youtube, users nowadays search and watch videos right from tutorials, how-to videos, demos, trailers, bloopers, and much more. The number of YouTubers is on the rise as well. As of 2020, there are more than 37 million youtube channels. YouTubers use various software, tools, and resources to record, edit and publish videos. One important tool that is present in every YouTubers arsenal is a screen recorder. In this blog, we'll see the ideal features needed in a YouTube screen recorder and the best youtube screen recorders that are available.
How to choose the best Youtube Screen Recorder for your YouTube channel:
YouTubers create, record, edit, and publish videos regularly and often look for convenience and ease of use in any tool that they use. Here are some of the key features that need to be in a screen recorder tool.
4K HD Recording
Built-in video editor
Ability to record Screen and webcam simultaneously
Webcam overlay
Screen annotation and mouse emphasis
Screen blur, Zoom in, and Zoom out options
Green screen and custom filter
Noise control and do not disturb recording modes
Ability to add animations and thumbnails
Pause and continue recording option
Microphone and system audio capture
Direct uploading to YouTube
Collaboration
The ideal screen recorder for YouTubers should have the above mentioned features that would help create videos quickly. Let's take a look at five of the best YouTube Screen recorders.
Vmaker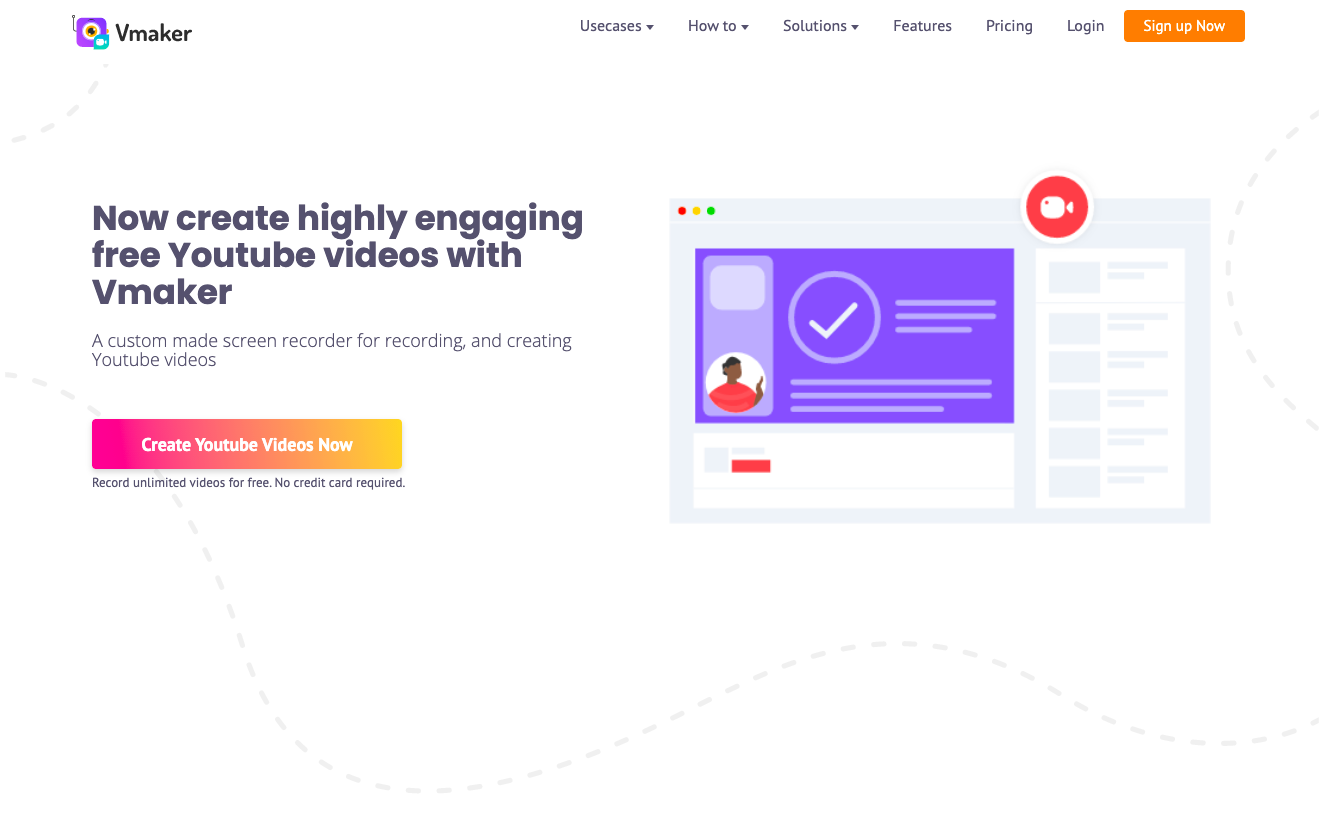 The first tool to appear on the post is Vmaker which is a YouTube screen recorder from the makers of Animaker. The screen recorder has been ideally built for YouTubers to record, edit, upload videos easily without having to go through the pain of recording videos, editing them, and posting them all through separate tools.
The application supports 4K HD recording and comes with a range of features that allows YouTubers to record engaging YouTube videos with ease. Some of the features include 4K HD recording, three different recording options, screen annotation, mouse emphasis features and also boasts an online video editor that allows you to edit videos before posting them on YouTube.
There is a direct video uploading integration with YouTube. This enables YouTubers to decide on the video title, description, and tags from the player dashboard itself making it easy to upload videos. YouTuber's can further go ahead and create thumbnails usingPicmaker and can add animation as well using Animaker.
This combined with the fact that Vmaker allows an unlimited number of recording in the free plan itself without any watermarks makes it the best screen recorder for YouTubers. The free plan could help a lot of up-and-coming Youtube Channels that are looking to reduce spending on various tools.
Bonus article: Creating YouTube Tutorials Here's How a Single Tool Could Help You Do It Better!
Ezvid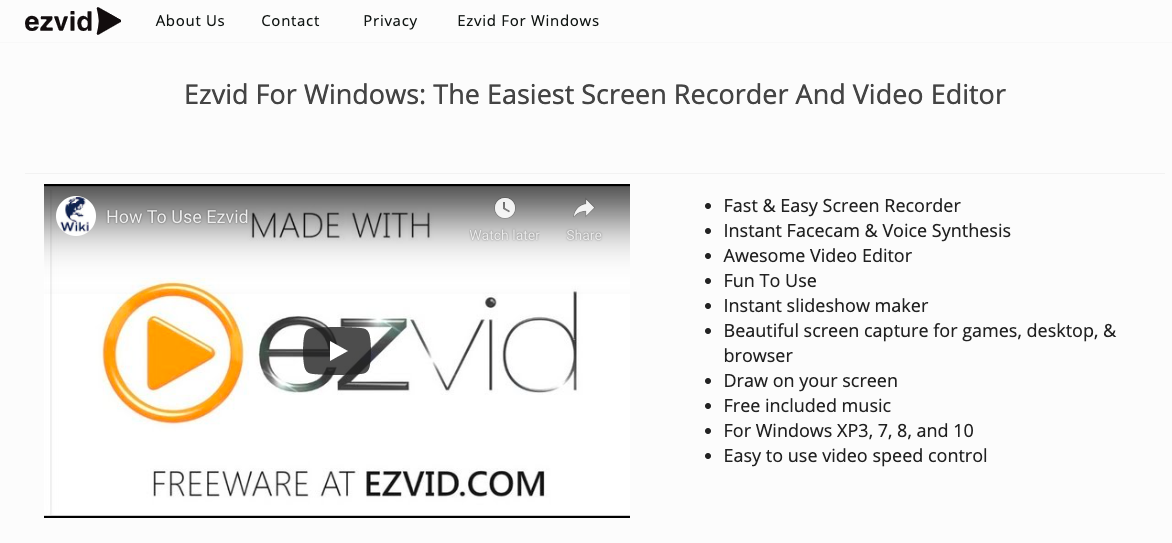 One of the very first screen recorders that enabled direct integration with YouTube was Ezvid and it is still a good solution for recording Youtube videos as it is very YouTube specific. It is available for Windows and allows users to record videos without any watermarks. The video editor is quite extensive and at the same time user friendly. The voice synthesis and music in the editor is added advantage for Youtubers.
However, the app comes with a recording limit of 45 minutes and also does not allow downloading option or any other sharing model except for Youtube which makes it unusable for other purposes.
Filmora Wondershare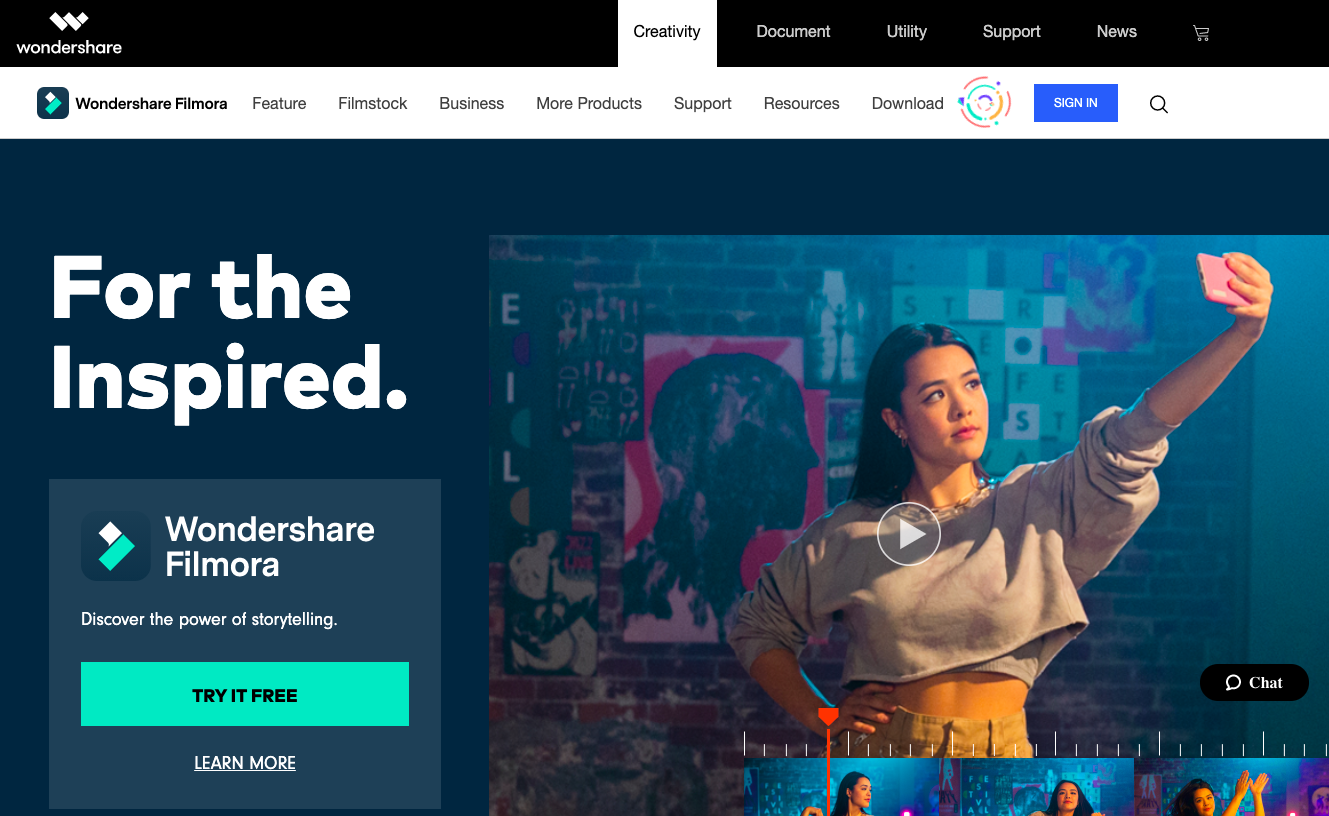 Although Filmora Wondershare is predominately known as a video editor it also boasts a video recorder that lets you record videos and then processes the same through the much-acclaimed video editor of Filmora which allows you to edit the videos as you wish.
Filmora comes with transitions, filters, titles, and even special effects. This leaves us with endless opportunities to enhance your screen recording videos before directly uploading them to YouTube.
But Filmora is not an everyday use tool and is quite tough to adapt. The software is heavy and will require a PC or Mac with good hardware for seamless operations. There is also no free plan and users can only get a free trial of the software. Inorder to use the software you'll have to upgrade to a paid plan once the trial expires.
So if you are looking for a quick and easy to use screen recorder for YouTube then Filmora might not be your ideal solution.
Bandicam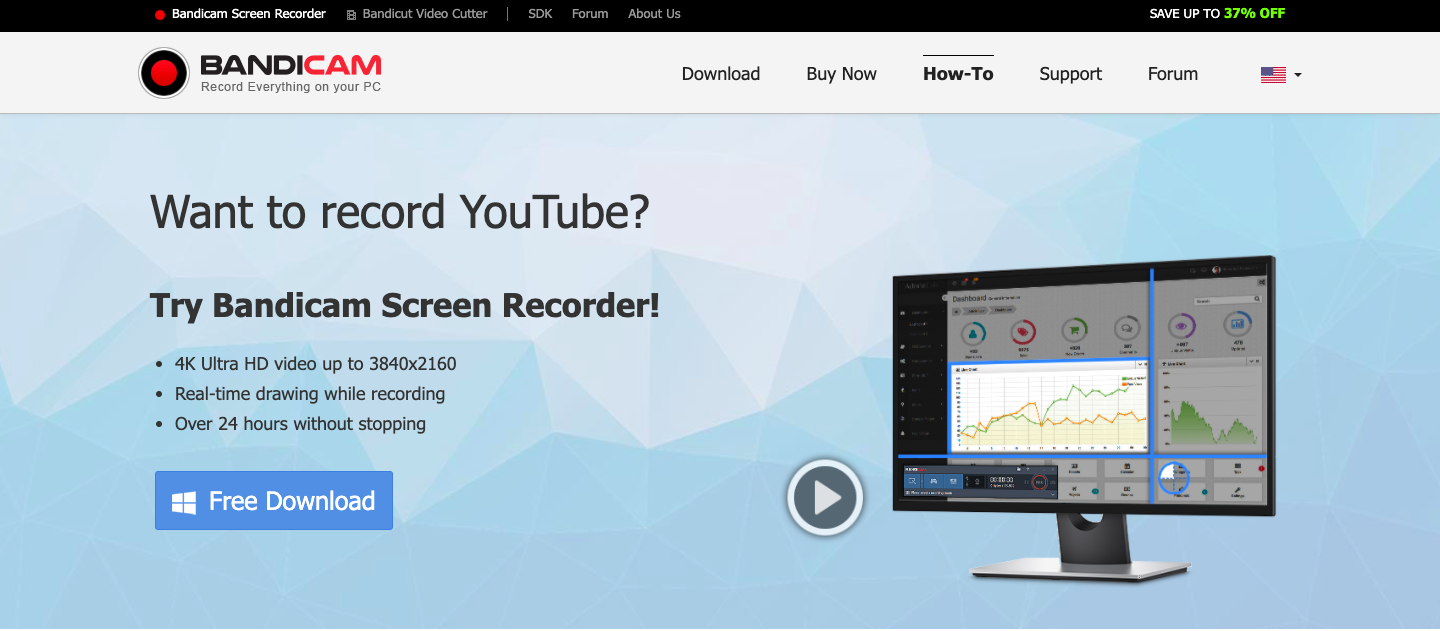 Another popular name to appear on our list of best YouTube screen recorders is Bandicam. Bandicam enables users to record youtube videos, edit them and upload them directly all from a single application. Currently, the recorder supports only windows and the application can be downloaded online.
Bandicam allows 4K HD recording and comes with real-time drawings, screen annotation features. It also comes with different recording modes which include gaming mode, screen recording mode, and device recording mode. The performance of the recorder stands out as it supports 24 hours straight recording without heavy dependency on the device hardware.
If you want to record videos without any watermarks and recording limit then you need to register as a paid user and upgrade your account. Unregistered users can record for a maximum of 10 mins with all videos coming with a watermark. The paid plan comes at 39.95$ for lifetime access.
Screencastomatic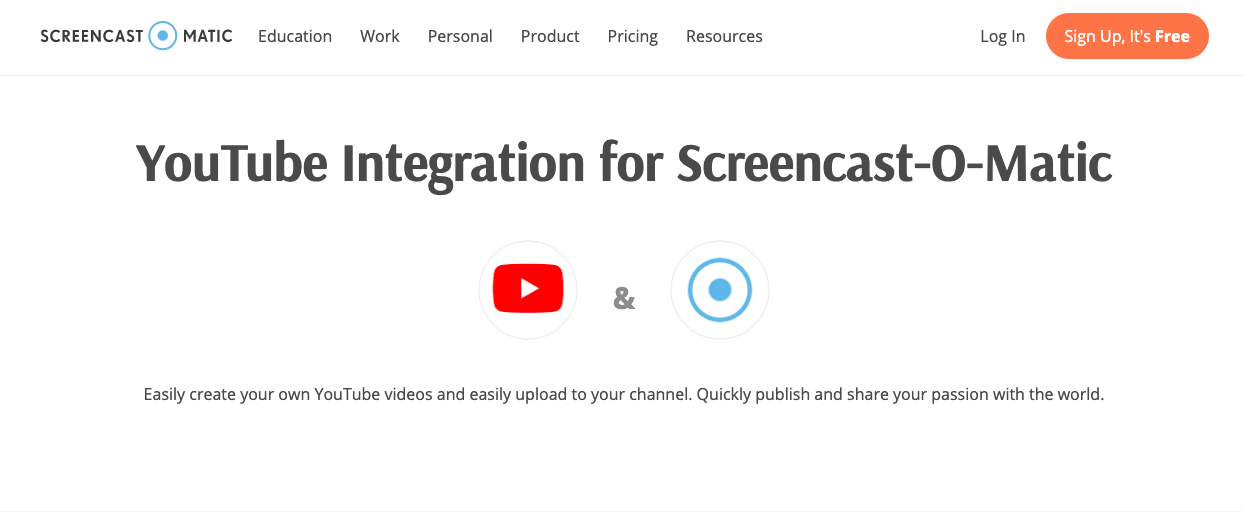 Screencast-o-Matic screen recorder is an online screen recorder that is quite popular amongst YouTubers. The recorder is powerful and feature-rich making it one of the ideal tool for creating YouTube videos. The recorder is also available across devices including Windows, Mac, Android, and Chromebook.
YouTubers can record videos, add music, sound effects, zoom in and out, edit and mix videos, animate transitions, automate speech to text for captions, apply green screen filter, and more which makes it a complete tool.
But most of these features are restricted in the free plan which supports only 15 mins of free recording with a watermark and the worse part is that system audio cannot also be captured in the free plan. So in order to create and publish youtube videos, you'll be left with no choice but to upgrade your account.
Here's a detailed comparison between Vmaker and Screencastomatic
Are you a YouTuber looking to create Youtube videos?
Here's a guide on creating different types of YouTube videos using a screen recorder
Creating YouTube Tutorials Here's How a Single Tool Could Help You Do It Better!
How to Record High Quality Product Demo Videos for YouTube?
How to do product review videos on youtube?

Three Ways to Make Your YouTube Educational Video Interesting!
How to Record High Quality Product Demo Videos for YouTube?