Contents
Best Screen Recorders for Teachers - The Ultimate 2023 list
While screen recorders are multipurpose software, if we could single out one set of users who could benefit the most from a screen recorder, then that user should be a teacher.
To help these teachers, we have compiled a blog. This blog lays out the 8 best screen recorders that can provide the maximum value to teachers.
This list consists of both free and paid tools. Along with that, we have also mentioned the different platforms each screen recorder supports.
Best screen recorders for teachers - The Ultimate 2023 list.
Vmaker
Screencast-O-Matic
Screenrec
Loom
Camtasia
Screencastify
Bandicam
Active Presenter
1) Vmaker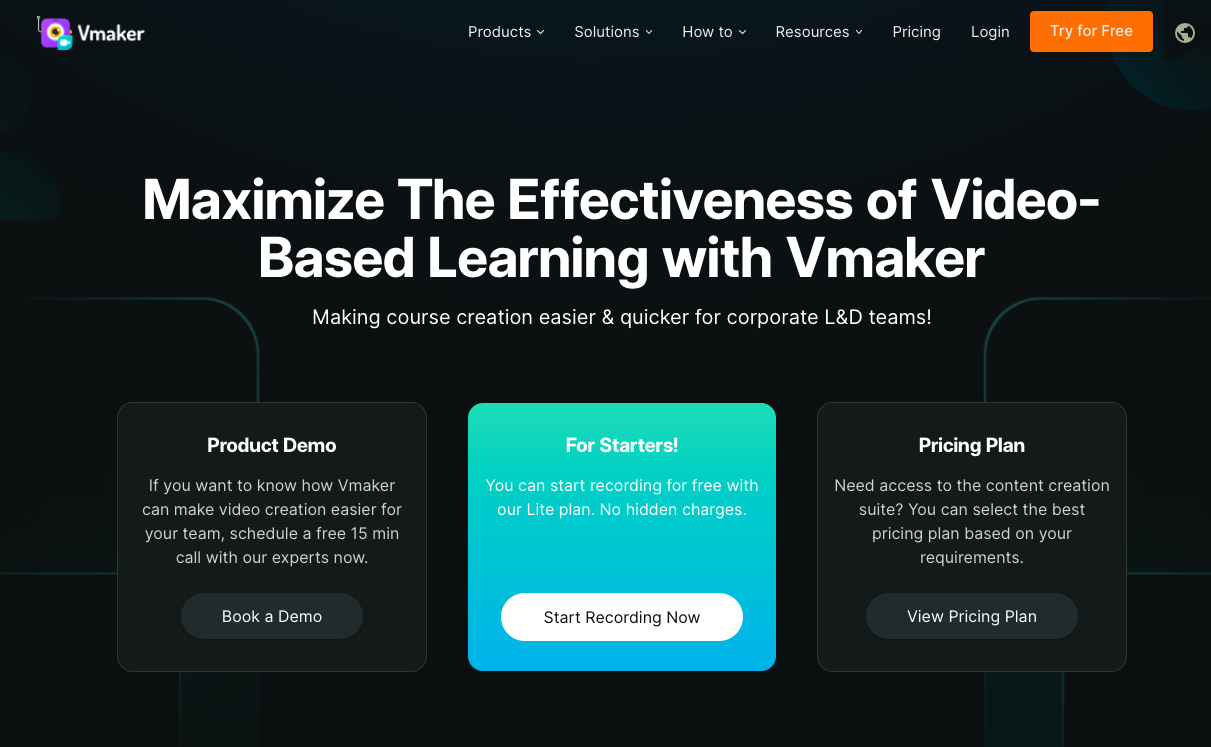 Vmaker is an excellent choice for teachers for a number of reasons. It's easy to use, works for both Windows and Mac, and it provides value for money. It allows unlimited recording to all the users irrespective of the pricing plan.
Along with that, it has the necessary features that teachers would require on a regular basis. Like screen, webcam and audio recording, Vmaker can handle all of that at the same time. You can also decide the recording area. You can record full screen, only a window or choose your own custom size.
Vmaker comes with a built-in video editor. This is very useful when you want to trim some unnecessary content. Or, you want to add an external video with your recording.
All-in-all, Vmaker is a powerful screen recorder that will impress you even if you have been using other screen recorders for a while.
Most notable features for teachers
- Screen Annotations and mouse emphasis are great accessories while screen recording. With these dual features it's easy to mark, highlight and point at the most important areas.
- Custom background lets you change the background of your webcam recording. You can keep it blurred, use one of Vmaker's templates or upload your own image
- High-quality video recording is guaranteed with Vmaker. You can record in 720p, 1080p up to 4K quality
- Custom Cname and custom CTA are two useful features to customize the link of your video along with the call to action. The best use of this feature is that your students will quickly recognize the sender just by looking at the video link
- Common workspace lets you keep your videos arranged in specific folders. You can share these folders to definite students and also assign them usage rights
- Vmaker is a multi-lingual screen recorder as it supports 7 languages - English, Spanish, French, Italian, Portuguese, Russian and German
Platforms supported: Windows App, Mac App and Chrome Extension
Free trial - Vmaker has a forever free plan which means you can use it for free. But have access to limited features. The paid plans start at $7 only.

2) Screencast-O-Matic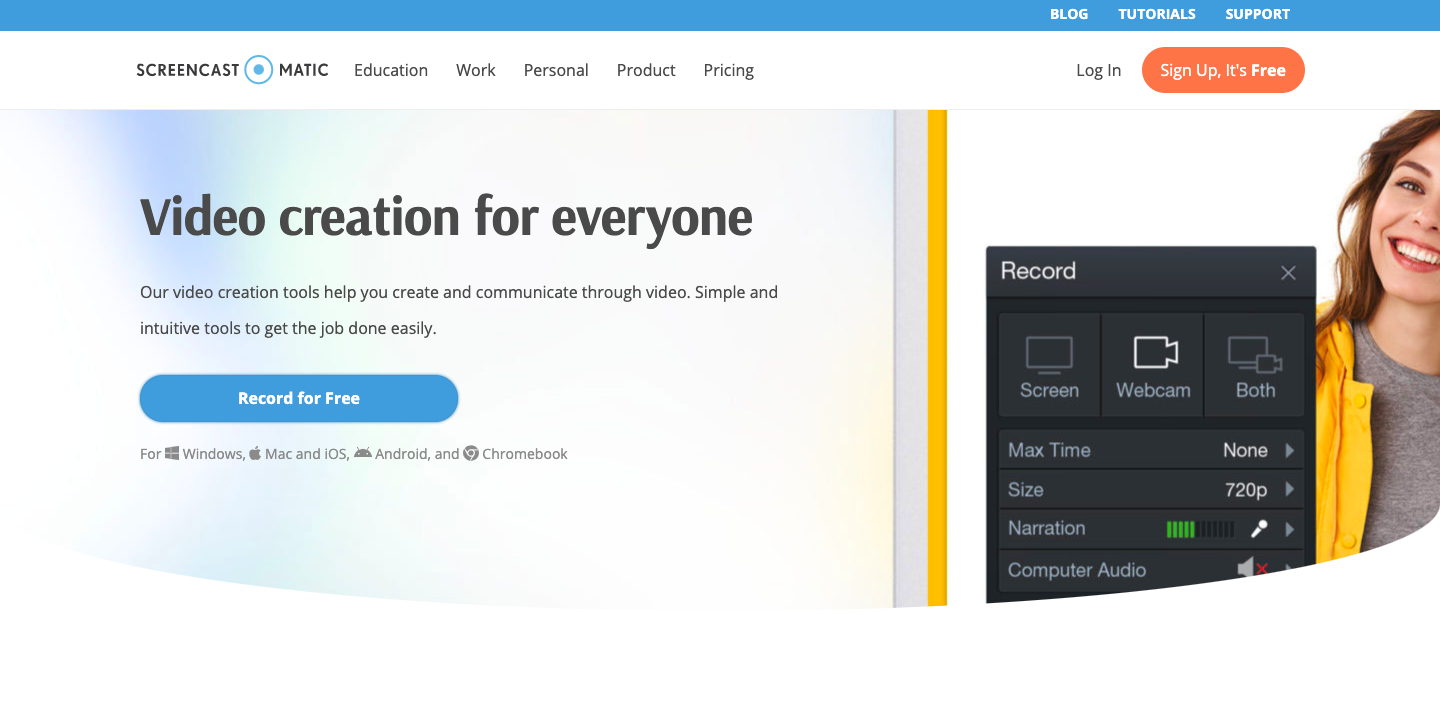 Screencast-O-Matic is another screen recorder that can impress you right from the start. They have customized their screen recorder to meet the requirements of teachers. Especially those who are teaching students online.
They are available in 190 countries, and their community is very active. If you need help from fellow teachers or have a feature request, this community is your go-to place.
Like Vmaker, they also have a built-in video editor which can help in shaping videos to perfection.
Most notable features for teachers
- Easy to follow instructions. Even if you're new to screen recorders, using Screencast-O-Matic will not be an uphill task
- It integrates with useful educational apps like Google Classroom, Blackboard and Schoology. This makes it easy to share videos on these platforms
- You can add stock videos and images to your videos
- You can allow your students to leave notes or comments at different sections of the video
Platforms supported: Windows and Mac
Free trial - Like Vmaker, you can use Screencast-O-Matic for free, but have access to limited features. In the free plan, you can record for only 15 minutes.
For teachers, they have two pricing plans called Solo Deluxe and Solo Premier
3) Screenrec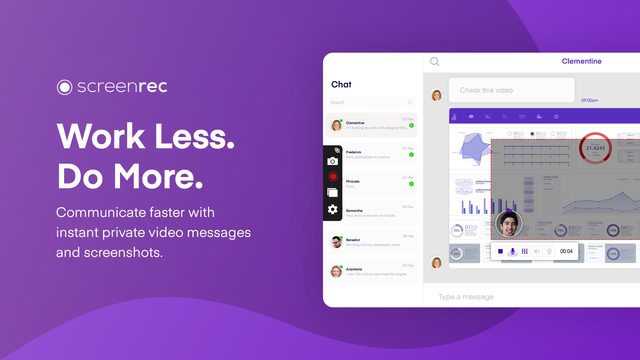 Screenrec is a lightweight, but popular screen recorder. It has 250,000 active users and primarily targets employees who want to use more asynchronous communication in their daily work.
At first glance, Screenrec might not appear to be the right fit for teachers. But, considering it allows unlimited recording with no watermarks, it can be just the right screen recording software for novice teachers.
There is something that you should know though. In spite of unlimited recording, the cloud storage space is limited to 2 GB. Once you reach this limit, you either have to download the video on your PC or have to delete a few of the videos.
Most notable features for teachers
- Screenrec is useful for taking good screenshots
- Annotation feature can be used in videos as well as screenshots too
- You can choose to keep your videos public or private
- You can collaborate with others by using the Collection feature of Screenrec
Platforms supported: Windows and Linux
Free trial: Screenrec is absolutely free
4) Loom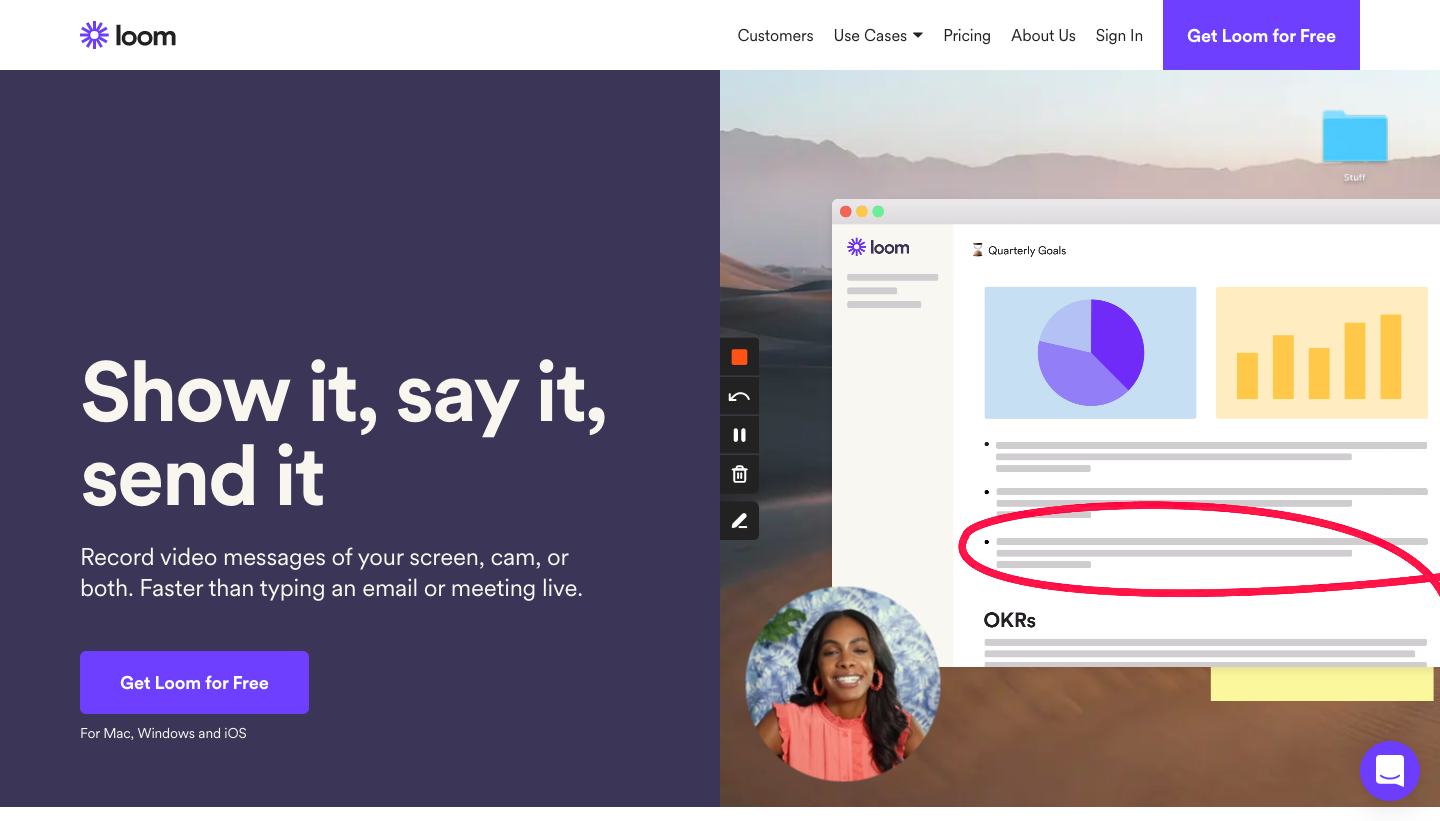 Loom is a quite popular screen recording software among teachers. Its sleek interface probably makes it the most good-looking screen recorder. This with great quality recording is the prime reason behind its 7 million global user base.
In their own words, Loom can be a great choice for educators who want to "individualize learning." This basically means that by screen recording videos, teachers can give more freedom to their students to learn at their own pace.
In addition to that, Loom makes it easy for teachers to add CTA's and check engagement insights on their videos. Analyzing the insights is a great way to improve the video quality and include more relevant information that will engage the students better.
Most notable features for teachers
- Drawing tools and mouse emphasis are superb for regular screen recordings
- You can create custom thumbnails for your videos
- The Do Not Disturb feature disables notifications while you're screen recording
- You can record videos in 4K quality
Platforms supported:
Windows, Mac and Chrome Extension
Free trial: For teachers, Loom has a special free plan. You can record for 45 minutes (5 minutes for other users), create shared folders, record system audio, password protect video and more.
5) Camtasia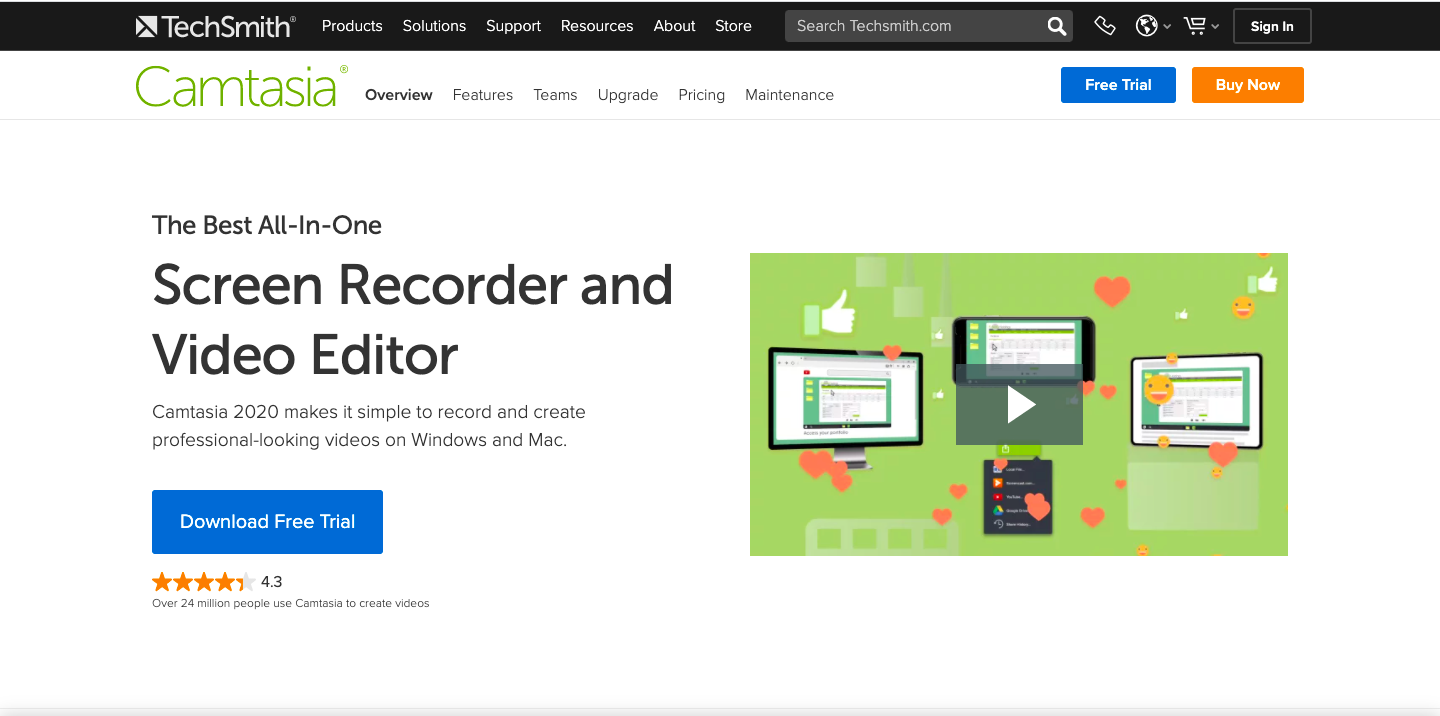 Camtasia is a screen recorder from the house of Techsmith. It is used by professionals from different spheres for creating tutorials and demo videos.
Camtasia targets teachers who mostly create educational content using slide show presentation tools like PowerPoint and Google KeyNote. If you're someone like that, then Camtasia could be the right screen recorder for you.
In addition to that, you can choose the area of recording, record both mic and system audio, and use the built-in video editor to trim or move video parts easily.
Most notable features for teachers
- Camtasia has a library of royalty free music and other assets which you can add to your videos
- You can create themes for your videos and keep it consistent for all your videos
- You can also add an interactive table of contents and upload subtitles for your videos
- In between the videos, you can add quizzes and other interactive activities to check if your students are following your class
Platforms supported: Windows and Mac
Free trial: Camtasia has a free trial for 30 days
6) Screencastify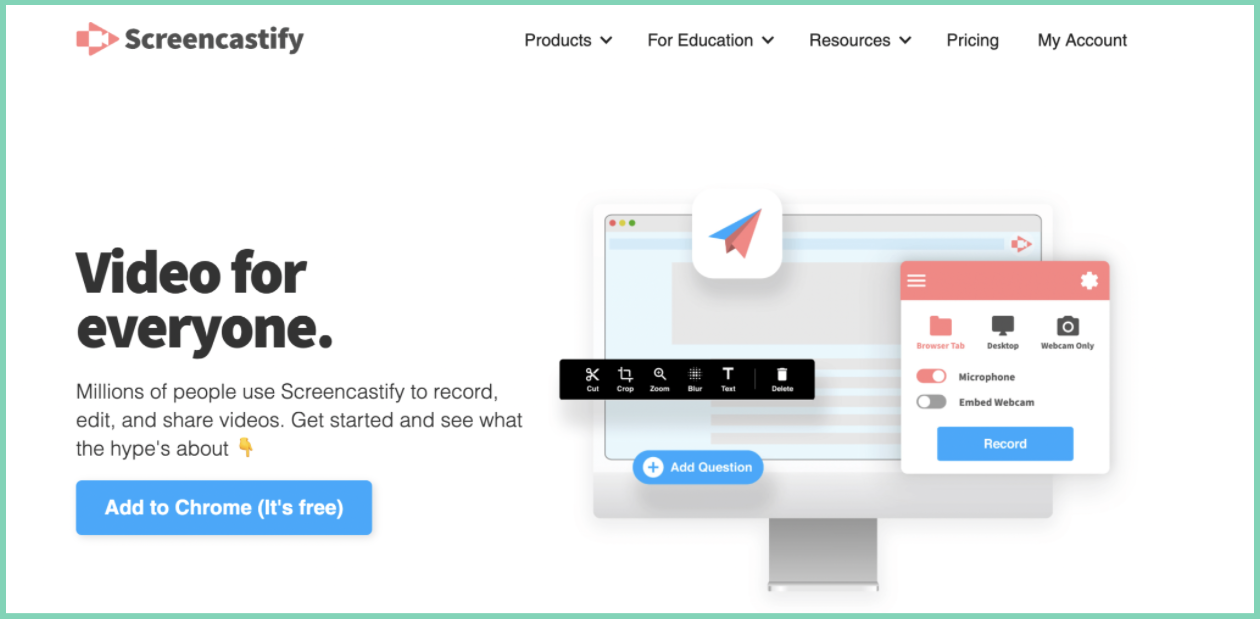 Screencastify is a straightforward screen recording software designed for teachers, schools and districts. It's a Chrome based screen recorder extension that claims that 70% of teachers in US schools use Screencastify to make their lessons more interactive.
It's specially designed for Google Apps like Drive, Classroom and Sign-on. The integration with these tools is very easy, and therefore, it's simple to keep all your content organized in one place.
What you will love about Screencastify is the fact that they have a team of teachers and experts who will guide you at every step while making videos.
Most notable features for teachers
- Screencastify is certified COPPA, FERPA and SOPIPA compliant
- Easy to assign and submit video assignments to students with the help of magic links
- You can track the video insights and add interactive elements to the video
Free trial: They have a forever free plan with a duration cap of 30 mins per video and 10GB video storage. They have specific pricing plans for teachers.
7) Bandicam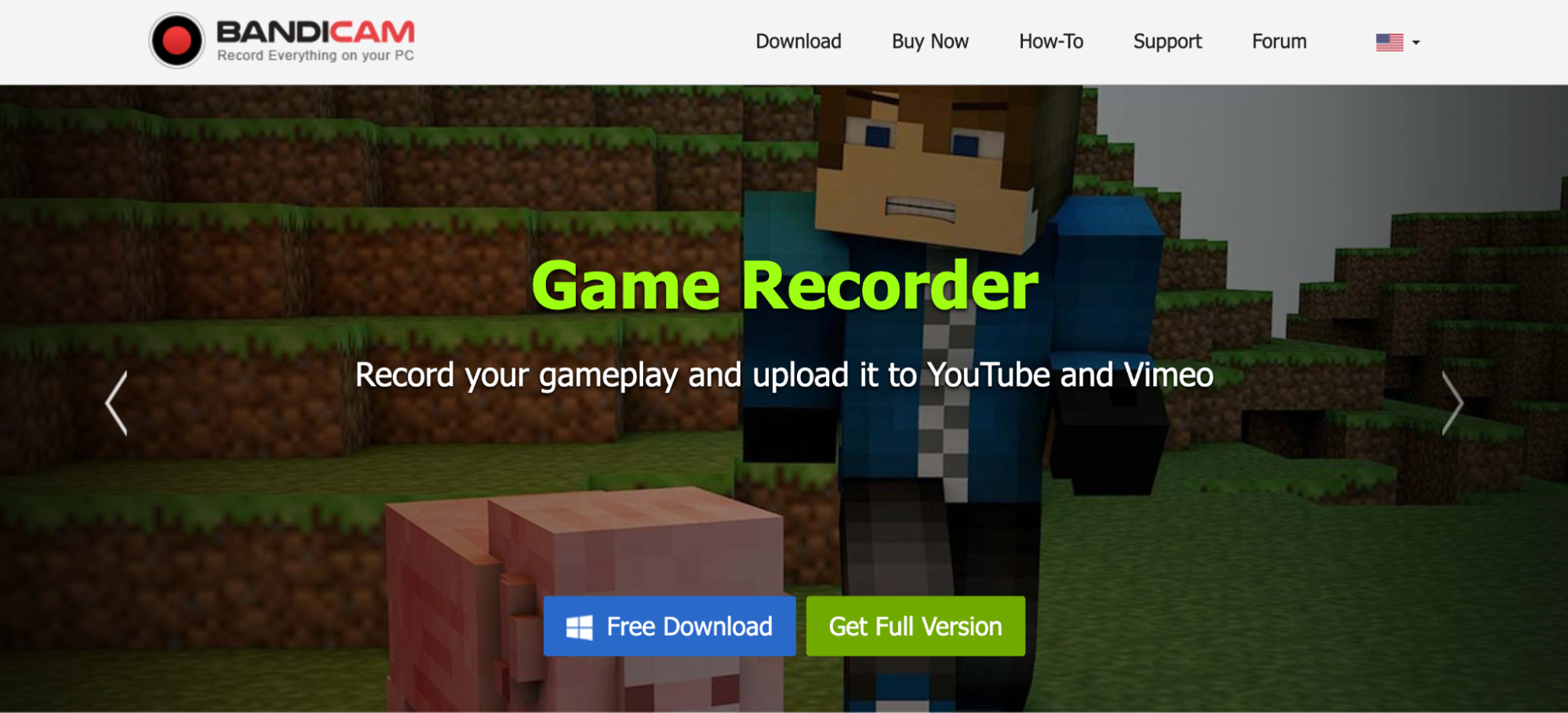 Bandicam is a famous screen recorder amongst gamers. It allows gamers to record their gameplay and upload them to YouTube and Vimeo.
But, Bandicam can be a great choice for teachers too. It has all the essential features that will help you record and share videos with your students. Along with screen and webcam recording, it can record both system audio and your voice at the same time.
It has a special feature called audio only recording which basically records only your voice without recording the screen and webcam. This can be useful when you only want to send an audio message to your students.
Most notable features for teachers
- Drawing tools and mouse effects for highlighting important sections in your slides
- It comes with a recording scheduler that allows you to set a schedule for automatically recording the screen
- You can also add animation while recording your screen
Platforms supported: Windows
Free trial: They have a free version which allows only 10 minutes per video recording
8) Active Presenter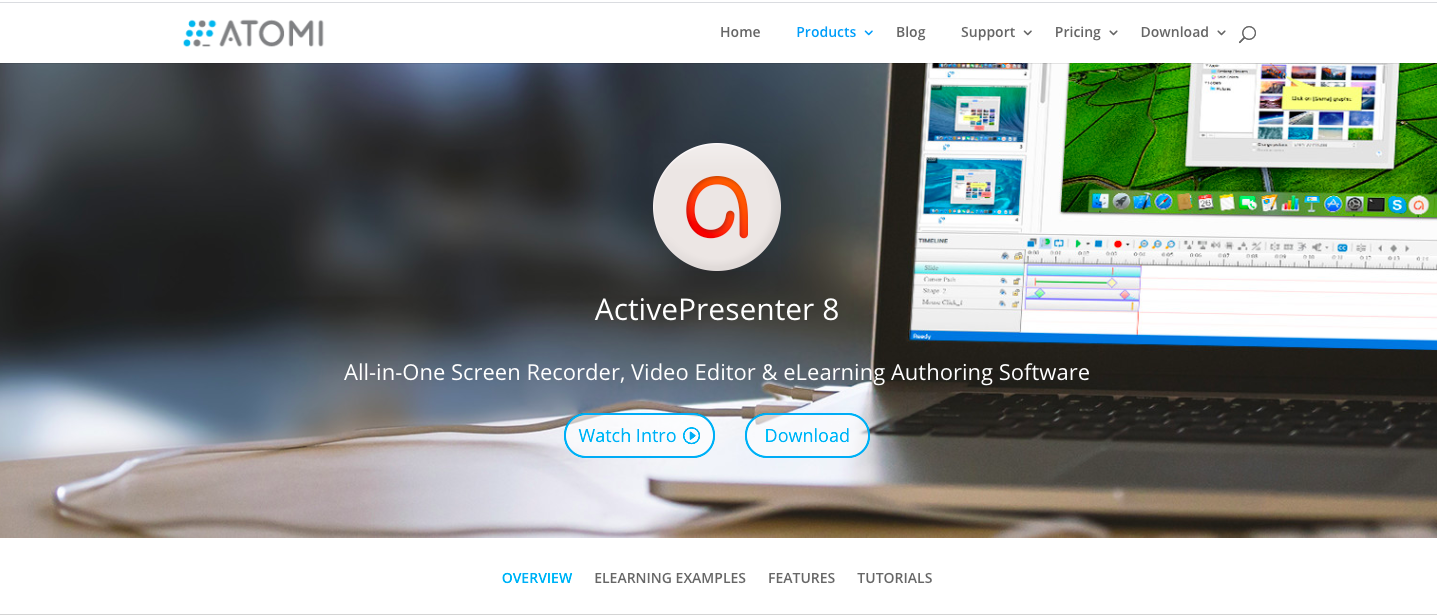 Active Presenter is an advanced screen recorder for making educational content. Not just teachers, this tool is popular with learning and development teams in the corporate world. Its advanced features are great for creating software simulations.
The basic premise of this software is the same - create content on slides, and then screen record it. But, you can play around with a lot of different options to make the content interactive.
For example, you can add conditional actions within your recording. These actions are event-based, so different users will encounter different forms of interactions based on their actions.
If you're a light user, Active Presenter may not be the right choice. But, if you're creating online videos regularly, you can give this a shot. They have an active support team, with their help you can get started easily.
Most notable features for teachers
- Responsive design automatically converts the format of your content as per the device
- There are well-designed templates that you make use of
- There are dozens of shapes, icons, tables and charts you can choose from
- It comes with a built-in image editor that helps with the basic editing stuff
Platforms supported: Windows and Mac
Free trial: There is no free trial. It comes in two pricing plans - Standard and Pro
Time to make a choice?
We hope this list gives you a clear idea of different screen recorders you can consider using if you're a teacher. This is a good place to start. We recommend you to do a bit more research on each of these tools.
The ones that have free trial or a forever free plan, you can sign up, record a couple of videos and use the basic features. Try to evaluate your product usage experience. Interact with the support team to see how friendly they're while talking to you.
Note down what you liked and disliked about each screen recorder. Choose the screen recorder in which the likes outweighs the dislikes by the highest margin.
Recommended Readings:
Top 10 Screen Recorders for 2023 [Updated List] - Windows, Mac, Chrome
How to create a Microlearning Course - Only 5 simple steps
How to Make an Engaging Screencast? Four Easy Steps and Tips
Breathe life into courseware videos with educational video creation tools