Training Videos 101: Everything You Need to Know
Have you ever wondered why most of us prefer videos over text?
The answer is simple. It's because videos simplify the whole learning process. They help us process information better and improve memory recall. So much so that today, we all rely on videos to communicate complex ideas, concepts, information and instructions.
So, irrespective of who you are, if you plan to teach something to people, you can definitely try investing your time and energy in creating a series of training videos.
In today's post, we will be giving you a complete walk-through about how to create training videos using the simplest approaches and tools. But, before we learn how to create training videos, let's try to understand what they truly are, and how people across different sectors benefit from them.
What is a training video?
A training video is a video that instructs or teaches someone about something. It could be a how-to video, a tutorial, or a screencast that teaches how to get something done with easy-to-follow instructions.
What are the different types of training videos?
There are several types of training and instructional videos. It's important to choose the right type of video content before you start your video creation process. Based on your audience's interests and learning goals, you will be able to decide on the type of video you need to create for your audience. Here are some of the popular types of video content.
i) Micro-videos
A micro-video is a short video that tries to deliver a message or a call to action within a short time frame. These types of training videos are increasingly becoming popular because of three reasons - they are easy to consume, to the point, and are effective in delivering the message within a few seconds. The optimal length of a micro-video is somewhere around five to fifteen seconds.
ii) Screencasts
A Screencast is a digital screen recording that can be used to create detailed training manuals, tutorial guides, and video presentations. They are widely popular in the educational sector and are actively used by educators, online course creators and coaches. Simply put, a screencast captures everything that's visible on a computer's screen and allows presenters to add voice narrations and webcam overlays explaining the process.

iii) Animated videos
Animated videos are fun to create. These videos use graphics, text and voiceovers to deliver their messages. Animations also help in making the videos more engaging for the audience. These kinds of animation training videos can be created for young learners in the age group of 6 - 12. There are quite a few tools available online that help beginners create animation videos effortlessly. Some of the popular animation tools are Animaker, Powtoon, Vyond, etc.
iv) Roleplay videos
In these types of videos, a scenario is usually enacted to make viewers understand a learning process. These videos would be suitable for soft skills training.
Why are training videos so popular?
These days, training videos are widely used across different sectors to create e-learning materials, instructional guides, and employee onboarding manuals. Here's a list down of the top 7 reasons why people love them.
They make employee onboarding & training easier.
They provide practical learning exposure without real-time interactions
They help viewers rewatch important sections of the videos multiple times
They serve as a great alternative to books and courses
They help visual learners grasp lessons better
They make it easier to access anytime, anywhere
They reduce training costs and time involved
How to create a training video: 5 simple steps
Now that we have a clear understanding of what training and instructional videos are, let's dive in and learn how to create training videos easily in five simple steps.
Prefer reading? Follow these simple instructions!
Step 1: Choose the best training video software & download it to your computer
Choose the right software and install the application to your system. In the next section of this post, we will also be sharing the list of 5 best training video software available online. Feel free to take a look at it and make an informed buying decision.
Note: In this process, we teach you how to create training videos with the help of Vmaker. Vmaker is a popular screen recording software that allows its users to create training and instructional videos effortlessly in just a few simple steps. It comes with a built-in video editor and allows users to record HD videos. Users have access to multiple recording modes and can easily record both their screen and webcam. It comes without watermarks and provides custom branding options as well.
If you choose to make your training videos with Vmaker, head over to Vmaker's home page and sign up for Vmaker. Once you sign up, you can easily install the application to your device. Currently, the application is available in four formats:
As a Windows application
As a Chrome Extension
As a Mac application
As an iOS application

Install any one of these versions that suits your needs.
Step 2: Prepare a script
Now, it's time to prepare your script. Once you are ready with your script, you can try taking a few mock sessions before you start recording for real. This helps you gain practice and helps you give your best shot. But, if you're already well prepared, you can skip the mock recordings, and start recording the real session.
To start recording, click on the 'Record' button on your dashboard. A small drop-down box will appear below your user icon. This is where you select your basic recording features.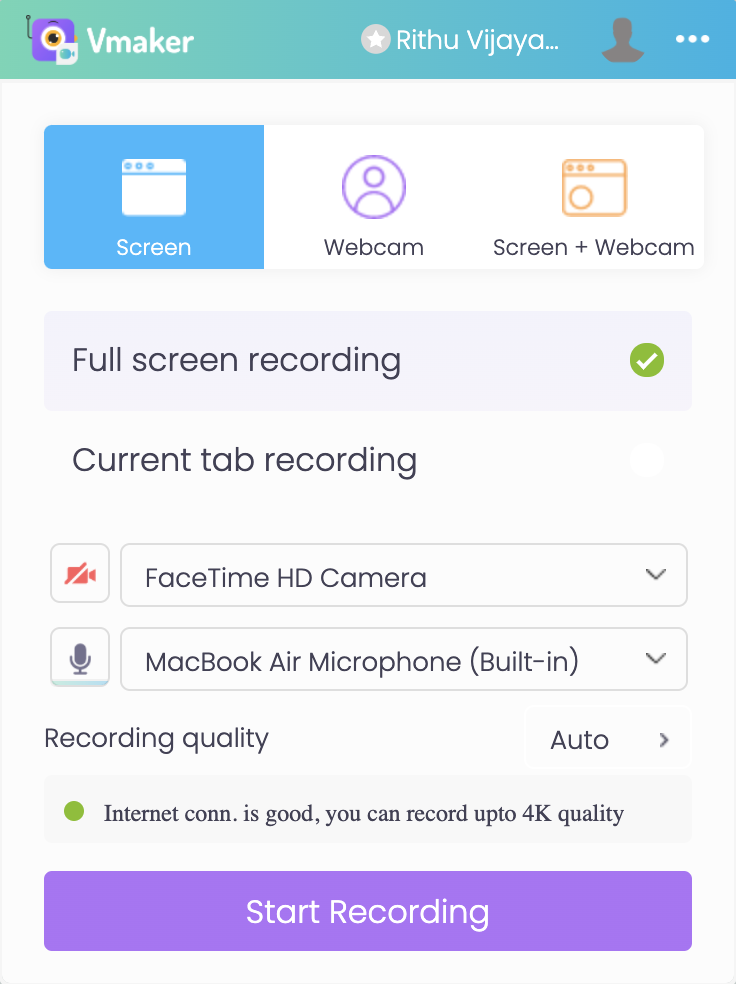 Select your desired recording quality, recording mode and audio output source. You can either click on 'Start recording' right away or try enhancing your videos further by enabling some additional features.
Step 3: Customize your preferences to enable advanced features
You can customize your recording preferences according to your own requirements.
In order to do this, click on your profile icon, and select 'Preferences'. Here, you will have some advanced features. Enable the features that would help enhance your recording and start recording.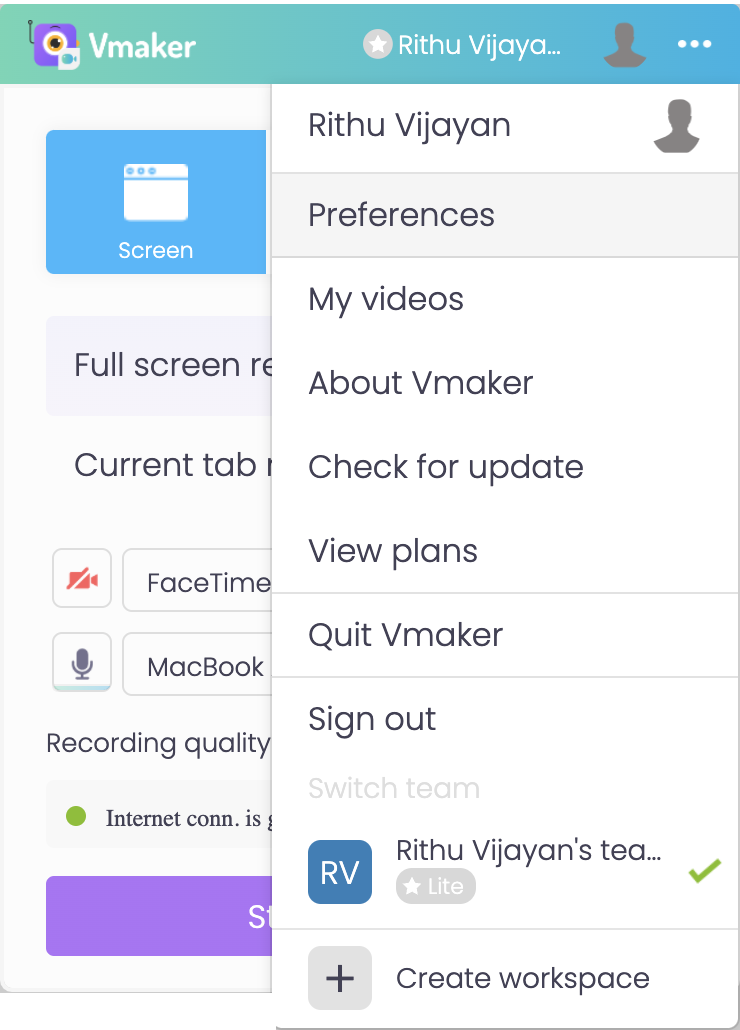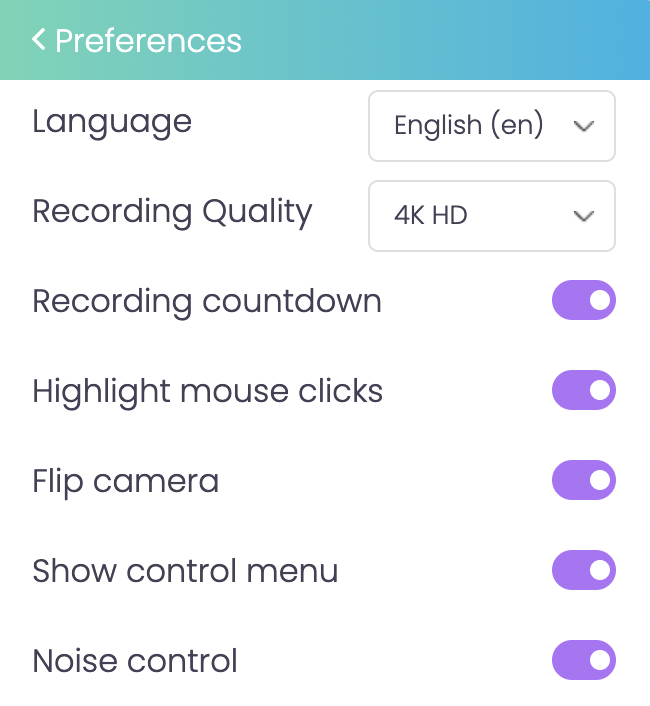 As soon as you click on the 'Start Recording' button, a timer starts indicating to you that the recording is about to start in three seconds. Once the timer stops, the recording starts.
To make the training video more engaging, you can make use of the screen annotation feature. It will help you explain things better and will ensure your viewers stay engaged throughout the video.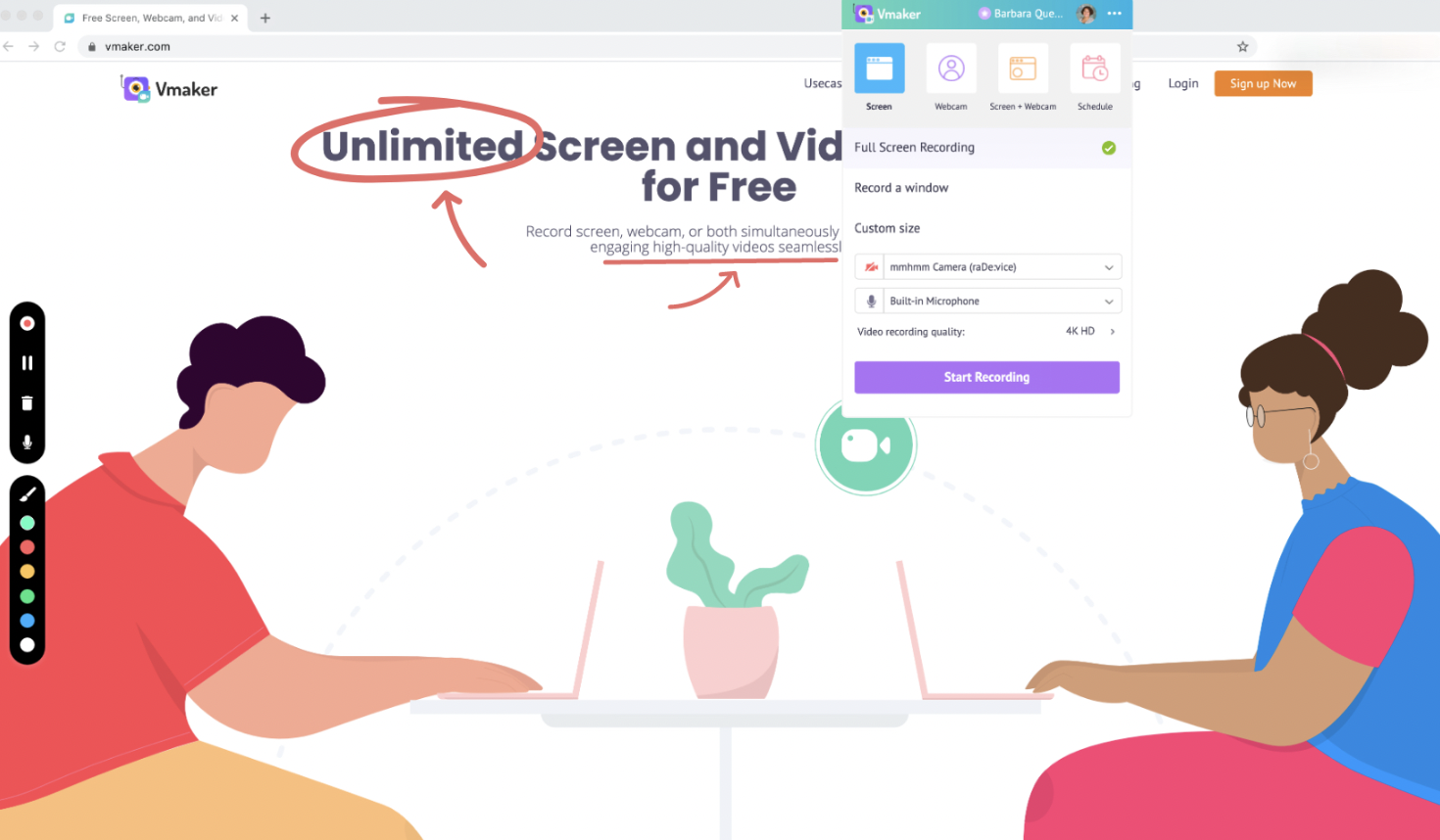 Once you're done with the recording, you can click on the Red dock button the left side of your screen to stop the recording.
Step 4: Edit the recording if necessary
As soon as you finish the recording, you will be able to access the recording in Vmaker's dashboard. If you choose to edit the recording, you can do so by clicking on the 'Edit' option.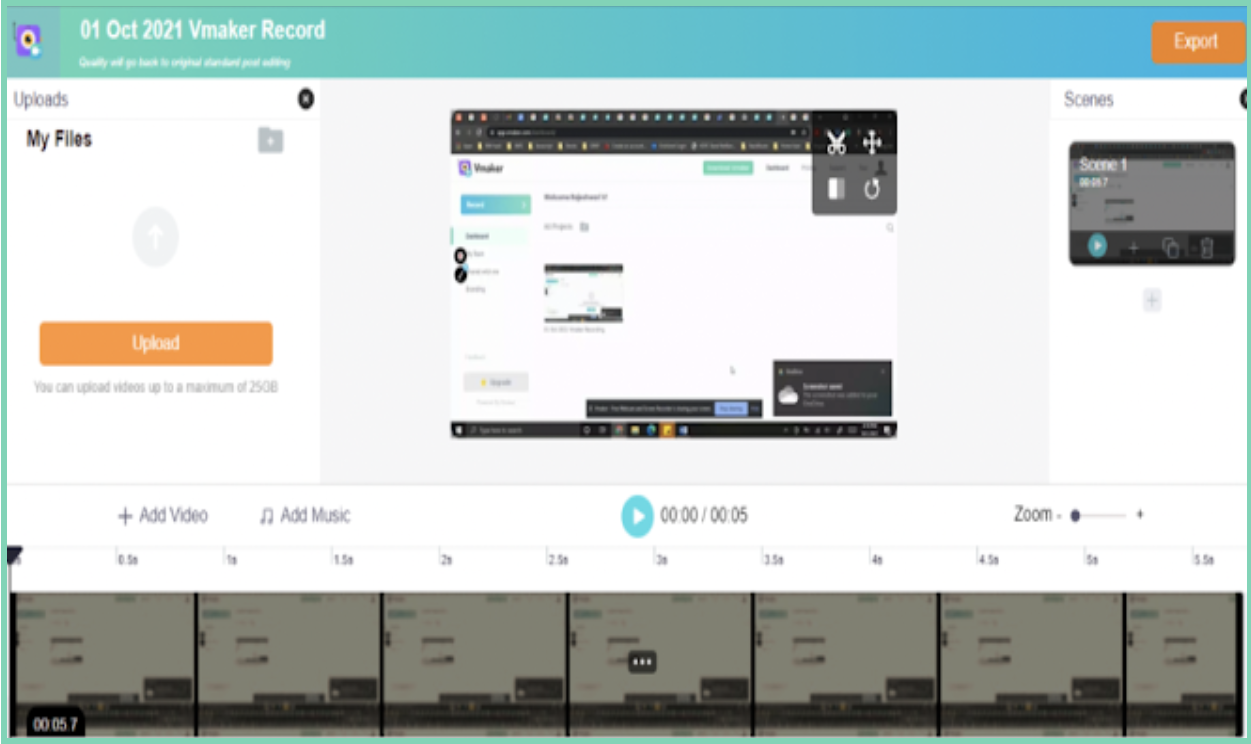 You will be directed to Vmaker's built-in editor. Here, you'd be able to crop, trim, rotate and flip the recording easily. Once you're done with the editing process, you can export the file to your dashboard in your desired quality.
Pro tip: Before you start editing your video, we highly recommend you 'Duplicate' the file. This ensures you have a backup of your original copy in case you cut out some necessary sections of your original video during the editing process.
Step 5: Download and share the video recording
Once you are done with the recording and editing process, you can easily download, share or upload the training video to any of your social media platforms. If you choose to share the recording, you can do so by copying the link.

5 Best training video software available online
If you're on the lookout for the best software for creating training and instructional videos, you can check out this list of 5 best training video software. This list elaborates on each of the product's features, pricing policies and ratings.
1. Vmaker
Vmaker is an all in one recording suite that helps users record, edit and track video metrics based on the number of views a recording gets. It comes with no watermarks and provides custom branding options. Users can easily record their screens and add narrations using the webcam overlay. Vmaker also comes with screen annotation tools that help users draw and highlight important sections of the recording.
Pro Tip: If you wish to create animated training videos, you can do so by using Vmaker Train - a complete video creation suite that comes with Animaker (DIY animation tool), Vmaker (screen recording tool), and GetShow (video hosting platform).
Features
Recording scheduler
Watermark free
Records both internal & external audio
Comes with a built-in video editor
Offers up to 4K recording quality
Allows users to track video metrics
Comes with screen annotation tools
Easily shareable
Allows users to add subtitles, music and customizable background to their videos
Pricing
It has three main pricing packages.
Lite plan (free): $0
Starter plan: $84 a year/ $7 a month
Team plan: $120 a year/ $10 a month
Reviews & Ratings
2. Camtasia
Camtasia is also a complete video recording software that provides all the necessary recording and editing features one would look for in a training video software. It has a stock library of ready-made video templates, animations and audio tracks that helps even beginners create training videos effortlessly.
Features
Built-in video editor
Screen annotation
Powerpoint integration
Allows users to add a table of contents
Readymade video templates
Easily shareable
Pricing
It provides a license that's valid for a lifetime.
Camtasia license: Rs 28,369.
Reviews & Ratings
G2 Rating: 4.6
Capterra Rating: 4.6
Crozdesk Score: 92/100
3. Screencast-o-Matic
Screencast-o-Matic is a commonly used software in the educational sector to create screencasts, instructional guides, tutorials, etc. It allows users to personalize their videos with images, screen effects and transitions.
Features
Provides multiple collaboration tools
Comes with built-in video editing tools
Provides easy backup and recovery
Records both internal and microphone audio
Provides speech to text translations
Easily shareable
Pricing
It has four pricing packages.
Free plan: $0
Business plan: $5/user per month
Premier plan: $5.75 per month (annual subscription)
Deluxe plan: $4 per month (annual subscription)
Reviews & Ratings
G2 Rating: 4.3
Capterra Rating: 4.5
4. Panopto
Panopto is another screen recording tool that comes with all the necessary recording, editing and video management features. It allows users to create and record video presentations enhanced with special multimedia elements.
Features
Provides a video content management software
Records both system audio and microphone audio
Allows users to track engagement
Pricing
It has two major pricing packages.
Panopto Basic plan: $0
Panopto Pro: $14.99/month
Reviews & Ratings
G2 Rating: 4.2
Capterra Rating: 4.5
5. Hippo Video
This is an easy-to-use software that helps users create training guides, tutorials and video messages. It allows users to personalize their videos with graphs, callouts and tags.
Features
Provides video analytics and reports
Customizable video thumbnails
Provides 100 GB bandwidth
Provides multiple video embed options
Easily shareable
Pricing
It has separate pricing packages for different categories.
Sales
Starter plan: $15 per month
Pro plan: $ 30 per month
Growth plan: $ 48 per month per user
Enterprise plan: $79 per month per user
Team
Starter plan: $4 per month
Pro plan: $ 15 per month
Growth plan: $ 20 per month
Reviews & Ratings
G2 Rating: 4.5
Capterra Rating: 4.5
Tips and tricks to create effective training videos
Here are a few tips you can keep in mind while you make your training videos.
Tell a story
Set a clear learning objective
Know your audience
Don't aim for perfection in the very first shot
Ensure that the video recording is mobile-friendly
Determine the budget of your video beforehand
Remember, that you don't need costly recording equipments
Don't hesitate to hire a professional voice over artist
Set up an engaging thumbnail
Share on multiple social media channels
Bonus: 5-Step Action Plan For Video Creation
In order to create an effective training video, it's safe and advisable to stick to a plan. Here's a five-step action plan you can follow to make your video creation quicker and easier:
Recommended Reads