Best Screen Recorders for Team Collaboration and Remote Working
With every passing year since 2005, the number of companies going remote are at least offering partial work from home benefits have increased steadily. The number saw a huge rise in 2020 due to the covid-19 global pandemic which has caused companies both big and small to pivot to a remote working model for the foreseeable future. Remote working has further increased the adoption of the asynchronous communication model. One of the few tools which are considered essential for asynchronous communication to happen seamlessly is a screen recording and a video communication tool. But not every screen recording tool necessarily aids team collaboration and communication. Firstly let's see the difference between them.
What is the difference between a normal screen recorder and a screen recorder that enables collaboration?
A normal screen recorder allows any number of individual users to create recordings and then share it across with anyone. Although it does the job it doesn't necessarily support team collaboration. Users need to email the video as an attachment or share a link with team members every time they record or create videos. This leads to a drop in the efficiency of communication and makes an asynchronous model look synchronous.
A screen recorder with built-in team collaboration features allows users to create and share videos with teammates instantly allowing every team member to collaborate over videos with ease without any additional steps that hinder work productivity.
Here is a list of four screen recording and asynchronous video communication applications for team collaboration and Remote Working:
Vmaker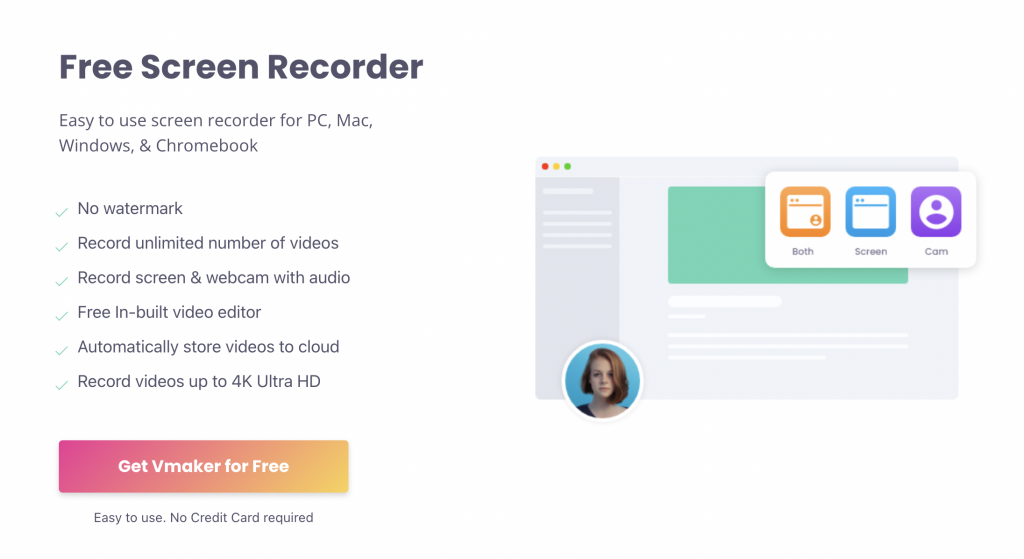 Vmaker is the latest screen recorder and video communication tool from Animaker. Vmaker has been designed and developed not only as an easy-to-use screen recorder but also as a video communication tool for teams to communicate and collaborate with ease. Vmaker takes pride in enabling Video chat, with a chat!
Vmaker offers almost all of the essential screen recording features including 4K HD recording, custom screen recording, screen annotation, mouse emphasis, screen blur, Do not disturb, noise cancellation, schedule recording, and much more that makes recording and creating videos much easier and convenient.
But we'll take a look at the team collaboration features on offer. Vmaker allows users to create multiple workspaces and team members in each of the workspaces. New users can be given admin access as well enabling them to add other members themselves.
By default, any video created by team members will be available in their private dashboard. Members can quickly share the same video with their teammates and collaborate by just clicking on the share with option. While sharing users are also given the option to give edit or view-only access as well. Team members can also add the videos to the public library where all the videos will be visible to all the other team members in the given workspace. Not just that users can also share their videos to a specific group of members within the workspace and not all of them.
Vmaker also allows the creation of folders, sharing of folders, auto expiry of videos making it one of the best screen recording tools for team collaboration and communication.
Vmaker screen recorder ~ Team communication and collaboration features
Multiple workspaces
Admin/Member access to teammates in a common workspace
Private, public and shared library
Folders
Sharing videos with edit/view access
Sharing folders with edit/view access
Auto expiry of videos (Self-destruction)
Remove/Add teammates as you wish
Custom branding, brand color
Custom domain name
Custom Call to action
Unlimited bandwidth
Available versions: Mac app, Chrome Extension, Windows app, iOS app, and Android app
Pricing: Vmaker teams plan starts at a pricing of $10/month/user 
Getcloudapp
Getcloudapp is another screen recording tool that enables not only screen recording but also effective collaboration amongst teammates using the videos/gifs/screenshots created on Cloudapp.
Cloudapp allows users to create three forms of content including screen recording videos, gifs and screenshots. All of the same are available on the cloud dashboard of Getcloudapp. Not just that Getcloudapp also allows users to upload various files including PDFs, APKs and many more. This enables teammates to collaborate not only with the content they created on Cloudapp but also external content.
Getcloudapp collaboration features:
Upload any form of files
Collaborate over videos and screenshots
Shared folders which can be sent to anyone
Activity feed of what teammates are currently doing
Custom branding and domain name
Available versions:
Mac app, Chrome Extension, Windows app, and Ios app 
Pricing:
Cloudapp teams plan starts at a pricing of $8/month/user billed annually
Getcloudapp is a tidy tool to collaborate with teammates over videos and screenshots. It's quite easy to use and is available in multiple versions as well. However, the bandwidth which comes with every plan and the inability to create multiple workspaces(Teams) is something you need to keep in mind.
Loom
Loom is a very popular video messaging tool and it is known for its ease of use and convenience for not only recording videos but also the ease in which team members can collaborate. Loom allows unlimited teammates/creators in an account and offer the convenience of deciding what to do with the video created. Users can keep it privately to themselves or share it with all of the team members or selectively share it with a particular group of teammates. A concept known as Public library, Private library, and shared library.
Loom also offers custom branding, logo addition, viewer insights, video engagements, custom thumbnail, CTA and much more making it effortless and easy to communicate and collaborate with teammates over videos.
Loom collaboration features:
Shared, Public and Private library
Upload any form of files
Collaborate over videos and screenshots
Custom CTA and links on the player page
Password protection of videos
Share videos only with certain emails
Custom branding and player customization
Video comments, reaction, and engagements
Viewer insights and exportable engagements report
Available versions:
Mac app, Chrome Extension, Windows app, Ios app, and Android app
Pricing:
Loom Business plan starts at a pricing of $8/month/user billed annually.
Loom however doesn't support custom domain names which might be a cause of concern as you wouldn't want your clients or prospects to see Loom's branding.
Screencastomatic:
Screencastomatic is another screen recording solution that enables users not only to record videos but also easily collaborate with each other. Screencastomatic has almost every feature needed for teams to communicate and collaborate over videos right from screen annotations to auto-captioning and script tool.
Screencastomatic collaboration features:
Users and groups creation
Custom video player and thumbnails
Collaborate over videos and screenshots
Password protection of videos
Custom Domain name
Screen castomatic is extremely affordable and has loads of features. It is also available in various devices offering users convenience. However the app has a bandwidth cap and also is known to be hard to use involving a steep learning curve.
Available versions:
Mac app, Chrome Extension, Chromebook, Windows app, Ios app, and Android app
Pricing:
The team premier plan starts at 17.5$ for 10 users per month. The team deluxe plan starts at 9.5$ for 10 users per month.
We hope that the above-mentioned tools help you decide the best screen recorder for your teams to collaborate and communicate over videos effectively. Do drop a comment with your favorite screen recording tool for team communication and collaboration. We have few other listicles to help you choose the best screen recorder.
Few other listicles that will help you decide on the best screen recorder:
9 Best Screen Recording Tools for remote work
10 Best Screen Recorders (Free and Paid) for Windows in 2023
Best screencast software
Best screen recording software for Mac
Seven Types of Screen Recording Videos and Where it's Being Used
10 Best Free & Paid Screen Recorders To Checkout In 2023
How To Do Screen Recording Videos? 10 Step Guide With Tips & Tricks
Best free screen recorders without watermarks
Five Screen Recorder Worth Checking Out for Creating Youtube Videos