How to Record Twitter Spaces On Desktop & Phone
An Ultimate Guide to Record Spaces as both Host and Listeners
Did you just receive notification of your favorite Twitter influencer doing a Twitter Space? And is the person also talking about your favorite topic (say, the Rise of startups with unconventional ideas or Pink Floyd)?
Now, you definitely don't want to miss this space but you might also want to re-listen to it—the same way you rewatch your favorite speakers on YouTube.
So, in this article, I'll help you record Twitter Spaces as both host and listener.
Different Methods to Record Twitter Spaces
Ever since the rise of audio rooms like Clubhouse, Twitter Spaces, and the audio chat spaces on LinkedIn, people are able to connect with their favorite speakers on social media and interact with them through voice
There are three ways to record twitter spaces audio on both desktop and mobile:
Opting to record Twitter Spaces while setting it up (only the host can do it)
Exporting spaces audio through your Twitter data (Again, only host's play)
Using a screen recording tool to record spaces (Anybody can record the session without the host's permission)
Important note:
Twitter Spaces, by default, is not private but any listener around the world can join and that gives them an option to record your spaces.

1. How To Record Twitter Spaces As A Host:
With Twitter's latest update, the host can opt in for the auto-scheduling option while setting up spaces. Currently, you can set up Twitter Spaces only on Android and iOS apps and not on the web application.
However, anybody—other than your guest/speaker can join and listen to your Spaces from the web application.
To set up the Twitter Spaces, you need to click on the '+' icon on your Android or iOS application: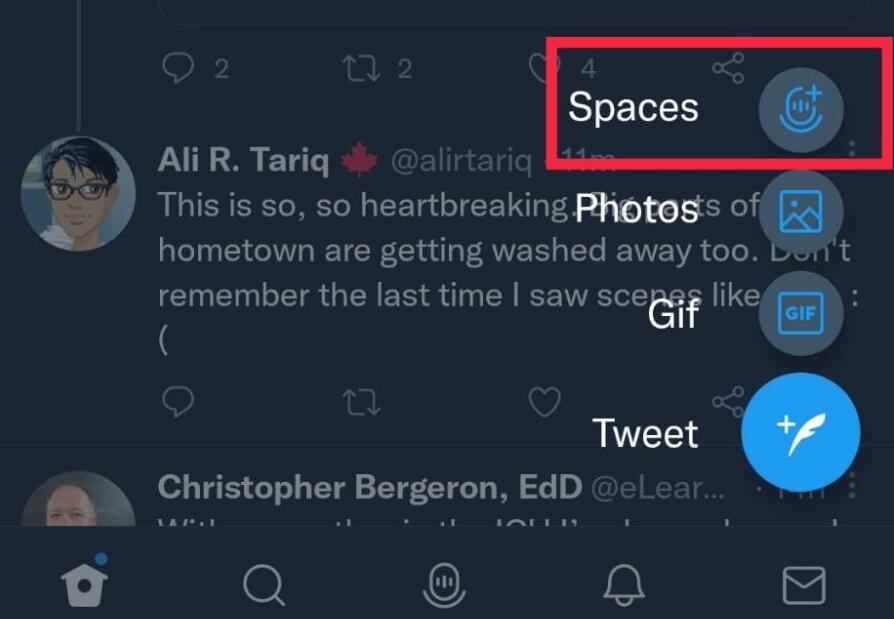 You can either create a Space or schedule it and tweet about it. Either way, you can opt in (like shown in the picture) to record the Twitter Spaces and share the recording as a tweet later.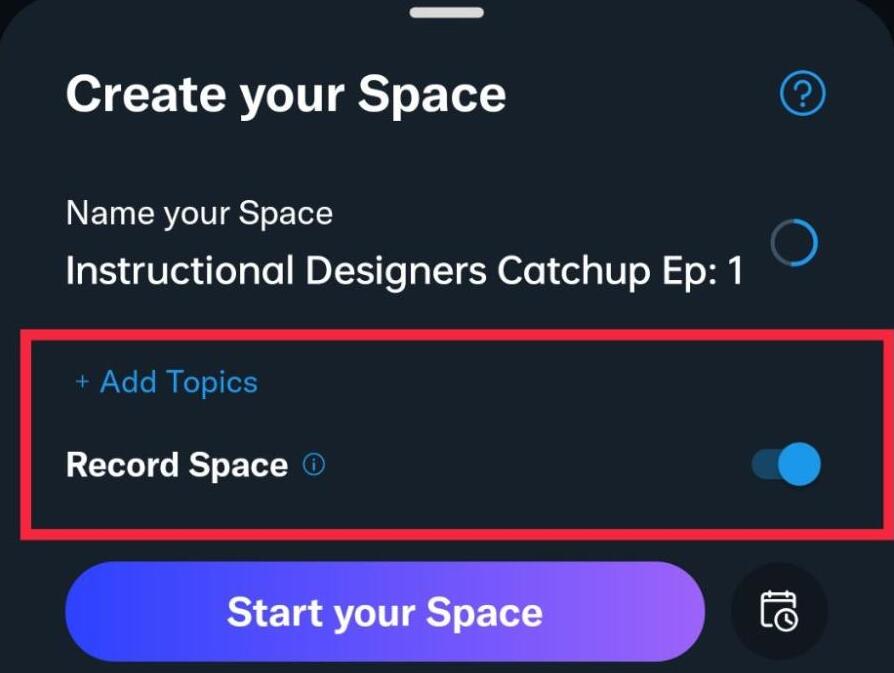 2. How To Download Twitter Spaces audio from the Twitter data archive (For Hosts)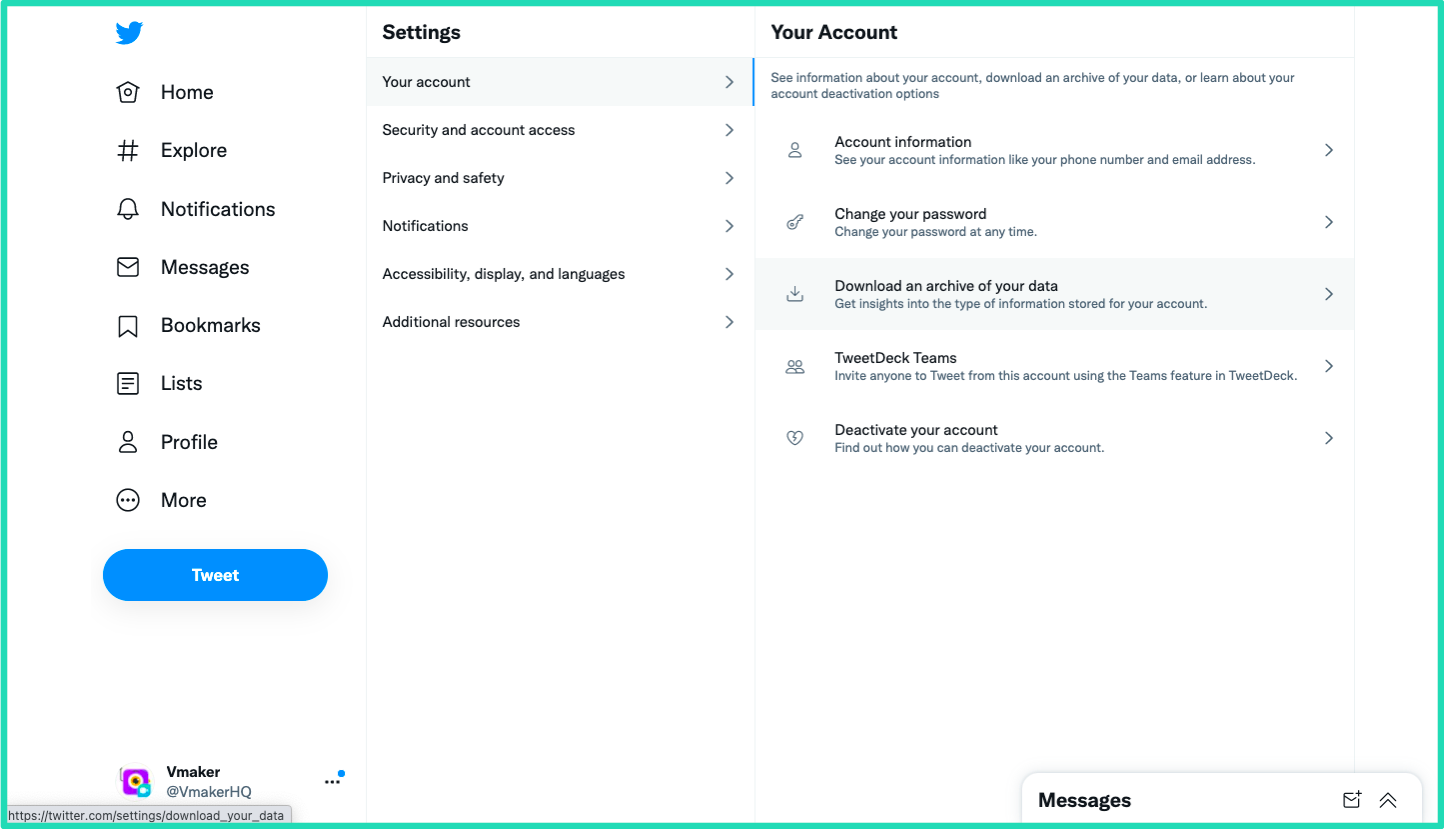 This will be an archive of all your Twitter data including spaces audio in a ZIP file. The data will not be available immediately but will take some time to be processed and made available. If you're a power user then there are more chances that the data will take some more time to be available.
Drawbacks of downloading spaces audio from Twitter data archive:
A few of the major drawbacks of using this option of downloading spaces audio:
Only the hosts of the Spaces will be able to download it.
The audio quality is also not great while downloading space audio through this method.
Twitter holds this data only for a period of 30 days. So you'll be able to only download your spaces recording that is not more than 30 days older.
Now, this is for the host. But that brings us to the next use case — how to record twitter spaces as a listener (& also a host)?
You can use a screen recording tool to record twitter spaces without being the host of it.
3. How to record twitter spaces using a screen recording tool
In the next few steps, we'll be looking at how you can record spaces using the Vmaker screen recorder without having to worry about you being the host or not.
But before that let's look at some of the Vmaker features that make it best suited for recording twitter spaces.
You can record using Vmaker's application for Mac, Windows Screen Recorder, iOS, or Chrome extension. The choice is yours.
Key features that make Vmaker the best screen recorder to record twitter spaces:
Capture both your audio and speakers audio
The Vmaker recorder allows you to distinctly capture both the audio of other speakers and also yours in a clear fashion.
Users will also be able to record the screen which will let them know which user is speaking. This is extremely useful as speakers generally don't introduce themselves in a twitter spaces chat. You can also upload them later as a video podcast later.
Twitter also allows users to share tweets within the spaces window which allows you to discuss the same. By screen recording, you'll be able to capture the same as well.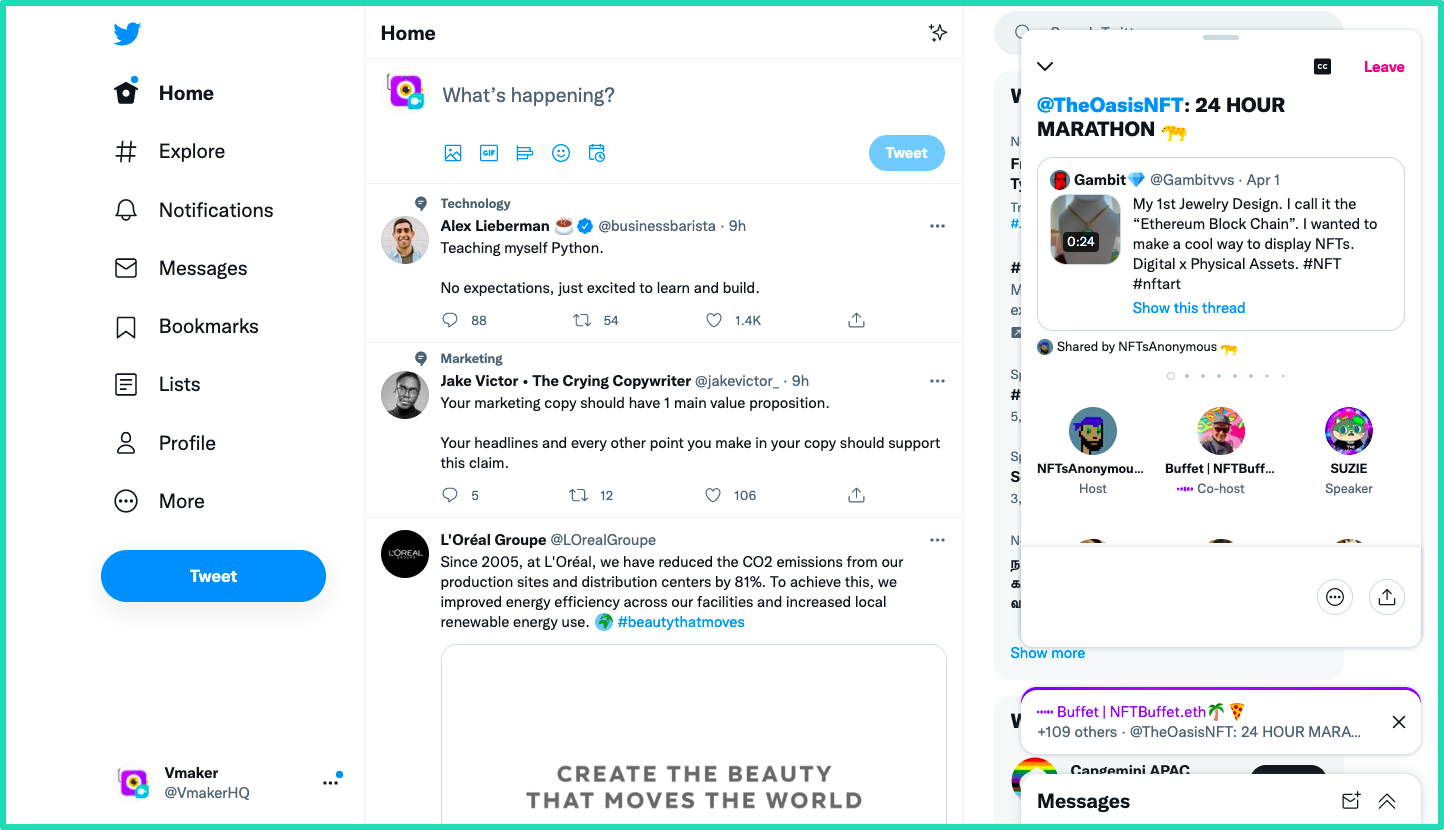 Immediate processing of the recording
The recording of spaces done through Vmaker is processed immediately and made available via a URL instantly. There are no time delays in the recording being made available irrespective of the duration of the audio.
The recorded twitter spaces are available on the cloud and can be accessed in just a few clicks on the Vmaker cloud dashboard.
You can also instantly share the recording on social media, upload it to YouTube, embed it on websites.
With Vmaker's Mac application, you can schedule the recording of the Twitter Spaces as soon as you block it on your calendar.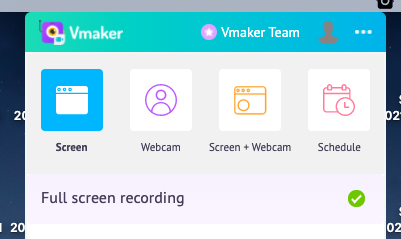 You can choose the
Schedule
option in the Mac application and once you click on it, you will see the option to name and schedule the recording: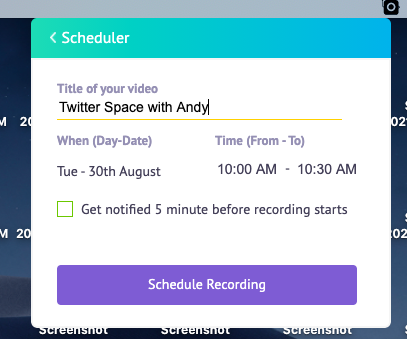 Steps involved in recording twitter spaces with audio using Vmaker
Step one: Sign-in or Signup for Vmaker screen recorder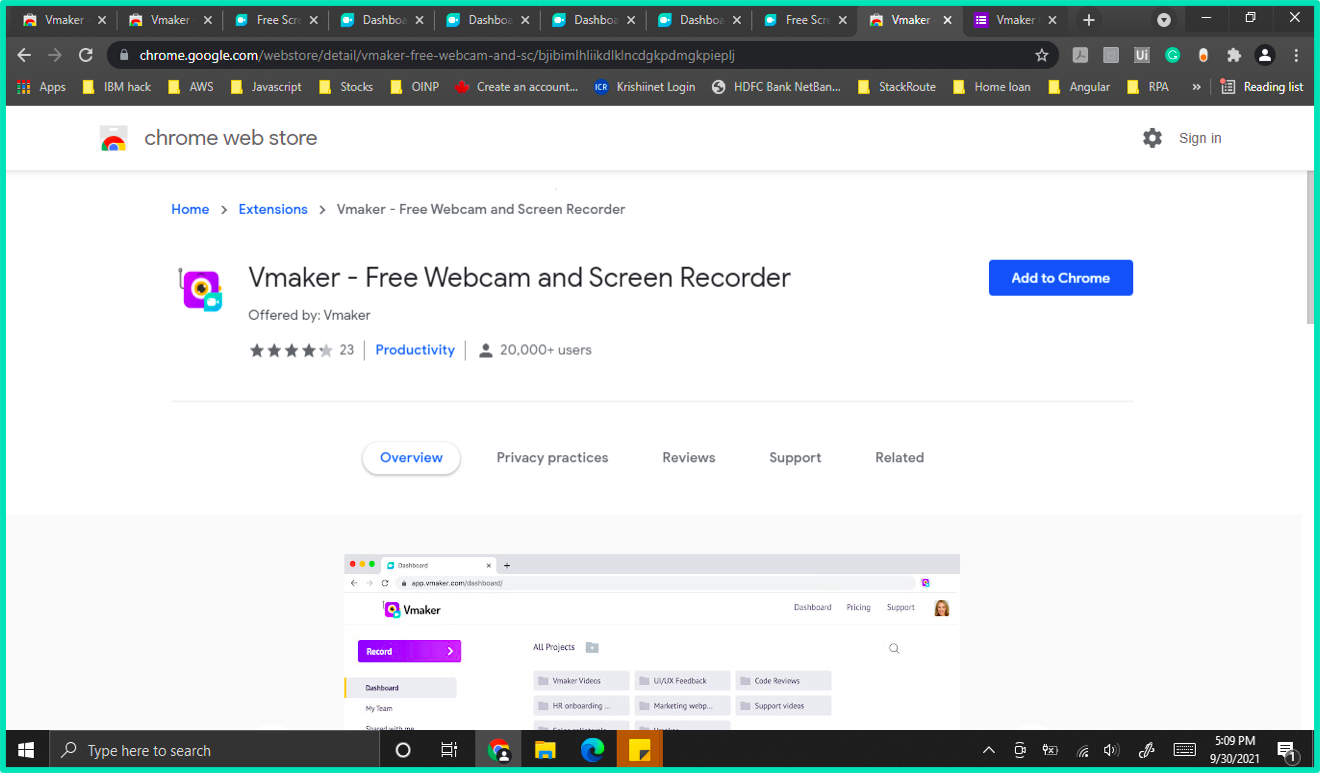 The first step in recording twitter spaces is by signing up for Vmaker. Once you sign up you can choose to download either the mac app or chrome extension based on your convenience. Both of them are capable of recording Twitter spaces.

Step 2: Join the twitter spaces and start recording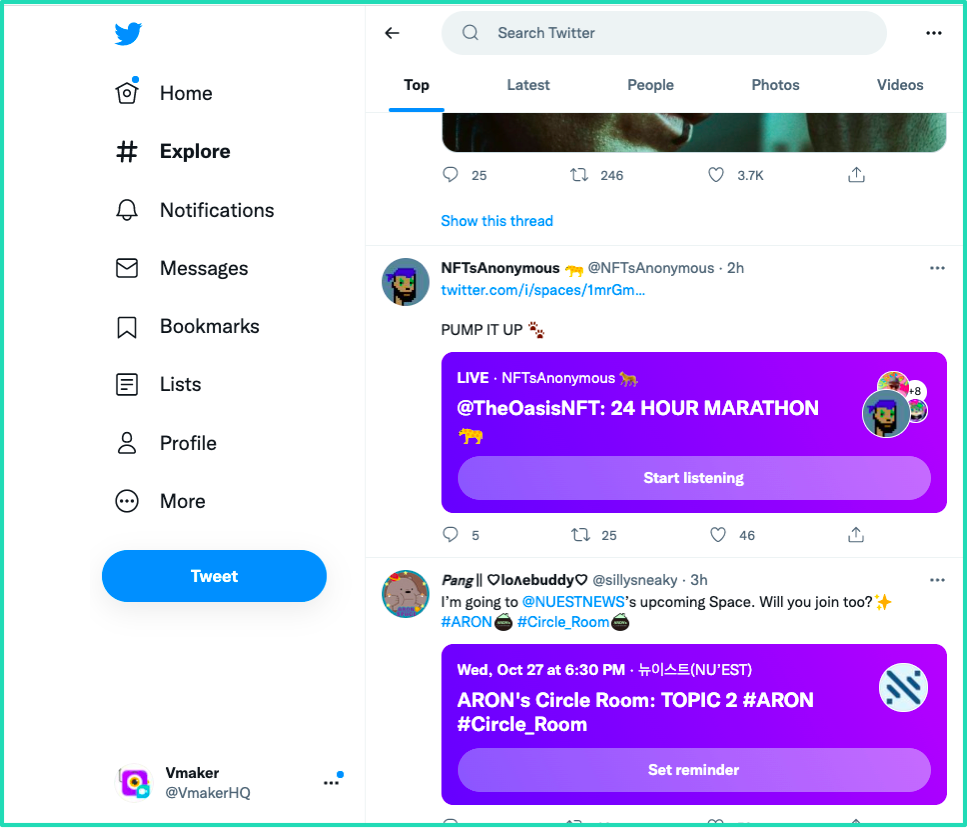 Search for the twitter spaces and join the one you want to listen to.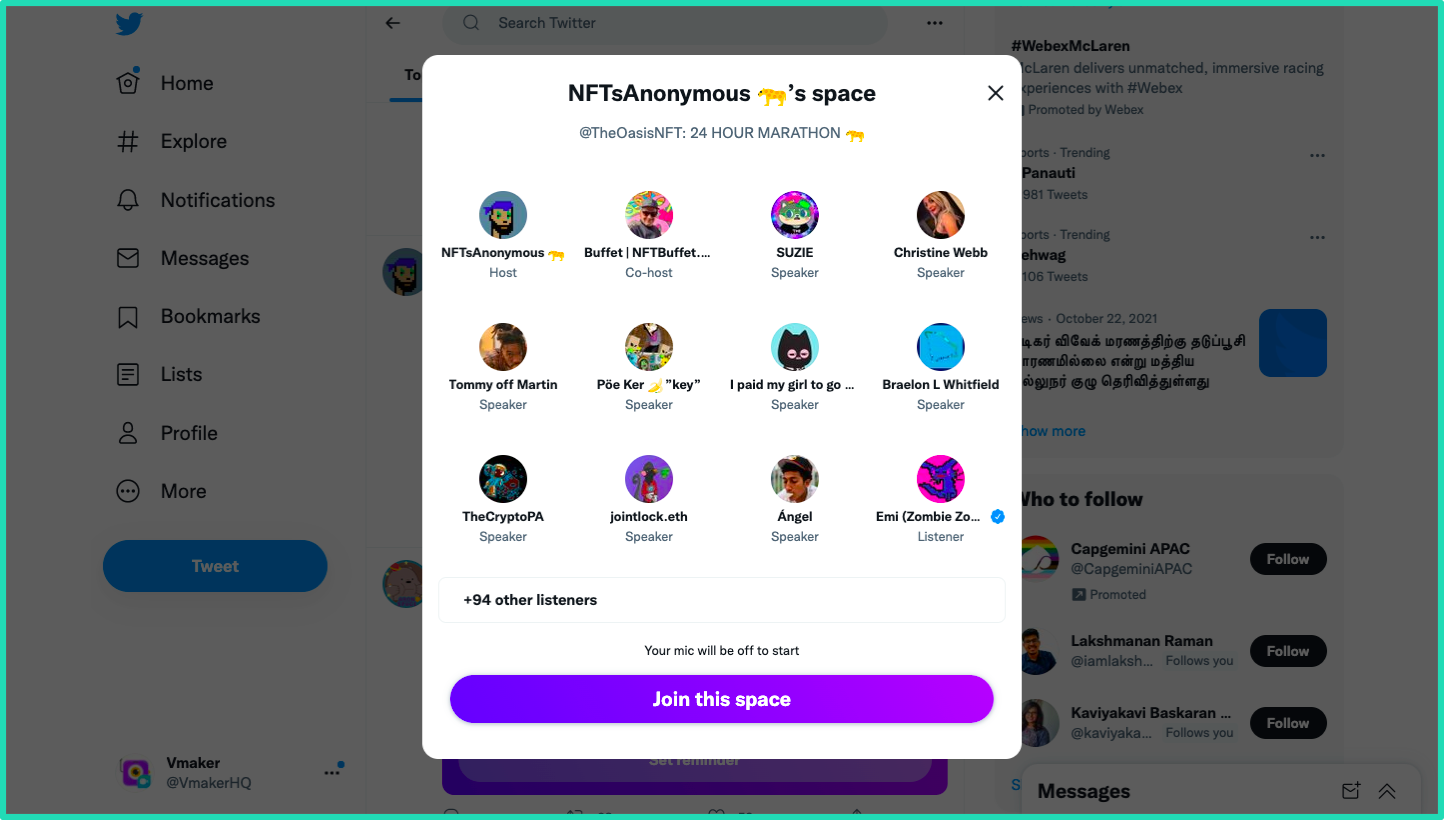 Click on start listening and join the space that you want to be a part of.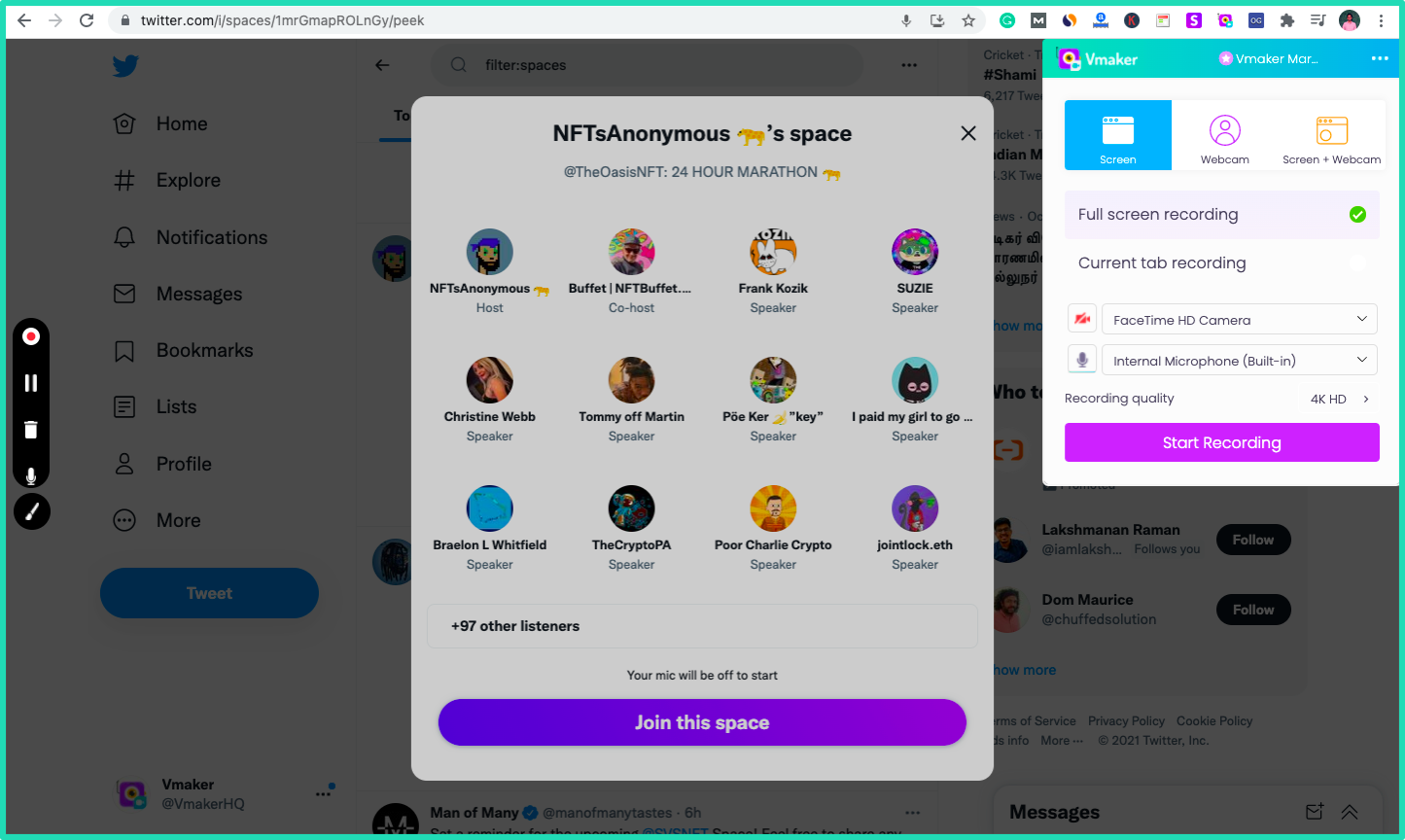 Once you have joined the space successfully you can click on the Vmaker chrome extension icon or launch the mac app and click on start recording to begin recording your twitter spaces with audio.
Vmaker allows you to record both system audio and mic which means that you'll be able to capture your audio and also the speaker's audio.
In case you want to record only the speaker's audio you can do so aswell using Vmaker by recording only system audio(speaker's audio).
Step 3: Click on stop recording to finish the spaces recording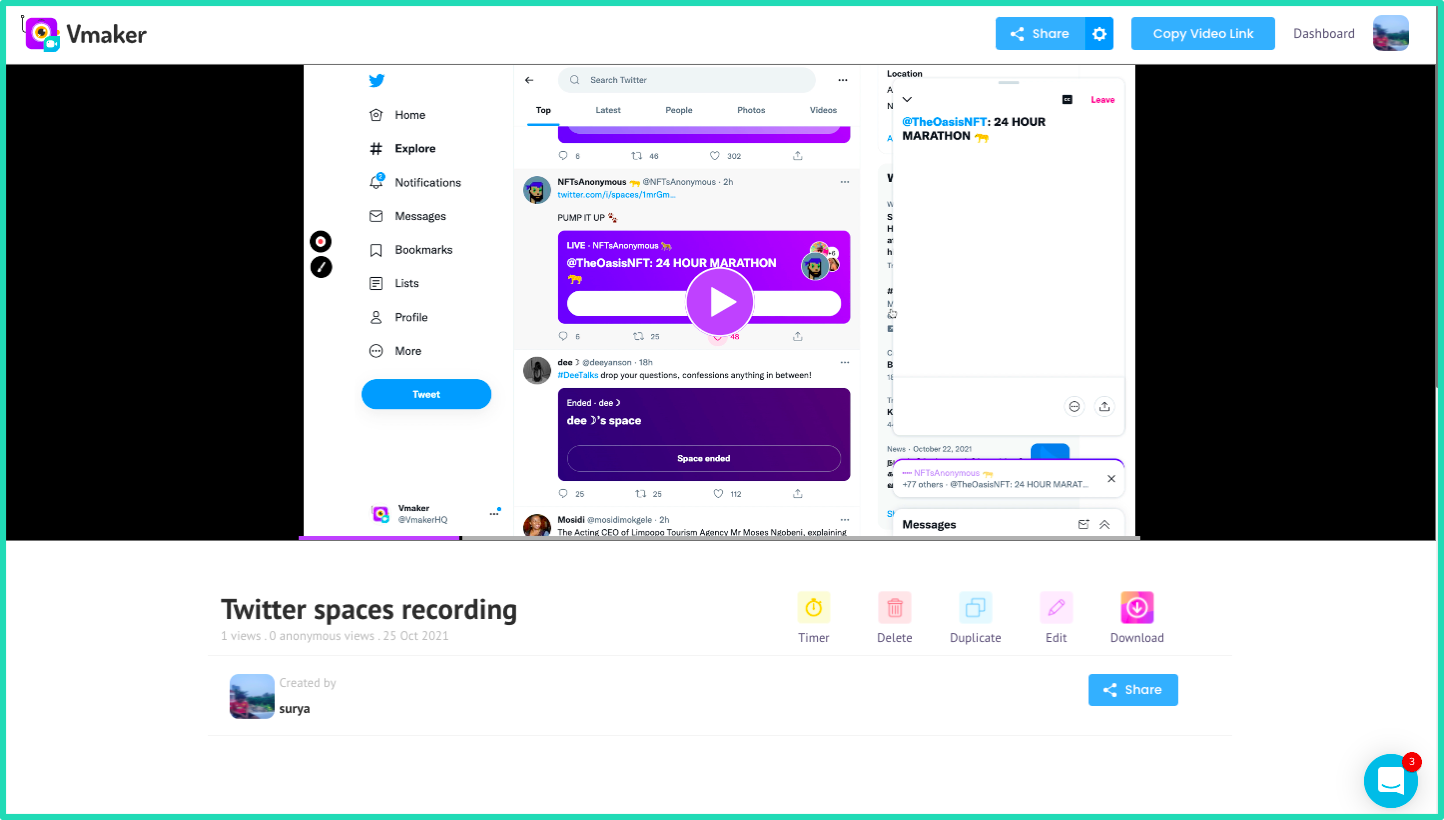 Once you have finished recording click on the red icon/Vmaker icon to stop recording. Once you click the stop recording button the recording gets processed and uploaded to the cloud immediately. The duration of the recording does not have any implications on the processing time. Irrespective of the recording duration the recordings are uploaded in a few seconds.
Here is a mock twitter spaces recording with audio done using Vmaker
From here you can download it in MP4 and extract audio alone. Share it on social media platforms, upload it directly to Twitter, embed it on websites, and more.

Twitter spaces frequently asked questions:
How to join twitter spaces?
You can join twitter spaces by clicking on the start listening button shared by the host of the twitter spaces chat either on the tweet they posted, DM that they sent, or the link that they shared with you. You can also find spaces to join in the top bar of Twitter where all the active spaces will be listed.
How to record twitter spaces if I'm not the host?
You can record Twitter spaces even if you're not the host by using an external recorder like Vmaker.
How long does it take for Twitter to share my spaces recording?
Twitter usually takes a couple of days to process your data request which includes your spaces recording. The more you use Twitter every day the more it will take to process your data. Also, you can only request for data from the last 30 days as Twitter won't hold data beyond the 30 day period.
Does Twitter share only your spaces recording?
As it stands you'll be able to get your spaces recording only along with all your other Twitter data and not independently. In order to just record spaces alone, you can use an external tool like Vmaker.
How to share a tweet to a Twitter spaces chat?
You can share a tweet to a spaces chat by clicking on share tweet and then selecting share to my space. This enables you to build the conversation around the tweet.
More Resources
10 Best Screen Recorder Chrome Extension
How To Record Internal Audio on Mac
How to record a Discord call with audio and video
10 Best Software to Create Video Tutorials