How to Record Facebook Live Stream Videos for Free
Facebook is one of the most used social media platforms over the last few years and the video consumption on Facebook is ever-increasing just like other social media platforms. Although Facebook launched live streaming only in 2016 it has already become one of the widely popular live video streaming platforms. The Facebook Live stream video view count climbed to 2 billion viewers last year which shows the widespread popularity of Facebook live streams.
In this blog, we'll guide you on how to record Facebook live videos for free. But before that let's see the different types of Facebook live stream videos.
10 different types of Facebook live stream videos: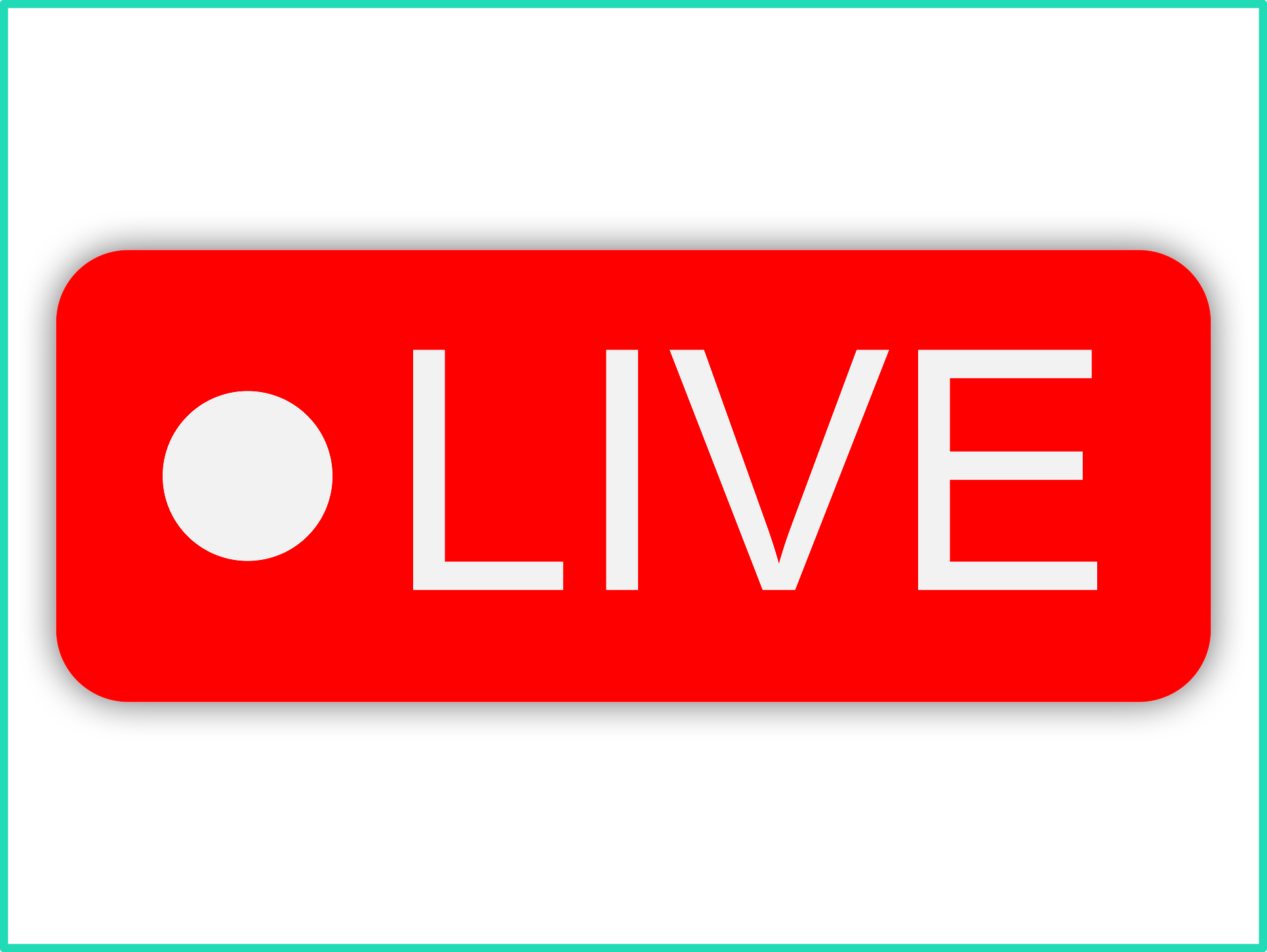 Live gameplay streams
Live event streams
Product launch live streams
Meet and greet live streams
Question and answer live streams
Tutorial videos live streams
How to videos live streams
Live news streams
Ask me anything live streams
Behind the scenes live streams
How to record Facebook live stream videos on your laptop/PC for free?
It's no secret that a screen recorder is a tool that you'll need to record Facebook live videos. But choosing the best screen recorder that's available on the internet to record Facebook live videos holds the key. Here are a few free screen recorders that enable recording Facebook live videos.
Vmaker
OBS
Techsmith
Screencastify
Screenrec
Cloudapp
Icecream apps
Screencastomatic
Acethinker
Easeus
Vmaker Facebook live stream video recorder features
We'll be looking at how to record Facebook live stream videos using Vmaker. The Vmaker live stream recorder allows you to record live streams either through the chrome extension or the native app for free. When we say free, it's actually free.
Vmaker allows you to record unlimited number of live streams at HD resolution. There isn't a watermark added either. Once you finish recording a Facebook live stream, the video is made available immediately irrespective of the duration. The video can be either shared with anyone through one click or can be downloaded to your PC as you wish.
All these features and the ease of usage make Vmaker the best Facebook live stream screen recorder.
Five-step guide on how to record Facebook live videos for free using Vmaker
Step one: Signup for Vmaker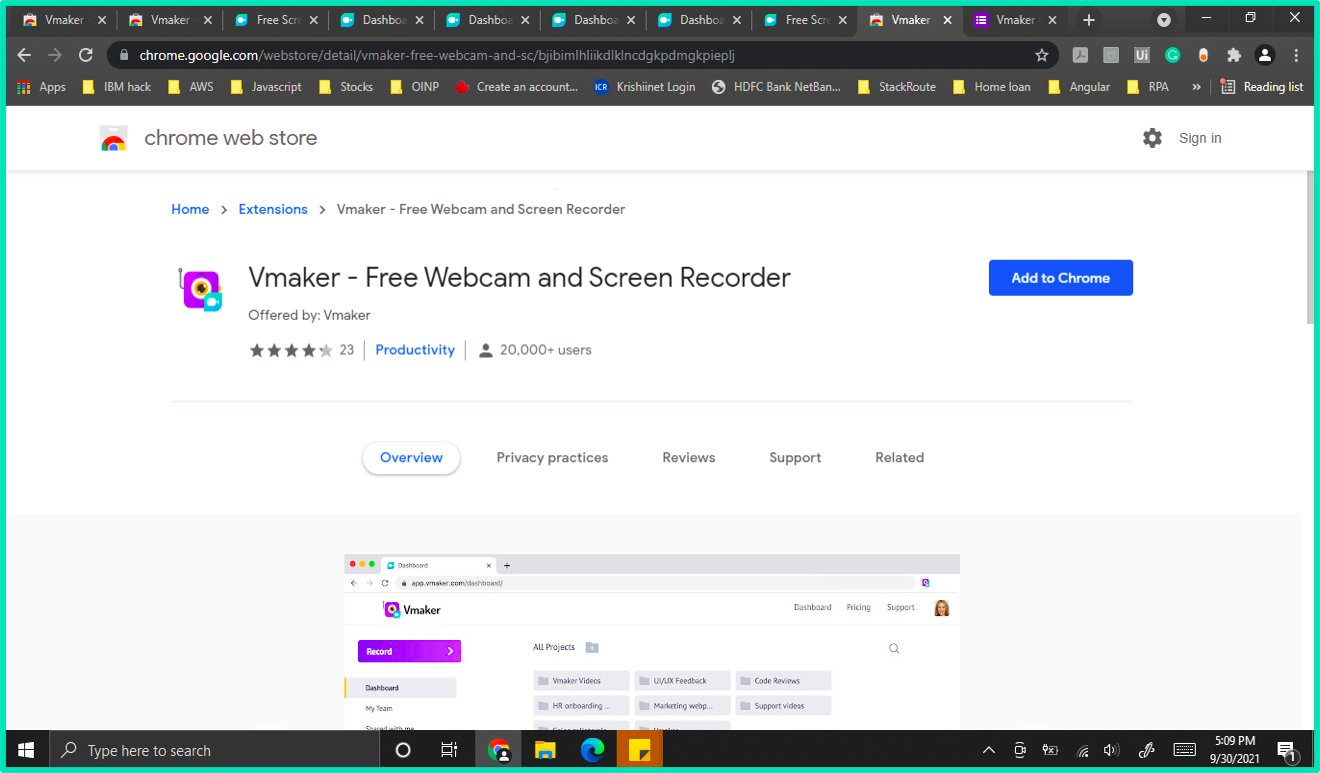 The first step towards recording Facebook live stream videos is to signup for Vmaker and download the Vmaker screen recorder app or add the chrome plugin to your chrome browser. The sign-up is quite simple and straightforward and wouldn't take you more than 30 seconds.
Once done you can choose between the app and plugin versions of Vmaker. If you choose the plugin version you'll be redirected to the chrome web store from there you can add Vmaker to chrome. If you download the app, the app will be downloaded on your mac device.
Pro tip: Pin the Vmaker chrome extension for quick access.
Step two: Set up the app/extension and choose your preferences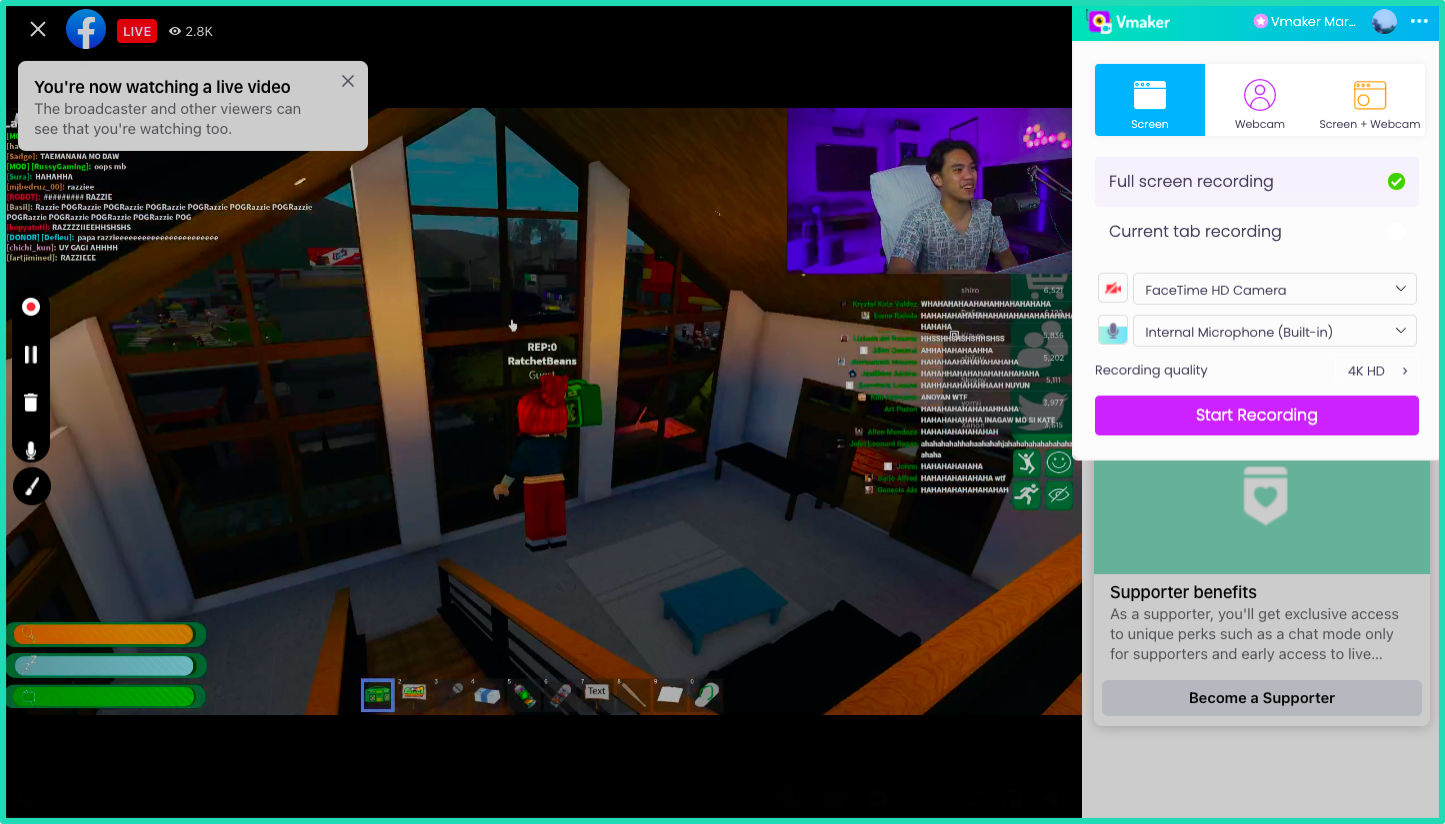 The Vmaker Facebook live stream recorder comes with a lot of customizable features that you can make use of to the fullest.
You can choose to record at different qualities up to 720p, enable noise control, choose between multiple recording modes, add frames and filters to webcam overlay, choose to show the control menu or not, highlight mouse clicks, flip camera on the free plan.
By upgrading, you can record at a quality of 4K HD, annotate on the screen, set auto expiry for your videos, schedule your Facebook live stream recording prior (only on the app), and much more.
Step three: Go to the Facebook live video and hit on start recording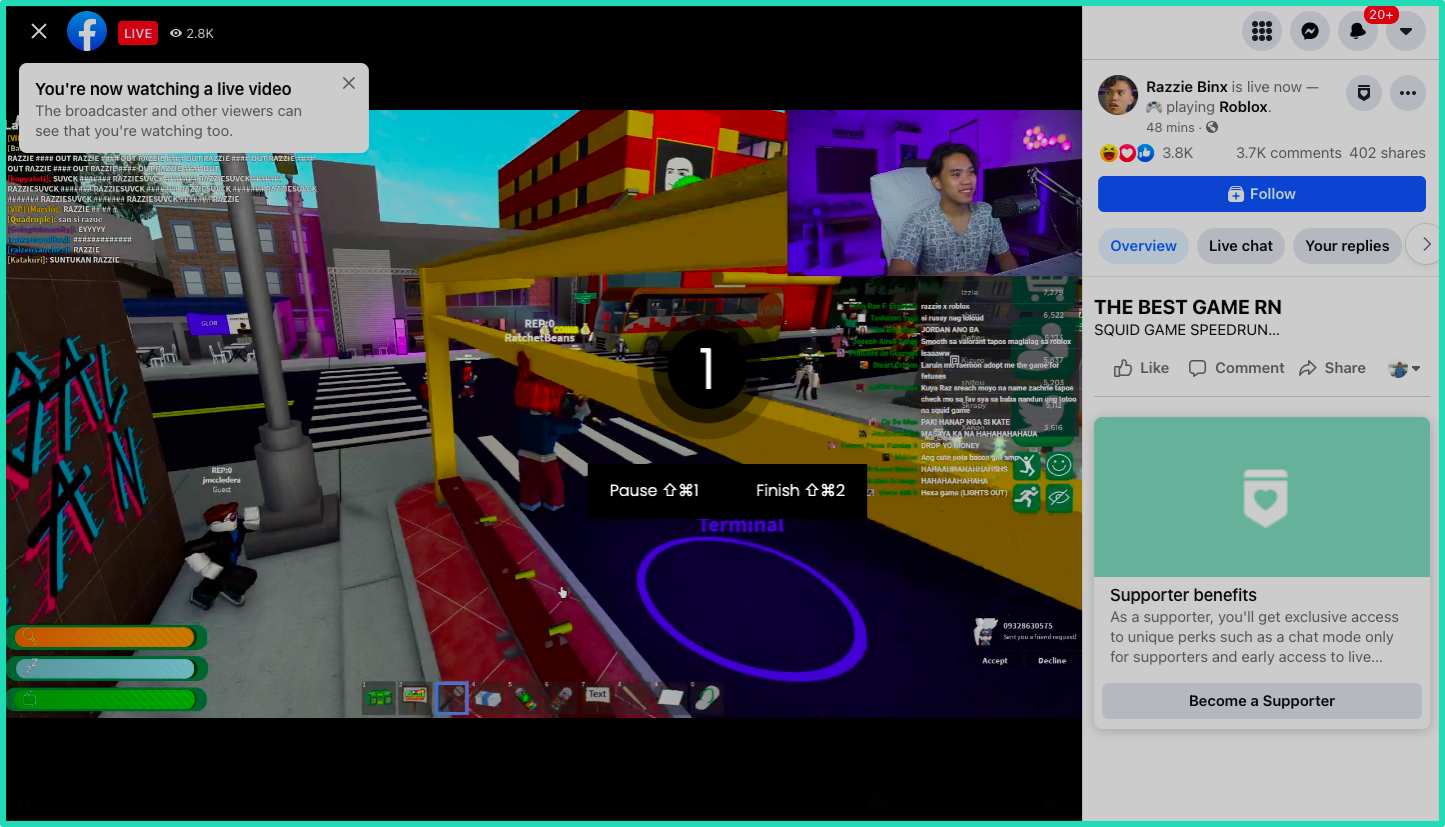 Once you finish setting up Vmaker based on your preferences and the Facebook live has started you can hit on the start recording button. The countdown timer will run and the recording will start. You can annotate, pause the stream recording and resume through the control menu. If you wish to hide the control menu you can do so and use the hotkeys option for a clean recording.
Step four: Click finish recording once you're done recording the Facebook live stream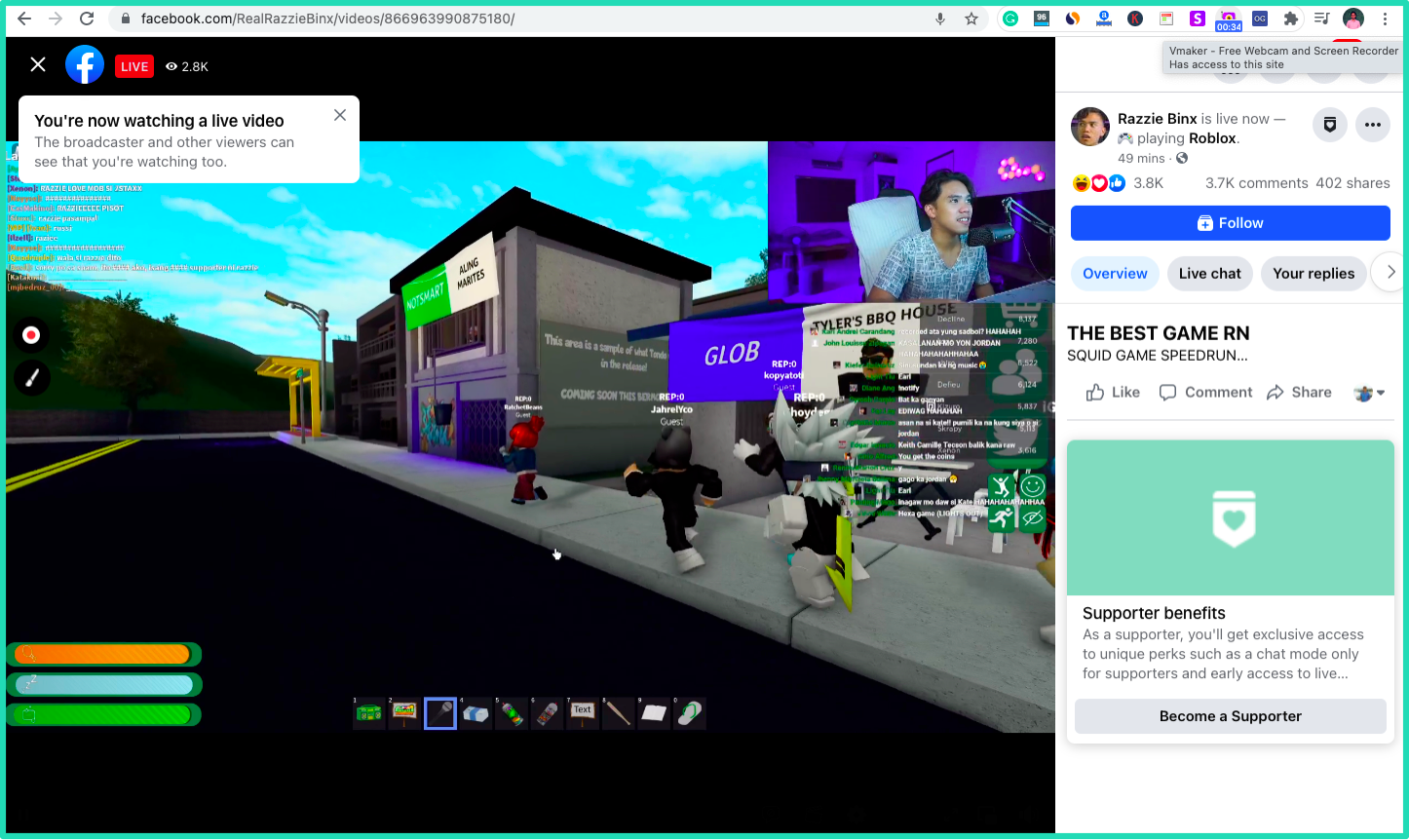 Once you have finished recording click on the red button or the Vmaker icon to stop the Facebook live video recording. The video will be uploaded instantly irrespective of the live stream recording duration.
Step five: Edit, Download, and Share your live stream recording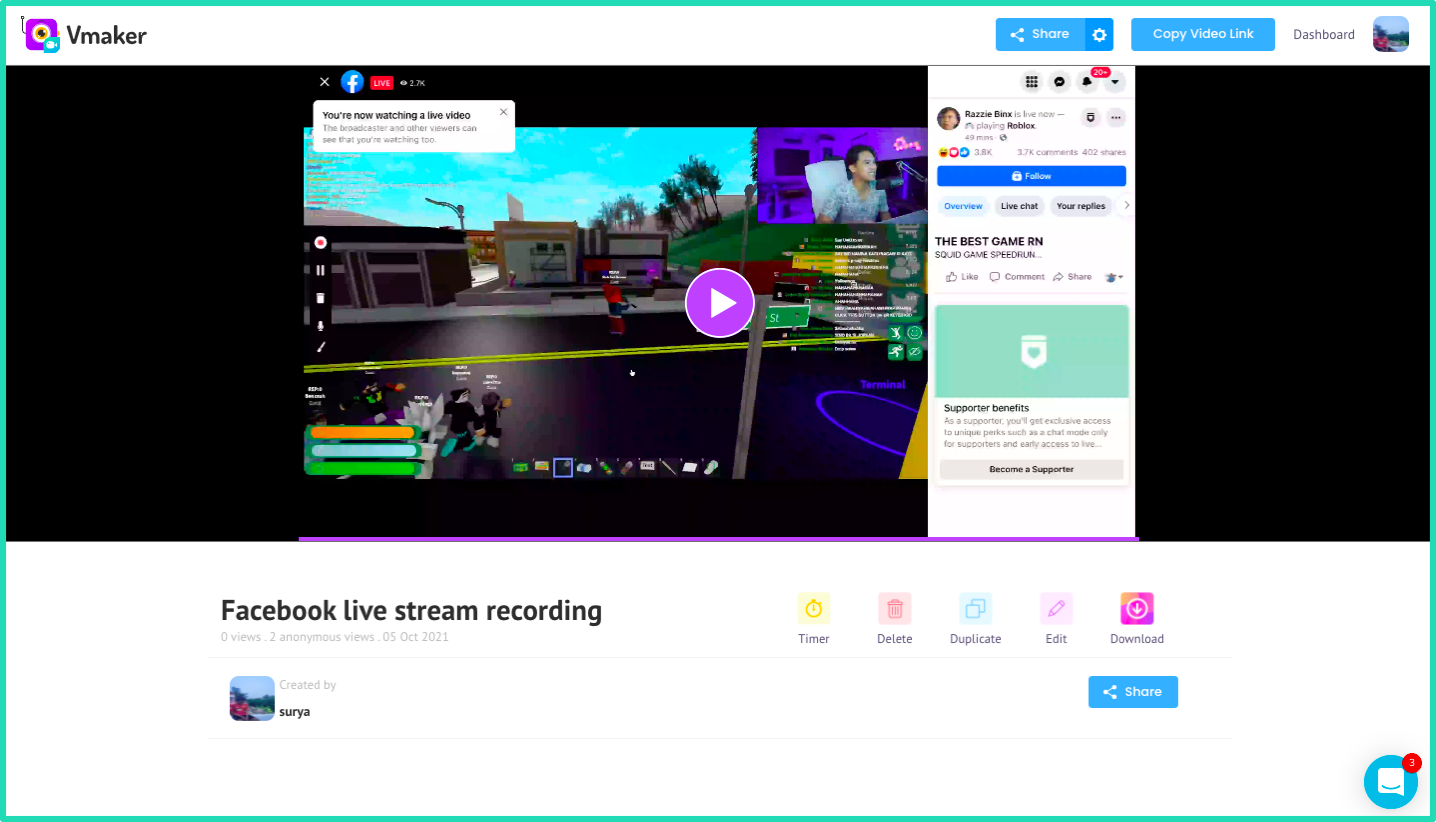 Once the recording is uploaded you can watch it, edit the recording if you wish to fine-tune it, or download the same. You can also share the recording on your favourite social media platform with just one click. Additionally, the live stream videos can be embedded on websites as well.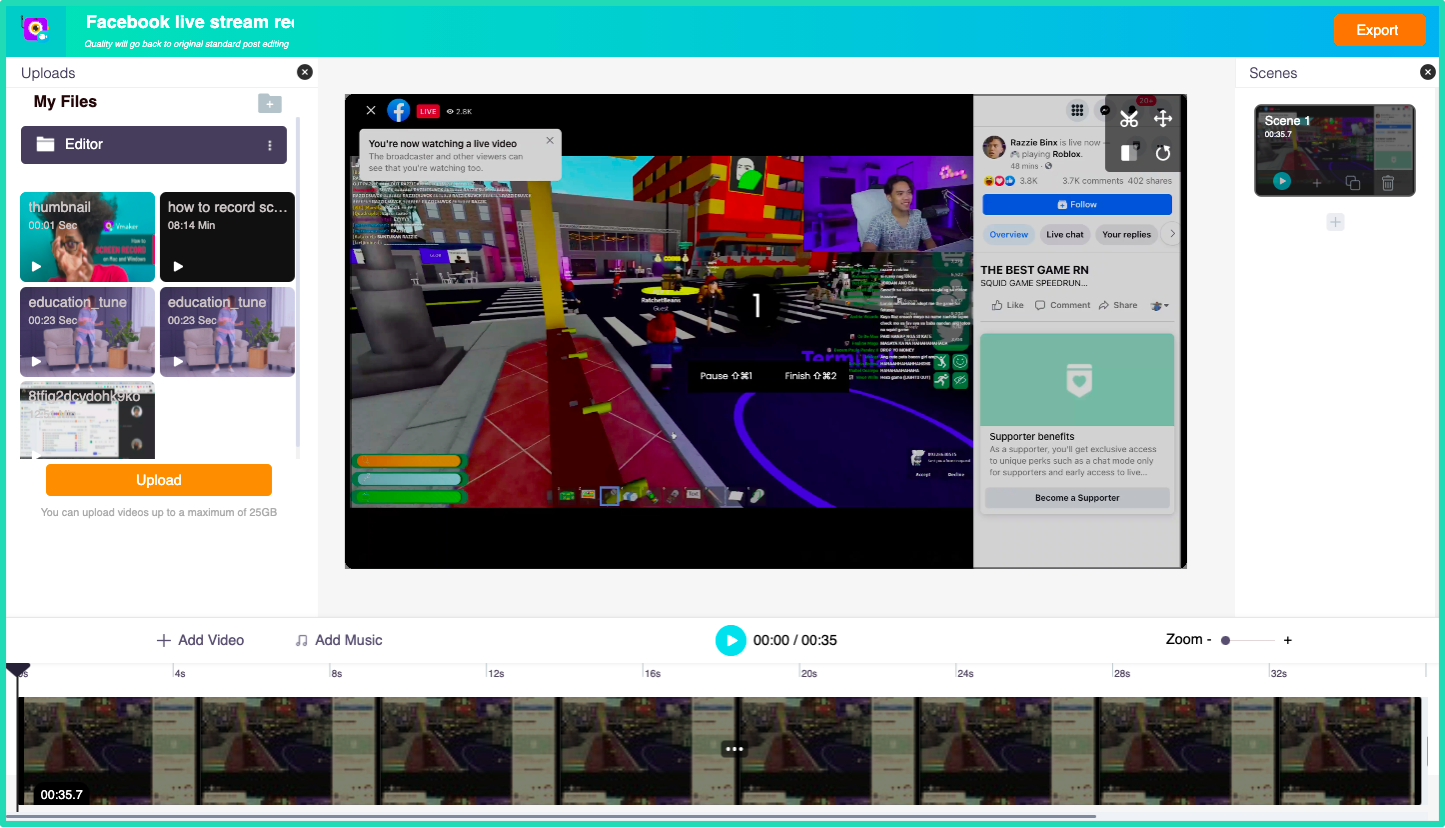 The advanced Vmaker online video editor allows you to upload external videos, trim, crop, flip, merge and a lot more. The paid plan also allows you to add a timer to your live stream video recording which allows you to disable access to the video for everyone else apart from you.
Here is the actual recording of the Facebook live done using Vmaker which is referred to in the above screenshots.
Frequently asked questions about Facebook live videos recording
1. How to download a Facebook live video
Facebook allows access for downloading live videos only to the account that went live. So if you're looking to download someone else's live video then you can record the live video using Vmaker and then download them easily once you finish recording. Please note that this method is intended for personal use only. We do not encourage or support recording copyrighted videos.
2. How to save a Facebook live video
If you're looking to save a Facebook live done by someone else then you cannot do it directly. But you can use Vmaker Facebook live recorder to record the live video and save it on the Vmaker cloud dashboard once the live video ends.
3. Can you save Facebook live videos
You can directly save your live videos once the stream ends and access old live videos through your profile. But for those wondering how to save someone else's live video, you can do so by using an external screen recording tool like Vmaker.
5. How to download someone else's Facebook live video
You can download someone else's Facebook video by using an external tool like Vmaker to screen record the live stream while it is happening and then save it on your device once the live video stream is over.
6. How to save a Facebook live video to a computer
If you're using a computer and looking to save a Facebook video that you created, you can go to your profile, access videos, and find the Facebook live which you can then download and save to your device.
If you're looking to save someone else's Facebook live video to your computer then you can use a screen recorder like Vmaker on your computer to record and save it for personal use.
7. How to save a Facebook live video to youtube
Facebook does not allow directly saving a Facebook live to Youtube but by recording your live stream using Vmaker you can directly upload your Facebook live to YouTube as Vmaker is integrated with YouTube.
What more are you waiting for?
Now that you have learned how to record Facebook live stream videos go ahead and start recording them using Vmaker for free.

If you enjoyed the above article, then here are a few more cherry-picked ones for you to read further!
Ultimate Tutorial videos Guide with Tips and Free Template
Ultimate How-to Video Guide with Examples, Tips, and Ideas
Training Video: Definition, Forms, Tips & Free Tool