3 Tips to Record High Quality Product Demo Videos for YouTube
Online buyers are very conscious about what and how they buy online.
The process is complicated, as customers go to a wide and deep extent to know everything about the product they're interested in. But, it's not just about the price and product quality anymore.
It's also about how much effort the company has put to make it easy for the customers to decide. 7 out of 10 consumers[1] agreed that watching a product demo video left them with a positive impression of the brand.
In another survey[2], an equal number of customers agreed that they're more likely to buy a product after watching the product demo video. It is therefore a lucrative opportunity albeit a challenging one for companies to pay attention to product demo videos.
Where does YouTube come into the picture?
YouTube is an excellent platform that organizations can use for expanding the reach of their product demo videos. By using YouTube, companies don't have to wait for customers to watch product videos only when they visit the website.
When the product demo video is on YouTube, interested customers can watch the video there. And, they can make decisions quickly. This means it's not just about the visibility of the product, but also about conversions.
Speaking purely in terms of numbers, YouTube is a popular destination for buyers as 90% of them discover new products and brands on YouTube.
Bonus guide: A Complete Guide On Product Videos ~ Definition, Types and Tips
Best practices to make product demo videos on YouTube
As YouTube is a competitive place, the product demo videos will perform well when they're of high quality. Follow the steps to below to know how it can be done -
i) Write a compelling script
Working on a tight YouTube script is the most important step to keep your audience glued till the end of the video. There are three smart tricks which you can use to improve the engagement instantly -
Trick 1
Product demo videos sometimes get a bit technical for the audience. They're not always familiar with product terminologies. The best idea here is to use the terms moderately. Even better if you can drop analogies, examples, or simple scenarios that a 10-year-old can relate to. This will help your audience to connect with your story, and not feel left out.
Trick 2
Tell your audience what they should expect in the first 30 seconds of the video. Splendid, if you can do it within 15 seconds. The attention span of the online viewers is very low. The sooner you make it clear how this product demo is going to help them, the better.
In the above video, the viewer knows exactly what the video will be about in the first 30 seconds. With the overall length of the video just under 4 minutes, the viewer would not mind sticking till the end.
Trick 3
Use the words that will trigger the audience to take action. Words tend to attract people on YouTube like iron filings attract magnet. The trick here is to use the words that sound more exciting, friendly and relevant.
And, the best way to start is with the title of your video. The title is like the first point of contact for the audience. If the title sounds convincing to them, they will click on the video link.
For example, the word "demo" might sound boring to some people. "How to" can be a great alternative for that. This simple change with a new sentence structure focusing on the benefit of the video will give you wild results.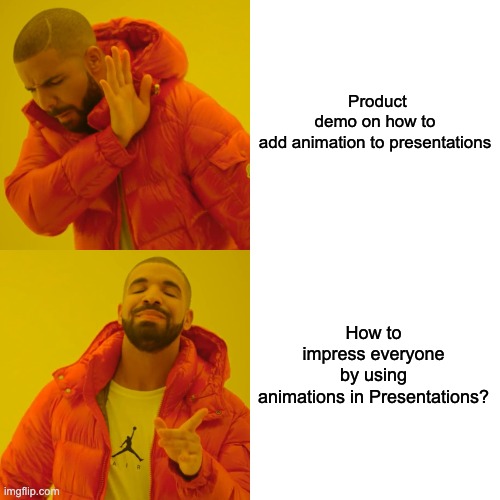 How to write YouTube titles - An example
Tip💡
If you need more points on how you can ace a YouTube video script, then you should read our simple guide on How to write a YouTube script. Trust me, it's very helpful.
ii) Decide the mode of recording
Product demo videos can be done in different ways.
You can use animations, or it can be an instructor-led video. There is no right or wrong choice here. What works for you, and your audience are the most important factors here.

To know which kind of video recording is the right one for you, here are a few pointers that can help -
→ Budget: A cinematic video recording is great, but it also costs a lot of money. Keeping a tab on the amount of money you can spend on a video is the most important element to decide the recording mode
→ Resources: Do you have a team of people to work on videos? Or is it a one-man-show? The fewer the number of people you have, the simpler your recording mode should be. Like a screen recorder. This will help you produce videos faster without compromising on the quality.
→ Experiment: You might not be able to figure out the right video type right at the beginning. Try different modes of recording for your product demo video. It's good to experiment with different modes, measure the response of the audience, and then settle on the right type.
Bonus guide: How to Record YouTube videos
iii) Choose powerful video editing software
Your videos will not look production-ready in one go. Don't take our word for it. Talk to experienced video makers, and they will tell you how every video has to go through tedious editing before it's ready to be put on YouTube.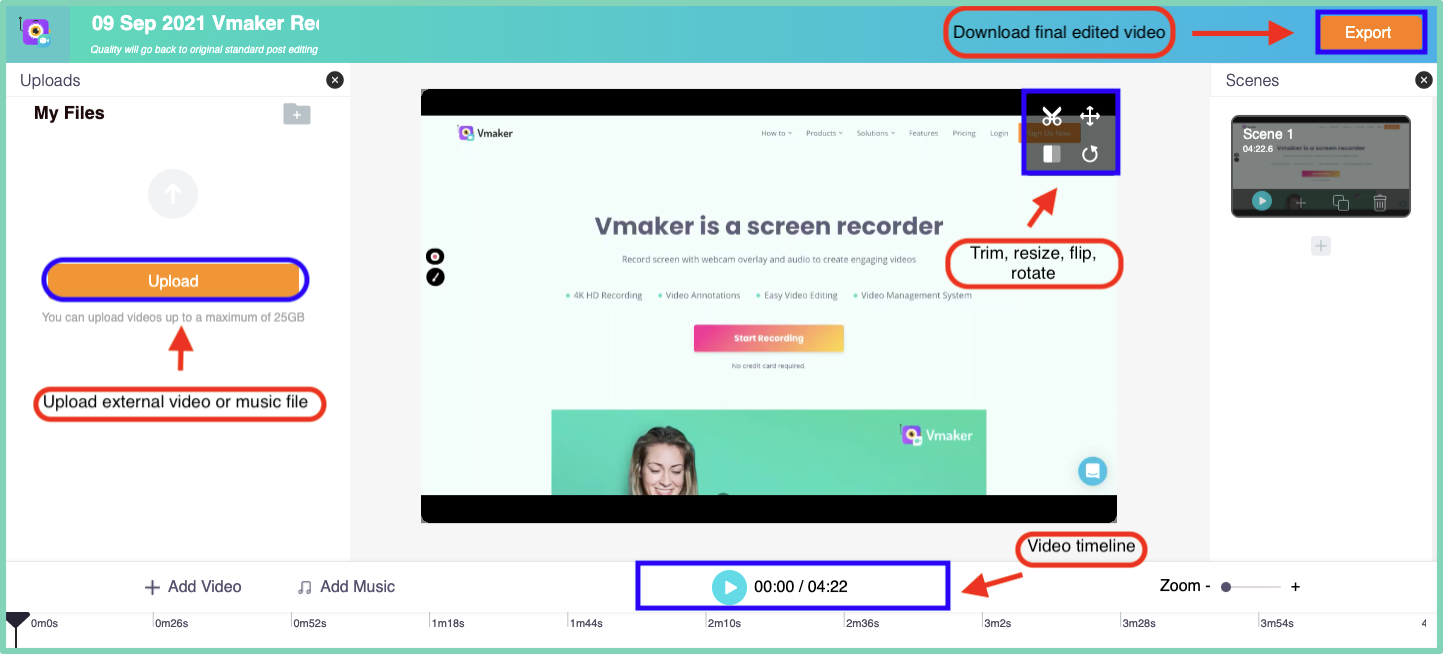 A screenshot of the Vmaker built-in video editor
A strong video editing tool ensures that your video quality is top-notch. It also gives you the resources to include or exclude elements, experiment with color, and characters, add audio, transitions and more. All of this makes your video exciting, and keeps your audience wanting for more.
There are video recording software like Vmaker which comes in with a built-in video editor. The advantage here is that you don't have to worry about exporting the video, and then uploading it on another software.
While this is an advantage, don't finalize your decision just based on this criterion. Do a complete analysis to ensure that the editor has all the features you need to make impeccable product demo videos
Get Started
That was all about the three most important tips that you should follow to make product demo videos for YouTube.
You have all the necessary ingredients to start working on the video. Don't worry, if things don't hit it off right away. YouTube is a very competitive place. Keep experimenting with new ideas, and keep improving your skills.
Onwards and upwards!
Read more:
Heat up your cold sales emails with personalised videos
How to Make a Great Product Demo Video?
How to do product review videos on YouTube?