5 Best PowerPoint Recorder to Record Presentations With Audio
One doesn't need to introduce PowerPoint presentations. Such has been the impact of PowerPoint presentations in today's internet era. Powerpoint revolutionized how presentations were made right from a classroom lecture to a board-level meeting. Approximately 35 million PowerPoint presentations are made every day across the globe by over 500 million users. Such is the magnitude of Powerpoint presentations usage every day.
But as we become more and more technologically advanced and time-sensitive, the time spent in presentations has been put under the microscope. This has led to a new way of presentations to be created popularly known as "video presentations". In this blog, we'll look at the best PowerPoint recorder to record video presentations with audio and video. But just before that, let's also further understand what video presentation is, how it has become popular.
What is a PowerPoint video presentation?
A PowerPoint video presentation is nothing but a video version of the slides from a PowerPoint where the presenter narrates the presentation slide by slide by adding voice, video, or both.
Why has PowerPoint video presentations become very popular?
Spending a lot of time is quite not feasible and also it is incredibly hard to get all stakeholders for a meeting at the same time. Secondly, big presentations are tough to follow and even easier to lose track of the information shared by the presenter.
Video PowerPoint presentations on the other hand enable the presenter to clearly explain each slide effortlessly and share it with everyone.For those looking to elevate the quality of their slides, consider using PowerPoint slide templates. Video presentations also allow the attendees to look back at the video PowerPoint presentation and recollect the data, discussion precisely.
What are the ideal features that a PowerPoint recorder must have to create PowerPoint presentation videos?
Ability to record microphone, system audio, and the presentation.
4K HD recording for higher clarity
Cloud uploading of the video presentation for easy access
Customizable webcam overlay
Video collaboration
Social sharing
How have we classified the five best PowerPoint recorders for creating video presentations in 2023?
The below list of the five best PowerPoint recorders is based on the availability of features listed above, free plan availability, ease of usage, and few other factors.
Five best PowerPoint recorders for creating video presentations in 2023:
Vmaker
Panapto
Techsmith Camtasia
Ispring
Bandicam
1. Vmaker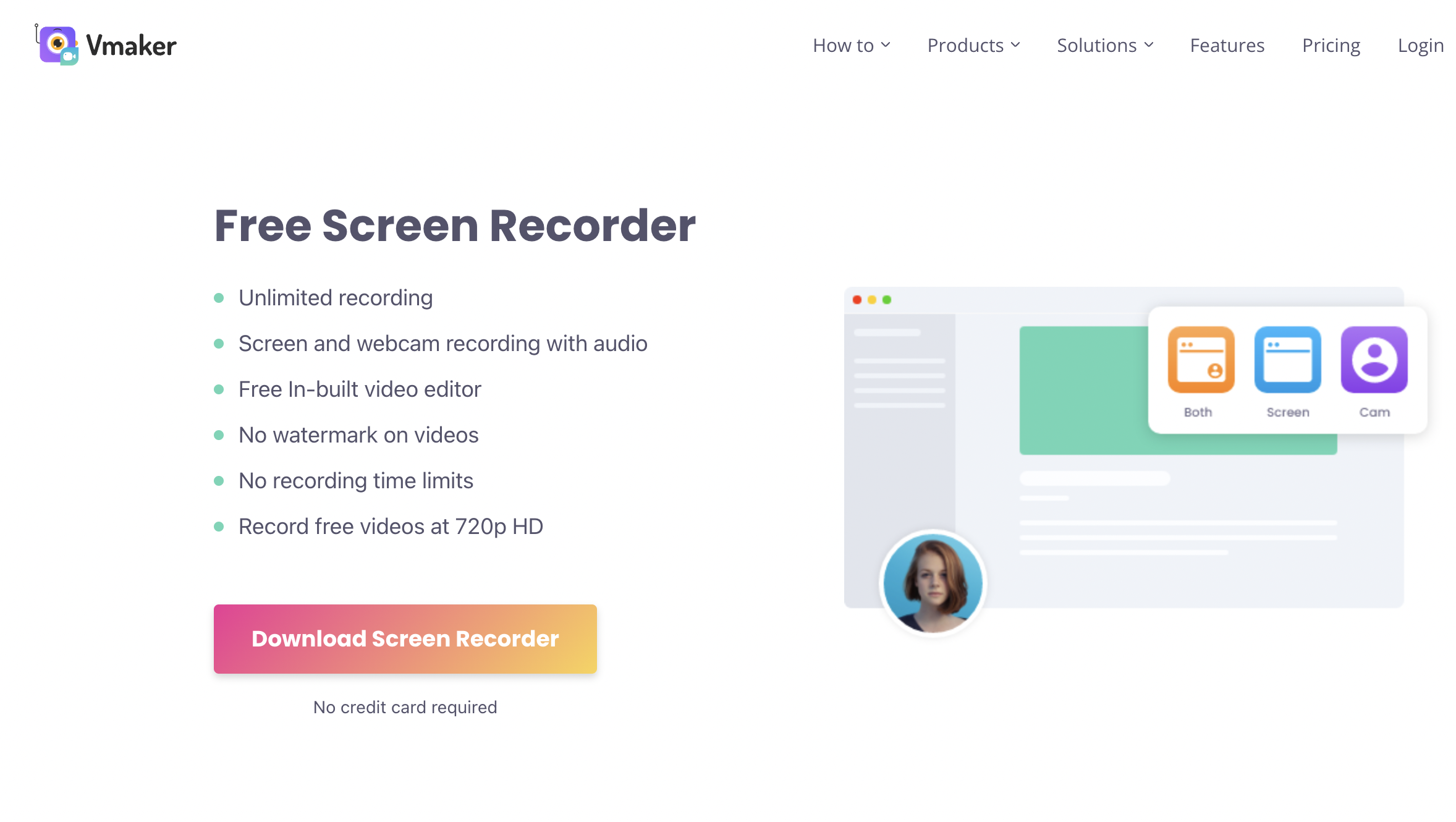 Vmaker is one of the best PowerPoint recorders currently available. The app is from the creators of Animaker. Vmaker has been carefully developed and created to enable users to create videos effortlessly. The app is easy to set up and use, users can get started to record PowerPoint presentationsfor free in just a few clicks.
Vmaker presentation lets you record both the system audio (Audio coming from the presentation through videos, audio clips, etc) and the Mic (Presenter's audio) along with a webcam overlay. If you're wondering how to record audio on PowerPoint then this is how you do it using Vmaker.
The best thing about Vmaker is the balance between ease of recording and features that enhance the quality of the recording.
Vmaker has a webcam overlay that is effectively floating, you can move around the bubble freely, change the frame and filter of it, add custom background to make your video part of the PowerPoint video presentation engaging. The screen annotation feature enables you to add notes to particular slides which get erased automatically as you move on to the next one.
Once you're done recording the full presentation the PowerPoint video presentation will be automatically uploaded to the Vmaker cloud dashboard instantly irrespective of the size of the recording. Users can download the recording, share it with teammates through Vmaker shared workspace, or even better embed the video via email and share it with the concerned people.
TL;DR Vmaker PowerPoint video recorder features:
4K HD presentation video recording
Presentation recording with both system and microphone audio
Video and voice recording
Unlimited cloud storage for saving PowerPoint recording
Screen annotation, frames, and filters to make recording engaging
Shared workspace for team collaboration
Direct Gmail video embed via email

How to record a PowerPoint presentation with audio
The below video perfectly explains how you can record a PowerPoint presentation with audio.
Summary on Vmaker PowerPoint video recorder:
The easy to setup nature and the ability to record PowerPoint videos for free without having to worry about the file size puts Vmaker PowerPoint recorder one of the top solutions to record powerpoint videos.
2. Panapto
Panapto is another screen recording tool that also functions well as a PowerPoint video recorder. Panapto is a more advanced screen recording solution that is used in businesses, schools, and universities thanks to its advanced features including a unified library, powerful search engine. Panapto also has 4K HD recording, the ability to add multiple video streaming options along with the PowerPoint presentation, custom backgrounds to record a highly clean and intuitive PowerPoint video recording.
TL;DR Panapto PowerPoint video recorder features:
Ultra 4K HD recording
Active smart camera
System and microphone recording
Multiple video modes to supplement the video presentation recording including streams
Panapto PowerPoint video recorder summary:
Although Panopto comes with some of the best industry features that enable you to record, collate and store PowerPoint videos. The app is more suited for sophisticated usage in big business and educational organizations. It's not a handy solution especially if you're looking for a tool to easily record your PowerPoint video presentations.
3. Bandicam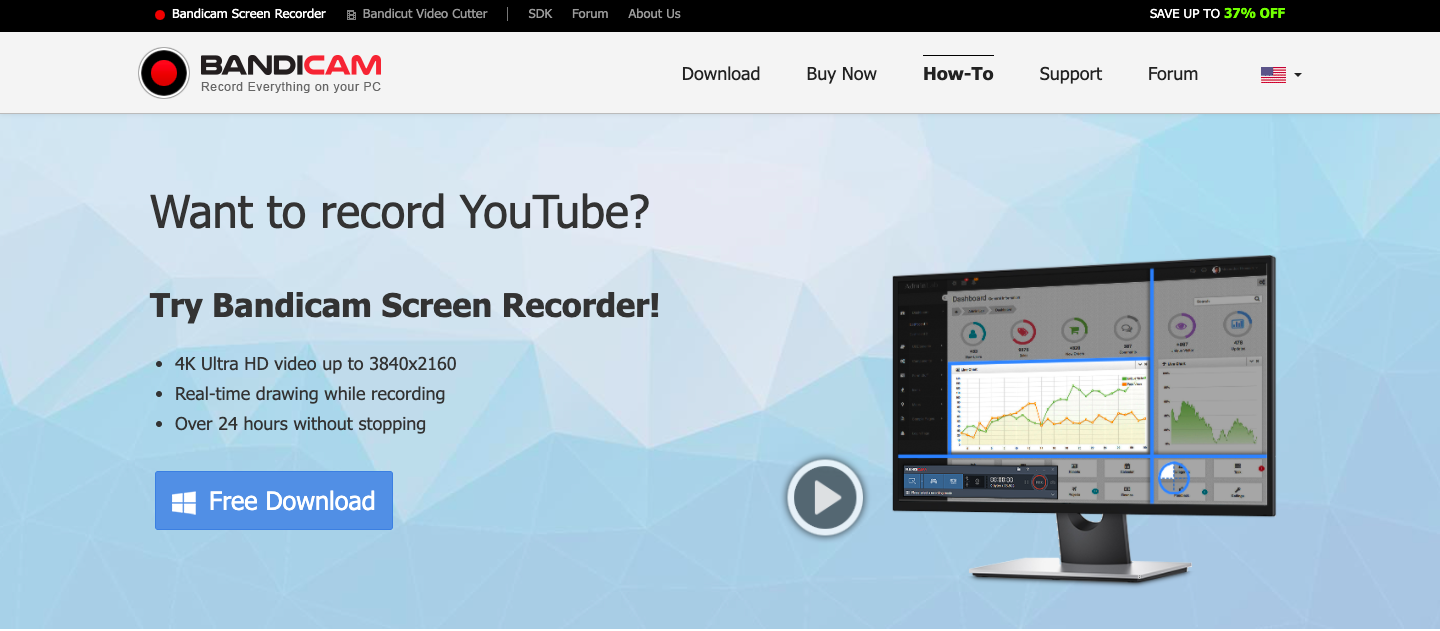 Bandicam is another screen recording tool that enables users to record and create PowerPoint video presentations through screen recording. The application is very popular and has been in the market for a very long time. Users can record PowerPoint videos for a long time without any issues as Bandicam assures even over 24 hours of continuous recording. Bandicam too offers all of the essential features required for recording a PowerPoint presentation including 4K ultra HD recording, system, and microphone audio capture, screen annotations. Here's a lit of key features offered by the Bandicam PowerPoint recorder.
TL;DR Bandicam PowerPoint video recorder features:
4H HD recording upto 3840*2160
Screen plus webcam recording mode
System and microphone audio recording
Direct YouTube uploading
Zoom in and out option
Bandicam PowerPoint video recorder summary:
Although Bandicam is a great screen recording tool that has almost all the essential features for recording PowerPoint videos there are few drawbacks. The app doesn't have all watermark-free recording and it restricts free users to record not more than 10 minutes in a free plan. This is a major drawback as most of the PowerPoint presentation videos go beyond the 10-minute mark. Also, the application can be purchased on a lifetime license and not a monthly/yearly basis.
4. ispring suite
Ispring suite, unlike the three other options listed above, isn't a screen recorder but a courseware creator based on PowerPoint that offers screen recording functionality as well. This naturally means the PowerPoint recorder has some advanced features including adding external videos, adding narration to the PowerPoint presentation, and syncing it with the slides, multiple layouts, to organize videos, presentation separately. Enabling users to create high-quality PowerPoint presentation videos.
TL;DR ispring PowerPoint video recorder features:
Record audio and video separately
Add voice narrations and sync with the video presentation
Multiple layouts to showcase the video and presentation
Customizable presentations to suit your needs
Quizzes in between the presentation recording
ispring PowerPoint video recorder summary:
ispring suite is a great PowerPoint video lecture creation tool that allows you to create high-quality presentation videos. The features allow you to not just record PowerPoint videos but also to enhance them to a level wherein the videos can be used for elearning, training, and development. The application costs a huge sum of 970$ per user for a year. If your plan is to just quickly record presentation videos then ispring might not be the solution as it's expensive and requires some amount of training to get started.
5. Camtasia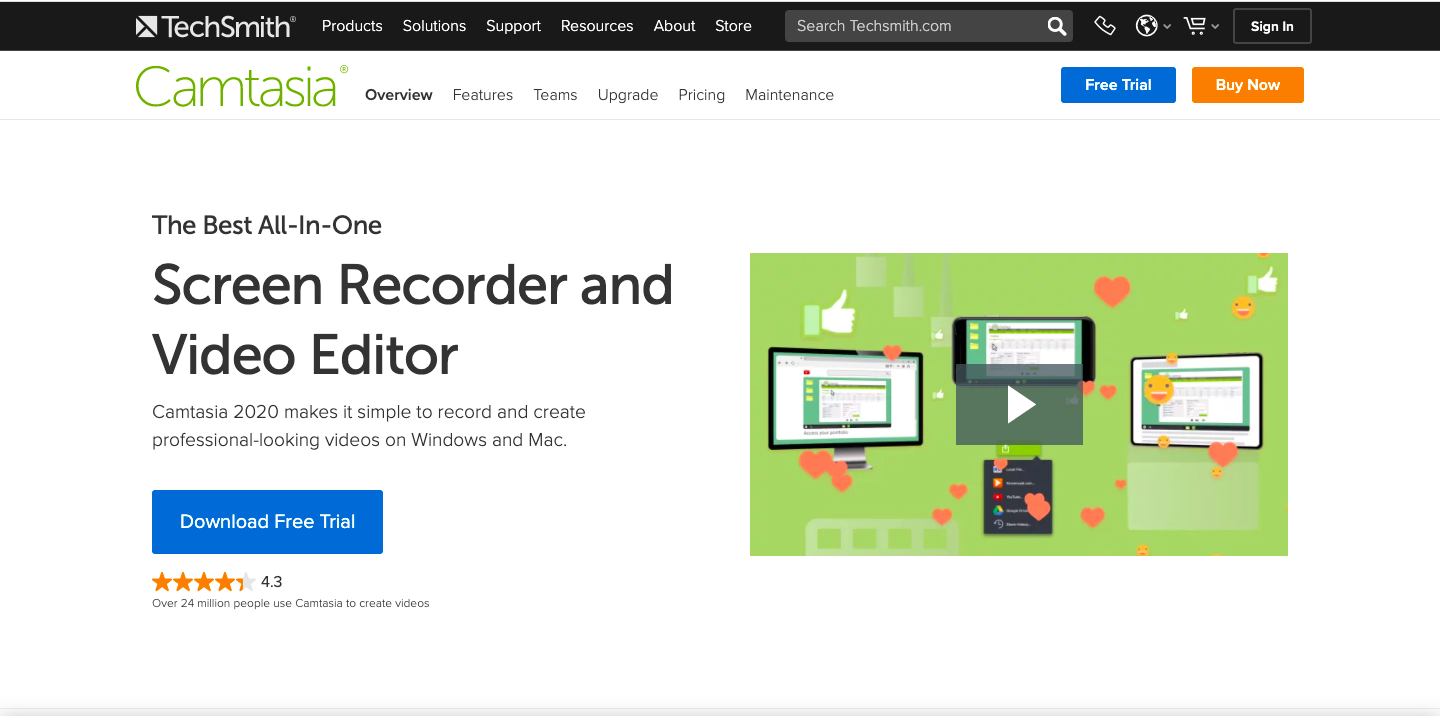 Camtasia is a powerful screen recorder and video recorder with added features to support PowerPoint recording. Camtasia lets you record PowerPoint videos in three different ways. Users can record their PowerPoint presentations by using the Camtasia Add-in which will by default appear if you have Camtasia installed on your computer. The other two ways include directly importing the presentation into Camtasia which copies only the slides and not PowerPoint's UI, the last mode to record PowerPoint presentations using Camtasia is by recording screen traditionally with webcam overlay.
TL;DR Camtasia PowerPoint video recorder features:
Multiple recording options
Video editor to enhance PowerPoint recording post-recording
Screen annotations and enhancements while recording
Built-in add-in on PowerPoint for easy recording
Camtasia PowerPoint recorder summary:
Camtasia offers a diverse range of creating PowerPoint videos. Users can decide to record videos based on their requirements. However once again the main problem here is that Camtasia doesn't come with a free version and offers only a free trial which has time limits and watermark restrictions. The paid plan is offered on a lifetime basis and is quite expensive to take the plunge right away.
All of the above PowerPoint video recorder applications are quite versatile and offer their own set of features and benefits. Selecting one of them as the best will not be the best solution. Feel free to choose the best based on your recruitment. Do let us know in the comments section if you have come across any other PowerPoint recorders. We'll review them and add them to the list if the app warrants the same.

If you enjoyed reading the above article, then here are a few cherry-picked ones you might be interested in reading further!
How to record PowerPoint presentations?
How to record Google slides presentation?
How to Record Online Video Lectures for Free | Lecture Recorder