How to Record Online Video Lectures for Free | Lecture Recorder
Learning has drastically changed over the last year ever since a global pandemic forced most of the world indoors. Teachers and students had to quickly adapt to online learning through video conferencing platforms like Zoom, Webex, Google meet, Microsoft teams to name a few. The numbers prove the same as well with 1.2 billion students forced to switch to online lectures and learning.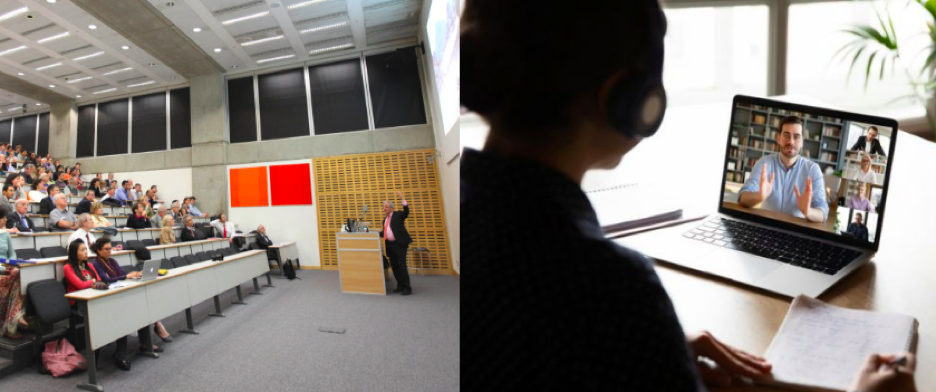 E-learning is also set to continue with widespread support from all stakeholders. 33% of post-secondary school administrators will continue to offer remote and online courses after their campuses have reopened completely.
Although online classes, lectures are of immense help there are also certain drawbacks which include the pace of the classes which in turn hinders the notes-taking ability of the students. This has led to a growing demand for lectures to be recorded and made available after the online lecture is over for students to refer to when they study later. In this blog, we take a look at how to record online video lectures for free using a lecture recorder.
How is recording online lectures and classes beneficial?
Students can access lectures anytime later for reference
Teachers can share the lectures with students who missed the lecture
Build a repository of course videos that can be linked to assignments and activities
Online lectures and classes can be recorded using a simple lecture recorder. Here are some of the best online lecture recording apps available.
Vmaker
Panapto
Bandicam
Easeus
Techsmith
In this guide, we'll be explaining how to record online video lectures using Vmaker. The features available in the free version of Vmaker make it stand out from the crowd. 
Vmaker free online lecture recording app features:
Unlimited watermark-free recording
Lifetime cloud storage
Frames and filters for webcam overlay
HD recording upto 720P in the free version
Social sharing of lectures in one click
The free plan has been created to allow students and educators to record lectures for free without any restrictions. Unlike other lecture recording apps, there isn't a cap on the number of videos and there isn't any watermark added to the videos.
Additionally, by upgrading to one of the paid plans you'll be able to unlock a lot of features that will enable you to get the best out of your lecture recordings.
Vmaker advanced features:
Screen annotation and mouse emphasis
Folders and file sharing
Lecture recording scheduler
4K HD recording
Direct YouTube uploading
Auto expiry of videos
Custom branding to host and share lectures
Five simple steps to record an online video lecture
Step one: Sign up for Vmaker lecture recorder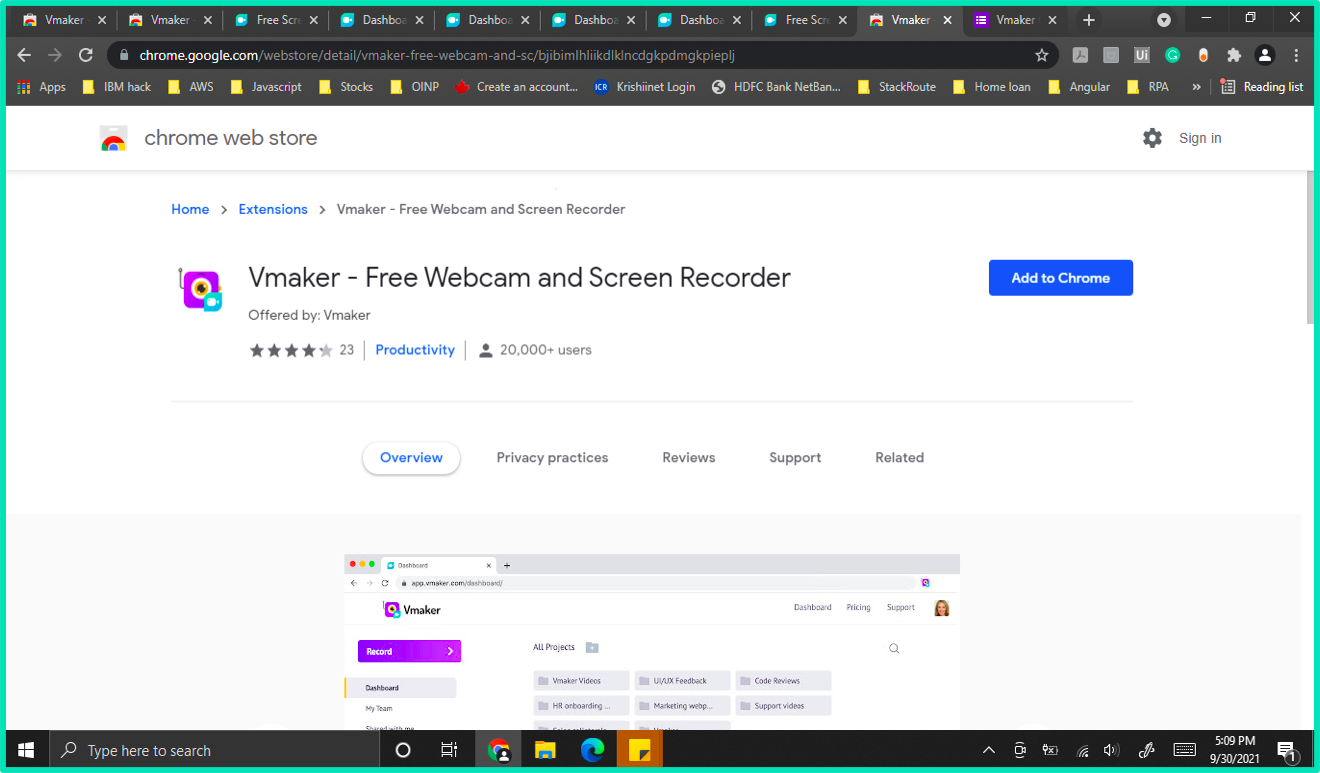 The first step to record online lectures and classes is by signing up for Vmaker and then downloading the app or adding the chrome extension to your chrome browser. Both the app and chrome extension offer the same functionality to record lectures and it's your convenience in choosing which suits you better.

Pro tip: Pin the chrome extension to your chrome browser for quick and easy access.
Customize recording settings and start recording

Open the Vmaker app and customize your recording preferences. You can choose between seven different languages, Vmaker is a multilingual screen recorder. Vmaker also allows you to do a host of other things including adding tab audio, highlighting mouse clicks, enabling noise control, flip the camera to get the best out of your recording.
Also, do keep in mind if you're recording the lecture through the chrome extension then use current tab recording to capture tab audio.

Once you're done customizing Vmaker to your preference you can click on start recording to start the lecture recording. While recording you can pause the recording in between when the lecture is paused as well which helps in a smooth lecture recording.

The paid plan of Vmaker also lets you highlight certain sections and take notes while the lecture is being recorded. This particularly comes in handy as you don't have to shuffle between apps to take notes.
Step three: Finish recording and edit the recorded lecture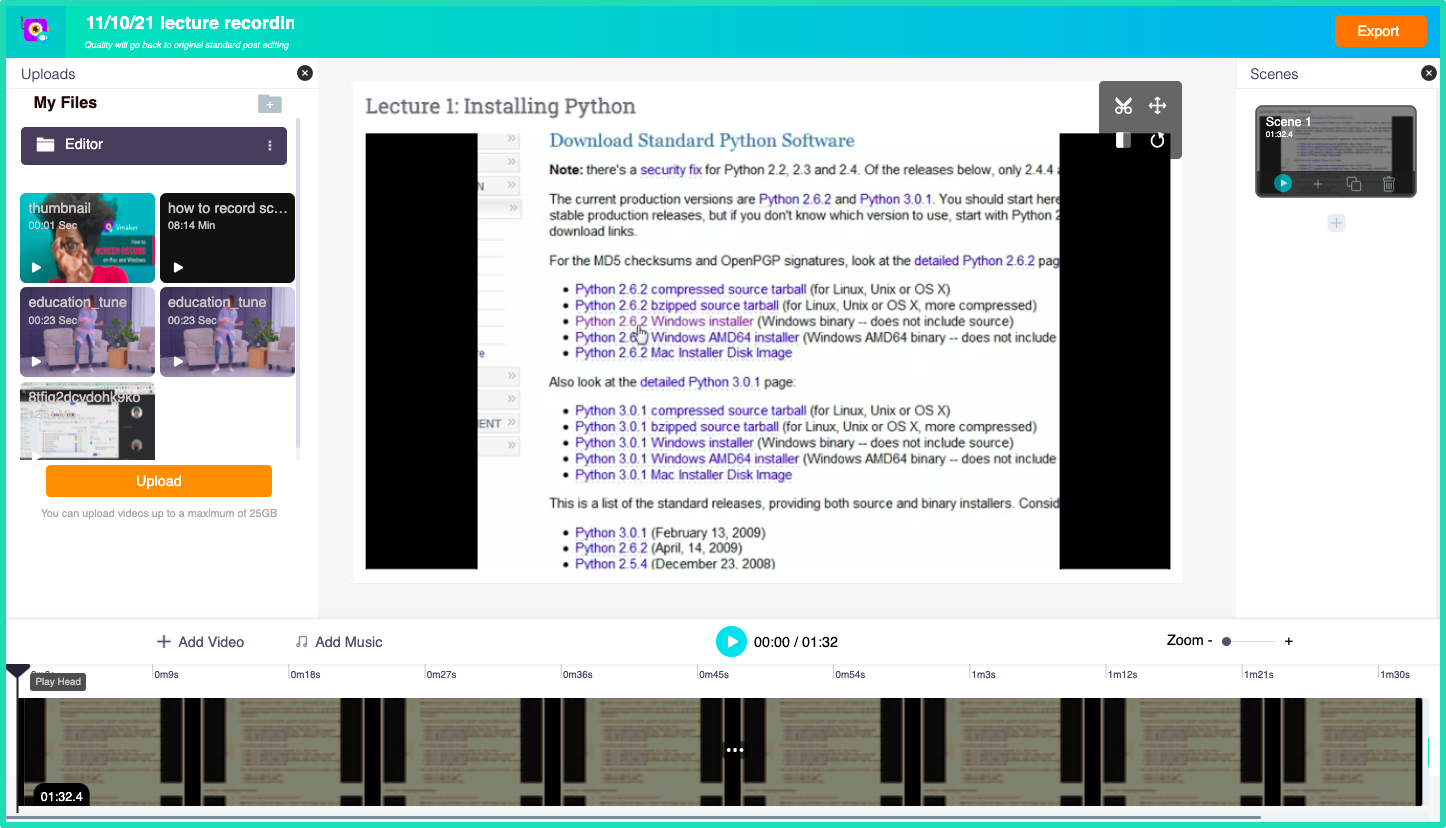 Once you're done recording the lecture click on the finish recording button to save the recording. The Vmaker lecture recorder also comes with a built-in online video editor that allows you to edit your recording and remove any unwanted sections which went away from the lecture.
Step four: Organize and collaborate using your lecture recordings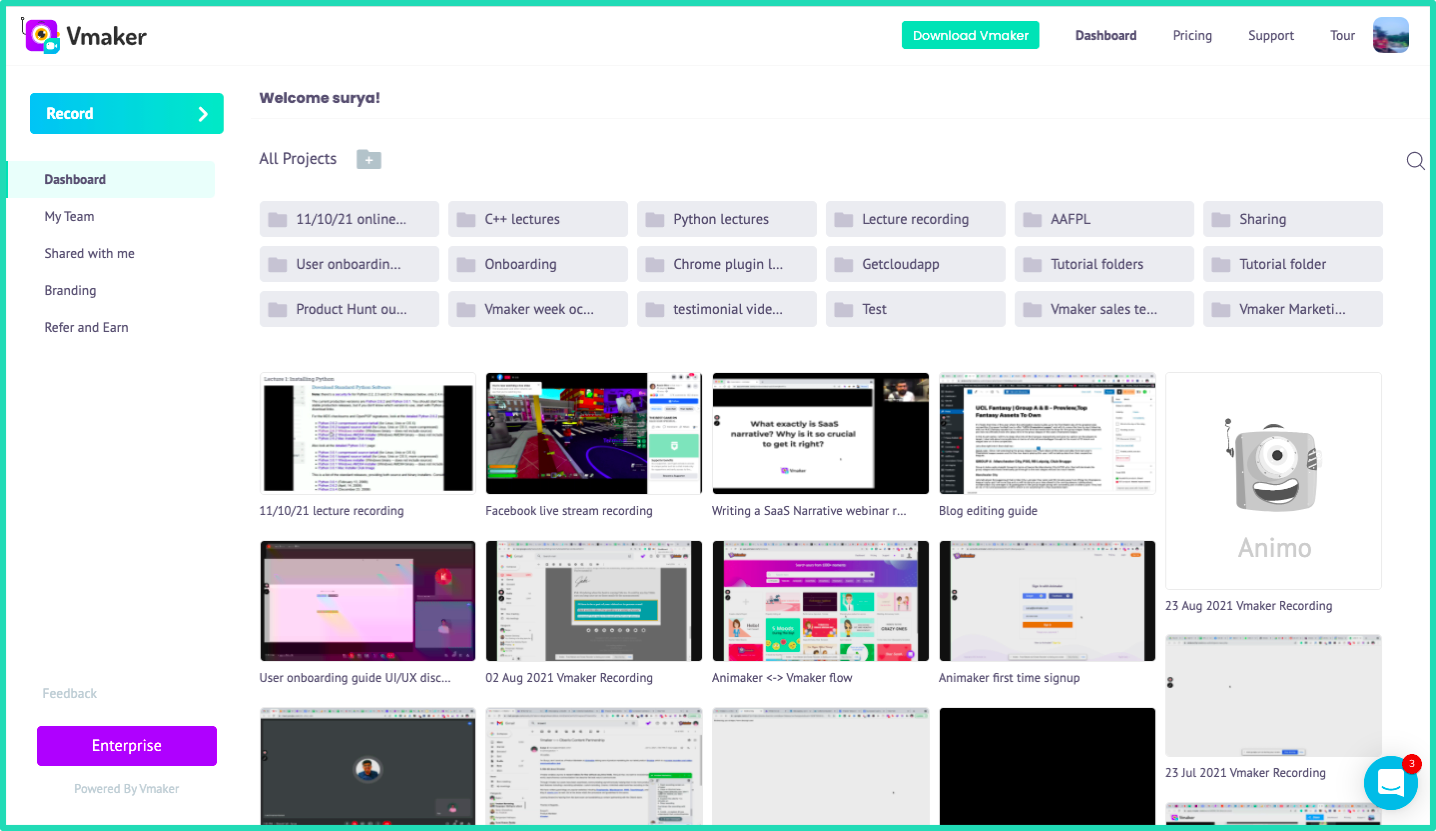 Once you have finished recording your lecture recordings will appear on the Vmaker dashboard. You can then create folders or move your lecture recordings to existing folders to keep your recordings organized for future reference. The folders can also be shared with anyone easily instead of sharing each video one by one.
Step five: Share your lecture recordings with anyone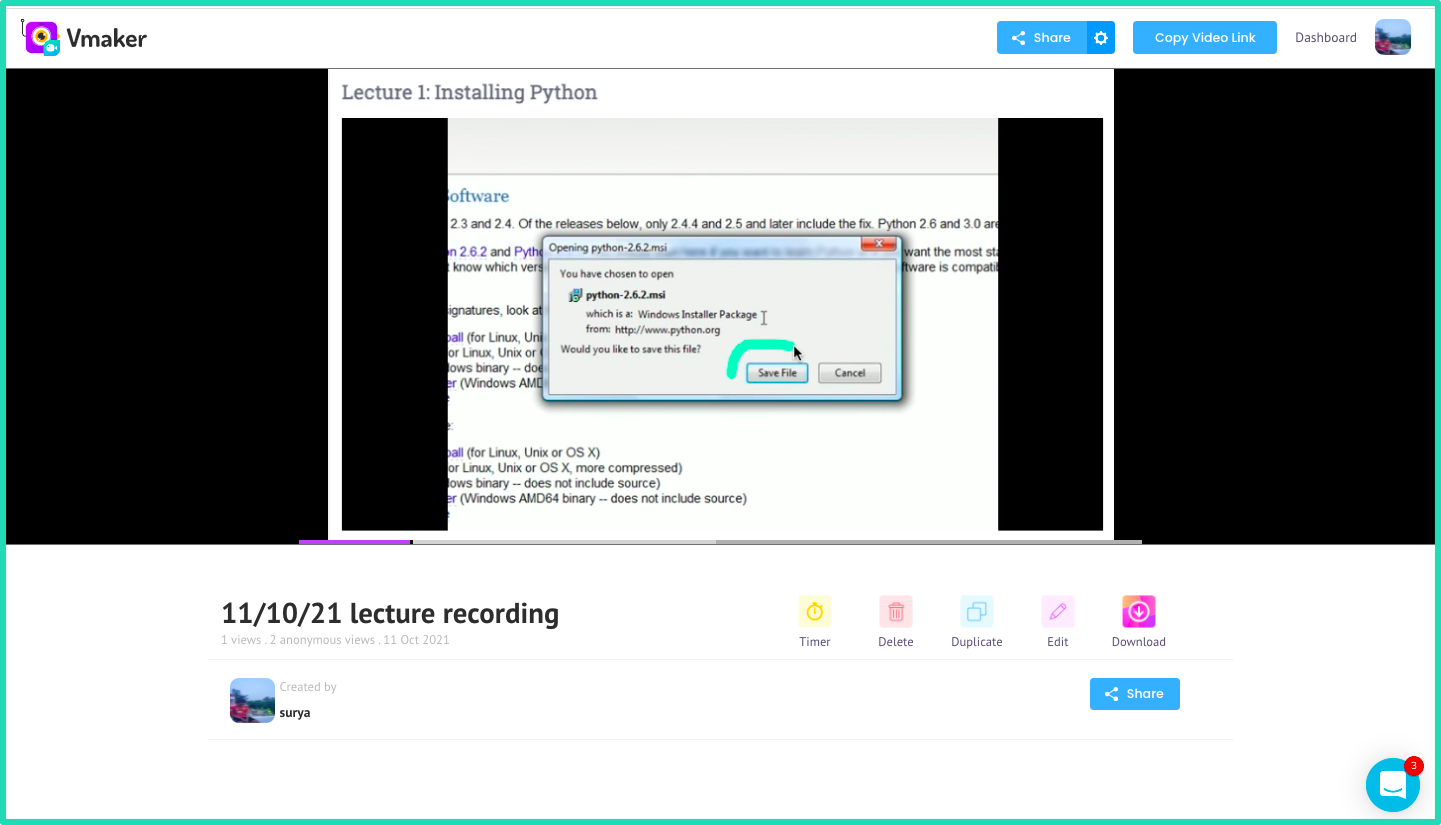 That's the last step. You can share your lecture recording with anyone using the share option. Vmaker also enables you to embed the recording on other websites and learning platforms.
So what are you waiting for, start recording your online lectures and classes using Vmaker lecture recorder. 
Frequently asked questions about online lecture recording
Do I need host permission to record online lectures?
Vmaker lecture recorder is an independent app so you don't have to get permission from the host to record the lecture or online class.
Do I need to worry about the size of the recording as online classes and lectures can go for a longer duration?
Vmaker lecture recorder uploads your lecture recording directly to the cloud so you don't have to worry about the file size of your lecture recording.
How long will it take for the recording to be available after finishing the recording?
The video recording is made available instantly without any delay irrespective of the duration of the recording.
Will there be a watermark added to the recording?
No, the recordings will not have a watermark even if you're using the Vmaker free plan to record online lectures.
Will both the presenter's audio and my audio get captured?
Yes, both the system audio(Presenter) and your audio(Microphone audio) will be captured by the Vmaker lecture recorder.

Try Vmaker Screen Recorder for Free.
Recommended Reads:
How to Make a Screencast in Easy 4 Steps
How to Record YouTube videos with Vmaker
How do I make a video presentation with slides
How to make instructional videos using Vmaker