How to Record Dual / Multiple Screens on Windows & Mac?
Looking for ways to record dual or multiple screens, but don't know how to get started?
Then, this post is for you!
In this post, we'll show you how to record multiple screens or monitors simultaneously with the help of a professional multiple-screen recording software called Vmaker.
Let's get started!
How to Record Dual/Multiple Screens At Once? [Windows & Mac]
The first step in the process is to install a screen recorder that's capable of recording multiple screens simultaneously.
We highly recommend Vmaker for this as it's one of the most user-friendly multi-screen recording software out there. It offers a lifetime free plan and allows you to seamlessly switch between multiple screens, windows, and tabs while you're recording.
Here's a list of the important features you get with Vmaker:
Screen Annotation Tools
Custom branding options
Mouse emphasis
Background noise control feature
4K HD quality recordings
Now that you know what Vmaker is, let's go ahead and see how you can record multiple screens at once with the help of Vmaker.
Step 1: Sign Up for Vmaker
Head over to Vmaker's official page and sign up for Vmaker.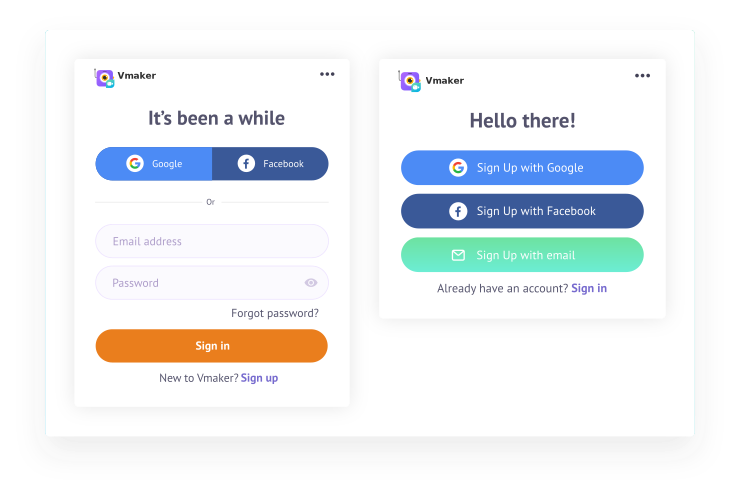 Step 2: Install Vmaker & Select Your Desired Display
As soon as you sign up, you will be taken to Vmaker's dashboard.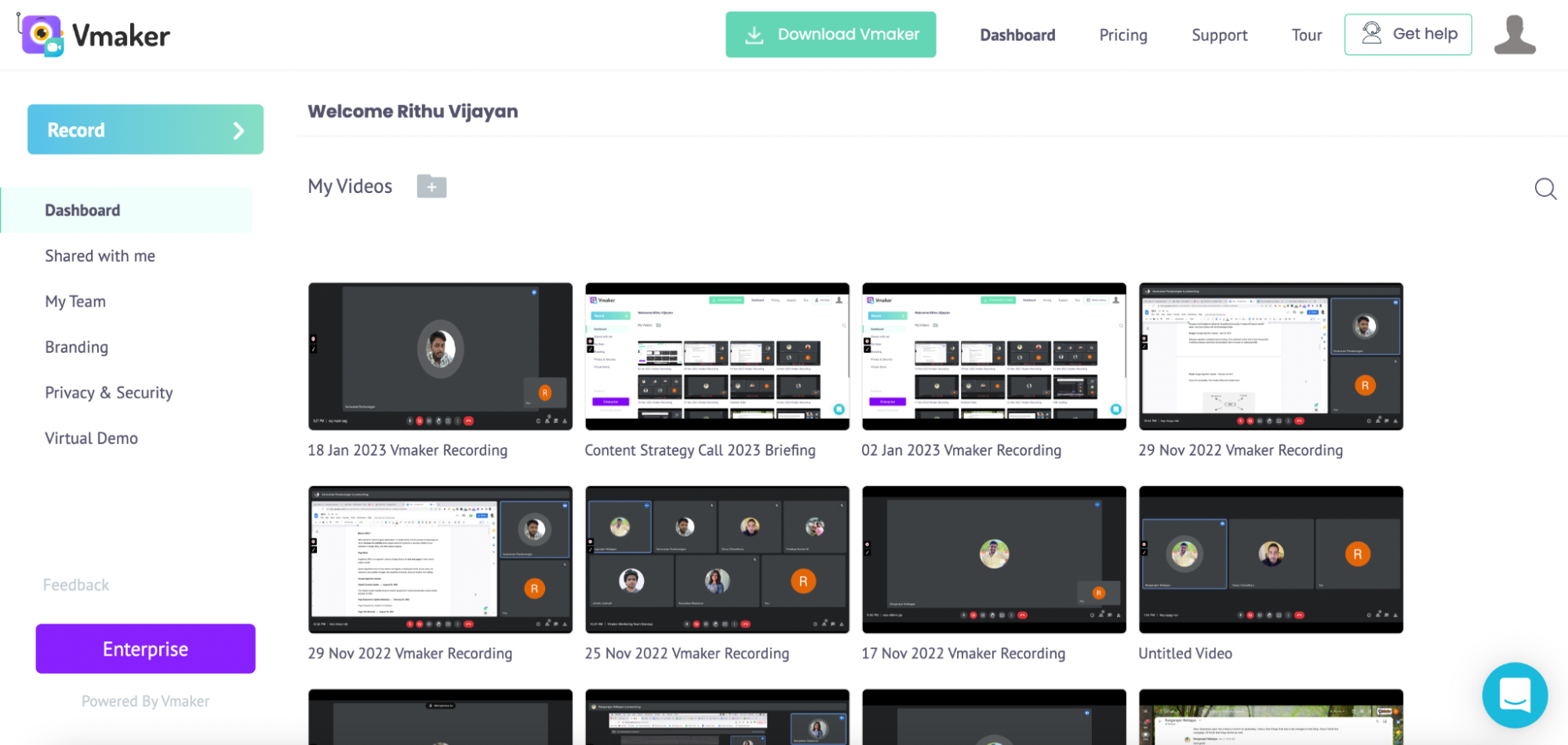 Click on the Download Vmaker button and download the application to your device.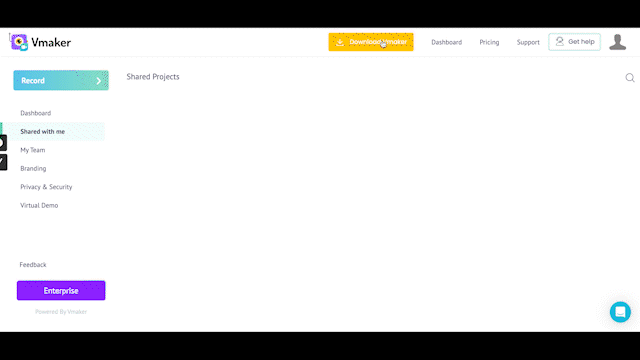 Once you've downloaded the application and given all the necessary permissions, you can launch Vmaker on your device. As soon as you launch Vmaker on your device, you will see a pop-up box like the one shown below.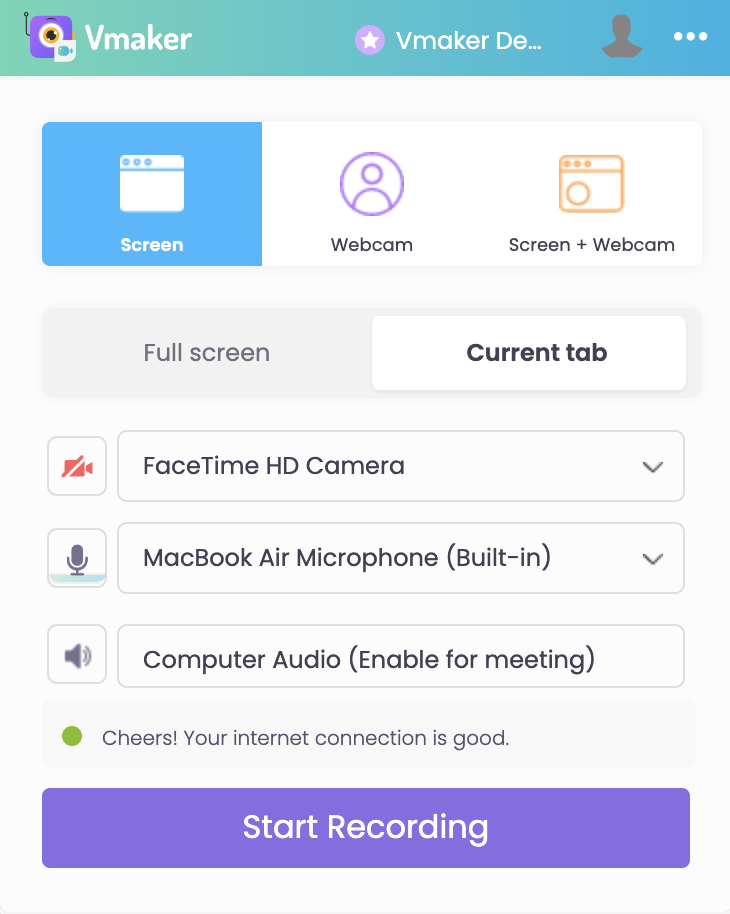 This is where you select your recording mode, audio inputs, and video quality. Once you've selected your desired inputs, you can go ahead and choose the screen you'd like to record from. Just click on the three dots on the top right corner of the pop-up and choose Preferences.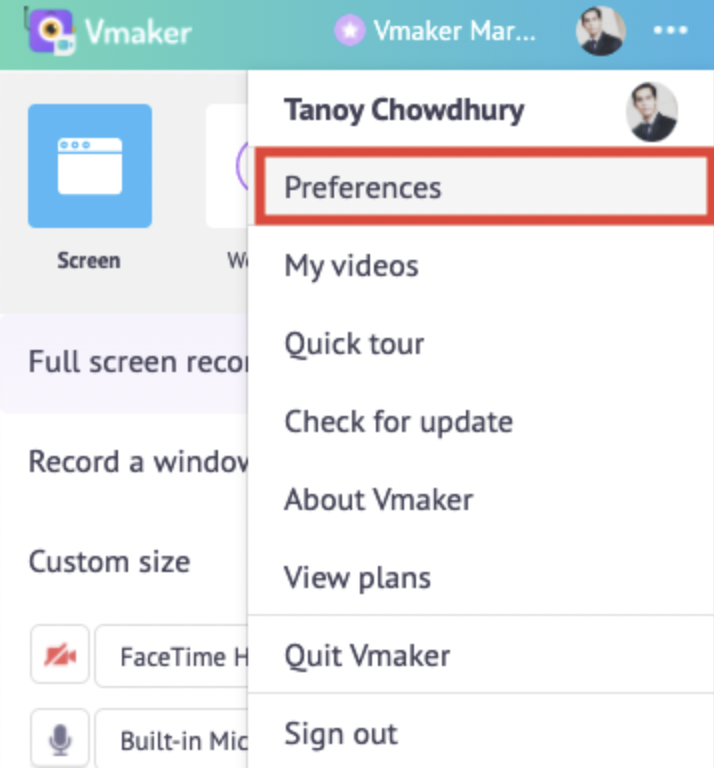 You will be directed to a pop-up box like this. Select the Select Display option below.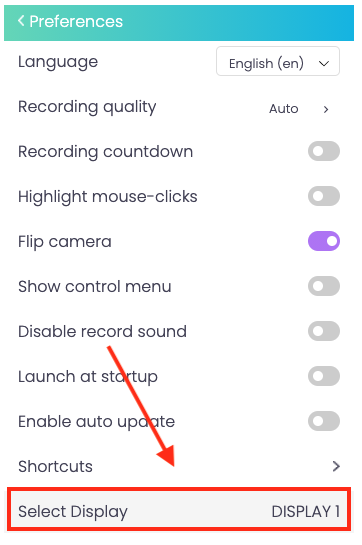 As soon as you click on the Select Display button, you will be prompted to choose the display screen from which you'd like to record.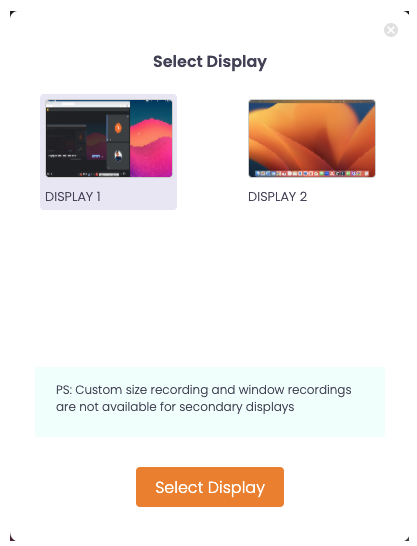 Choose your desired display screen, and click on the Select Display button.
Note: If you're using Vmaker's Chrome extension, you will be asked to choose the screen, window, and tab you'd like to record from (like the one shown below). This setting allows you to customize your recording a bit further and allows you to record from a particular tab, window, or screen alone.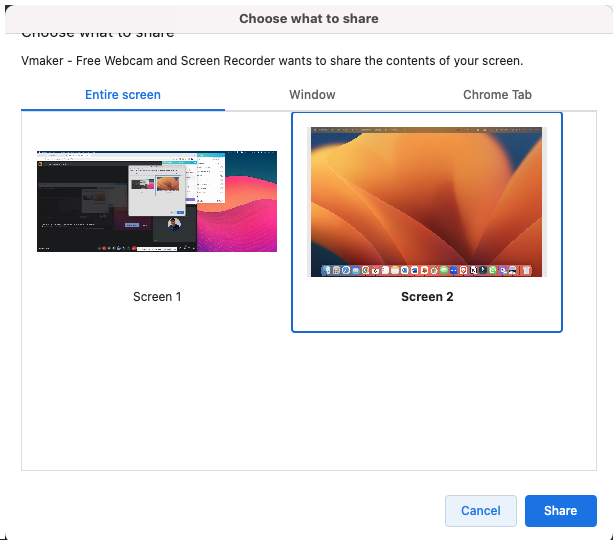 Step 3: Start Recording Your Video
Once you've chosen the screen you'd like to record from, you can click on the Start Recording button.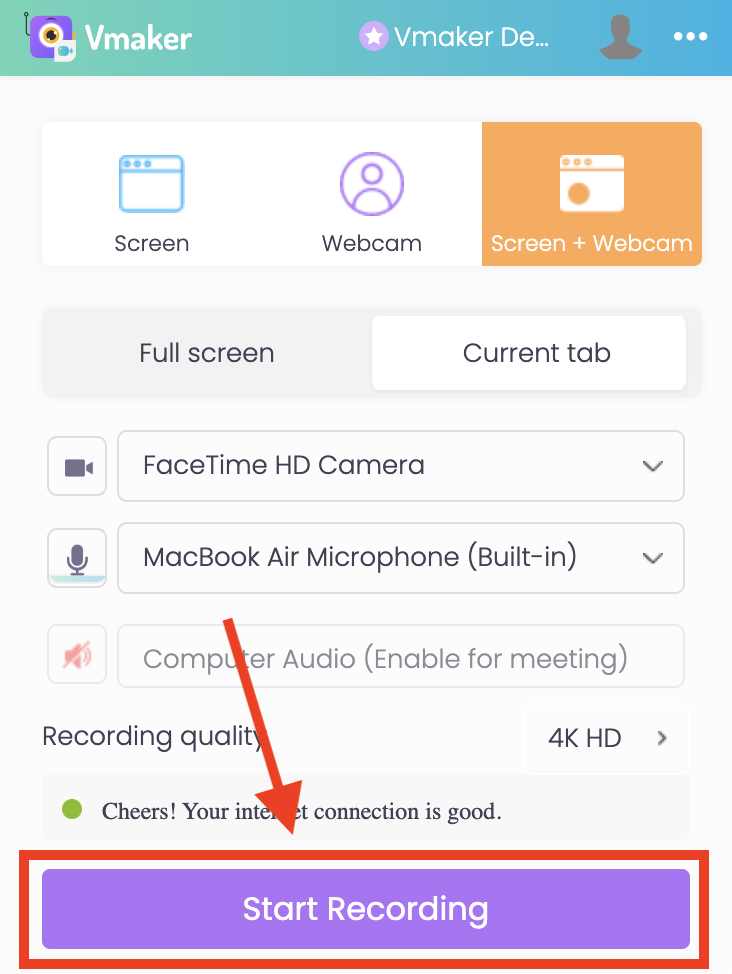 A timer starts, and within a count of three, the recording starts.
While recording your video, you can make use of features like screen annotation tools, frames, filters, and virtual backgrounds to make your video a bit more engaging and fun.
As soon as you're done with the recording, click on the red dock button on the left corner of your screen. The recording stops, and you will be taken to Vmaker's player page.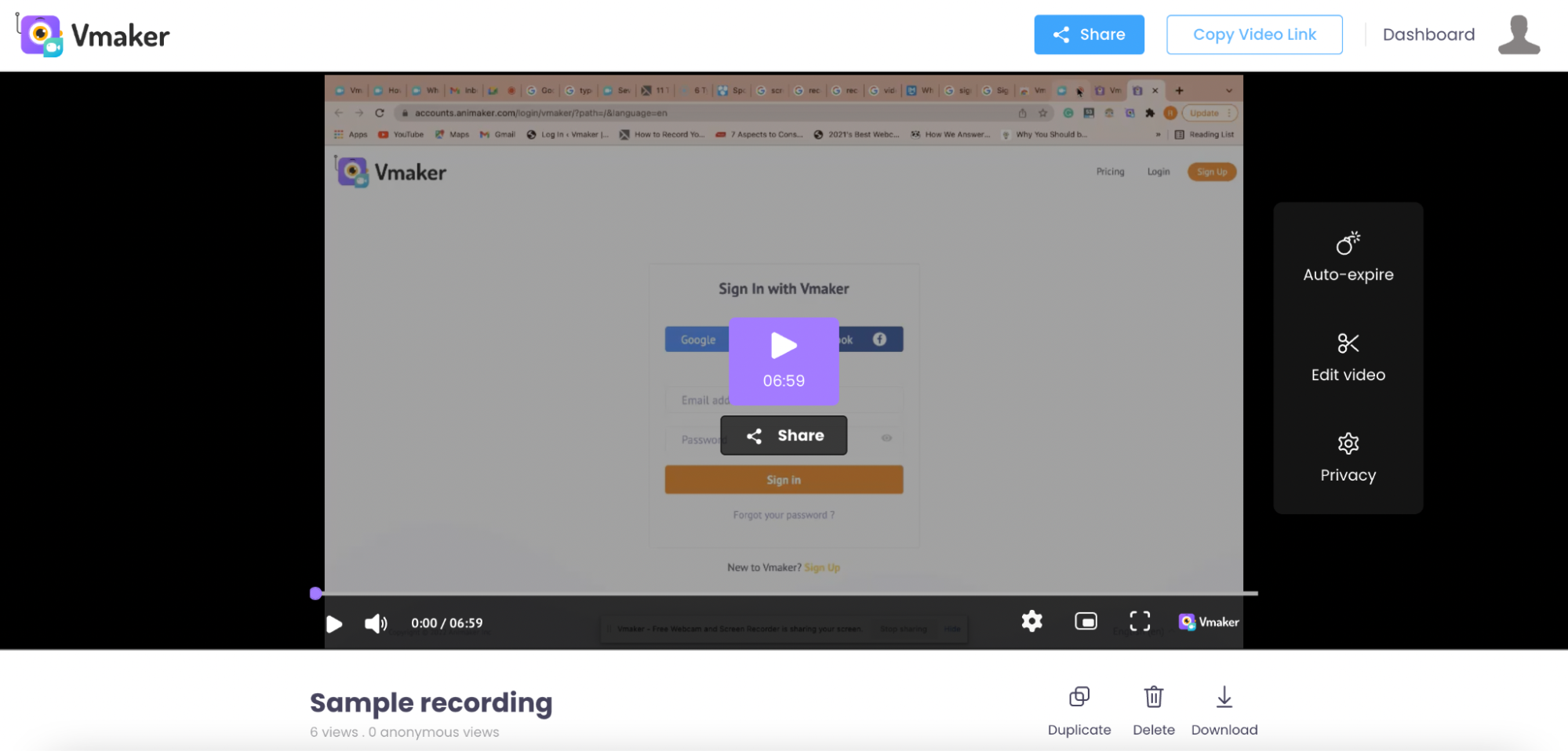 Step 5: Edit & Share the Recording
Now, you can edit your videos using Vmaker's built-in video editor. Just, click on the Edit option and you'd be directed to the editor's page.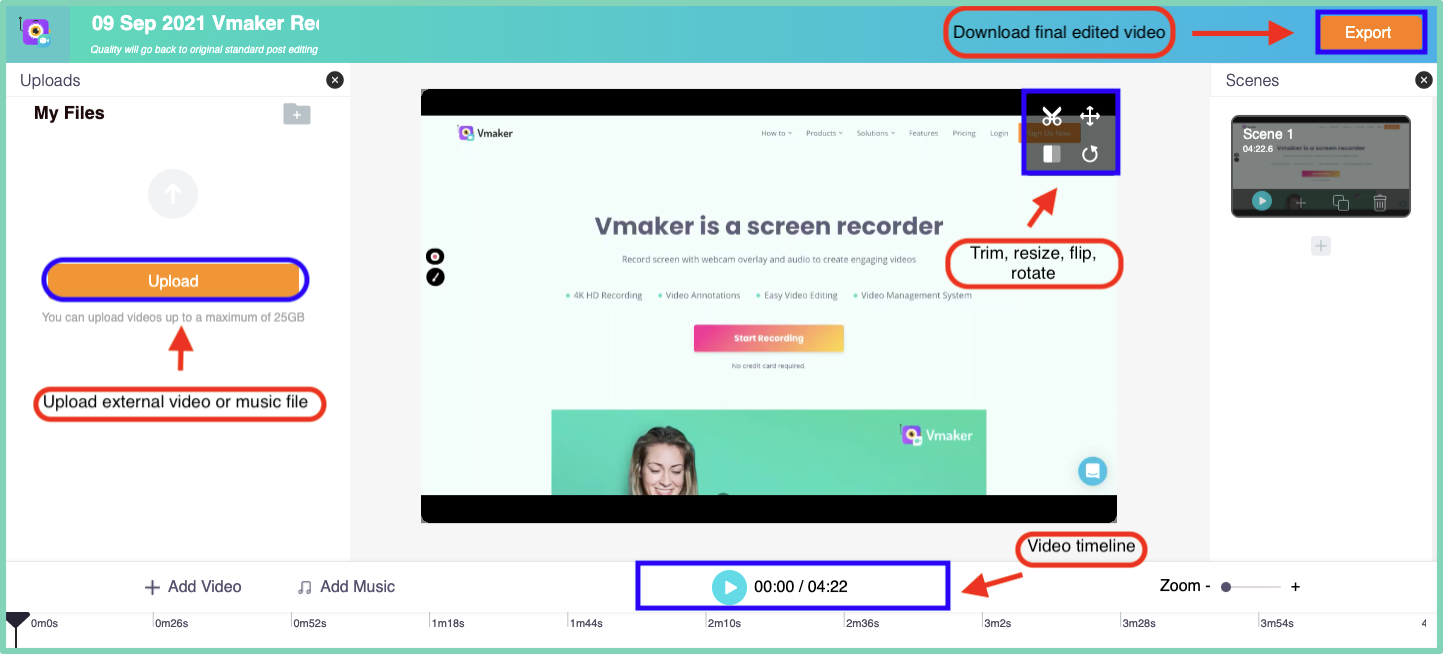 As soon as you're done with the editing process, you can click on the Export option, and export the video at 4K HD quality.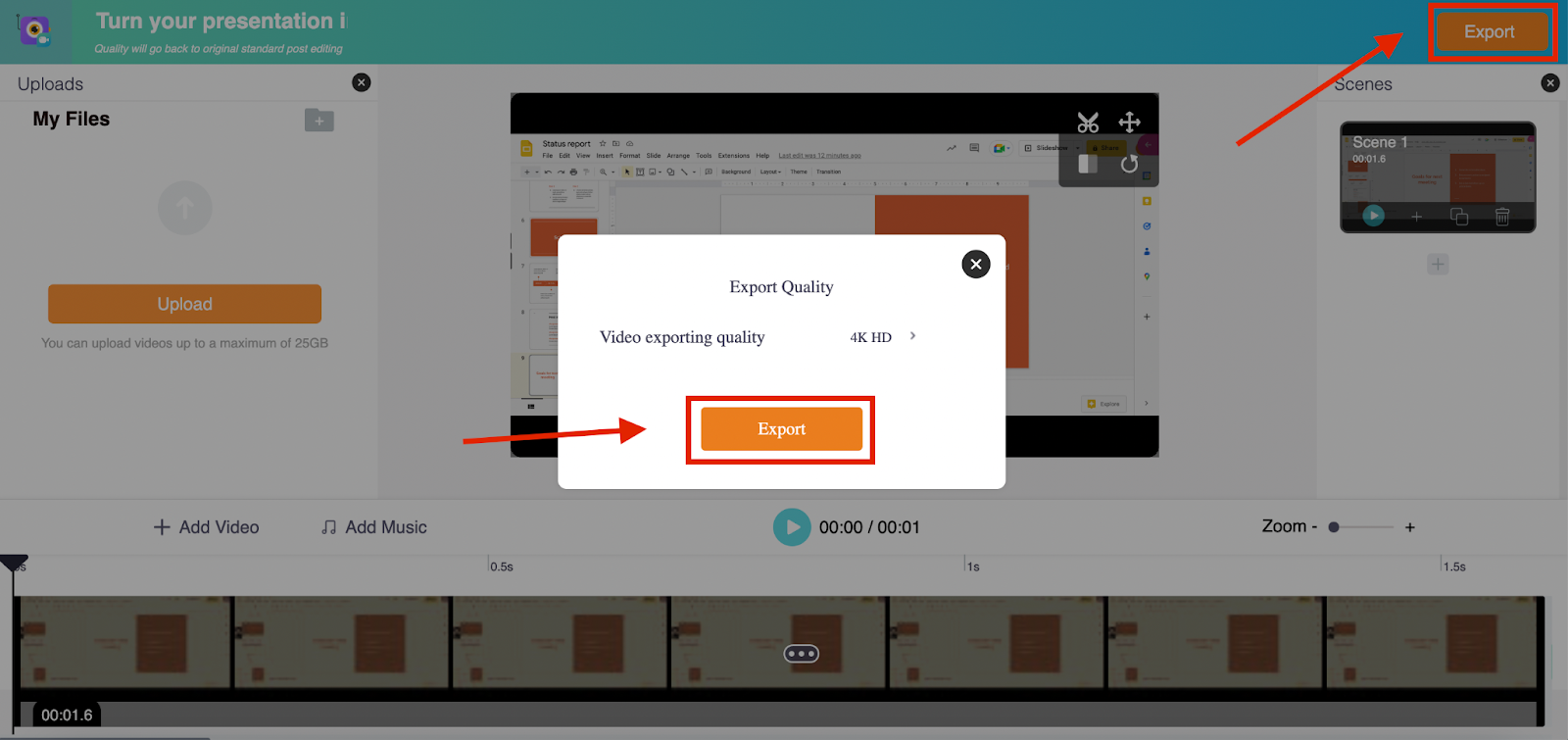 Now, you are free to share the video with everyone. You can either share it via email as a copied link or directly upload it to social media platforms like Facebook, YouTube, Twitter, etc.

And, that's it. You're done.
That's how easy it is.
Sign up for Vmaker and start recording your videos now!
Frequently Asked Questions
1. Can OBS record multiple screens?
Yes. OBS is capable of recording multiple monitors too. But, the only problem with the software is that it's not very user-friendly and requires a great learning curve.
2. How can I record multiple screens at once on Windows 10 & 11?
The process to record multiple screens on Windows 10 & 11 is pretty much the same as recording multiple screens on your other PCs. Just scroll up and go through the 5 simple steps above to see how it's done.
3. How to record multiple screens using Windows Game Bar?
You cannot record multiple screens/monitors simultaneously using Windows Game Bar. You would need the help of an external multi-screen recorder like Vmaker.
4. Is there a way to combine two screen recordings in Windows?
You can use Vmaker's Windows screen recorder to combine/merge two screen recordings into one. As soon as you've recorded your first screen recording, go to Vmaker's editor and click on 'Add video' to merge your second screen recording to the original screen recording.
7. What screen recorders do most YouTubers use?
Here's a list of the top 5 screen recorders that are popular amongst YouTubers:
Vmaker
Ezvid
Filmora Wondershare
Bandicam
Screencast-O-Matic
8. Is screen recording a crime?
The use of screen recording applications is completely legal. However, you should be cautious about how you put it to use.
You can definitely use it to record videos for your personal and professional use cases. However, it isn't okay to record movies, TV series, or any other form of visual content in an unauthorised manner.