The Ultimate Guide: What Is A Screencast & How To Create One? (2023)
Initially, screencasts were only used to create instructional videos for software products. However, over time, people started using it for various purposes. Today, a lot of course creators, teachers, students and YouTubers are using screencasts in their day-to-day lives to create online courses, tutorials, how-to videos, product demos, presentations, etc.
If you're someone who is wondering what a screencast is, and is looking for clear-cut information about how to create one, you've come to the right place. In today's post, we cover everything you need to know about screencasts.
We take you through a step-by-step process and teach you how to screencast videos professionally. As an added bonus, you also get to learn various tips and suggestions that will help you avoid mistakes that most beginners make.
We take you through this process with the help of Vmaker and help you learn how to record screencasts for free in one of the easiest ways possible.
But, before we dive in, let's clearly understand what screencasts truly are!
What is a Screencast?
A Screencast is a digital recording of your computer screen. It captures every movement on your screen and allows you to add your explanations as voice-overs. Additionally, it can be enhanced with background music and captions.
It brings life to boring PowerPoint presentations, provides feedback to students' commonly asked questions, and can also be used to create instructional guides for complicated software.
What Are The Common Types of Screencasts?
Narration videos (Desktop version),
Slidecast narration videos (includes presentations) and
Interactive tutorials (a process where learners interact with the software).
What is a Screencast Used For?
Now, let's clearly understand its applications.
i) On-Boarding and Employee Training
Nowadays, many companies have started to use screencasts as a part of their employee training material. Onboarding new employees is a stressful task. So, companies are looking forward to making how-to videos and tutorial demonstrations of all the joining procedures involved. Instead of solving each and every query in person, it makes sense to record a screencast, and share it with them. The employees can watch them at their own pace and follow the instructions as it's self-explanatory.
ii) Product Demos
Product demo videos are powerful sales tools that educate users about the brand's products in detail. It gives the audience a complete walk-through about the brand's product and its functionalities.
Example: Adobe uses a lot of screencast demos to help users get a better understanding of their application. 
iii) Promotional Videos & Advertisements
Screencasts are a hot choice amongst marketers too. We all understand the importance of video marketing and the impact it has on our audience.
But, unfortunately, many brands cannot afford the equipment required to produce high-quality video advertisements. In those cases, brands tend to promote their products via screencasting. As screencasts can be created for free, it helps marketers promote their products without having to spend too much.
iv) Tutorials
Screencasts help teachers provide feedback about a particular subject and resolve students' frequently asked questions. It also helps absentees stay updated with the current topics and contributes to increased participation and thus helps increase students' success rate.
From time to time, academic researchers try and experiment with different learning methodologies with the goal to analyze students' behavioural patterns. One such learning methodology that's increasingly adopted by many schools and colleges is flipped classroom learning.
Here, the students are expected to learn the main concepts at home by watching video explanations. So, when they get to class the next day, they already have an understanding of the key concepts and use their time to clear existing doubts about those topics. Screencasting plays a key role here as well in helping teachers create these tutorial videos.
With the help of a screen recording software, you can create a few PowerPoint presentations, add audio narrations explaining the key points and you're good to go.
v) Video Testimonials
We all know that adding testimonials to your website boosts credibility. Since it shares real feedbacks from customers, it doesn't come across as strong sales pitches. To get it done, you can ask some of your happy customers to screencast a video and talk about your product and review its features.
How to Create a Screencast in 5 Simple Steps
By now, you would have a clear picture of what screencasts are, their uses, and what factors you should check before making a purchase. Now, let's get to the main section of the post. Let's learn how to create a screencast video for free!
Step 1: Download a screen recording software
Choose a screen recording software that suits all your requirements and download it to your system. If you use Google Chrome, you can download any of the screen recording Chrome extensions available in the Chrome Web Store. Some of the popular screencasting Chrome extensions are Vmaker, Loom, Nimbus screen recorder, Hippo video, etc.
Note: We have also come up with the list of the 5 best screencasting software below based on the products' pricing policies, features, advantages and disadvantages. You can check the list below to make an informed buying decision.
In this step-by-step guide, we take you through this process with the help of Vmaker. If you plan to use Vmaker, sign up for Vmaker and download the software.
While Chrome users can download the software as a Chrome extension, Mac users can download the software from the official website.
Note: If you're using a Chrome Extension, you can pin the extension to your browser to make it easier to access it whenever you want.

Step 2: Customize your preferences and start rehearsing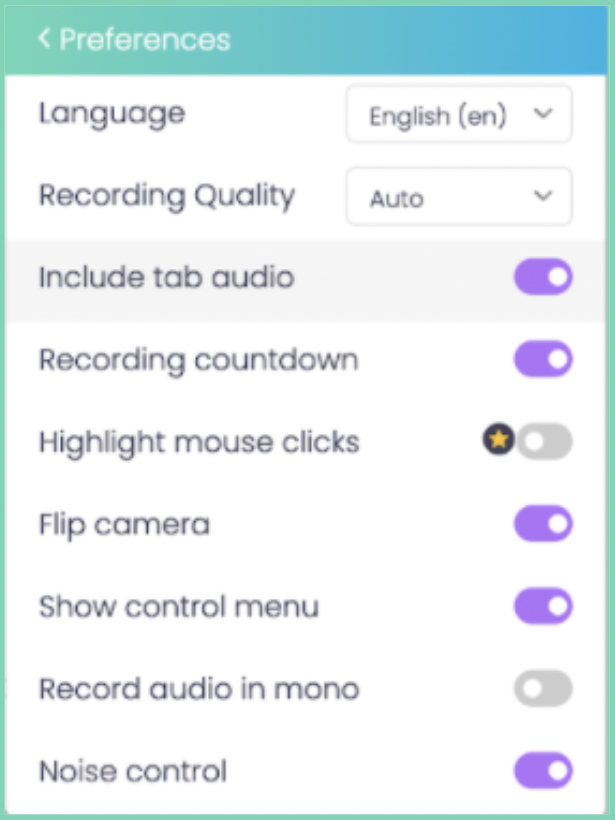 You can now start customizing your preferences and check whether you have enabled all the necessary features. For instance, if you're a teacher, you might want to make use of the screen annotation and subtitle feature. But, if you're a YouTuber, you might want to make use of features that allow you to add music to your recording. So, remember to customize your preferences based on your personal requirements.
Now, it's time to prepare your script. Once you are ready with your script, you can start rehearsing. Start by recording a sample video to check your audio and video quality.
Step 3: Start recording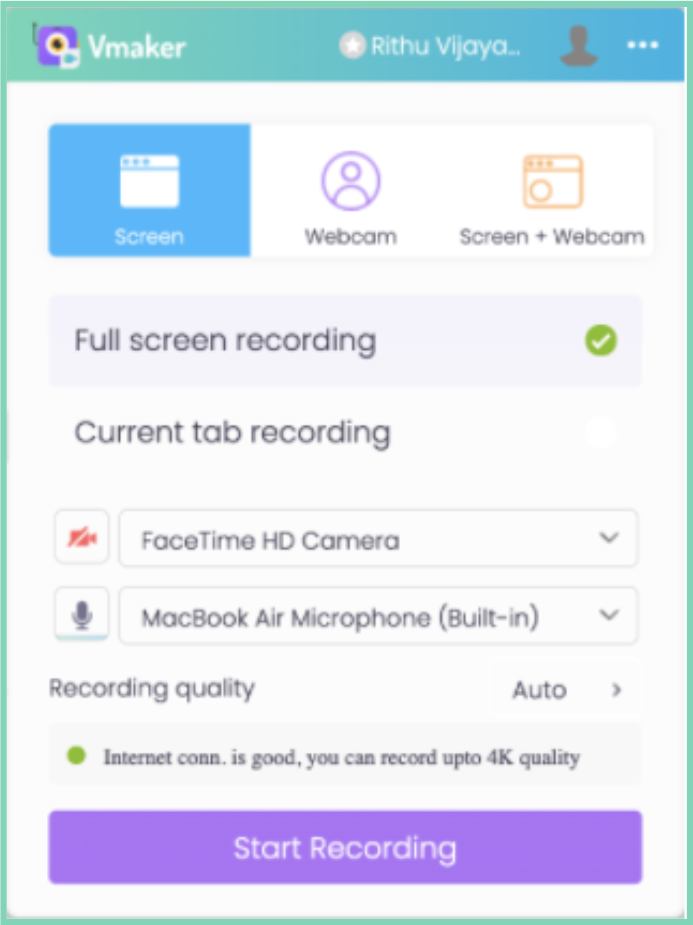 Once you are ready, you can start recording. When you start recording, a timer starts indicating to users that the recording is about to start. Once you are done with the recording, click on 'Stop Sharing' to stop the recording.
Step 4: Edit your recording
If you did a perfect job recording your video, you can go ahead and download the recording. But, if you'd like to edit the screencast, you can edit it by clicking on the 'Edit' button. This is where you clip out unnecessary portions, add subtitles and music to your videos. Once you're done with the editing process, you can export the file in your preferred video quality.
Note: Before starting your editing process, it's always advisable to duplicate your file. This ensures you have a backup of the original copy in case you clip out a few important parts by mistake.
Step 5: Download, share and upload your recording

Now, you can download, share the link, or upload the file to social media handles such as YouTube, Facebook, etc.
What Does a Screencast Look Like?
Here is an example of a screencast that was taken using Vmaker.
Key Factors to Check While Purchasing a Screencasting Software
In order to make sure your recording process is smooth, keep a check on the following factors before you make a purchase.
i) Storage Capacity
Many screen recording software requires a lot of storage space. The problem with bulky software is that, in the long run, it can slow down the overall performance of the system.
It's always safer to choose software that occupies less storage space. In fact, there are many screencasting software available as chrome extensions in the Chrome Web Store. They might be helpful if you're running short of storage space in your system. Some popular screencasting software that are available as chrome extensions are Vmaker, Loom, Hippo, Vidyard, Nimbus Capture, etc.
ii) Ease of Use
Screencasting is definitely not rocket science. It's something that can be done by anybody. You just have to learn how to do it. So, make sure you choose a software that makes the process easier. Check whether it has a user-friendly interface so that it's easier to navigate across different sections of the software.
iii) Watermarks
While some tools like Vmaker and OBS studio allow even their free users to record videos without watermarks, some screencasting software permits only their premium users to record without watermarks. So, make sure you choose a software that allows you to record videos without a watermark.
iv) Video Editing Tools
An important and stressful part of video creation is the editing process. But, it's essential to create videos of great quality. So, make sure you check whether your screencasting software provides video editing options.
v) Look For Additional Features That Might Be Beneficial
It's extremely important to make sure you choose a screencasting tool that supports all the features you would like to add to the video. For instance, if you'd like to add background music, audio narration, screen annotations, and expect a high definition video quality, you should choose a software that provides all those features. Remember, only if you choose a tool that fulfils all your requirements, will you be able to bring life to your dream videos.
5 Best Screencasting Software Online
Let's go ahead and analyze different screencasting software online based on their features, pricing, advantages and disadvantages.
The list of the 5 best screen recording software available online are:
Vmaker
OBS Studio
Screencast-O-Matic
Camtasia
Loom
1. Vmaker
Vmaker is one of the most affordable and user-friendly screen recording tools available online. It's downloadable in two forms - as a macOS version and as a Chrome extension.
It allows users to record their screen, webcam, and both (screen + webcam) together. It helps YouTubers, educators, marketers, managers, students and many other content creators record, edit and share videos effortlessly. An important feature that would benefit teachers is its screen annotation feature. This feature allows users to explain, highlight or draw while they're recording.
Features
Unlimited number of recording
Recording scheduler
Built-in video editor
Screen, webcam and (screen + webcam) recorder
Records both internal and external audio
Allows users to add music
Allows users to change the background
Helps upload external videos and merge them with the existing recording
Advantages
User friendly
Great customer service
Most of the basic features required to record a screencast are available for free.
Disadvantages
It cannot be downloaded as an android or IOS version and hence cannot be used as a mobile application
Pricing
It has three pricing packages.
Lite plan: $0
Starter plan: $84 per year and $7 per month
Team plan: $120 per year and $10 per month
2. OBS Studio
OBS (Open Broadcaster Software) is a open-source screencasting and streaming application that helps users record and live stream videos for free. It supports Linux, Windows and macOS.
Features
Unlimited recording
Built-in video recorder
Multi-screen recording
Records both internal and external audio
Allows users to live stream videos directly on YouTube, Facebook and Instagram.
Advantages
It's available for free
Disadvantages
Its user interface isn't intuitive.
Pricing: Free
3. Screencast-O-Matic
Screencast-O-Matic is one of the leading screencasting tools that allows users to create, record, edit videos and images. It also has a built-in stock library that has a collection of interesting photos and music tracks.
Features
Built-in video editor
Backup & Recovery
Collaboration tools
Speech to text conversion
Records both internal and external audio
Access to upload directly to youtube
Advantages
Good customer service
Easy-to-use
Disadvantages
Free users have a recording time limit of fifteen minutes. So, you'd be able to record lengthier videos only if you have a paid plan.
Pricing
It has four major pricing packages. They are,
Free plan: $0
Deluxe plan: $4 per month if paid annually
Business plan: $5 per month if paid annually
Premier plan: $5.75 per month if paid annually
4. Camtasia
Camtasia's recorder comes with a built-in video editor and allows users to record video tutorials and presentations. It allows users to record internal and external audio with ease and allows them to use hotkey combinations to start and stop the recording.
Features
Powerpoint integration
Screen annotations
Speech to text translations
Built-in video editor
Readymade video templates
Directly uploadable to YouTube, Vimeo, etc.
Advantages
Easy to use
Clean setup
User-friendly interface
Disadvantages
When we compare the pricing model of various screencasting tools online, Camtasia comes across as a very costly purchase.
Pricing
Camtasia doesn't have any subscription payment models. If you'd like to use Camtasia, you can purchase a license that will be valid for a lifetime. When we compare the pricing model of various screencasting software online, Camtasia comes across as a very costly purchase.
Camtasia license ~ $312 (approximately)
5. Loom
Loom aims to make it easier for teams to communicate with each other by allowing its users to share instant video messages through their platform. Its main goal is to empower people with effective communication wherever it's feasible. It also allows users to record their screen, webcam, microphone and desktop simultaneously.
Features
Built-in video editor
Screen annotations
Speech to text analysis
Collaboration tools
Real-time chat
Customizable branding
Advantages
Easy to use
Good customer service
Disadvantages
Free users will only be able to record videos for five minutes. If you'd like to record lengthy videos, you'd have to upgrade to a premium account.
Pricing
It has two major pricing packages. They are:
Starter plan: $0
Business plan: $8 per month
Bonus: Screencasting Tips & Suggestions
Here are some additional tips and suggestions that will help you get started!
i) Draft an Outline
It's super important to create an outline and a mind map of your entire project in advance. This helps you organize your thoughts, brainstorm new ideas and make necessary corrections to your existing plan. Creating and sticking to a plan helps you fasten your recording process and saves a lot of your time.
ii) Rehearse a Few Times
Once you are done with your outline/script, you can do a few rehearsals before recording for real. This will help set your pace and help you avoid unnecessary fillers in your speech.
iii) Keep your Recording Set up Ready
Make sure you've chosen a quiet environment. Also, try to turn off both your mobile and desktop notifications. This will help you avoid taking numerous retakes. Some screencasting tools come with an in-built editor. You can also make use of those tools to cut out unnecessary portions of the recording.
iv) Make Good Use of your Recording Features
Most screen recording tools online provide many interesting features that you can experiment with. In order to create an engaging video, you should make sure you keep it short, avoid unnecessary fillers, use screen annotations and enable webcam recording.
Conclusion
By now, you would have gotten a complete idea about what screencasts are and how to create them. We took you through a step-by-step process and discussed all the necessary topics, and gave a few tips to help your video making process easier.
We made sure we did our part. Now, it's your turn to take action. So, stop hesitating any further and start creating your screencasts without fear.
If you have any doubts, feel free to ask them in the comments section below.
Happy recording!
Frequently Asked Questions
1. How can I Screencast for free?
There are many paid and free tools available online. Here are the 3 best tools available for free:
Vmaker,
OBS Studio and
Active Presenter.
Note: Though Vmaker is a freemium tool, it allows all its free users to access all the basic requirements and comes with unlimited number of recording and storage space.
2. How to Screencast on a PC?
You can either download screen recording tools that support your OS or download a Chrome extension that you can use on your PC. Some of the popular tools that can be downloaded as a chrome extension are Vmaker, Nimbus Capture, and Loom.
3. How much does a Screencast cost?
The cost depends on an individual user's requirements. If you're someone who's looking forward to creating tutorials or how-to videos, you'd be fine just by signing up as a free user on any of the screen recording platforms online. But, if you're looking for more advanced features, then you'd have to upgrade to any of their paid plans. The pricing plans of most recording software online fall in the range of $0 to $300.
4. What is the best screencast software?
Choosing the best software is often a trickier task.
There are so many screen recording tools available online. When people try to search for a credible screen recording tool online, they get so many options that they end up feeling overwhelmed and confused.
Every software comes with its own set of advantages and disadvantages. So, you should make sure you choose a software that fits your requirements. Based on your individual needs, you would be able to decide what's best for you. If you're looking for a software that's easy to use and provides all the basic screen recording features for free, you can try using Vmaker.
Recommended Reads