Contents
Top Video Email Platforms Ranked | Video Emails
By this time, it is already a proven fact that videos are one of the top forms of content being consumed every day. According to Hubspot, 78% of people watch online videos every week and 55% of people watch online videos every day.
Videos make things easier to consume. People tend to retain more information from what they see and hear compared to what they read.
The growth in consumption and the added benefit of retention capability have made videos a go-to content format for businesses today.
Today, videos are being used in marketing, sales, customer support, and even in internal team communication.
The shift in work culture due to the pandemic has fuelled the growth of this adoption at a faster pace.
Even with all these advantages, videos are still not used to their optimum potential and we are still working on this goal each day.
Video Emails
Video emails are usually emails that carry videos. The above introduction has shared the understanding of how videos are flaring far better than other content types today.
Yet, the distribution of videos has not been easy. The video formats, length, hosting will all affect the consumption of videos.
Emails of all this is one channel that has benefitted by the inclusion of videos.
Though you cannot embed videos directly to your emails, there are still other ways to use emails as a channel to distribute your videos.
Things to consider while choosing a Video Email Platform
Choosing a video email platform is tricky since they solve a piece of your overall marketing puzzle and hence they should gel well with other platforms in use.
Apart from this, there are a few parameters you should consider while choosing your video email platform.
Video Creation
Video creation covers the initial recording part of the videos. The platform should allow you to record and edit videos seamlessly.
For example, Vmaker comes with a mac application and a chrome extension to record your videos on the go. The dashboard is maintained in the cloud to help you access all your recordings from anywhere.
The platform should also allow you to use an external mic or camera without any complexity.
Video Production
Any activity that drives friction will not be carried out efficiently. With video creation, you need to be as friction-free as possible.
Make sure the platform comes in with an inbuilt editor that can help you do the basic editing to your recorded videos without having to look for an external tool.
The process should be simple and should not require a tech-savvy person to oversee the same.
Video Hosting and Analytics
Instead of YouTube or Vimeo, if you can get free hosting with the platform you can save more $. The hosting should allow unlimited streaming at a higher bit rate to offer a great viewing experience.
Video analytics will help you measure engagement with the video. A list of anonymous views and inhouse view segregation will help in each campaign to personalize the follow-ups.
Best Video Email Platforms
Here are some of the top platforms you can check out to improve your video email game this year. Each platform has its own merit and they serve a specific purpose. Whether it is nurturing, prospecting, or customer support - you will find the right platform below.
1. Vmaker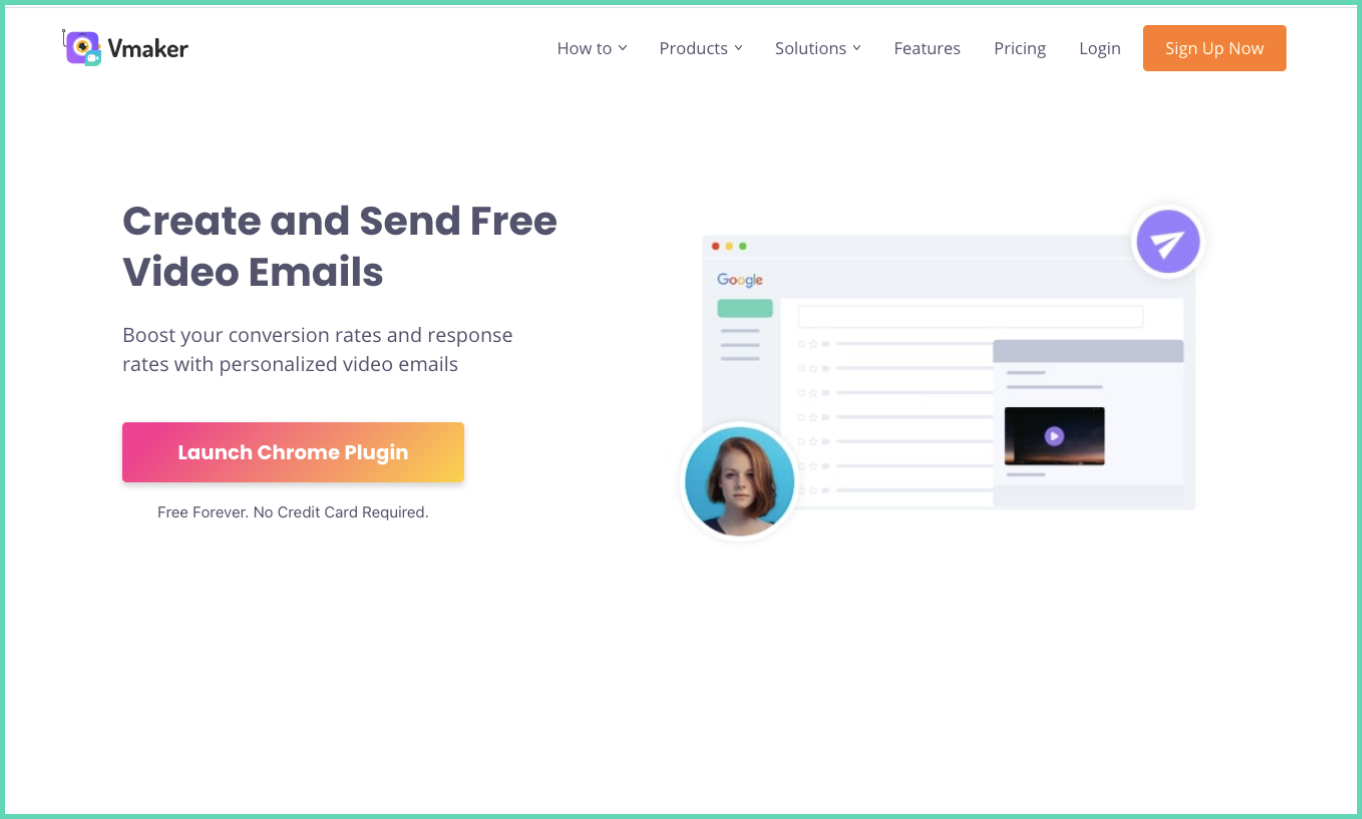 We have to top the list with Vmaker for obvious reasons. Vmaker is a webcam and screen recording tool that can help you record and send personalized videos over email.
Ranked by G2 as a High performer in their summer report, Vmaker has been widely used by Content creators, Sales and Marketing professionals, and YouTubers.
Vmaker helps you with the following benefits:
Native Gmail integration to record or send recordings from your email compose tab
You can record, edit and host videos with your custom branded player page
Collaborative work option with your team
Add a custom Call-to-Action button on your video player page
Unlimited cloud storage
These are a few options of the major chunk that makes Vmaker stand out from the crowd. The fact that you can use the free version to record videos at 720P with an unlimited number of recordings makes it the first choice to give it a try.
The paid plans start at $7 and the teams plan starts at $10.

2. VideoPeel
VideoPeel is an online video platform to generate social proof such as customer testimonials, and success stories in the form of videos.
It allows you to receive video testimonials from your clients and share them to your audience via your website or other communication platforms.
The pricing for VideoPeel is not available directly on their website. But going by external sources, the pricing starts at $69 per month.
3. HippoVideo
HippoVideo is an online video personalization platform. This is primarily used by sales professionals in prospecting scenarios to send personalized videos to their email list at scale.
The platform allows you to record, edit, and personalized videos based on custom variables.
The pricing for the platform starts at $15 per month.
4. VideoAsk
VideoAsk is a new name in the block introduced by the famous experience management platform Typeform.
VideoAsk allows you to customize all client communications with videos. Be it emails, website chat, or testimonials, you can customize the entire communication via videos.
Customers or users have the option to engage back using videos or by using text.
The platform is majorly used in the customer relationship segment to create a personalized appeal in communication.
The Grow plan with VideoAsk starts at $24 and the Brand plan starts at $40 when you bill yearly.
5. Adilo
Adilo is primarily a video hosting platform that also allows you to record, play and analyze the videos.
Focused on creating more engagement and closing more sales with videos, Adilo allows you to record and host 4K videos, podcasts, upload external videos, and more.
The basic plan for Adilo starts at $29 a month and the growth and unlimited plans start at $49 and $149 respectively.
6. Sendspark
Sendspark is a video recording platform that allows you to record and send videos over email. They find their application across sales, marketing, and customer success roles.
Sendspark can be integrated with some of the top email platforms such as Outreach, Hubspot, Outlook, Gmail, and more.
The application comes in the form of a chrome extension and the pricing starts at $12 for pro plan and $15 for a business plan when billed annually.
7. Vidyard
Vidyard is a video platform that powers virtual selling. It helps you to record and share videos with your prospects on sales pitches, proposals, demos, and more.
The platform comes in with video recording, hosting, personalization, and analytics options.
The pricing for the same starts at $15/mo for pro plan and the teams plan at $300 per month.
8. Dubb
Dubb is an online video communication platform that allows you to send video messages to drive more engagement and conversions.
Dubb is poised to replace text messages with video messages across all communication platforms such as email, website chat, messengers, etc.
With Dubb, you can create videos and embed them on your landing pages to drive more engagement. Dubb also offers contact level tracking to personalize follow-ups.
The pricing starts at $32 for the pro plan and $80 for the annual plan.
9. Bomb Bomb
BombBomb is an upcoming popular name amongst video platforms to utilize the power of video emails.
Poised to improve the customer engagement with the power of videos, their video platform pricing starts at $29/mo, and the plus plan starts at $49/month.
Bomb Bomb is widely preferred to improve sales, customer experience, and for internal communication.
10. EasySendy
EasySendy Pro is a video email marketing platform that integrates all your various marketing channels and accelerates traffic and conversion rate.
Using EasySendy, You can easily create and send personalized video content via Email on a scale to capture the recipient's attention.
You can also create and push successful campaigns through different SMTP relays like Amazon SES, Mandrill, SendGrid, Sparkpost, Leadersend, MailGun, SendinBlue, and more.
Get Started with video emails
Video emails tend to work wonders if you play them with the right mix. You have to find the right proportions of content, video production, tools, and the right CTA.
If you can nail this mix right you will see a 3X jump in results right away.
Get started with Vmaker for your video emails and try our all-in-one record, edit, host, and share functionality to create and share videos on the scale.

If you enjoyed reading the above article, then here are a few cherry-picked ones you might be interested in reading further!
Heat up your cold sales emails with personalized videos
Video Emails: How to Send a Video via Email
The Ultimate Guide to Screen Recorder