How to use an iPhone as a webcam on a Mac - macOS Ventura
The macOS Ventura is only a few days away from the launch.
macOS Venture is the latest version of Mac that has been creating a lot of buzz ever since it was announced in the WWDC keynote speech this year.
If you're a regular Mac user, we're sure you must have some questions about the new OS in your mind. Like what exactly is macOS Ventura? How is it going to make a difference? And, what on earth is a continuity camera?
We have tried to answer all these questions in this blog with more emphasis on continuity camera, and how it can work as a webcam for your Mac PC.
The answers in this blog are crisp, so you can read it during your coffee breaks or before your bedtime. We leave that choice up to you.
macOS Ventura - The highlights
The folks at the Apple headquarters define the macOS Ventura as the OS that - Works Smarter. Plays Harder. Goes Further.
In this rollout they have focused on three areas - Work, Collaboration and Gaming table.
We will give you a snappy overview of the most interesting features in this update. You can always go ahead and check out the full list on the macOS Ventura page.
For now, you can refer to this blog for quick highlights of the update. Before you start, we have not included Continuity Camera here because there is a separate part about it just after this section.
Spotlight: Spotlight will have an enhanced search that can help you find images in messages, notes, and Web too. You can also use Live Text to search based on the text inside the image
Passkeys: You will be able to sign in more securely using pass keys. Pass keys are end-to-end encrypted, and saves from data leaks
Shared Tab Groups: Share tabs from the Safari browser with others. This will great for collaboration and group planning as others can also share their tabs with you
Messaging: Finally, you will be able to edit messages, unsend them, and mark them as unread to reply to them later
Stage manager: This is a new one. With Stage Manager, you can stay more focused at your work. Stage manager displays whatever you're working on at the center of the screen. The other apps and windows are arranged at the side. This means you can easily switch between your work without getting distracted.
SharePlay: With SharePlay, it will be easy to join and play games together with your friends. Apple promises that with macOS Ventura users can play demanding games and render complex scenes without hiccups.
Freeform: Freeform is the new collaboration app in macOS Ventura. With Freeform, you will be able to plan projects, brainstorm ideas, share links, documents, audio and videos too.
What is Continuity Camera?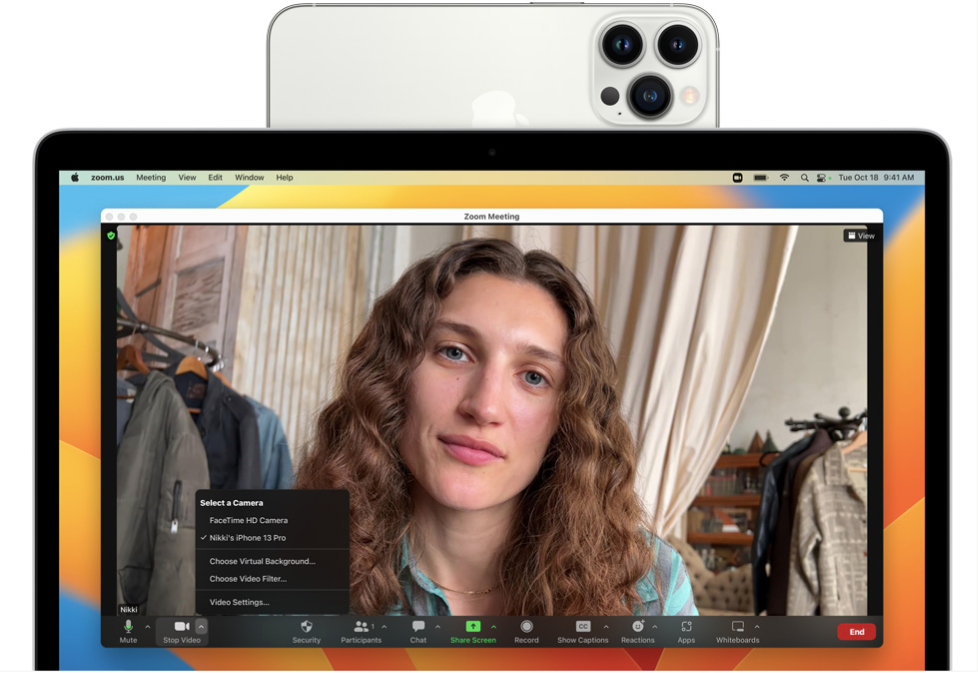 Continuity Camera is using the iPhone camera as the webcam for your macOS. This will be welcomed by open hands by users who always complained about the inferior webcam image quality of Mac PCs.
The interesting part about Continuity Camera is that there is absolutely no plug-in involved. Your iPhone and Mac will connect wirelessly. This combination will make a great team.
Apart from the advantage of using the advanced camera of the iPhone, there are three amazing features that are going to be so useful during video calls and meetings.
1) Centre Stage: When you're using the Continuity Camera, no matter where you move during the video call you will always remain at the centre of the frame.
2) Studio light: Studio light will light up your face literally, and dim the background. With the portrait mode, you can add more focus on you
3) Desk view: With Desk view, you can show whatever is on your desk along with your face to the other person on the video call
Video: How to change your Webcam Background (Screen + Webcam Mode)
How can you use Continuity Camera and Vmaker to record screen recording videos?
It would be a remiss if we didn't tell you how you can use the Continuity Camera feature of macOS Ventura with Vmaker to make excellent quality screen recording videos.
With better camera quality of the iPhone, and advanced screen recorder like Vmaker, many of your video making woes are going to be resolved.
How to sign up for Vmaker?
To get started, you have to first create an account with Vmaker. You can do this by installing the Vmaker Mac app from the website.
There is no upfront payment required, and there is a free plan too. So, if you're only testing the waters go ahead with any commitments.
Head over to the Vmaker website
Click on the Sign up now button
Enter your user name, email address and password. You can also sign up with your Google and Facebook account
After you click on the Sign up button, you will see a dashboard pop-up. Download the Vmaker for Mac app
Follow the on-screen instructions to complete the installation
How to screen record on Mac using Continuity Camera and Vmaker?
After you have downloaded the app, the process is easy and straightforward. Follow the steps below, and you will be all set before you know it.
1) Open the Vmaker app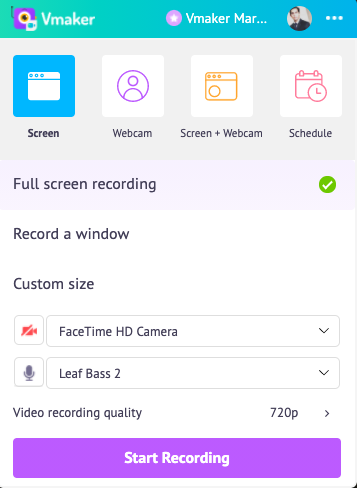 2) Select your iPhone camera from the drop-down menu
Now your iPhone Camera is visible in the drop-down menu. If your iPhone Camera is not visible, then check if the bluetooth and Wifi is enabled in both the devices.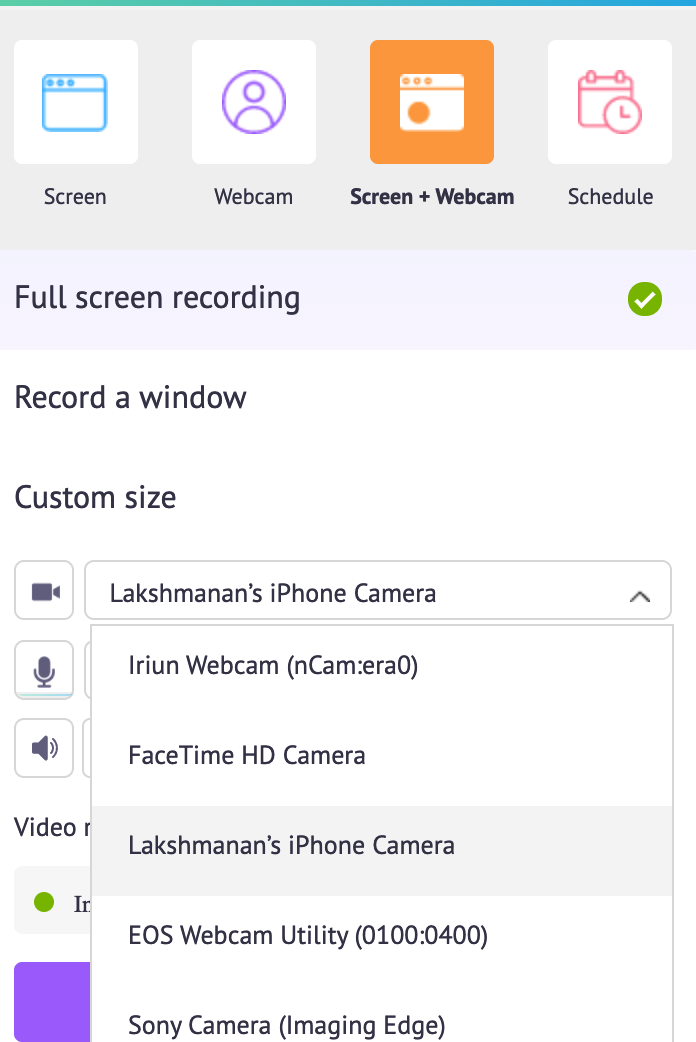 3) Choose the recording mode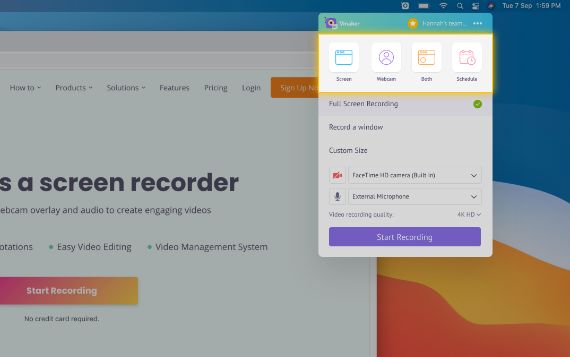 4) Decide the recording size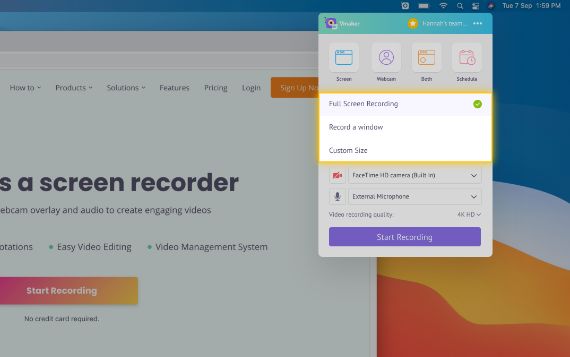 5) Check the microphone settings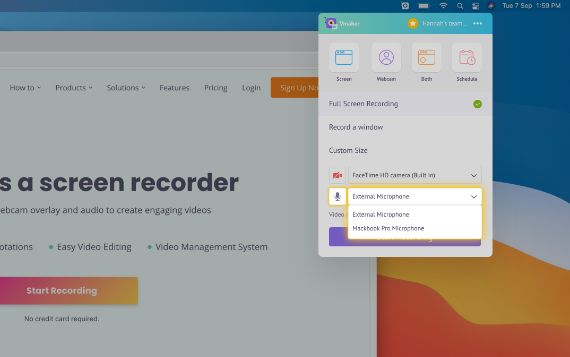 You can use the MacBook microphone to record audio. Or you can plug in an external microphone. Vmaker will automatically identify it.
6) Start recording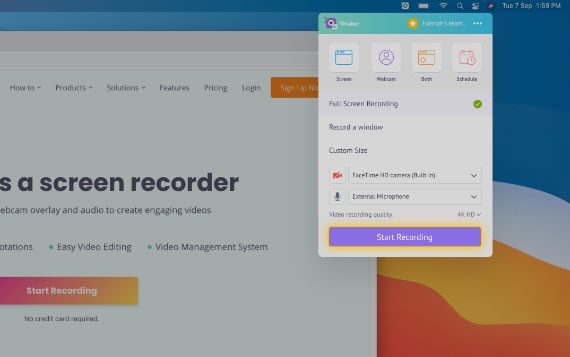 And, you're all set. Once you click on the Start Recording button, Vmaker will start recording the screen, and your webcam recording will automatically get synced with your iPhone.

Takeaway
The macOS Ventura is at the helm of unraveling exciting features for Mac users. While all of them are practical, and are going to be a delight for regular users, we're leaning more towards Continuity Camera.
This single feature is going to make a big difference in video making. Mac users who earlier struggled with video production and editing due to different devices, can now breathe easier.
Continuity Camera and Vmaker is also going to be a strong combination, and we're optimistic that it will encourage more users to record screen recording videos.
Recommended Readings:
Tips and Tricks for more professional-looking videos using Screen & Webcam recording tool
Learn Everything You Need to Know About A Webcam Recording Software
How to Record Gameplay on PS4 with Webcam and Voice Narration
How to Screen Record on Mac with Facecam
How to Screen Record on Mac with Audio and Camera