Learn Everything You Need to Know About A Webcam Recording Software
Looking to purchase a webcam recording software, but feeling lost with the sheer number of options available online?
Don't know what factors you should be looking for while purchasing a webcam recorder?
Don't worry. We've got you covered. In today's post, we will be covering everything you need to know about webcam recorders. Here are a few of the important topics we cover in this post.
What is a webcam recording software?
What is a webcam video recording software used for?
How to record videos using a webcam video recording software?
What factors should you look into before buying a webcam video recording software?
What is a Webcam Recording Software?
A webcam recording software allows users to record or live stream videos on the internet easily. The term 'Webcam' is a clipped compound word connecting two important terms 'Web' and 'Video Camera' together.
What is the use of a Webcam Recorder?
A webcam recorder simplifies the whole video-making process and helps people record videos without investing in costly recording equipment.
With the help of a webcam recording software, people can create a wide variety of videos. Some of the most commonly made videos are screencasts, tutorials, instructional videos, how-to videos, product demo videos, YouTube vlogs, live streams, etc.
Factors to Check Before Purchasing a Webcam Recording Software
Before purchasing a webcam recorder, there are a few factors you should check to ensure you choose the best software available. You should be very clear about your list of requirements. Only when you're clear with your set of requirements, will you be able to make the right choice.
For instance, if you'd like to live stream games, you should try choosing a software that allows you to record both screen and webcam simultaneously. If you'd like to create YouTube vlogs, you should try checking for additional features that allow you to enhance your videos with music and gifs.
Similarly, if you'd like to create product demo videos, you should try looking for a software that allows custom branding and has no watermarks.
Here is a list of important factors to consider while making a decision.
i) User-friendliness
Choosing the right software that's easy to use makes your webcam recording experience less stressful. Make sure you are able to navigate across different sections of your software with ease.
ii) Customer Support
This is an important factor that is often overlooked while choosing the best software.
At times, you might face a few technical issues that prevent you from using the software effectively. You might want to communicate with the technical support team and get the issue sorted. Only when the software you've chosen has a solid customer support team, will you be able to get your issues sorted on time.
iii) Features
As we discussed earlier, you should be checking for features that will help you enhance your videos based on your individual requirements.
Here is a list of important features that one should look for in a webcam recording software:
High definition video quality
Built-in video editor
Music overlay feature
Virtual Background or background blurring features
Subtitling feature
Easy access to upload to various social media handles
Screen recording feature
Feature to connect to an external microphone
Video: How to change your Webcam Background (Screen + Webcam Mode)
iv) Credible Reviews & Ratings
Checking reviews and ratings from trustworthy review platforms such as G2, Capterra, Crozdesk is also important. We all know it's easy to check for random reviews on Google. But, in order to avoid fake and paid user reviews, it's important to take a step further and check reviews from credible review platforms.
v) Pricing & Affordability
Make sure the overall pricing plans of your webcam recorder falls within your budget. Since there are a lot of webcam recording software online, you can easily find software ranging from $0 to $300.
How to Record Vidoes Using a Webcam Recording Software
There are various webcam recording software available online. Once you find the right software that suits your requirements, the next step would be to register and install the software on your computer.
In this example, we show you how to record videos using Vmaker, which is one of the most reliable and affordable webcam video recorders online.
Step 1: Sign up and install the software
Head over to Vmaker's official page and create an account in your name.
Now, you can download the software to your computer. Vmaker is downloadable in two formats - as a Chrome plug-in and as a mac application.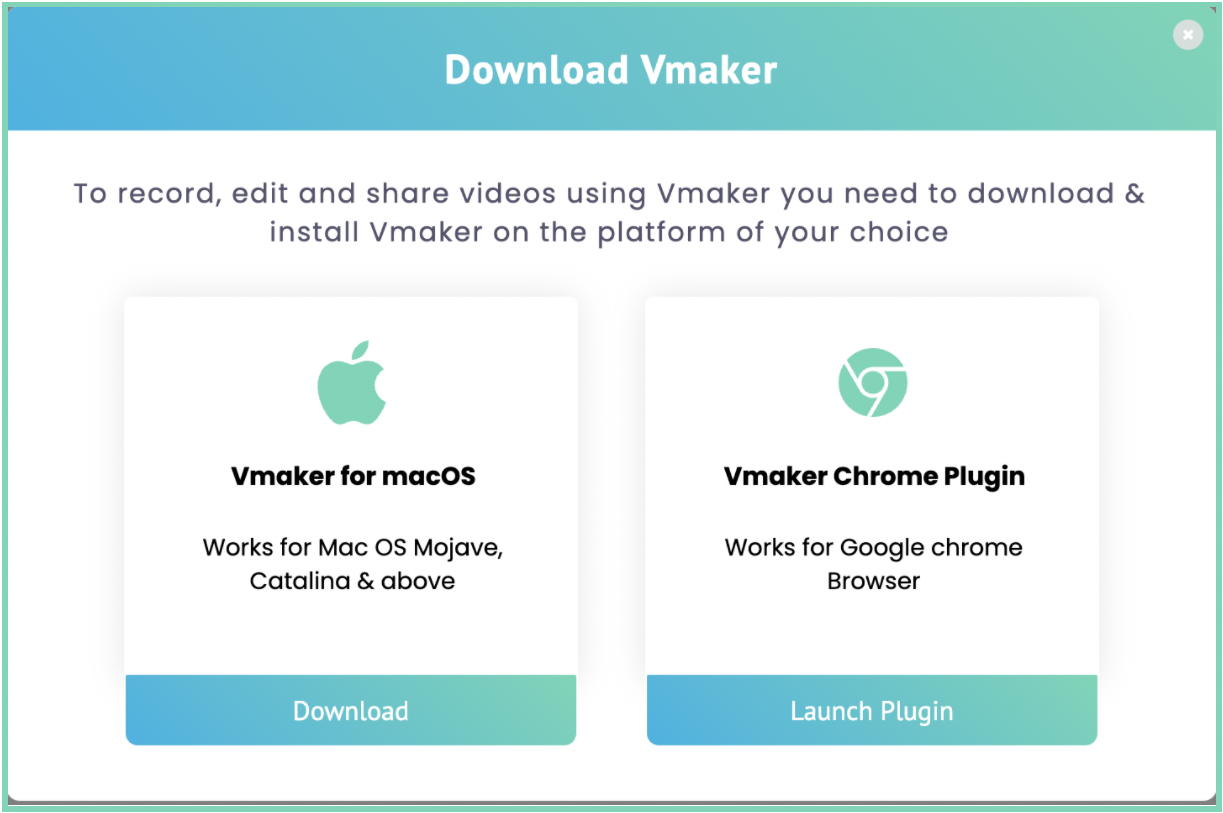 If you're a Windows user, you might want to download the Chrome extension from the 'Chrome Web Store'.
Note: If you're using a Chrome Extension, you can pin the plug-in to your browser in order to make sure it's easier to access the webcam recorder whenever you want. Once it's pinned to your chrome browser, you can just click on it, and start recording.
Step 2: Choose your recording mode and customize your preferences
Once you click on the plug-in, you'd be prompted to select the following.
Your preferred recording mode (Whether you'd like to record your screen, webcam or both simultaneously)
Your preferred recording quality
Your preferred way of recording (Whether you'd like to record the entire screen or just your tab)
Now, you can go ahead and customize your preferences. Vmaker offers various features that you might want to make use of before you start recording. To make sure you enable all the necessary features, click on your account, select 'Preferences' and enable all the features that would help you enhance the overall quality of your video.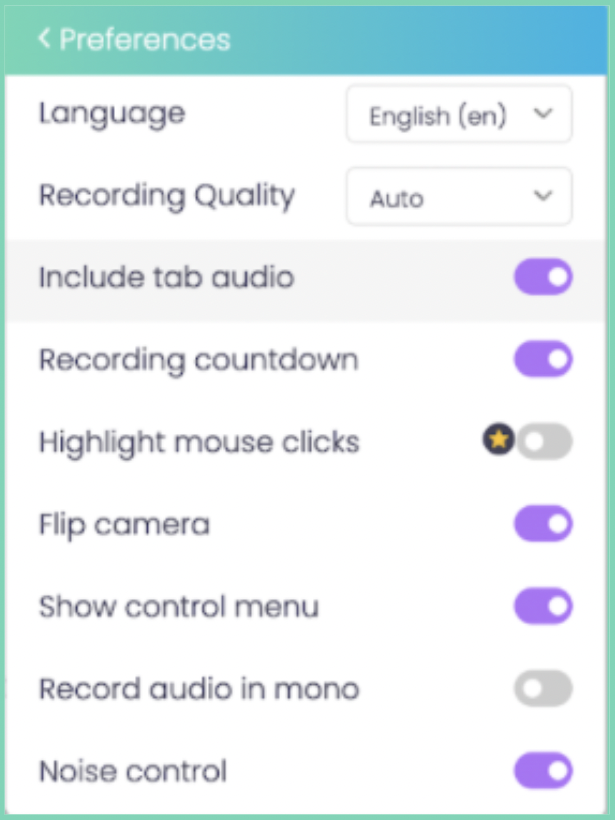 Note: If you're looking forward to using your webcam recording software to record videos tutorials, screencasts, make sure you turn on both the screen recording and webcam recording feature.
Step 3: Start recording
Once you are ready, you can click on the 'Start Recording' option and record your video.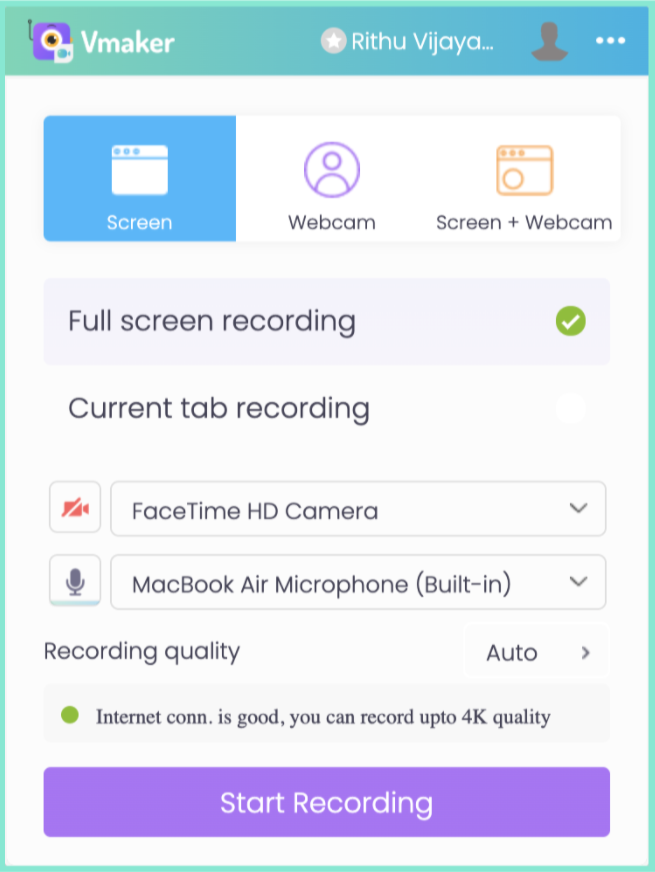 And, when you're done, you can click on 'Stop Sharing' to stop the recording. The recorded video file will automatically be exported to your dashboard.
Step 4: Make use of the built-in video editor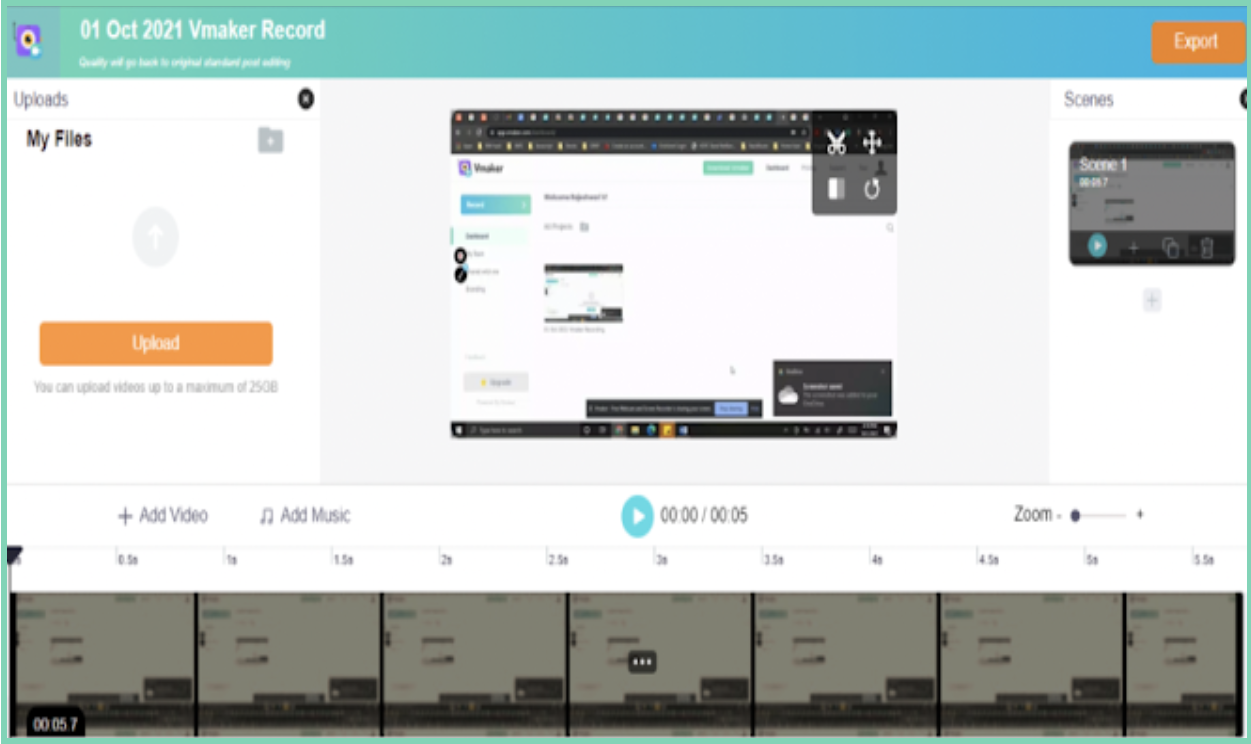 If you'd like to edit the video, you can click on the 'Edit' option. You will be directed to the editing dashboard. Here is where you cut out unnecessary portions of your recording, add music and captions to your recording.
Note: Before you edit your video, you can make use of the 'Duplicate' option to duplicate your original copy. This will help you get a backup when you cut out certain important sections by mistake.
Step 5: Share your recording
Once you are done with your recording process, you can directly upload it to various social media platforms like Facebook, YouTube or share it as a link via chat or email.

Conclusion
Knowing how to record videos with the help of a webcam recorder will help you create simple tutorials, instructional videos, video presentations, YouTube vlogs, how-to videos, and product demo videos easily in just a few minutes.
You no longer need to fret about not having the right recording set up or equipment. With the help of simple webcam recording software like Vmaker, you can easily create, edit and share videos in less than an hour!
Recommended Reads