How to Create a Video Resume? Six Actionable Steps, Example with Tips
Video resumes have become very popular amongst recruiters and students. Here is a quick how-to guide on creating high-quality video resumes for free.
Resumes and CVs have evolved drastically over the years ever since Leonardo da Vinci created the first official resume in 1482. In the current era, resumes have shifted from the traditional written format to a video version, popularly known as Video Resume. Although video resumes first came into existence in 2006 and then hit YouTube in 2007. It is only now over the last few years that video resumes have gained popularity amongst recruiters, talent acquisition teams, and candidates.
Nowadays the competition for a job is very high. On average, a recruiter gets 250 resumes for a job, out of which only 4-6 get to the interview level and only one gets hired. So it's a 0.4% chance of getting hired.
Adding to the above, as the volume of resumes is high, today's recruiters skim a resume for a mere 7.2 seconds and it is nearly impossible for a text CV or resume to catch the eyes of the recruiter in such a short span.
The average length of a resume is 400-800 words and it takes a minute for a recruiter to read 250 words. This means that a recruiter will need a full three minutes to read a text resume. But they spend just 7.2 secs!
Recruiters are constantly tired of processing multiple resumes and in the process sometimes miss out on good candidates. Whereas candidates face a hard time in handling multiple rejections. This along with the fact that we have switched to a remote-first working, hiring and onboarding process has led to the growing popularity of video resumes.
By switching to video resumes, recruiters can evaluate candidates better and this also allows candidates to impress recruiters. This creates a win-win situation for all parties involved as recruiters are now confident of not missing out on good candidates whereas candidates also get their best shot at the role!
In this blog, we'll go in-depth to see how you can record a video resume with some tips and video resume examples.
How to record a video resume in six simple steps?
A lot has been said that creating a video resume will be a complex process which has led to a lot of candidates shying away from creating one for themselves. But contrary to popular belief, video resumes are easy to make and share with recruiters and organizations.
Prepare an Ideal Script
Prepare an elaborate script of what you have to convey in your video resume. Ensure that the script is very specific to the role you're applying for and not generic. As much as it is important to create a video resume, it is important to create one very specific for the company and role you're applying for. There's a 54% chance that you'll be rejected by a recruiter if you don't personalize your resume and this holds well for video resumes as well!
Here are few things that are essential in a video resume along with the ideal duration for the same
Video Resume Format:
Basic Information ~ Name, Age, Gender, Current place of residence, etc (5-10 secs)
Current and past work experience (25-30 secs)
Why do you see yourself as an ideal candidate for the role you're applying for (15-20 secs)
Key Achievements and accomplishments (10-15 secs)
Summary and a message to the recruiter (5-10 secs)
Decide on how you want your video resume to be and then fine-tune your video resume script
The easiest and the best way to create a video resume is through real-time recordings. A video resume maker like Vmaker enables you to record your webcam and as well as your screen simultaneously making it easy for you to record your video resumes.
Why prefer real-time recorded video resumes over other video resume formats?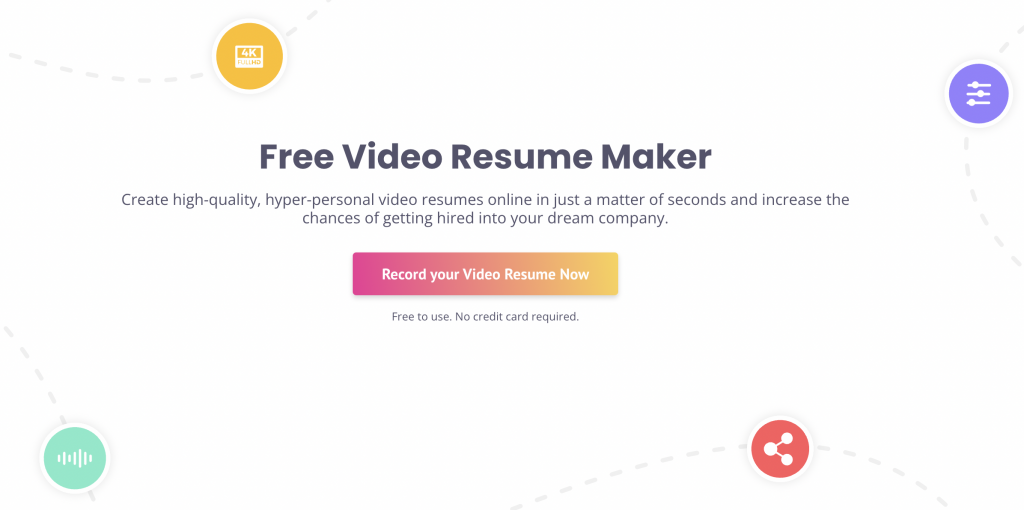 Other video resume formats like animation videos might look attractive but it's tedious to make one and remember recruiters want to establish a connection with you via a video resume. A real-time recording is the best way to do it!

Fine-tune your video resume script
Record a couple of test recordings, replace hard words and sentences. Making the language as simple as possible is very important. Remember the recruiter is looking at your communication skills and how you present your work and not your language skills. So stick to a formal straightforward tone. Also, ensure the length of the video resume recording doesn't exceed the ideal 60- 90 seconds mark!
Set up your recording and make the recording creative
Sign up for a free video resume maker like Vmaker and quickly set up your preferences and select the ideal recording mode, screen, and webcam recording that works best for video resumes. Before recording ensure you have the ideal lighting and setting without any disturbances. 
Before starting to record, choose custom filters and background to make your video CV creative and colorful which lasts a long impression in the minds of the recruiter.
Pro tip: Do not overuse creative features like custom background, filters, and frames. Once again remember the video resume is to pitch yourself to the recruiter and company!
Record, Edit, and fine-tune your video resume
No matter how much you have memorized the script of the resume there are bound to be a few stammers and hiccups while recording. The Vmaker video resume maker comes with a built-in video editor allowing you to fine-tune and edit your videos before sharing them with recruiters. If needed you can also add intros and outros to add a good look to your video resume.
Download or share your video resume directly
Once done editing your video resume on Vmaker Editor you can download the video or directly share it on Linkedin, Gmail with recruiters.
Video Resume Example and Reference
Here is a video resume recorded using Vmaker using the above six steps and tips.

Recommended Reading:
List of 10 Best Software to Create Video Tutorials
Video Emails: How to Send a Video via Email
How do I make a video presentation
How to screen record on iPhone