How to screen record Netflix?
Are you looking for a way to screen record Netflix videos? This article will show you the simple steps involved in the process and the best tool to screen record a video.
But before we go further...
Full disclaimer: Please bear in mind that the tutorial presented in this article is intended to be used for non-commercial and personal use only—for example, to create memes, GIFs, or anything like that out of the recordings. To view videos in the offline mode, we recommend you subscribe and download the Netflix app.
Now to record a video we need a screen recorder, so let's see some of the best screen recorders available!
One of the best solutions is to use a screen recorder.
Best free screen recorders to record Netflix videos
EaseUs Recexperts
Bandicam
Active Presenter
Screenrec
Nimbus
TinyTake
Ezvid.
We have used Vmaker to create the simple step-by-step guide in the following sections But if you wish to check out the other tools, we recommend you to go through the next section before checking them out.
Why use Vmaker for screen recording Netflix videos?
Vmaker is the only screen recorder that allows you to record an unlimited number of videos for free without any watermark. 
It comes with a free built-in video editor that allows you to do all the necessary editing to your recorded videos, such as cropping, rotating, trimming, etc.
And the best part is all these features come under Vmaker's free lifetime plan, which means you can use Vmaker for free for your lifetime without paying a penny.
Here is a summary of the key features of Vmaker:
Lifetime free plan
Watermark free recording
Free built-in video editor
Unlimited number of recording
HD recording (up to 4K in premium plan)
How to screen record on Netflix - Step by Step Guide
Here's how to screen record Netflix using Vmaker!
Step 1: Open Netflix in your browser and launch Vmaker
Tip: Pin Vmaker's chrome extension to your browser for the ease of accessibility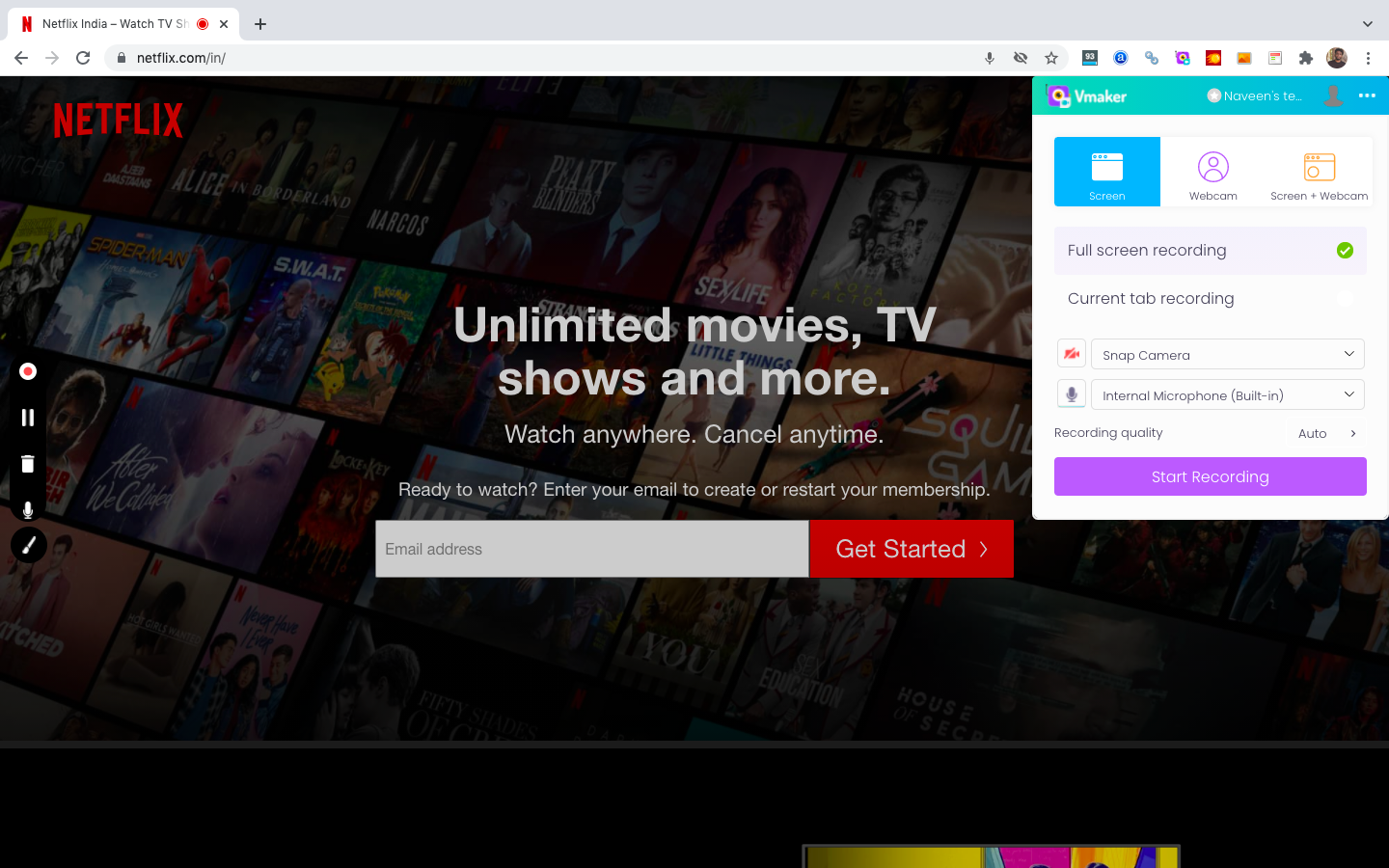 Step 2: Select "Current tab recording" mode to record your video with internal audio
Note: There are two main modes of screen recording in Vmaker - "Screen" and "Screen + Webcam," and by default, Vmaker will be in "Screen" mode.
But if you wish to record your video along with a webcam bubble then you can select the "Screen + Webcam" mode.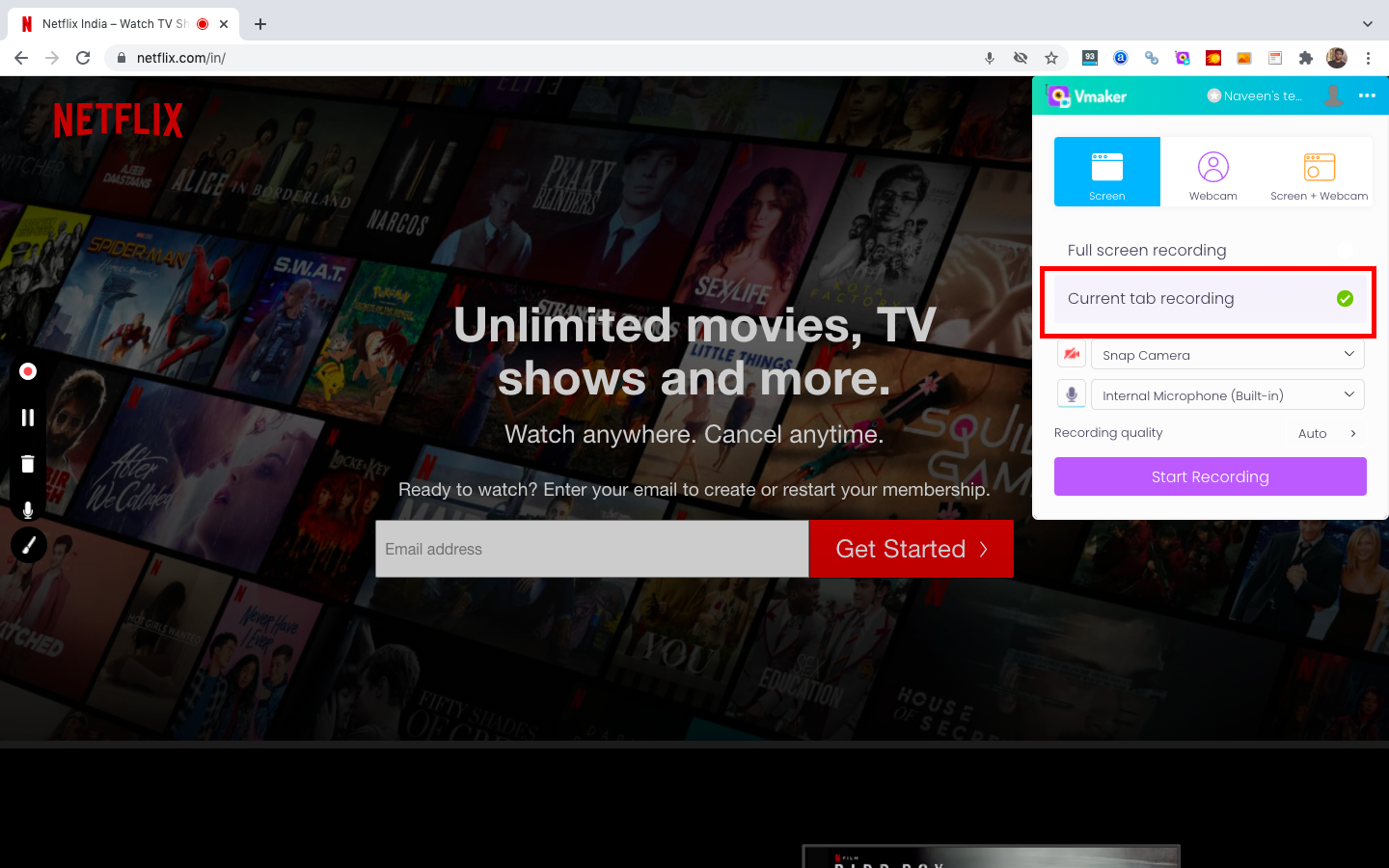 Step 3: Now go to Preferences under settings and enable "Use system audio' to record your internal audio.
Note: Just make sure that your external microphone is muted since you're trying to record only your internal audio. If not, then you can keep your external microphone on.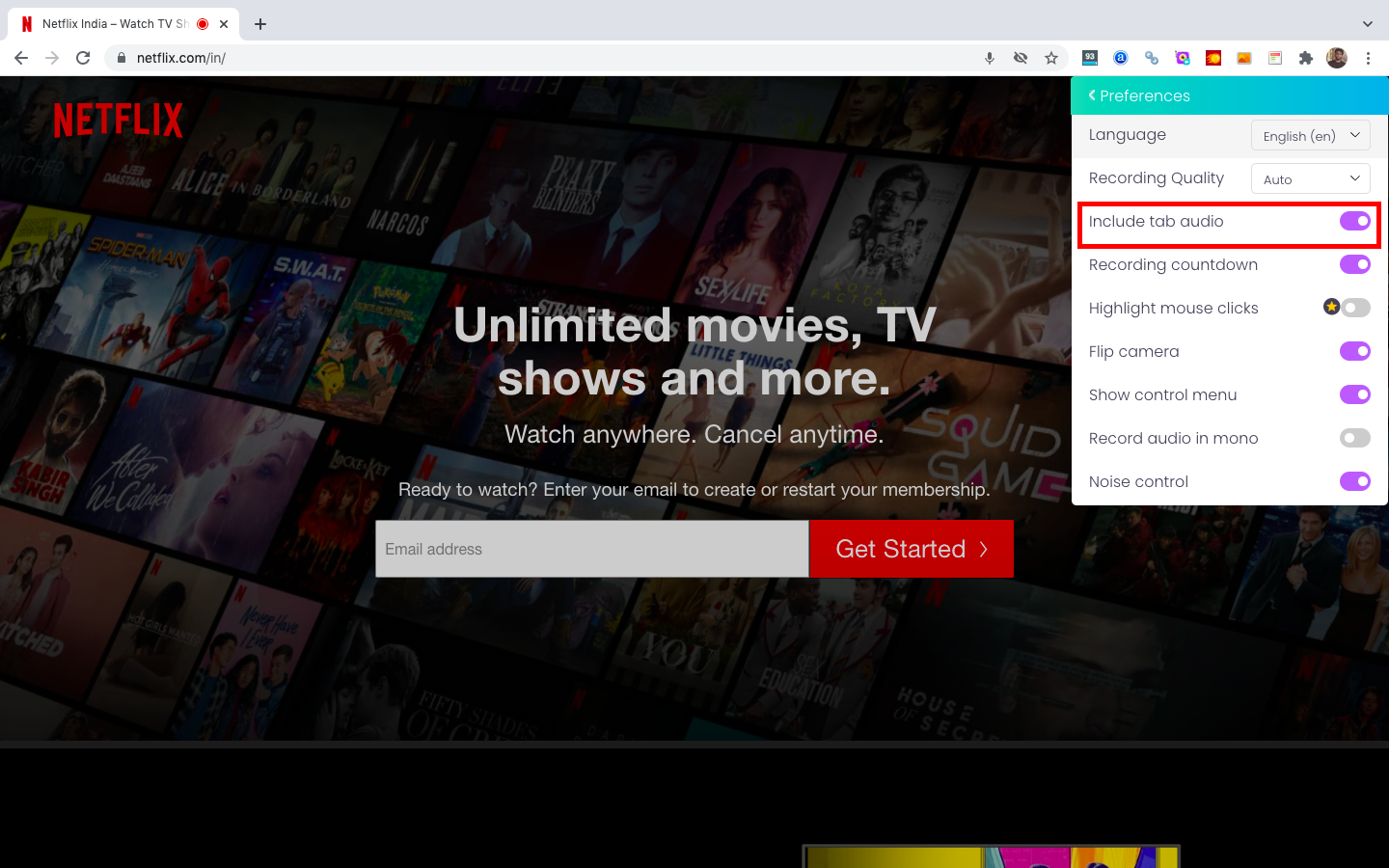 Step 4: That's it. Now you are all set to screen record your Netflix video. Just click on the "start recording" button and play your video in full-screen mode.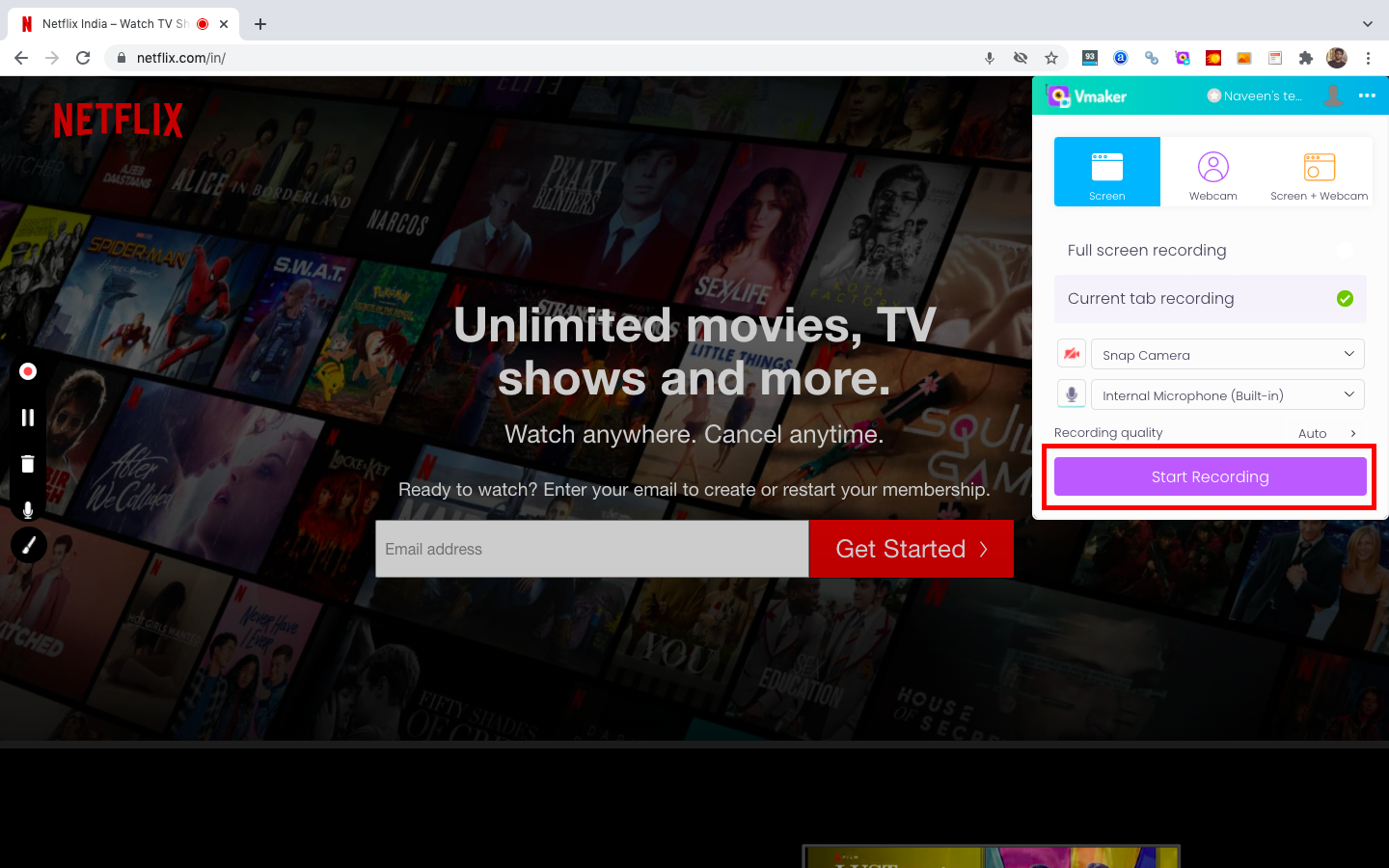 Step 5 To stop recording, click on the red dock buttons or use the shortcut keys. Once you stop the recording, your video will be automatically uploaded to your private Vmaker cloud account.
Note: Since all your recordings will be stored in your private cloud account, you can record your videos without worrying about filling up your computer's memory.

Step 6 Edit, download and share your recording.
Once you finish your recording, a player page will pop up from where you can edit, download, and share your video.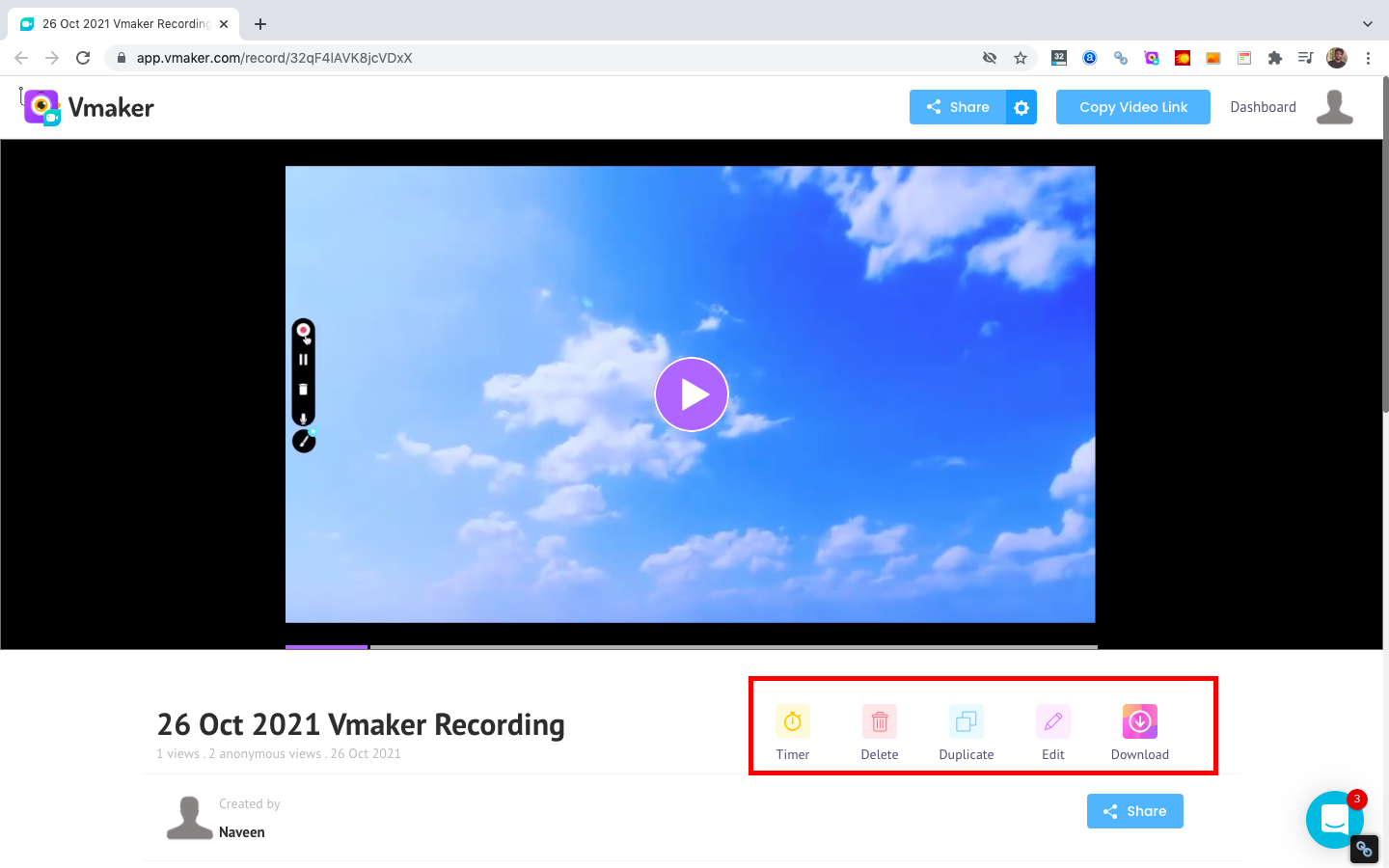 Tips for screen recording Netflix
Closeout all the external tabs and applications: External tabs and applications can push distracting notifications, or they can slow down your system's processing power. So just make sure while recording keeps things as minimal as possible just to be on the safer side.
Record with a stable internet connection: A fluctuating internet connection can deter the quality of your video being streamed and recorded. So just make sure that you have a stable internet connection while recording.
Mute your external microphone: Since you're planning to capture your videos only with your system audio, just make sure that your external microphone is muted before starting your recording.
If you found the above article helpful, then here are a few more articles that you may find interesting. Happy reading!
How to Record Facebook Live Stream Videos for Free
How to Record PS4 Gameplay with Webcam and Voice Narration
Best PowerPoint Recorder to Record Presentations With Audio