How To Screen Record Netflix Without Black Screen?
Have you ever tried to screen record your favorite scene on NETFLIX but were only given a black screen video?
If you have been there, don't worry. You are not alone. You, your neighbor Susan and her cousin Mark, and I have faced the issue.
Now, let me tell you how to record NETFLIX without a black screen.
Before we jump in… I have a disclaimer here:
This article is published only to help the audience screen record on NETFLIX for non-commercial and personal use only. It could be creating memes or GIFs and giving credit to the original creators. To watch videos offline, we recommend you subscribe to the NETFLIX app and enjoy all the benefits.
The best way to screen record videos on NETFLIX is by using an external screen recorder. You have multiple options in the market but we've listed out some of the effective screen recorders here:
Best free screen recorders to record Netflix videos
EaseUs Recexperts
Bandicam
Active Presenter
Screenrec
Nimbus
TinyTake
Ezvid.
Now, let's see how you can record the screen on NETFLIX using Vmaker. Before we begin, we are going to tell you why you can choose Vmaker over other options available in the market:
Why use Vmaker for screen recording Netflix videos?
Vmaker helps you to record in just a few seconds. All you need to do is install the Vmaker Chrome Extension and start recording. Also, Vmaker is compatible with all OS and does not restrict you to usage.
Here is a quick summary of the key features of Vmaker:
One-tap recordings
Free built-in video editor
Unlimited number of recordings
HD recording (up to 4K in premium plan)
Webcam and screen recording
Screen annotations
Noise cancellation
Custom recording dimensions

How to screen record on Netflix - Step by Step Guide
Here's how to screen record Netflix using Vmaker!
Step 1: Launch Vmaker Chrome Extension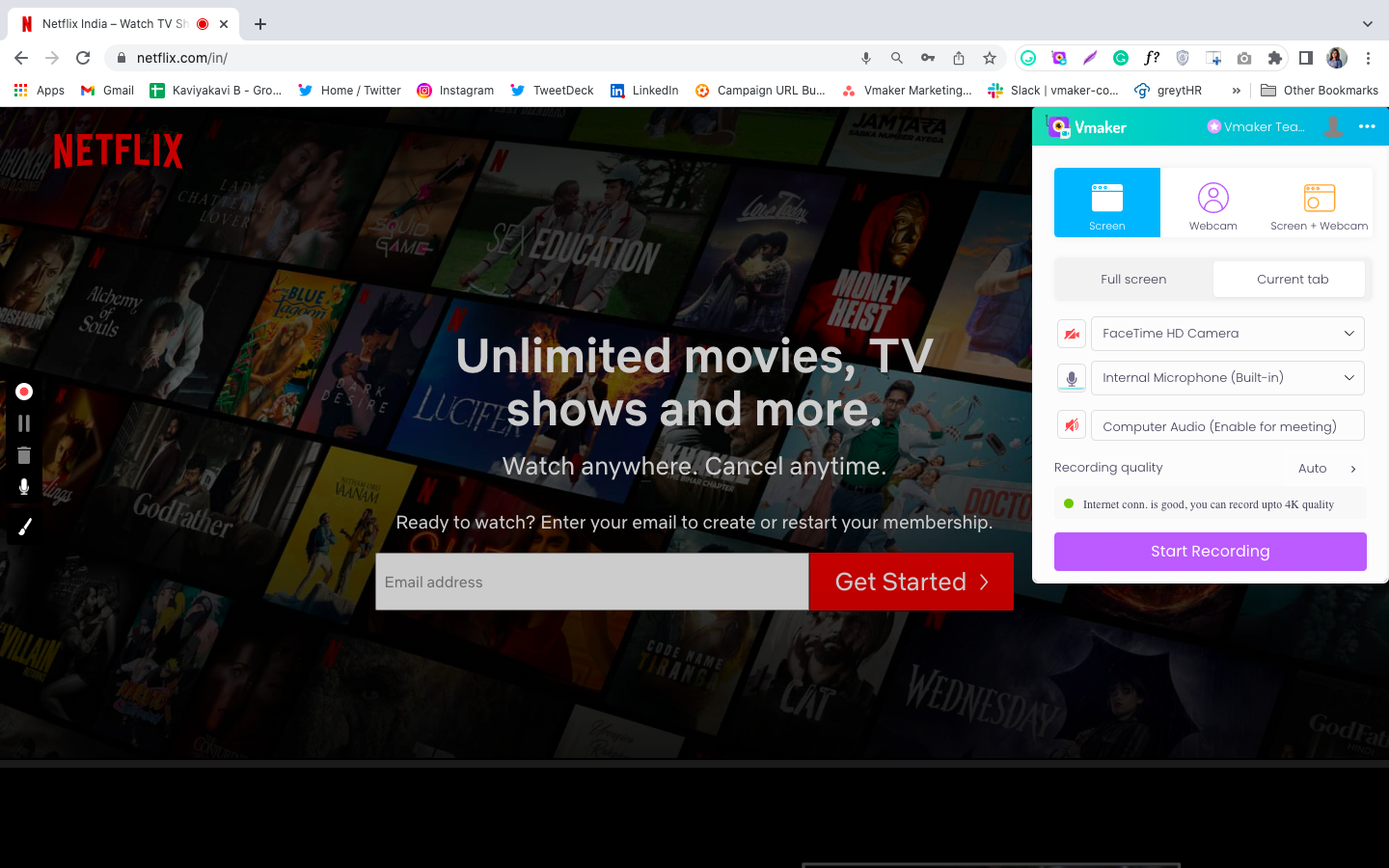 You can download Vmaker here or search for Vmaker Chrome Extension, or You can download the Chrome Extension from the Chrome Web Store as well.
Tip: Pin Vmaker's chrome extension to your browser for ease of accessibility
Then, open NETFLIX on Chrome.
Step 2: Select Video Recording Mode
On Vmaker, you can choose to record only your screen or webcam or both. It depends on the type of video you want to record.
(Refer to the creative types of videos you can create in the section below)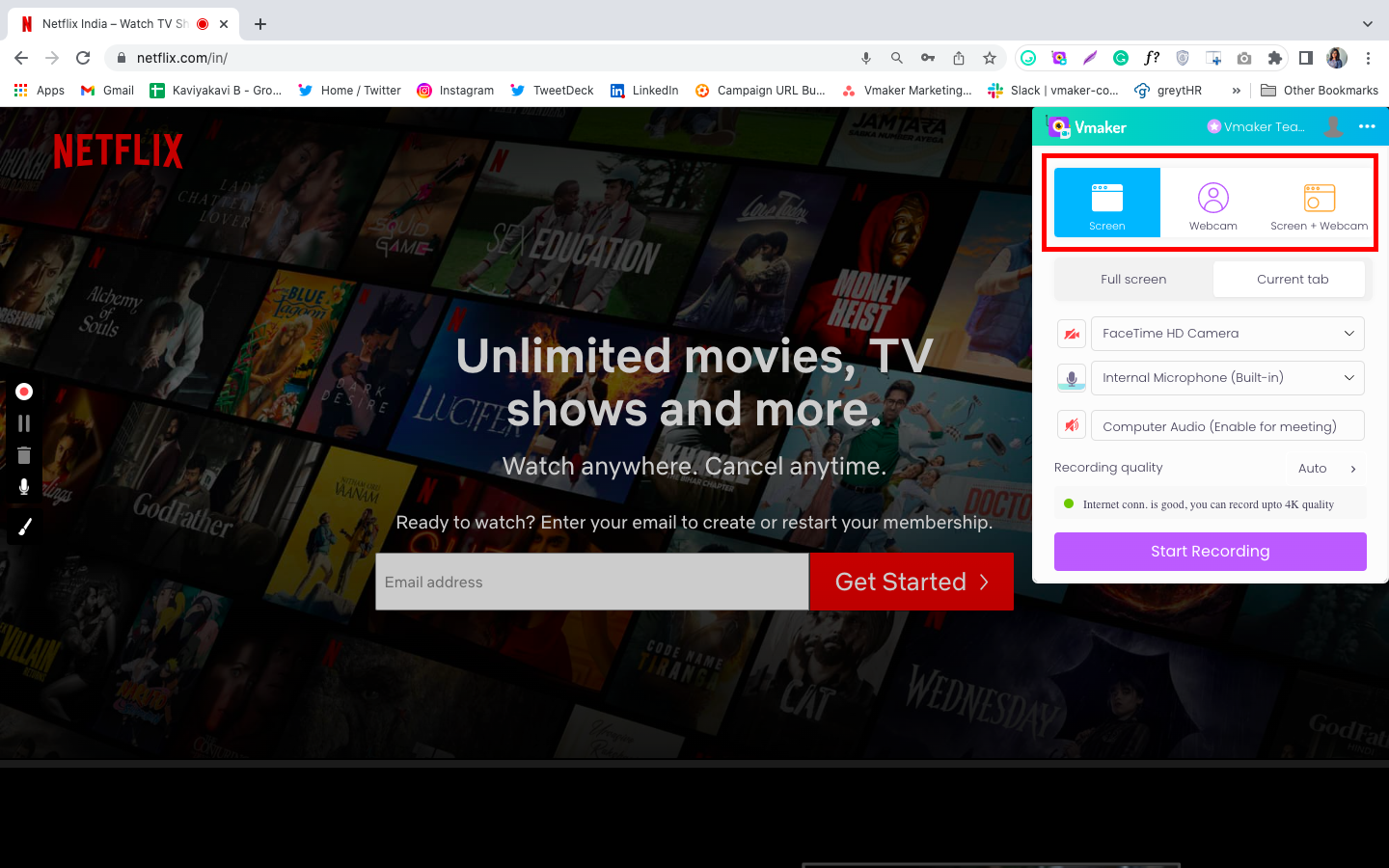 Step 3: Opt For "Current Tab Recording"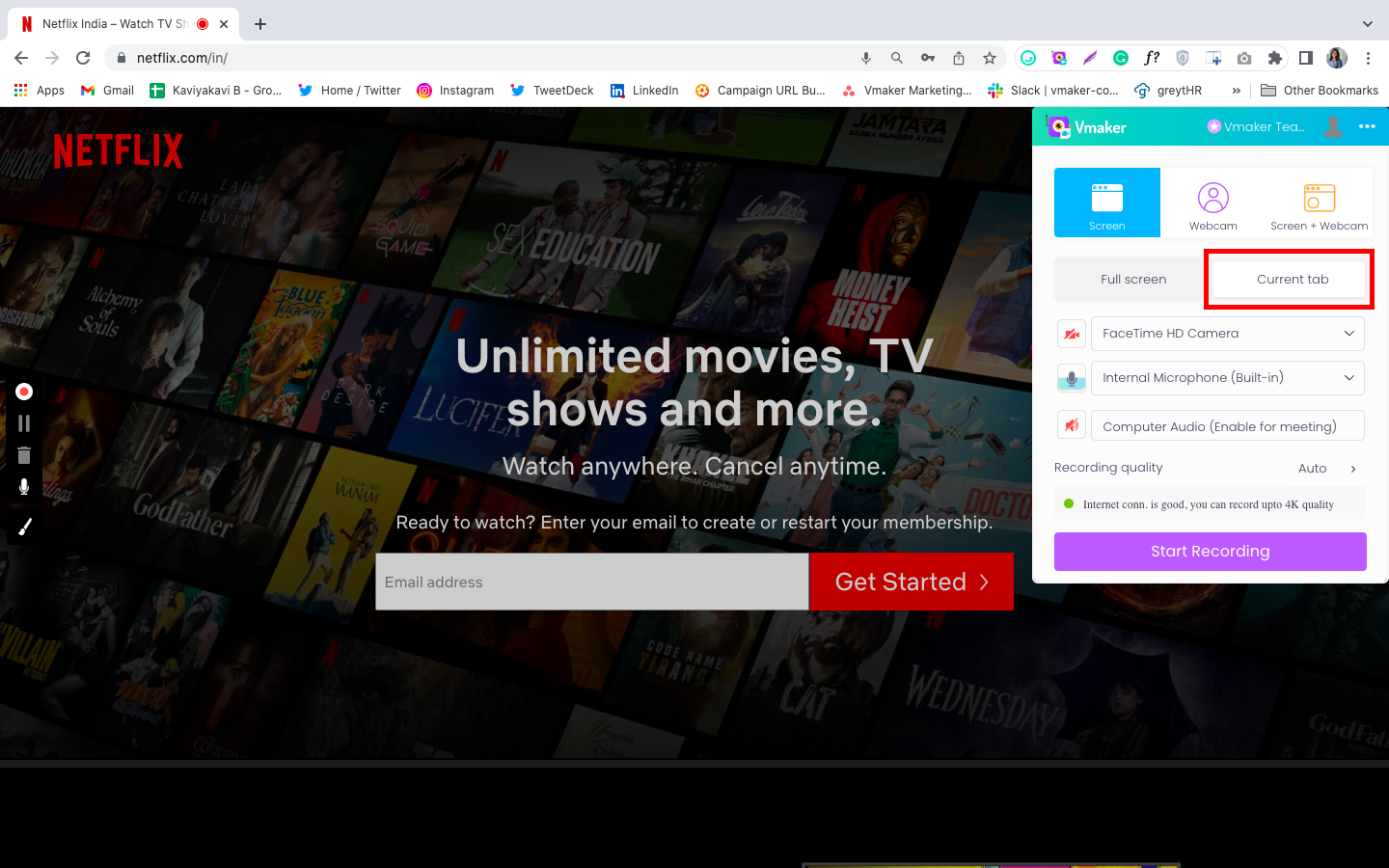 You can record the internal audio, i.e, the audio of the movie/series along with the video that's playing, you need to opt for the "Current Tab recording" (No.1) and enable the "Computer Audio" option (No.2).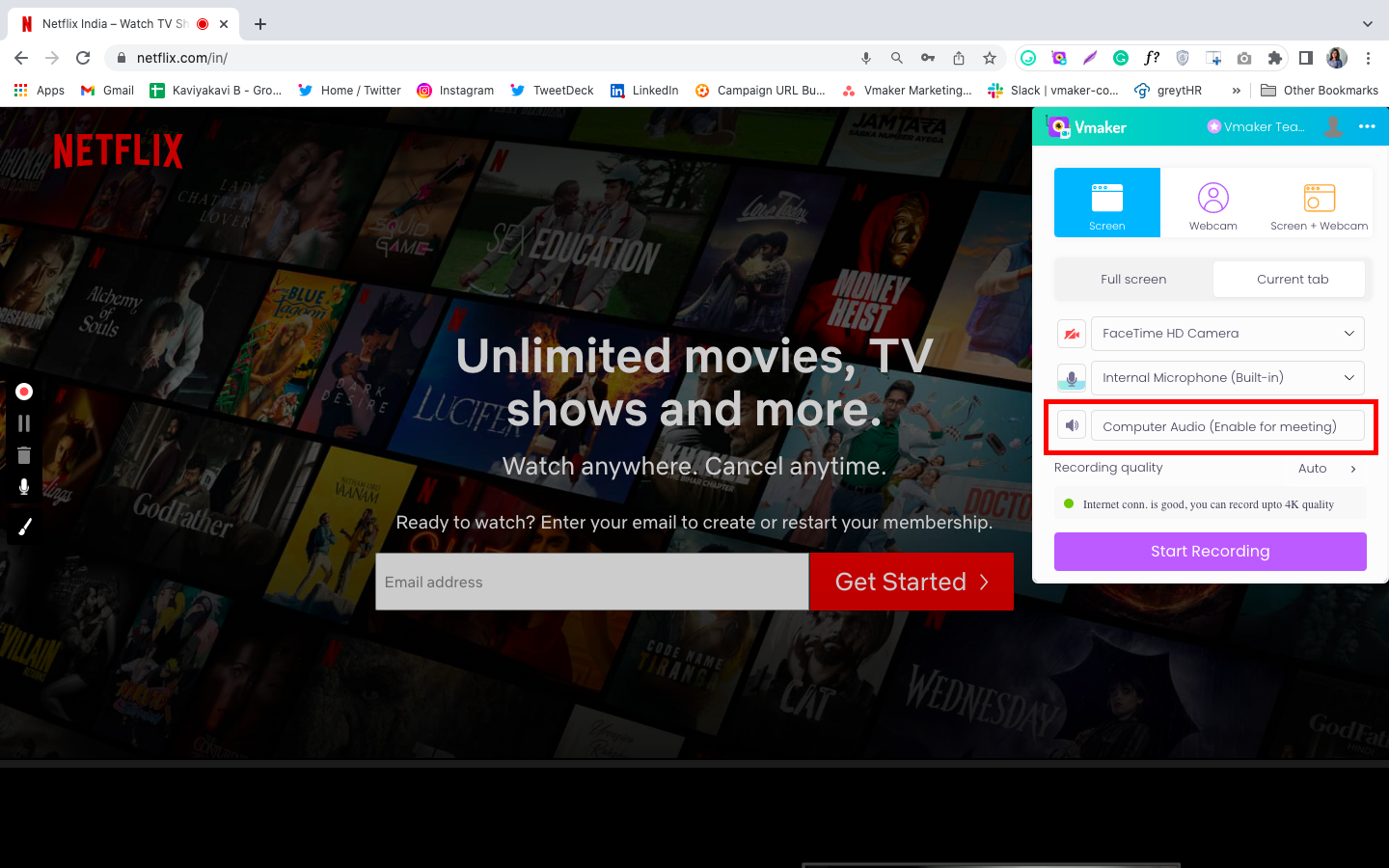 This is an easy step to record only the NETFLIX tab irrespective of the number of tabs you have opened on the chrome extension.
Step 4: Select The Recording Quality
Now, you can select and record videos up to 4K resolution on Vmaker. Click on the "Recording Quality" menu bar as shown below and choose the preferred quality.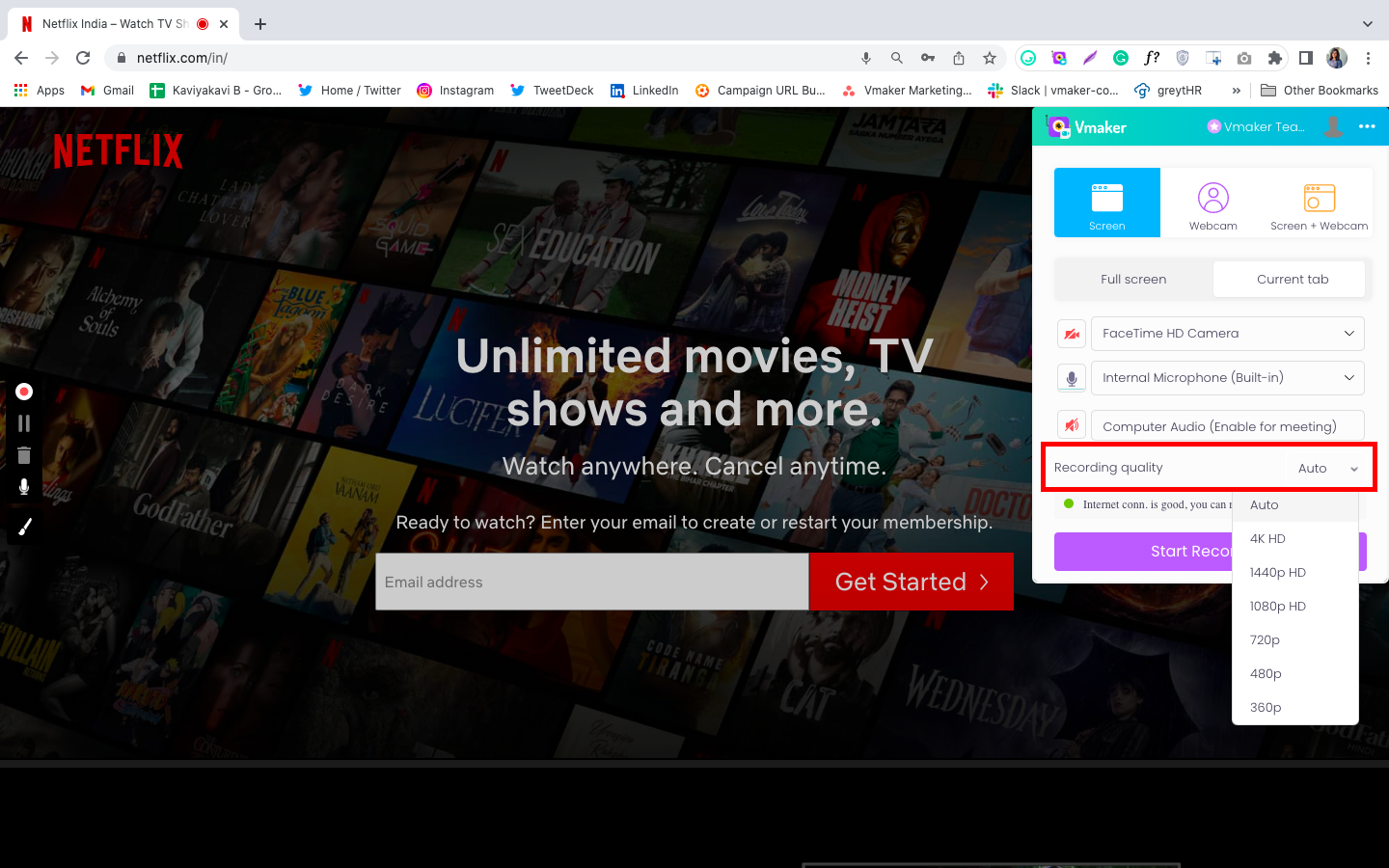 Step 5: That's it. Start Recording!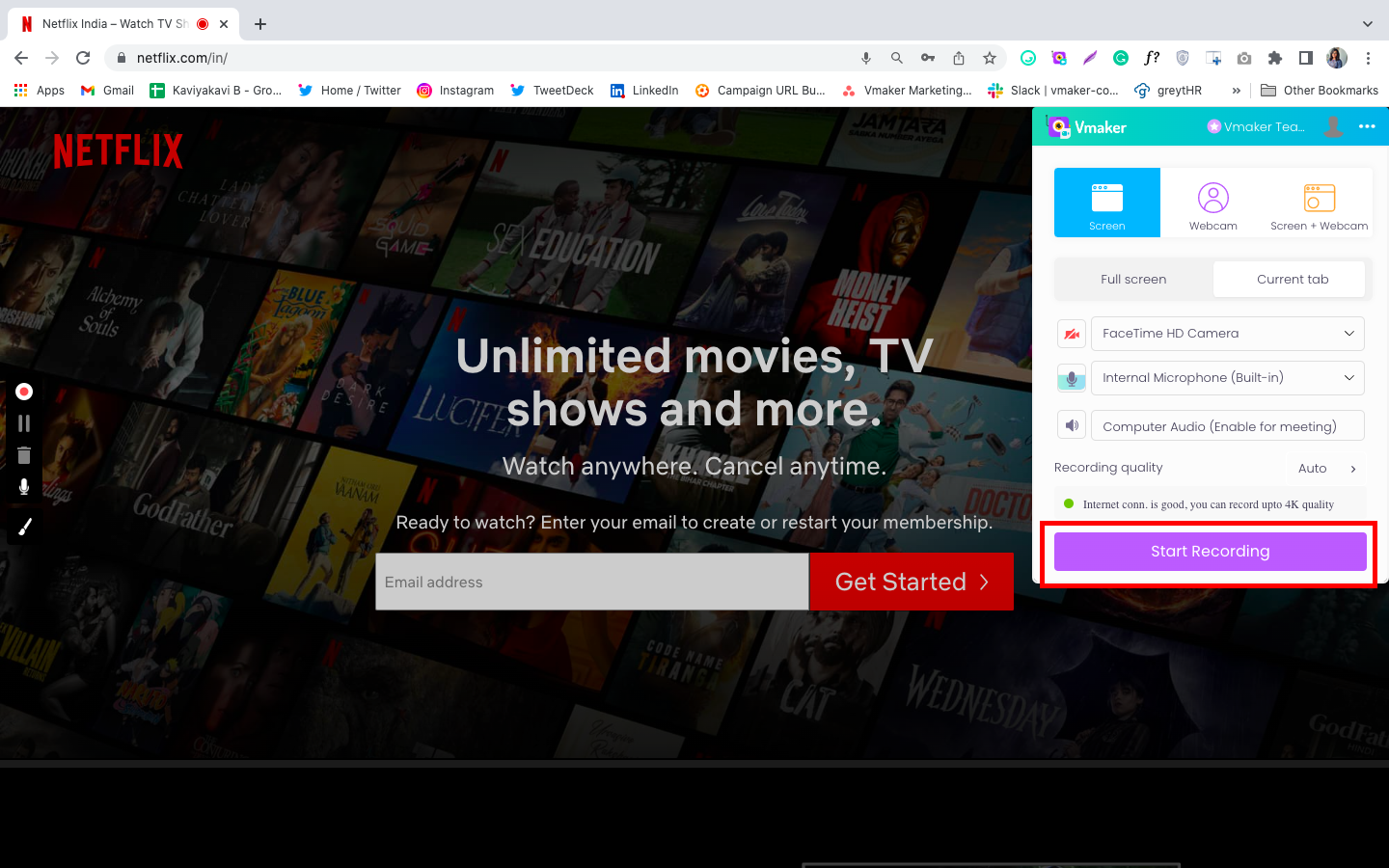 Now, you're all set to screen record on NETFLIX. Click on the Start Recording button and Vmaker will do its trick after the countdown.
Step 6: Save It To The Cloud
Once you've recorded your video, you can click on the red icon and stop the recording.
Since all your recordings will be stored in your private cloud account, you can record your videos without worrying about filling up your computer's memory.
Step 7: Edit, download, and share your recording.
Once you finish your recording, a player page will pop up from where you can edit, download, and share your video.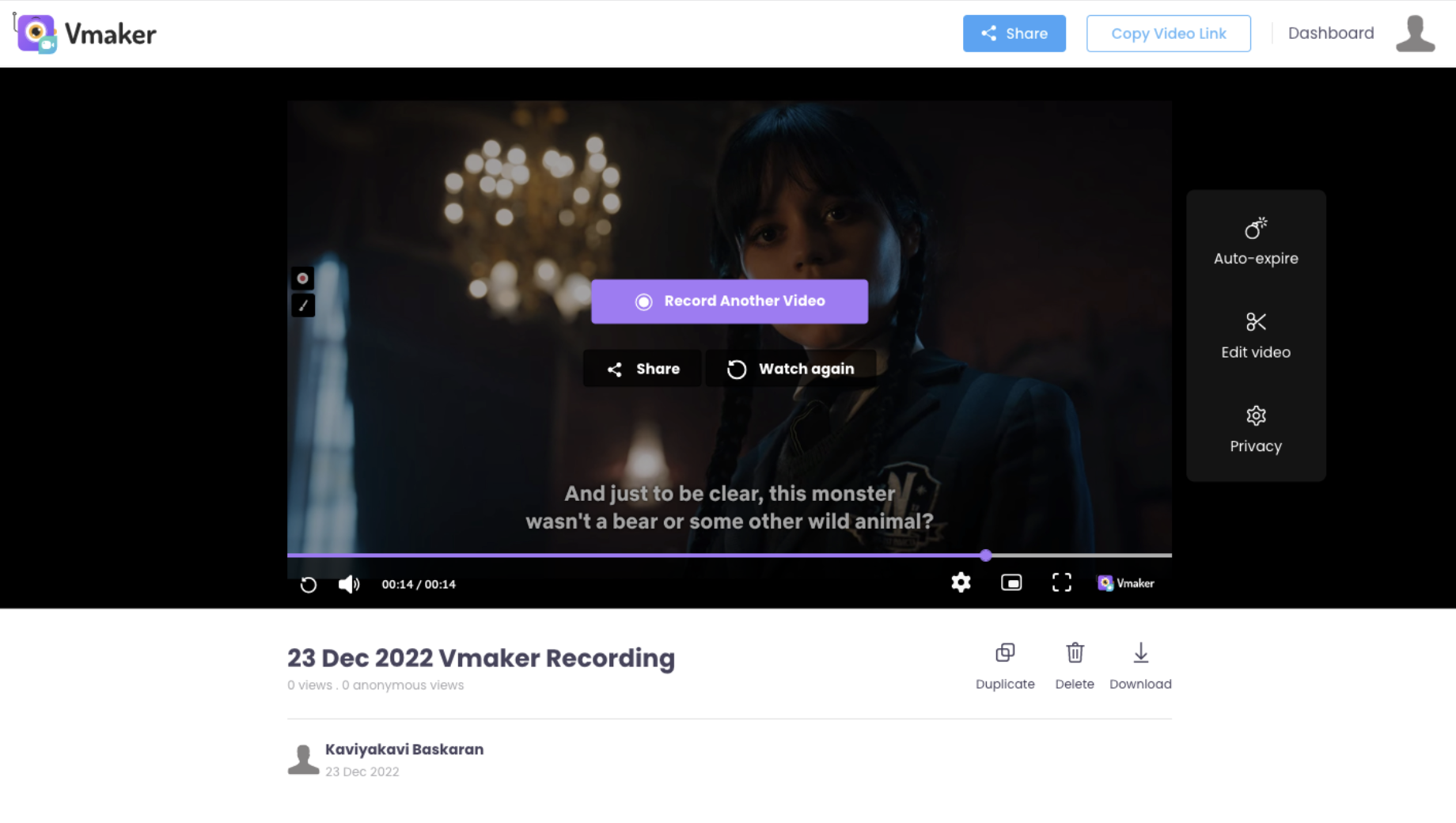 Tips for screen recording Netflix
Closeout all the external tabs and applications: External tabs and applications can push distracting notifications, or they can slow down your system's processing power. So just make sure while recording keeps things as minimal as possible just to be on the safer side.
Record with a stable internet connection: A fluctuating internet connection can deter the quality of your video being streamed and recorded. So just make sure that you have a stable internet connection while recording.
Mute your external microphone: Since you're planning to capture your videos only with your system audio, just make sure that your external microphone is muted before starting your recording.
Creative Videos You Can Record Using Vmaker Advanced Features
You can create multiple types of videos on NETFLIX without limiting yourself to one type. Here are some suggestions from us that you might find helpful.
GIF Memes
Reaction Videos
Movie analysis
GIF Memes:
If you want to capture the expression of a particular character in a movie/series on NETFLIX, you can easily do that on Vmaker. (Yes, you no longer need to record the whole scene and crop it later).
Note: This feature is available only on the Vmaker Windows & Mac apps.
Reaction Videos:
This needs no introduction. A wave of YouTubers and Instagram influencers thrive on creating and publishing reaction videos. If you're one or want to create it, then you can record both screen and webcam on Vmaker.
While recording your webcam, you can add frames and backgrounds to your webcam bubble to pop out.
Movie/Series Analysis:
Are you a movie buff who loves decoding and interpreting scenes? If yes, then you can use the Screen annotation feature to add your perspective to the scene and explain it to your audience.
It's as easy as that. Before you screen record NETFLIX, make sure to follow the Terms of Use and the copyright law in your country for recording on NETFLIX.
If you found the above article helpful, then here are a few more articles that you may find interesting. Happy reading!
If you found the above article helpful, then here are a few more articles that you may find interesting. Happy reading!
How to Record Facebook Live Stream Videos for Free
How to Record PS4 Gameplay with Webcam and Voice Narration
Best PowerPoint Recorder to Record Presentations With Audio