Employee Onboarding Checklist for 2023 with Free Excel template
Employee onboarding is still one of the tricky areas for companies.
There is no speck of doubt that the advancement in HR technology has made the process of managing employee onboarding easy. There is almost no paperwork, and with automation the number of manual tasks are negligible.
But, employee onboarding is not just another task. Or, it's not about going from point A to point B. It's about building an experience for the new employees, so that they feel welcomed, and over time, get used to the company culture.
To help you with that we have created a few checklists that have a list of activities mentioned in them. These activities will help you build the best experience for the new employees.
Employee onboarding checklist for companies in 2022
The checklist that you're going to read now is applicable for onboarding employees in the office or remotely. We have added a few extra points at places which are more applicable to remote hiring. 

Employee onboarding is a long process, and therefore takes time to complete. And, to do justice to that, our checklist has been designed to meet the requirements of every time frame.
Here are the time frames we're talking about -
Pre-boarding checklist
First-week checklist
First-month checklist

Checklist for pre-onboarding
The pre-boarding phase is about sending welcome emails and warming up the candidate about the process or what they should expect in the coming weeks. Here's the full detail of all the activities that you should ideally cover at this phase -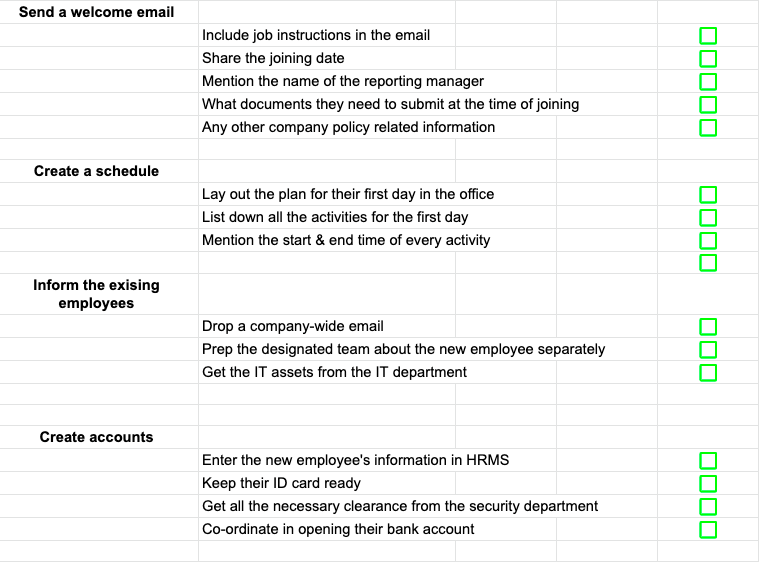 Send a welcome email
The Welcome email has to be simple & straightforward. Other than welcoming the new candidate, it should give them instructions on their starting date and time. Name of their reporting manager, their designation, what documents they need to submit at the time of joining and other company policy related information
Create a schedule for their first day
You can include this as a part of the Welcome email or send it separately if the email is already overloaded with information. The schedule should clearly lay out what the first day of the new joiner will look like. Add the start and end time of every activity, so that the candidate is prepared for the duration of each task. Moreover, incorporating the schedule in an interactive flipbook allows for an engaging and visually appealing way to present the onboarding timeline, ensuring clarity, organization, and easy accessibility to key information.
Inform the existing employees
As much it matters to inform the new employees about the company, informing the existing employees is equally important. This will keep them ready to invite the new members to the team, and avoid last-minute madness. You can drop a company-wide email or only let the concerned team know about it. Moreover, you have to let the IT and admin departments know so that they keep the IT assets and the cubicle ready
Create accounts
Another important step that can help you keep everything organized for the new employee is creating accounts in the HRMS and Payroll system. So, when they join, you can keep track of their attendance, time-in, time-out and investment proofs from day one
Get security clearance
Getting blocked at the main gate for lack of authorization can put your new employee red-faced. Create an ID card for the new employee even before they join. If that's not possible, inform the security team, so that the new employee comes walks in through the main gate, they can hand over a guest ID card with a temporary access
What else could you do for remote employees?
Most of the above steps are applicable for remote pre-onboarding too. However, there can be a few changes and additional steps here -
Get their Welcome Kit ready that has all the necessary stuff that will help them with your daily work
Don't forget to pack the goodies with your company branding on them
Send them a cost-breakdown if you have a budget assigned for new employees to set their work set-up
Send them an invite or tell them about the Slack or chat group that every team uses to communicate, get work done, and have fun too
Your remote work policy document

Checklist after 1 week of onboarding
The new employees joined your company 1 week back. They're familiar with the basic workplace rules, company policy and know their teammates well. However, they're still fresh in the system. This is a good time to check how they're feeling about the new place. And, here are some things you can do from your side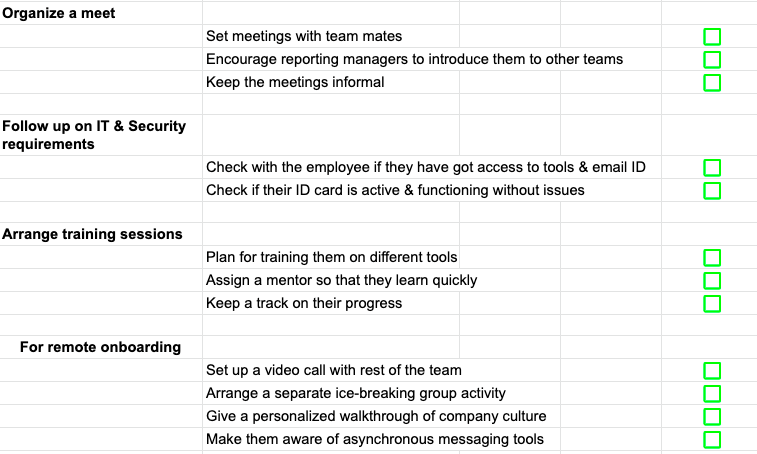 Organize a meet
They might know their immediate teammates, but they might not be familiar with their colleagues from other teams. Arrange a meet-up like a coffee chat with the help of their reporting manager. This will help them mingle with their colleagues when they start working together
Follow up with IT and Security requirements
A few things might slip through the cracks. Especially when it's about IT and security requirements. To make sure that things are as per the requirements, speak to the employee if they have been handed the system and access to email, tools and printer. Similarly, also check if they're facing any problems with accessing different areas of the office
Arrange training sessions
Getting access to a barrage of tools and getting used to them can be overwhelming for a new employee. Even if they're acquainted with the tool, it will take them some time to comprehend the information stored by the tools. This is the perfect time to arrange training with different teams. This will cut down the time for figuring out the tool, as they will have an experienced member to tell them where to look and what can be taken care of later. This way, they can jump on regular work quickly and start producing results
What else could you do for remote employees?
The tough part about remote set up is that you can't have the new employee meet others in the office physically. Having said that, you can still make them feel a part of the system by doing these steps -
Set up a video-call with their team so that they can meet each other virtually
Try to arrange an online ice breaking session to make sure everyone gets along on the right note
Give them a personalized walkthrough of company culture over a video call or a screen recording message
Make them acquainted with asynchronous tools that your team normally uses to get work done remotely

Checklist after 1 month of onboarding
After one month, the newly onboarded employee must have become well-acquainted with the organization, tools, teams and how work is done. There should be no IT or security concerns. Because the employee has spent a considerable time in the organization, it's the right time to hear their thoughts & plan things ahead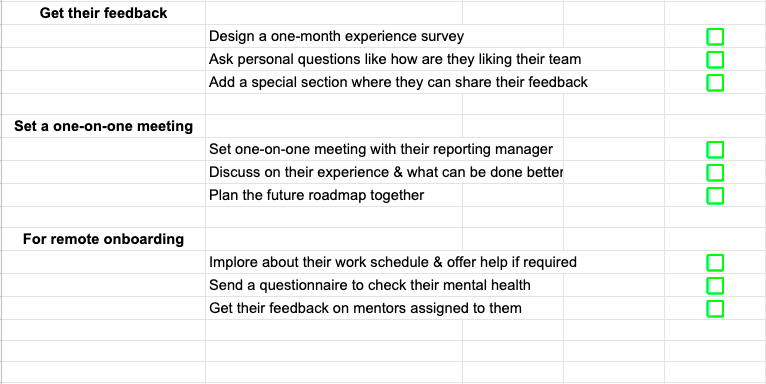 Get their feedback
One month is an ideal time to design a survey and get feedback from the new employee to hear thoughts on their experience. This will help in understanding how good your onboarding process is and what you can do to make it even better. Moreover, you will get a reality check of their experience in the office so far.
Set up a one-on-one meeting
The agenda of this meeting will be different from the previous ones. Here the point of discussion should be about how they find the job and is there anything that is causing them a hindrance in doing the job. This meeting can be between the new employee and HR, or it can be with their reporting manager.
Decide the roadmap
After the meeting is over, you can guide the employee on what they should expect in the coming months. Instead of making this a one-way discussion, encourage the employee to participate and share their ideas. This way, the employee will be personally invested in the journey ahead and not just be a bystander
What else could you do for remote employees?
The challenge here is the same - no personal meetups. However, you can use project management boards or Whimsical to chart out what the journey ahead will look like. Here are some other ideas that can help -
Ask them about their work schedule and if they need help with anything
Send a questionnaire to check on their mental health. Remote work can be lonely, and therefore, mental health should be prioritized
Get their feedback on mentors and if they're comfortable in continuing with them

Why should you download these employee onboarding templates?
COVID-19 made employee onboarding even more challenging for companies. Companies that were working from the office moved to a remote working set-up. This means, new employees had to be hired and onboarded remotely.
While a few companies have gone back to office, there are many still continuing to work remotely. Meaning more employees onboarding on a remote basis.
Employee onboarding is a long process and requires group co-ordination. To have better control over the process, splitting it into different parts makes a lot of sense. This way, you can also assign different stakeholders at different stages.
Also, the new employee will be more comfortable in keeping up with the process without getting overwhelmed. Downloading these templates makes it easy and more streamlined to handle all the stress and ambiguity.
While you can always fix your process to improve the employee onboarding experience, these templates will help you to start in the right direction.
Recommended Reading:
7 upskilling and reskilling strategies to improve employee retention
Best Screen Recorders for Team Collaboration and Remote Working
How to Collaborate Effectively as a Remote Team
How To Write Minutes of Meeting While Working Remote (2023)
How do visual guides promote remote work productivity?