Vmaker is one of the official finalists for Product Hunt's Golden Kitty Award 2022!
We're more than thrilled to announce that Vmaker has been nominated for the prestigious Golden Kitty Awards 2022!
For the uninitiated, the Golden Kitty Award is an annual celebration organised by Product Hunt to recognize and appreciate innovative products around the world.
When we launched Vmaker's Windows application on Product Hunt a few months ago, it instantly became a hit amongst the community and was chosen as the Top #2 Product of the Day.

Today, we're super happy to be chosen as one of the finalists for the Product Demo Video category. Out of the 7,300 product demo videos launched on Product Hunt last year, our product demo video created by our wonderful design team managed to make the cut and has entered the list of top 15 finalists.
Here's a glimpse of the video:
Let's Bring The Golden Kitty Home
Show us some love by upvoting us on Product Hunt and help us bring the Golden Kitty home!
1. Simply login to your Product Hunt account (if you aren't a registered user, you can log in using your Facebook or Google account).

2. Head over to the Product demo video category, and click on the little upvote arrow for Vmaker's Windows application.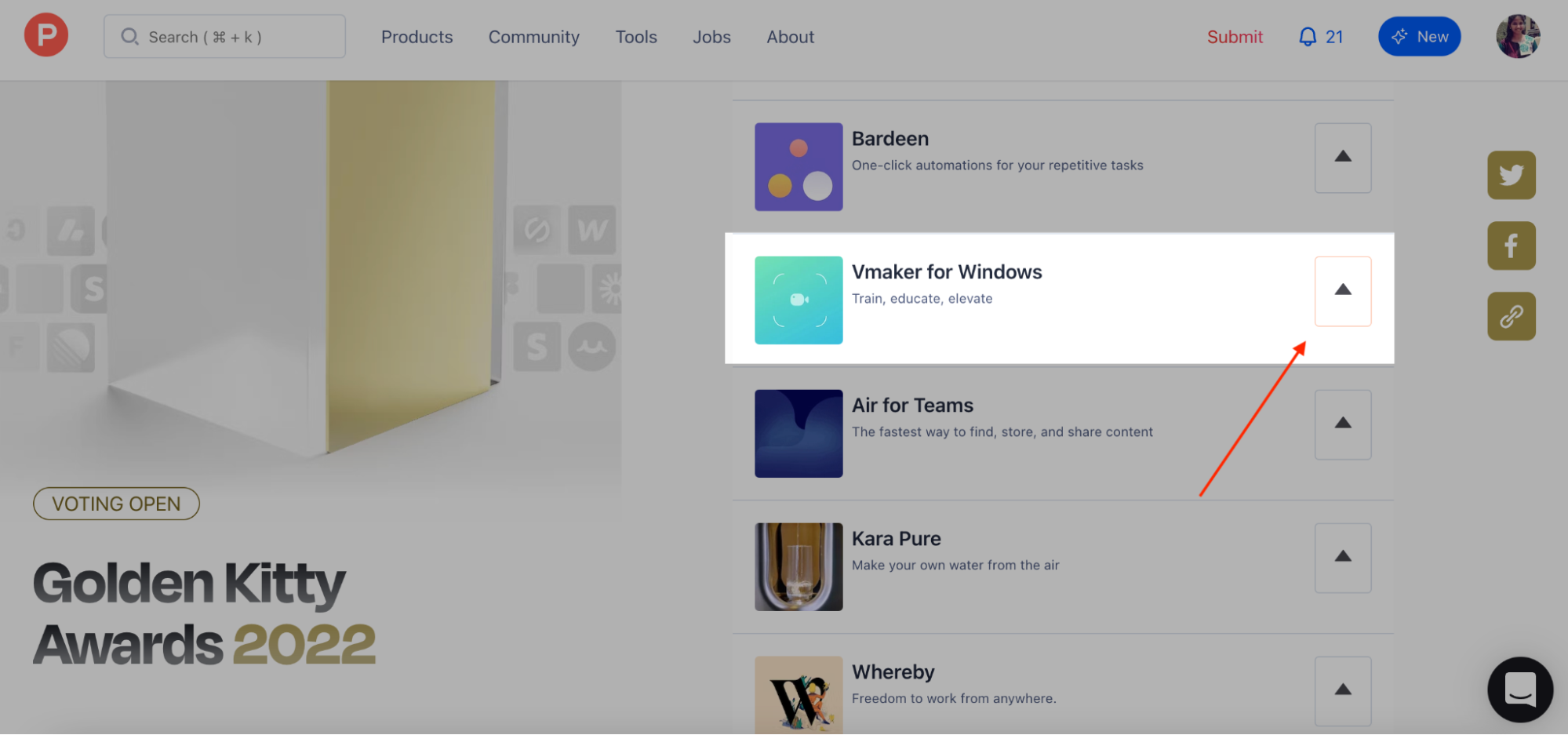 Thanking our Community
We'd also like to extend our gratitude to our wonderful community of loyal supporters. We're so excited to be recognized for the hard work we put in every day, and would appreciate your continued support in the coming years.
Wanna Create Awesome Product Demo Videos?
Fancy creating some exciting product demo videos?
We've got you covered!
Interestingly, Vmaker in itself is a video creation tool that helps thousands of people create quick and easy product demo videos within a matter of a few minutes!
Here's a tutorial video that walks you through the same.