Top Black Friday deals for Video Content Creators in 2021
Black Friday sale is around the corner, and it's almost time for the new deals to come gushing as the floodgates open on D-Day. We couldn't keep calm and thought of joining the hype.
This Black Friday, you can get a one year subscription for 3 licenses in Vmaker for just $69 in AppSumo. This one-year deal will give you access to the best features of Vmaker at a never before marked-down price.
But, wait, this blog is not just about the Vmaker Black Friday deal; there is more useful stuff in this blog. To help video content creators make the most of the Black Friday deals in 2021, we have compiled the best deals offered by the best tools used by video content creators.
Make sure that you bookmark this blog because you do not want to miss this.
It is raining Black Friday deals for Video content creators
Here are the best 5 deals that you cannot afford to miss this Black Friday if you're a content creator
1. Vmaker
Vmaker is an advanced screen recorder that can make any online video content creator's life easy. Vmaker can record your laptop or computer screen, webcam, voice, and audio simultaneously. It has an in-built video editor to chisel your video for perfection. In a nutshell, Vmaker is a complete video production tool that can help you create video content without being dependent on different tools.
What is so special about the Black Friday deal?
With the Black Friday limited period deal, you get access to all the incredible features of Vmaker at just $69. At this price, you get 3 licenses to use the screen recording software. That's a huge discount on the original price of $540.
Here's an overview of some of the best features of Vmaker -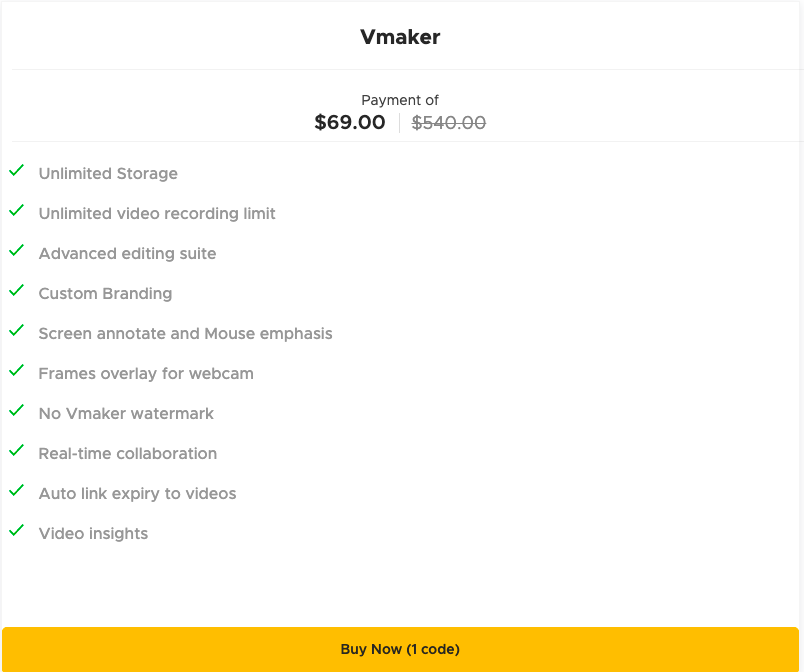 To get all the details about the Black Friday deal, head over to the AppSumo website - Vmaker Black Friday 2021
2. Adobe Creative Cloud
This is a big one.
Adobe Creative Cloud consists of a set of applications. These applications help video content creators with graphic designing, video editing, photography, and web development too. As a creator, you must be well-aware of the different creative tools Adobe offers. Under Creative Cloud, you can use multiple tools by paying a subscription fee. So instead of paying for each of them separately, you get them packaged at a sweeter price point.
What is so special about the Black Friday deal?
Now, here comes the big news. This Black Friday, you can save 40% of the subscription fee by paying only US$ 29.99/month for the first year.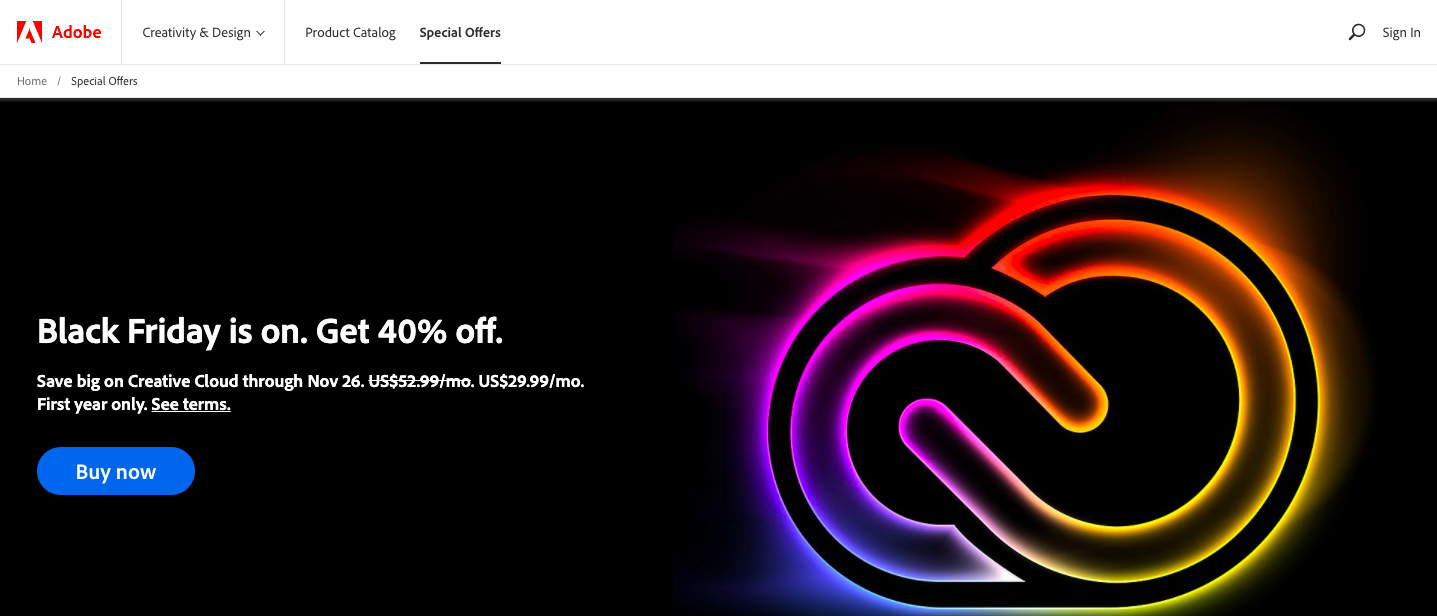 Don't take our word for it. Head over to the Adobe website to get all the details about the offer.
3. Picmaker
A good design is welcoming and refreshing for the audience. Who knows this better than video content creators. Call it a coincidence or a slick marketing strategy, the Picmaker team has got a huge treat for you content creators this Black Friday 2021. Picmaker is a cloud-based design tool that helps you to create designs in the shortest time. It has more than 10,000 design templates for different occasions and is powered by a MAD AI assistant to enrich the quality of your work.
What is so special about the Black Friday deal?
Picmaker has come up with an exclusive AppSumo deal to chime into the Black Friday spirit. You can now get Picmaker for as low as $69. They're also offering deep discounts on their higher-tier plans. This is how the price break-up looks like now.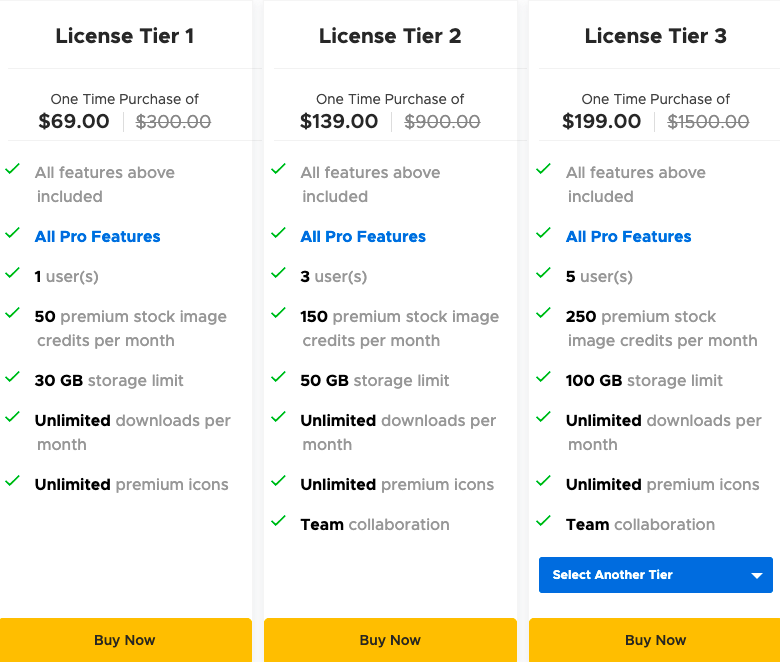 There's more to this deal, so we recommend checking out their AppSumo listing to get all the details about this exciting offer.
4. Glorify
Glorify is a tool specially targeted at marketers who need to create attractive visuals for different purposes. Creating visuals is tough, and expensive if you decide to hire an agency. Glorify helps you to be self-sufficient. It has many templates, creative assets, and advanced effects. With these, you can create product mock-ups, and social media content too.
What is so special about the Black Friday deal?
Glorify is offering a one-time lifetime deal of purchasing at $97. This is the pricing for their Tier-1 plan. They have higher plans with more advanced features and advantages. Do not forget to check them out.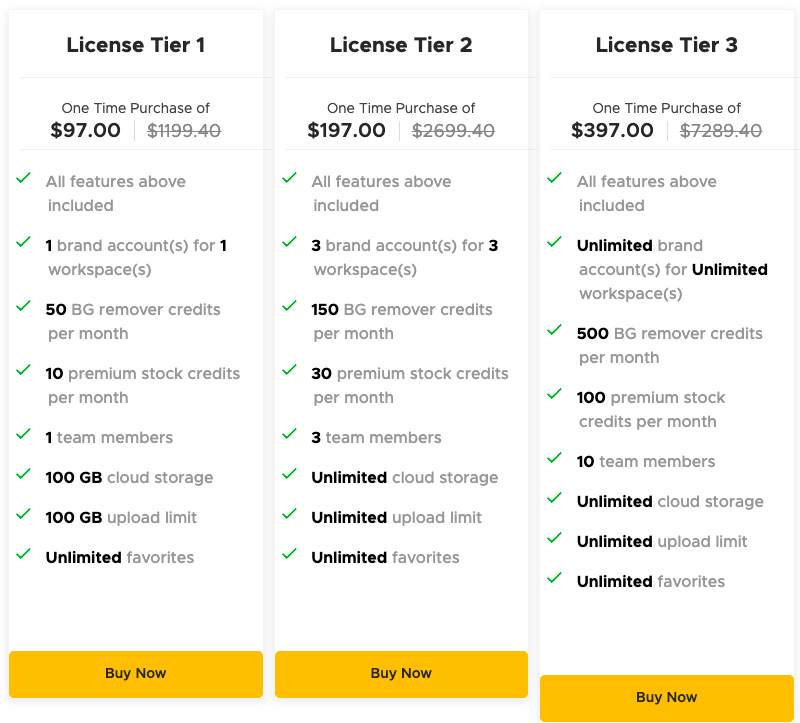 To get all the details on the Black Friday deal, make sure you visit their AppSumo page
5. BerryCast
Here comes the second screen recorder in our list of best deals for content creators on Black Friday 2021. BerryCast is a screen recorder that aims at cutting down on the number of emails and phone calls exchanged between people. It is a great tool for content creators who regularly make tutorial and outreach videos. With its video and audio recording capabilities you can churn out content at a better speed.
What is so special about the Black Friday deal?
This Black Friday, you can get BerryCast at $129 only. The price has been cut down from the original rate of $1558! This is a one-time purchase lifetime plan for the BerryCast Pro plan. Check out the features in this plan in the following table.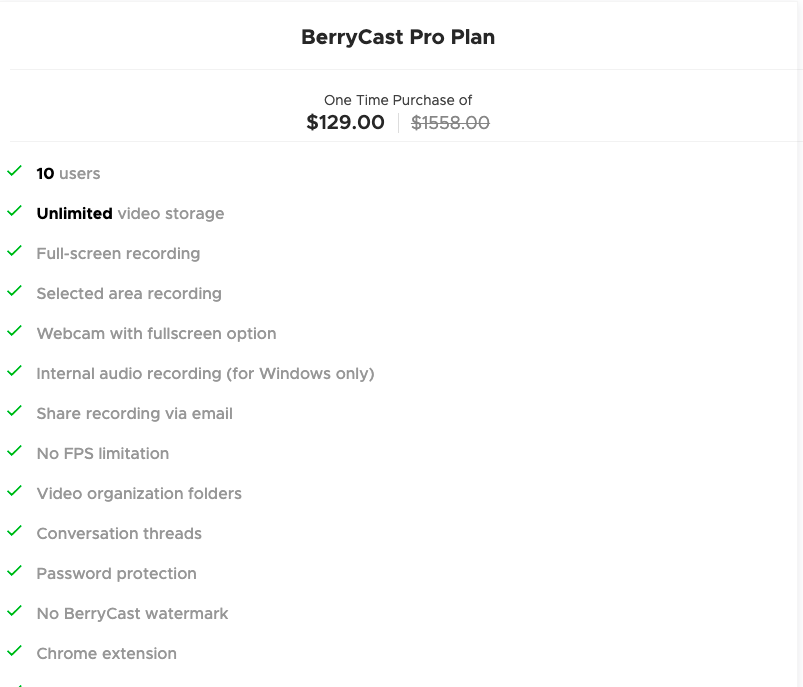 There's more to BerryCast. Find out all the details in their AppSumo listing page.
Wrapping it up
Black Friday 2021 has come up with a lot of surprises for content creators. We tried our best to round up the 5 best deals that we found online. If you're a video creator or if you were always looking for pepping up your tools arsenal, this is the time to go all in. Whether you're looking for a screen recorder or a design tool, you cannot ignore this post without reading it.